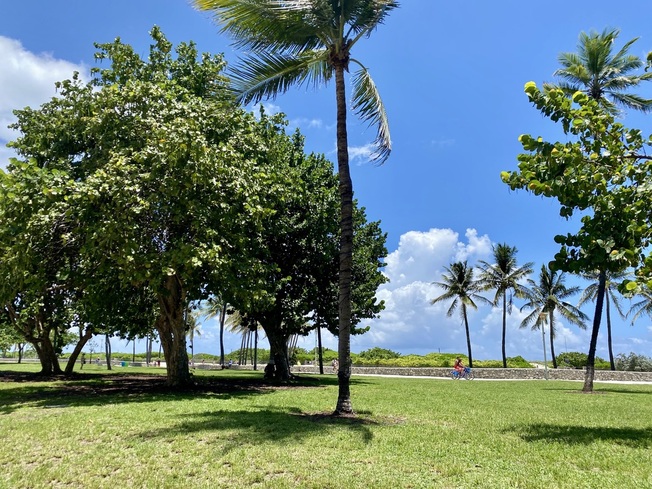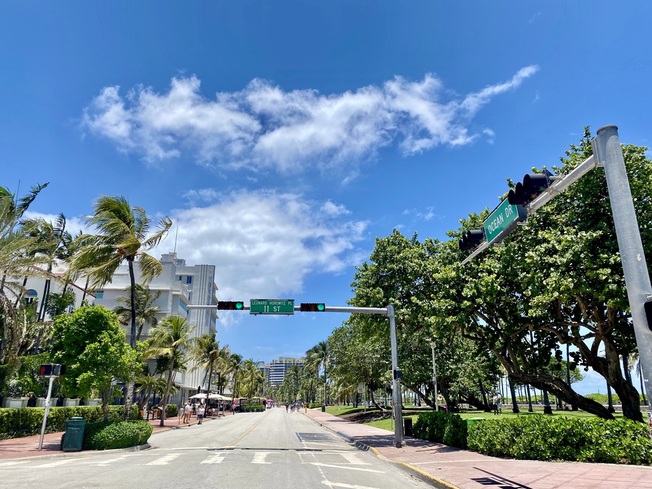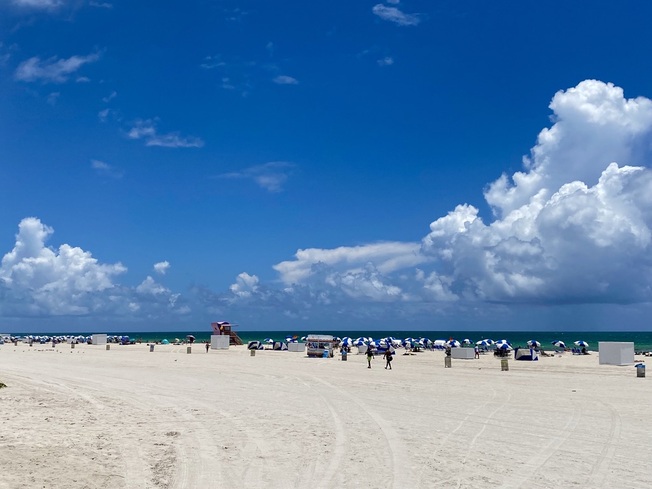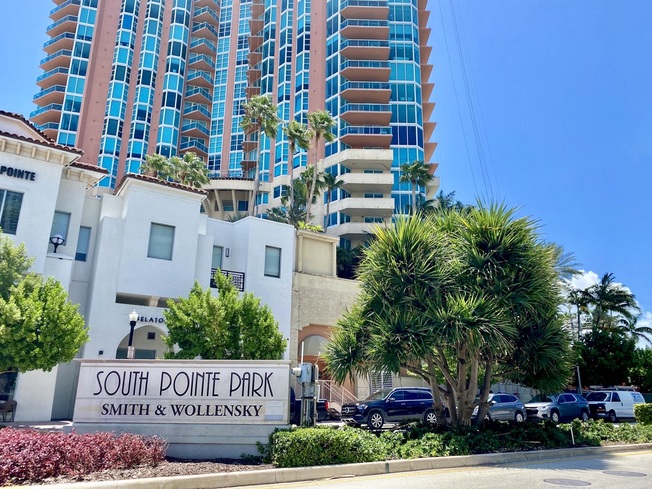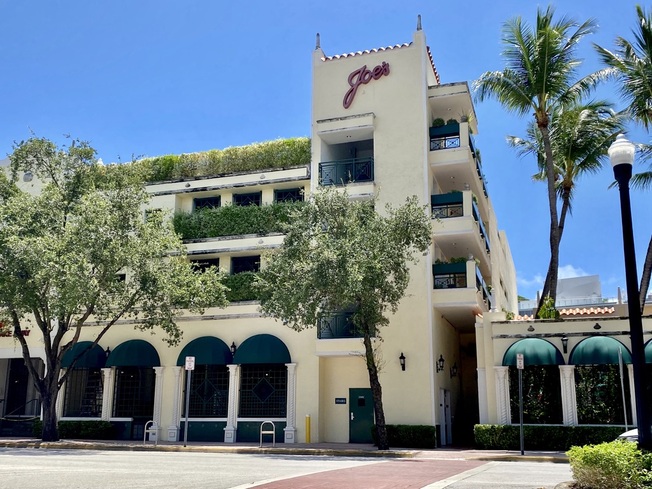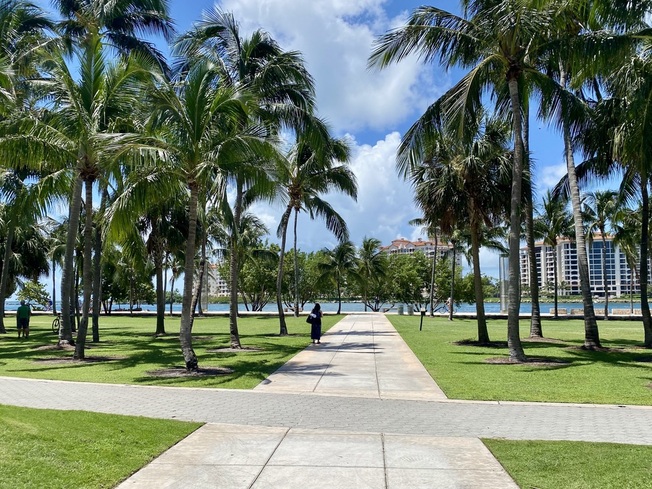 ---
| | Median Rent | Median Sqft |
| --- | --- | --- |
| Studio | $1,873 | 438 sqft |
| 1 Bed | $2,300 | 626 sqft |
| 2 Beds | $3,900 | 905 sqft |
| 3+ Beds | $8,000 | 1,590 sqft |
It's hard to believe that South Beach — a nine-mile barrier island known for its bars, nightlife, beautiful people, and party-filled beaches — was nothing but coconut plantations in the late 1800s and early 1900s. Its transformation began in the 1920s when Collins Bridge was built, and a South Florida land boom brought wealthy business tycoons, expensive homes, and the development of new towns and residential areas.
As more money was invested here, an architectural boom followed, spurring the beginnings of the neighborhood's ever-popular Art Deco movement. Wander down Ocean Drive or Collins Avenue, and you'll see the architecture with bright colors, exotic motifs of plants and animals, geometric shapes, shiny accents, and more. Spread from 5th Street to 23rd Street along Ocean Drive, Collins Avenue, and Washington Avenue, the Art Deco Historic District is made up of more than 800 buildings and structures built between 1923 and 1943. This district put South Beach on the map as the first 20th-century neighborhood to be recognized by the National Register of Historic Places.
Over the years, South Beach has had its fair share of ups and downs, from its drug-ridden "Miami Vice" days to being a magnet for Miami's elderly snowbirds. But today, those humble beginnings are virtually unrecognizable. Modern-day South Beach is an oasis of celebrities, world-renowned nightlife, beautiful Miamians basking in the South Florida sun, high-end hotels and restaurants, striking architecture, some of the world's most popular festivals, and so much more.
Housing in trendy South Beach can be pricy. It includes everything from low-rise South Beach apartments and converted homes in that classic Art Deco style to more modern waterfront mansions and towering condo buildings. The result is a neighborhood that is fun, diverse, alive with culture, and undeniably photogenic.
South Beach is connected to mainland Miami by two causeways, MacArthur Causeway and the Venetian Causeway. Both offer scenic views of Biscayne Bay and the stunning Miami Beach, Brickell, and Downtown Miami skylines. The only way to get here is by car. There is plenty of street, garage, and lot parking, with standard parking rates ranging from $1 to $4 per hour. With so many hotels in the area, hotel valet is also an option, but that is pricier.
One of the draws of South Beach is that it's very pedestrian-friendly. It's not uncommon to see passersby getting around by walking, running along the shoreline, rollerblading, or exploring the area by Citi Bike. Major streets like Collins Avenue, Washington Avenue, and Ocean Drive run through South Beach lengthwise, while smaller streets cross them in numerical order. Visitors and locals can also take advantage of the free Miami Beach trolley, which has four routes and stops every 30 minutes, seven days a week, between 8 a.m. and 11 p.m. This trolley takes passengers to important South Beach locations like Collins Avenue, Lincoln Road, and the Miami Beach Convention Center.
There's no shortage of bars and restaurants in South Beach for every budget and craving. In fact, as one of the nation's hottest destinations, new food and drink hotspots in Miami's South Beach open almost weekly.
Get tacos at Taquiza, which has marinated hanger steak and toasted grasshopper tacos stuffed in handmade masa corn tortillas (just ask Guy Fieri—he stopped by on Diners, Drive-Ins and Dives!). A signless office building on Lincoln Road houses the popular Mister 01, where you can get its famed Star Luca pie, a star-shaped pizza with a stuffed ricotta crust and spicy salami, mozzarella, tomato sauce, and fresh basil. Yardbird serves southern fare like its half-fried chicken with honey hot sauce, spiced watermelon, and cheddar waffles. Don't miss the Italian menu at Macchialina, an energetic spot with $10 pasta nights every Thursday.
You can try all the flavors of Miami at Time Out Market on Lincoln Road, which offers up more than 20 food and drink stalls representing the best of Miami's culinary scene. Options range from pizza by Norman Van Aiken at Peace Pie and an outpost of Azucar Ice Cream to Kush burgers, desserts from pastry chef Antonio Bachour, arepitas and pho from Miami favorite Cesar Zapata, wine and cocktail bars, and more. Another food hall, Lincoln Eatery, has 14 different food and drink stalls including Chill-N Nitrogen Ice Cream, The Market Milkshake Bar, TYO Sushi, and Cilantro 27 Ceviche Bar.
For a dining experience so unbelievably "South Beach," head to the Versace Mansion (yes, that Versace Mansion) on Ocean Drive. Inside, you'll find a six-seat omakase restaurant called Sushi By Bou, where you can get a 17-course sushi dinner inside Versace's own cigar lounge. Just steps away, in Miami's South of Fifth neighborhood, you'll find another iconic Miami location: Joe's Stone Crab. First opened as a lunch counter in 1913, this Old World-style restaurant now has tailed waiters serving its famous Key lime pie and claws to well-dressed patrons.
Sweet Liberty is a popular bar-restaurant known for its excellent cocktails and late-night fun (it's open until 5 a.m.). The Broken Shaker — inside a Miami hostel, The Freehand — is a whimsical "backyard bar" with a menu of handcrafted cocktails that changes every week. Get an haute cocktail or glass of wine in a chic setting at Rose Bar at The Delano or Living Room at the W South Beach. Feel like you've been instantly transported to Asia when you sip on a chili- and passionfruit-infused martini around the zen Buddha pond at The Setai, Miami Beach.
For groceries in South Beach, choose from mainstream options like Whole Foods, Trader Joe's, The Fresh Market, and Publix, or smaller markets like South Beach Food Mart and Marlins Market.
The heart of shopping in South Beach is definitely Lincoln Road Mall, a mile-long, pedestrian-only thoroughfare with designer shops, big brand names, and small boutiques mixed in with restaurants and bars, not to mention the most excellent people-watching. There are prominent examples of Art Deco architecture sprinkled throughout the 10-block, open-air mall. Shops include Ted Baker, Zara, Macy's, lululemon, Scotch & Soda, and more. Nearby, Miami's Sunset Harbour neighborhood is filled with fashionable boutiques like The Backroom Store and Sunset Clothing Co.
Not surprisingly, most people go to South Beach for its iconic beaches. Its namesake South Beach is always packed with beautiful people soaking up the sun, morning beach yoga, full-moon parties, and Art Deco-inspired lifeguard stands that are works of art on their own. In particular, South Pointe Park & Beach sits at the southern tip of South Beach and has a small stretch of sand, a beautifully landscaped park, a playground, a splash park, paved walking trails, and impressive views of the Miami skyline. Along Ocean Drive, you'll see people working out, playing beach volleyball, and sunbathing at Lummus Park Beach. Whichever one you choose, you can spend your day relaxing in beach chairs with covered umbrellas or being adventurous and hopping on jet skis, kayaks, stand-up paddleboards, banana boats, parasailing boats, and more.
South Beach is also home to a range of cultural attractions and activities. Don't miss the free tours of the Art Deco Historic District, where you'll learn all about the whimsical architecture and pastel-hued buildings that have made South Beach famous. Peruse the art galleries along Lincoln Road, see the world-class art collection at the Wolfsonian–FIU museum or check out The Bass, which has uncanny contemporary art exhibits and rotating public art installations on the front lawn.
Charming Española Way is a gem. Wander down this pedestrian-only and Mediterranean Revival-style road, and you'll feel like you're touring a village in France or Spain. If you're at SoundScape Park on the right day, catch a free WALLCAST concert by the New World Symphony. For something unique, tour the World Erotic Museum, which explores thousands of years of sex through classical art, ancient artifacts, and a collection of antique penises.
There are no college campuses in South Beach. However, drive 10 minutes across the MacArthur or Venetian Causeway and you'll land in Downtown Miami, where Miami-Dade College - Wolfson and Miami International University of Art & Design are located.
We rate and sort every listing based on fair market rent.