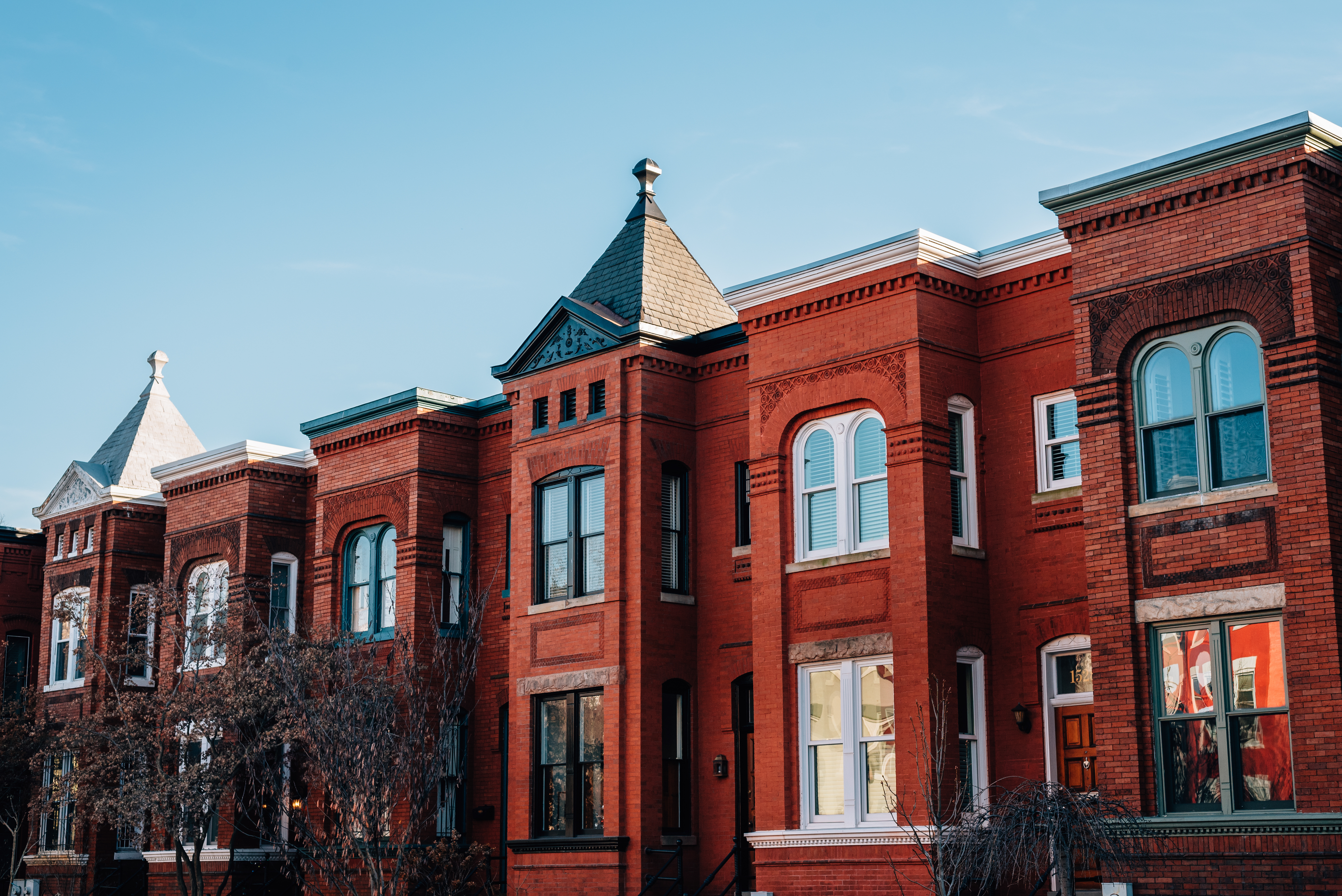 ---
| | Median Rent | Median Sqft |
| --- | --- | --- |
| Studio | $1,793 | 367 sqft |
| 1 Bed | $2,282 | 575 sqft |
| 2 Beds | $3,210 | 754 sqft |
| 3+ Beds | - | - |
Once the heart of black culture in America, the U Street Corridor, sometimes called Cardozo/Shaw or Cardozo, is a commercial and residential district in Northwest Washington DC that offers true urban living. Apartment dwellers will find its nine-block stretch from 9th to 18th Streets filled with a vibrant music and nightlife scene. After all, this is the birthplace of DC hero and jazz legend Duke Ellington. In fact, his influence is cemented in a towering sculpture outside the resurrected Howard Theatre that borders the neighborhood on the east. Many musical greats got their start here, including Ella Fitzgerald and Marvin Gaye. Talk about a neighborhood with good vibes.
U Street's west side boundary, 14th Street corridor, also offers lots of trendy hot spots. There is no shortage of renovated clubs, new restaurants, and retail shops that draw crowds to its narrow sidewalks every weekend (and more and more during weeknights, too). It's not only appealing for nightlife, though. Developers have shaped lifestyle amenities around the significant influx of new residents. Living here means easy access to grocery stores, markets, and hardware stores, among other basic and luxury needs.
U Street apartments and houses can be found in a mix of smaller row homes, large new condos, and lofts. The neighborhood's once bargain row houses have been renovated over the years, and condos here tend to cater to those who can afford to pay a premium to live in the thick of the city.
Being in an urban center means world-class public transportation right outside your door. It's very convenient, especially for Howard University students. U Street Northwest is just a five-minute walk from the Green Metrorail Green Line and the Yellow Metrorail Yellow Line at the U Street Metro Station stop. The area is well served by busses 52, 53, 54, 64, 70, and 79 that run through the neighborhood's main streets of U Street, 7th Street, Rhode Island, and 14th Street.
U Street is commonly referred to as the most walkable and most bikeable neighborhood in Washington DC. You can walk or bike to any of the restaurants, bars, or coffee shops. If you choose to drive, beware that U Street parking can be competitive, and some say even aggressive at times. Still, there is permitted parking, especially for residents.
A neighborhood as vibrant as U Street has every kind of taste to keep its residents' and visitors' appetites piqued. From ethnic to classic and upscale to down-home, U Street has the smorgasbord of flavors for the pickiest of foodies. Plus, U Street restaurants come with a side of music and entertainment.
For one of the best Mexican spots, go to Alero, known for the tastiest Carne Asada and pork ribs. Dining with friends? Order the queso dip, fried plantains, or nacho platter for sharing, but you'll be tempted to keep the shrimp tacos or smoky Mexican salmon all to yourself. Vegetarians will appreciate salads paired with lentil or black bean soup. And sweet lovers can end the meal with tres leches cake, apple flautas, or sopapillas.
A mainstay of U Street and a proudly black-owned business, Ben's Chili Bowl, will keep you coming back regularly. And that's not just because most items are less than ten bucks. Founded in 1958 on the U Street Corridor, Ben's is one of U Street's oldest businesses that serves more than just chili. From chili dogs to half-smokes and burgers, you're in for a hearty meal of beans and meats. Plus, their award-winning vegan and vegetarian chili options have been hailed by PETA and other organizations.
Want some ambiance with your plate? Head to The Fainting Goat, a brick-walled gastropub fit for first date night and lazy brunch alike. The menu is small to help with indecisive eaters, but reviewers swear everything is good. Start with the goat cheese fondue or pureed roasted mushroom and work your way towards the Scallops Crudo garnished with salty chips.
Fill your cocktail hours at Tropicalia, a lively hole-in-the-wall nightclub that'll transport you to the Caribbean. Its colorful lounge is open for dancing but also hosts Latin and Caribbean performances from time to time. In keeping with the tropical trend, pop into Archipelago, where drinks are served in flaming pineapples and even available to go. With a small Asian-influenced menu, you can snack on hot chicken steam buns and egg rolls with your umbrella-adorned frosted beverage.
For something a little more romantic, try Lulu's Winegarden. Lounge on a lush garden patio or relax in a cozy indoor hideaway just the same. It's known for its affordable wine list with all 50 bottles below $49. And whether you come with a friend or a flock, you can order a handful of wines-by-the-glass or magnum bottles. For special occasions, there are pricier sparkly labels to pick from.
Though dining out can be tempting, sometimes you want a home-cooked meal. For dinner party shopping or just stocking up for everyday cooking, you'll find U Street grocery stores that meet both ends of the spectrum. Yes! Organic Market has an abundance of fresh, natural, and organic foods right in the heart of 14th and U Street corridor. Shoppers can find options for raw, vegan, noon-GMO, gluten free and fair trade brands. Come in the morning for pastries from local Firehook Bakery or for lunch to pick up prepared meals like sandwiches, rotisserie chicken, and sushi, made in-house daily. For quick frozen meals and low-key cooking, there's a Trader Joe's in the neighborhood. Howard University students will find it close to campus and a great place for cheap eats.
When it comes to home life, residents of U Street have some fun shops to hit for decorating inspiration. Stop into Good Wood for eclectic vintage furniture, décor, and baubles that can warm up any apartment. It happens to have one of DC's only niche perfume counters and a notable collection of clothing and handmade shoes. Then, an almost-hidden gem on U Street NW between 15th and 16th, there's Zawadi. Shop here for a global inventory of clothing, design items, home goods, and more. Named after the Swahili word for gifts, browse a bounty of authentic art from across the vast and varied African continent.
Adding to the eclectic U Street shopping scene, Joint Custody has become the destination for vintage music, sports, and culture clothing. It's both a record and vintage store. Founded in 201, Joint Custody is one of the premier in-person and online vintage retailers with website inventory focusing on their rarest and most unique items. Shop here for a myriad of punk, hardcore, metal, and jazz for your ears. And linger a while checking out sportswear, militaria, Harley paraphernalia, and workwear for the rest of you.
For high-end consignment clothing and accessories, visit Current Boutique. The owner features pre-loved merchandise from top designers at reasonable prices. Whether you want to shop or consign your own goods, the owner, Carmen, enjoys sharing her expertise in fashion, style, and, most of all, bargain shopping.
One of the most unique and cool things to do in U Street is just wandering the alleys to experience one of the most art-filled corridors in the District. Talented graffiti artists have found the perfect canvas to express their rich culture. Though some murals are commissioned works of street art, most are still considered unlawful tagging despite being magnificent spray-painted tributes to historical figures like MLK and Ben Ali.
For more immersive art, take in an indie show at Black Cat. Step into a hidden vintage arcade replete with 90's style checkered tiles where alternative music has been reverbing through its walls since 1993. Founded by a group of local drummers, including FooFighters and DC native Dave Grohl, the club has hosted acts ranging from The Strokes to Wavves.
When you want to tone it down, take a stroll to Crispus Atticus Park, sometimes called "The Cave Yard" or "The Secret Park." Known for its secluded feel, this popular urban park includes lots of greenery, benches, and walking trails for your daily meditation. Even if you don't really meditate, you might find this hidden 106-acre horticultural oasis brings out the zen in you. Take advantage of its soothing effect that stretches the length of a city block along half a dozen rowhouses.
For high-energy workouts, U Street residents have a 305 Fitness studio in the neighborhood. It's where you'll find what's been called "addictively-fun" dance cardio classes that get all your muscles moving. In keeping with the U Street vibe, 305 Fitness puts some nightclub inspiration into your exercise routine.
The U Street neighborhood is the home of Howard University, the most prestigious historically black college and university in the United States. A private research university founded in 1867, Howard is comprised of 13 different schools and colleges. The campus lies just two miles from the US Capitol, where many students intern and scores of alumni shape national and foreign policy. Howard ranks among the highest producers of the country's black professionals in medicine, dentistry, pharmacy, engineering, nursing, architecture, religion, law, music, and education. It also boasts nationally ranked programs in social work, business, and communications.
We rate and sort every listing based on fair market rent.