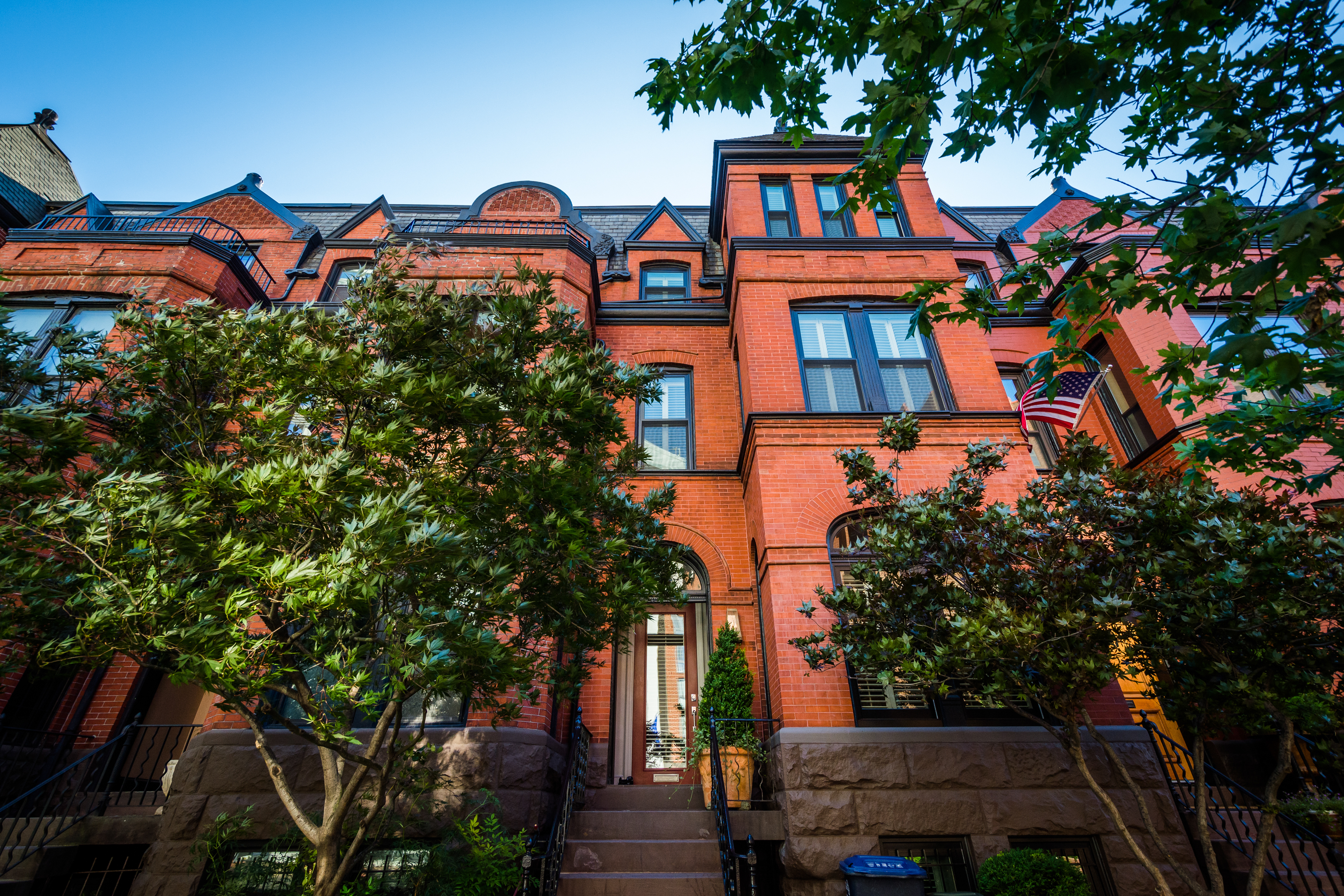 ---
| | Median Rent | Median Sqft |
| --- | --- | --- |
| Studio | $2,720 | 507 sqft |
| 1 Bed | $3,001 | 864 sqft |
| 2 Beds | $5,037 | 1,308 sqft |
| 3+ Beds | - | - |
West End earned its name because it was originally in the westernmost part of Washington DC, but that was before the annexation of Georgetown. Now in the northwest quadrant of DC, West End is no longer the district's official westernmost end, but the name, "West End," has stuck. The West End is bounded by K Street to the south, Rock Creek Park to the west and north, and New Hampshire Avenue and 21st Street to the east.
You'll find some of DC's finest restaurants, hotels, stately period townhouses, and luxury, modern condos and apartments in the West End. In addition to upscale housing options, what makes this prestigious yet low-key neighborhood attractive is its easy access to Georgetown, Dupont Circle, and Foggy Bottom. A walk across town will bring you to boutiques, award-winning dining, nightlife, and tourist attractions from the White House to the National Geographic Museum.
As home to the embassies of Qatar and Spain, there is some diversity in the compact neighborhood. West End also boasts a highly-educated population.
The West End neighborhood is extremely walkable, considered among the most walkable neighborhoods in the District of Columbia. It's also bike-friendly, and if you don't own two wheels, you can opt to rent from one of Capital Bikeshare's stations in the area. Public transportation is also well-represented in the West End, with the community being served by the Blue and Orange Metrorail lines and 13 bus lines.
Since most errands can be done on foot or by bicycle, you don't need a car to live here, but most residents still choose to commute by car.
For Michelin-level dining, book a reservation at Blue Duck Tavern located in the Park Hyatt hotel. Try the short ribs or a burger unlike any other. The duck dishes are polarizing, getting equal raves and rants. And diners have reviewed the ambiance with little enthusiasm, claiming it's more functional than stylish, but most agree that the culinary experience leaves a remarkable impression. There's both indoor and outdoor seating, weather permitting.
For upscale Italian, there's Ristorante La Perla, where fresh pastas are made in-house every day, and dried pastas are imported directly from Italy. You can get fanciful chef creations like coconut-crusted shrimp on a bed of oranges or traditional penne in vodka or pesto sauce. There's also an extensive wine list to accompany your meal while you savor each bite in the palazzo-like atmosphere.
Restaurants in the West End are where even the upper crust can go upscale. Sit down to modern Indian fare at Rasika West End, where Former President Obama had a birthday party, and The Clintons once celebrated an anniversary. Chef Vikram Sunderam earned a Best Chef Mid-Atlantic award from James Beard for his talent at transforming his homeland's cuisine into flavors in a class of their own. Imagine dishes as inventive as avocado-banana chaat and ginger-sharpened minced lamb kebabs. Enjoy each forkful under the canopy of a faux tree or from your seats inside a carriage-shaped booth.
Close to the Embassy of Spain, you'll find Marcel's by Chef Robert Wiedmaier. Here, you can enjoy contemporary European cuisine with subtle hints of the highly acclaimed chef's Belgian background that's both approachable and sophisticated. Starters include pan-seared Hudson Valley foie gras served with macerated blackberries, tarragon gel, and brioche and Prince Edward mussels prepared in tomato fondue. Follow it up with a rack of wild boar or pan-roasted black bass. Indulge in a selection of caviar and specialty cheeses. If you want to step up the decadence, Marcel's provides a tasting menu from which you can pick four, five, or six courses at different pricing levels. It might put a dent in your bank account, but if food is your passion, you won't be disappointed.
Dining in? You'll have no problem stocking up on groceries in the West End? Fill your fridge with interesting frozen and prepared foods from Trader Joe's or shop at Streets Market for a wide variety of organic, conventional, local, and international foods. It's well-stocked with vegan and special diet items as well. Just outside the neighborhood, there's a Whole Foods Market, too.
Whether splurging on yourself or sending flowers to a friend, fresh blooms abound at Greenworks. For more than 25 years, this florist has been a premier source of exquisite bouquets and arrangements for the area's corporate, wedding, hospitality, and convention markets. If their floral designs are good enough for the Ritz Carlton, they might just put an extra shine on your kitchen counter.
Shoppers delight in the area around West End. For example, The Shops at Columbia offer plenty of goods to stock your pantry and home bar. Visit Second Story Books for used and rare titles, then hit the independent comic store, Fantom Comics, right next door. West of the West End along Pennsylvania Avenue, shop an impressive selection of premium clothing stores, including Ike Behar, Suitsupply, Niccolo, as well as a few antique stores. Check out independent bookseller Bridge Street Books, specializing in politics, cultural studies, poetry, and philosophy.
Along the western edge of West End runs Rock Creek, which brings you to a lot of open greenspaces and fields, providing West Enders with ample opportunities for a wide range of outdoor activities. The northern border of the neighborhood offers even more greenspaces with Francis Steven Field and Playground, containing a soccer field and tennis courts. If you live in one of the West End's pet-friendly rental apartments, you'll be happy to know you can take your four-legged friend to Francis Dog Park. Another option just west of Dupont Circle is an unassuming park known affectionately as the P Street Beach.
Along with outdoor recreation, West End residents can also work out at SoulCycle, a 45-minute indoor cycling class featuring high-intensity cardio, muscle-sculpting strength training, and rhythm-based choreography. You can also get a membership at an Equinox Sports Club, where you can join a sports league, hire a personal trainer, or just relax in the spa. There's also a Pilates studio in the area.
Besides fine dining and restaurant bars, the nightlife in West End is fairly quiet. During the week, much of the West End shuts down after dark because many of its buildings are offices for Washington lawyers and lobbyists.
West End has a campus of Ithaca, NY's Cornell University named Cornell in Washington (CIW). It offers a transformative, applied learning experience to Cornell students and, during the summer, visiting students from any college and major. Students enrolled in CIW engage with pressing issues and take classes taught by leading experts in the nation's capital.
The neighborhood is also a convenient location for students of Georgetown University, though the official campus is located in adjacent Foggy Bottom.
We rate and sort every listing based on fair market rent.