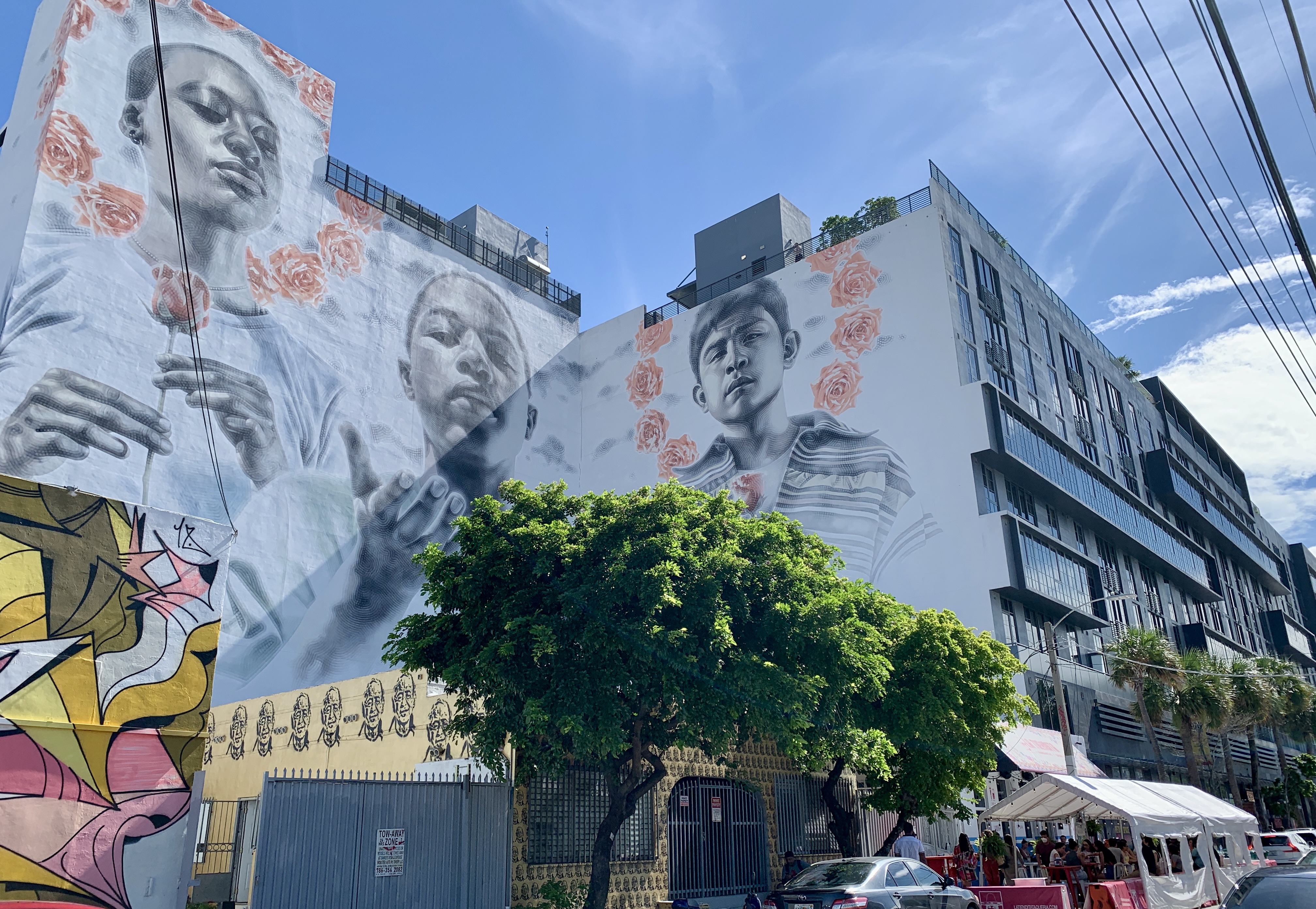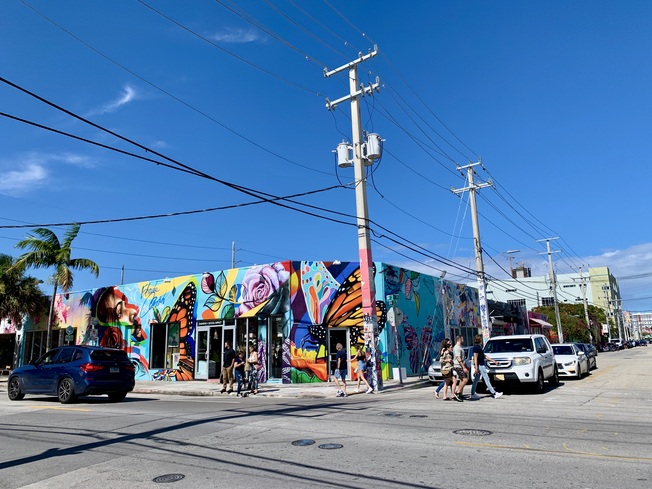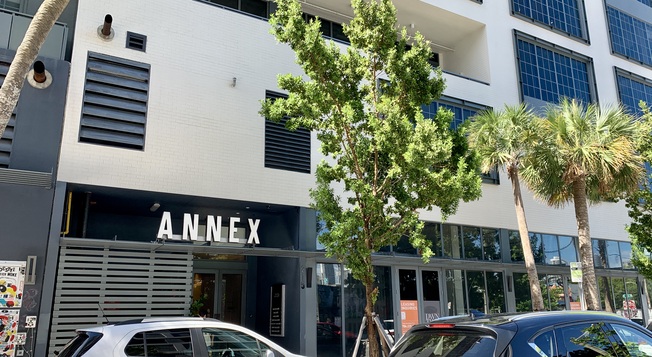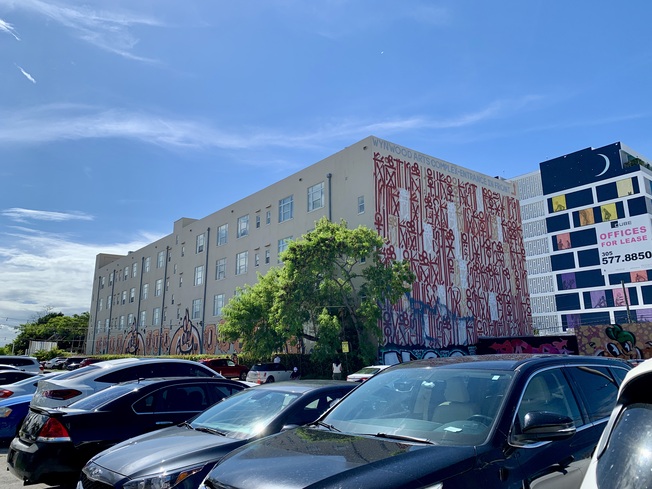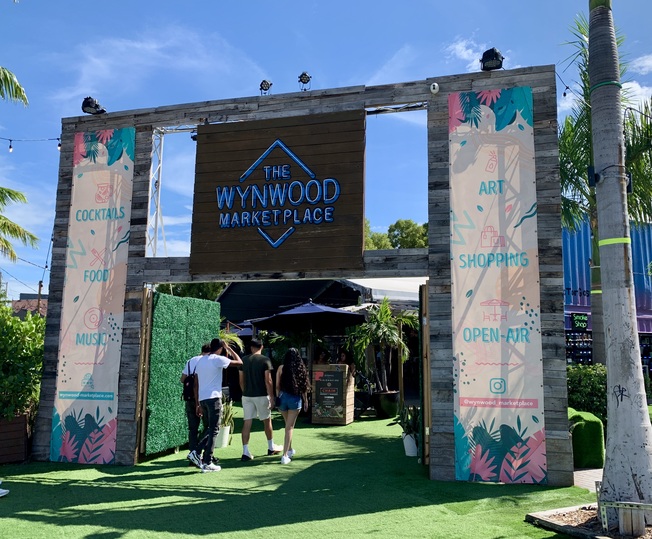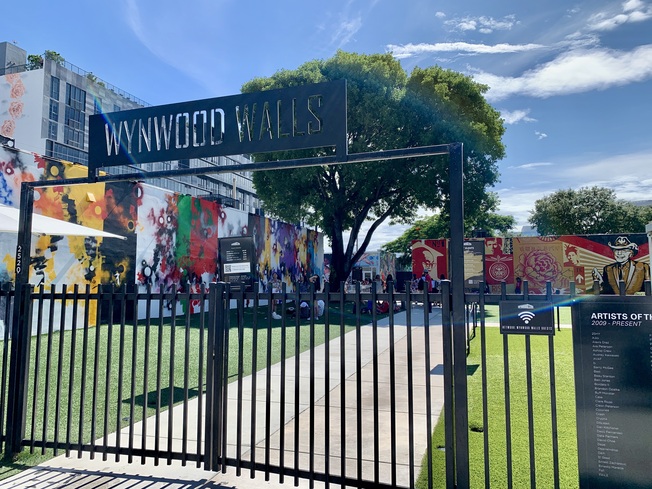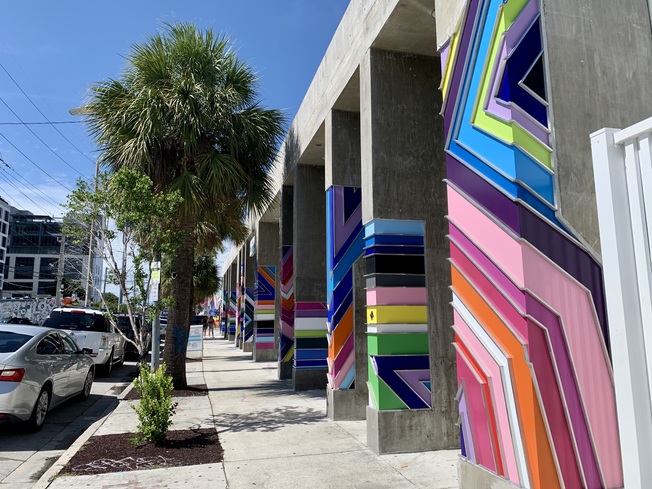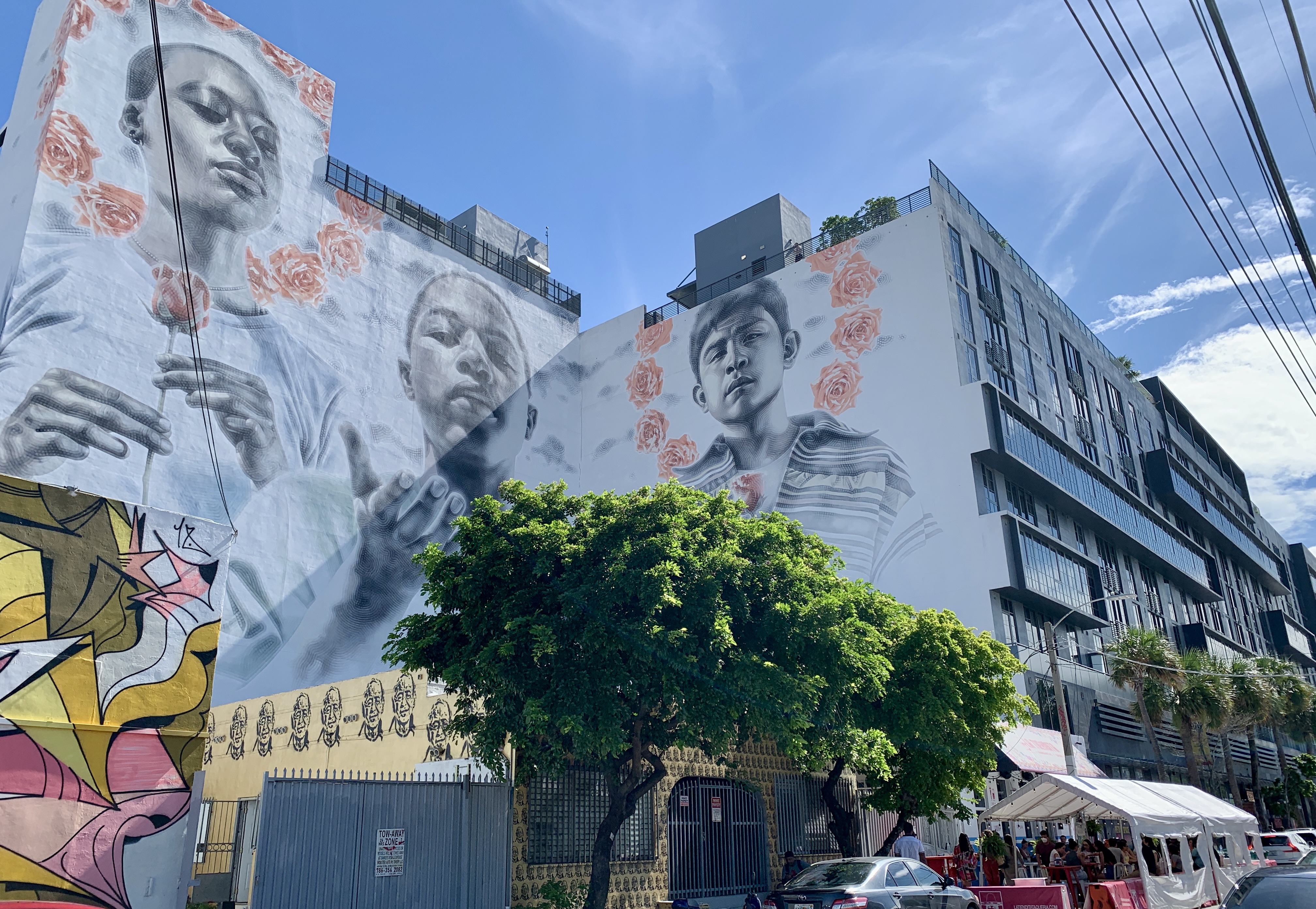 ---
| | Median Rent | Median Sqft |
| --- | --- | --- |
| Studio | $2,050 | - |
| 1 Bed | $2,463 | - |
| 2 Beds | - | - |
| 3+ Beds | $6,000 | 2,000 sqft |
Once upon a time, Wynwood was an industrial district filled with stark warehouses. But in recent years, artists took hold of the neighborhood and splashed it with colorful murals, turning it into one of the biggest and most vibrant entertainment districts in Miami. Wynwood's once utilitarian warehouses have been converted to trendy bars, delicious restaurants, and esteemed galleries. Locals and visitors alike are drawn to monthly art walks, Instagrammable backdrops, and pop-up Art Basel events in the winter.
However, Wynwood's history goes back more than 100 years. The land was purchased by two early Miami residents in 1917 and it was a part of North Miami — at the time, alcohol was allowed in this part of Florida, making it a popular hangout. Its original name was Wynwood, then renamed Wynwood Park, and now back to Wynwood. For decades it was a blue-collar neighborhood filled with warehouses and plants, including Coca-Cola for a time. But like much of Miami, the area fell into decline in the 1970s and 1980s. Gentrification and revitalization set in in 2009, when the world-famous Wynwood Walls opened, drawing art lovers to the neighborhood and leading to explosive growth.
An urban neighborhood, art studio lofts and apartments in Wynwood are popular among artists, as well as renters who want to be within walking distance of all sorts of entertainment from art walks to festivals and concerts. There are luxury apartment buildings cropping up around town, as well as older studio apartments, condos, and homes that can be rented out a bit further from the main strip.
For those wanting to spend the day on the water, residents can have their toes in the sand in less than 30 minutes by heading south on 1-395 to get to Virginia Key and Crandon Park, or east on I-195 to Miami Beach.
The boundaries of Wynwood are formed at the northeast intersection of I-95 and I-195, making it easy to access the interstate to head north to Fort Lauderdale and beyond or to head south to Coral Gables. Access to I-195 also makes it a breeze to cross the bridge east over to Miami Beach or to head west to the Miami International Airport.
Many people get around Wynwood by car, and with its happening nightlife scene, ride-sharing services are also widely used here. However, Wynwood itself is a very walkable neighborhood. Although there are no bike lanes in the neighborhood, bicyclists do share the road with cars. Many apartments and homes are within a few blocks of the restaurants, bars, and art galleries that make Wynwood so popular.
Public transportation in Wynwood is not highly accessible (for example, the Metrorail and the Metromover do not provide service here). The Miami Trolley does travel through Wynwood, though. An express train, called the Brightline, can be accessed in Downtown Miami to get to Fort Lauderdale and West Palm Beach, and construction is underway for an Orlando stop.
In recent years, Wynwood has been one of the "it" places in Miami to open a restaurant, brewery, or bar. Local breweries in Wynwood include J Wakefield Brewing, Veza Sur, Boxelder Craft Beer Market, Wynwood Brewing Company, and Dogfish Head Miami; many of them offer tours of the brewery and participate in the art walk every month. As for restaurants in Wynwood, take your pick of cuisine and vibe, from the casual Coyo Taco, drag brunch at R House, fresh goods from Zak the Baker, to exclusive omakase Hiden and Uchi, food hall 1-800-Lucky, the luxe KYU and more. Panther Coffee, a local coffee brewer, has a location in Wynwood with more indoor and outdoor seating, depending on if you're in the mood for working on your laptop or people watching. At night, the doors open at a number of bars, including the iconic Wood Tavern with bumping music, cocktails at the Dirty Rabbit, and unique themed nights at Gramps, just to name a few.
In the north part of the neighborhood, the Shops at Midtown also have a bevy of bars and restaurants for any day of the week. Sugarcane is a mainstay, as are the affordable eats at 100 Montaditos. Maska Indian Kitchen + Bar serves up authentic Indian fare. For dinner with a view, head to the rooftop of Salvaje for Japanese food.
The Wynwood Marketplace is a 75,000-square-foot open market with food trucks, a bar, art, seating at thedeck, and pop-up shops from local vendors. Peruse each one to find crystals, clothing, handbags, and jewelry. Throughout Wynwood, there are boutique stores, including Frangipani, Boho Hunter, Wynwood Tribe, Scotch & Soda, and Warby Parker. To shop for art, stop into one of the endless galleries like Harold Golen Gallery, Waltman Ortega Fine Art, Ralph Pucci International, Nader Art Museum Latin America, and others.
As for grocery stores in Wynwood, you'll find that most of the markets here smaller, local grocers. In the Shops at Midtown, at the north side of the neighborhood, there is a Target surrounded by Homegoods, Nordstrom Rack, Carter's, Marshall's, and other popular shopping destinations. A Publix supermarket is south of Wynwood on US-1 in Downtown Miami.
The biggest draw to Wynwood is the iconic Wynwood Walls, an outdoor art gallery with the walls covered in oversized murals by local and international artists. You'll find visitors stopping to take photos in front of every piece, and artists also cover seats and trees with yarn as if they're wearing sweaters. There is an indoor shop with coffee table books and other art memorabilia, and you can also opt to go on a guided tour of the walls and the surrounding area. Another draw that put Wynwood on the map is the second Saturday block party. The area turns into a flea market of artists selling jewelry, clothing, paintings, and fashion accessories, with a backdrop of live music. Meanwhile, art galleries open their doors, ushering in passersby, and the party continues with DJs playing music at the many area bars.
Creative spaces and artistic expression abound in Wynwood. The Museum of Graffiti has in-person and virtual exhibits that chronicle the history of graffiti art and share the works of artists and taggers who have uplifted the movement over the decades. The historical RC Cold Plant, once an abandoned memory of Wynwood's yesteryear, is now an event space covered in graffiti artwork. Finally, the newest addition to Wynwood is the Miami Selfie Museum, an interactive studio space of fun backgrounds, installations, and props that make for a fun afternoon of selfies.
A unique experience in Wynwood is Lock and Load Miami, a shooting range for people of all experience levels to shoot machine guns and handguns. But because of the art influence in the neighborhood, there is also a museum of wartime and historical firearms and a mixed media art gallery.
Being a more urban area, there is only one public park in Wynwood: Roberto Clemente Park. Named for the late Puerto Rican right fielder for the Pittsburgh Pirates, the greenspace includes ball fields, a playground, and basketball courts. There is also a community center with lots of activities for residents and visitors of all ages.
There are no colleges or universities in Wynwood, but Downtown Miami is conveniently just south of the neighborhood. There, students attend school at two of Miami Dade College's two campuses (the main and Wolfson campuses), Florida International University, Brown Mackie College, and Miami International University of Art & Design. Further south in Coral Gables is the largest university in the area, University of Miami. Many of these schools are commuter schools, with students living in other neighborhoods and driving to class every day; however, some do opt to live on campus.
We rate and sort every listing based on fair market rent.