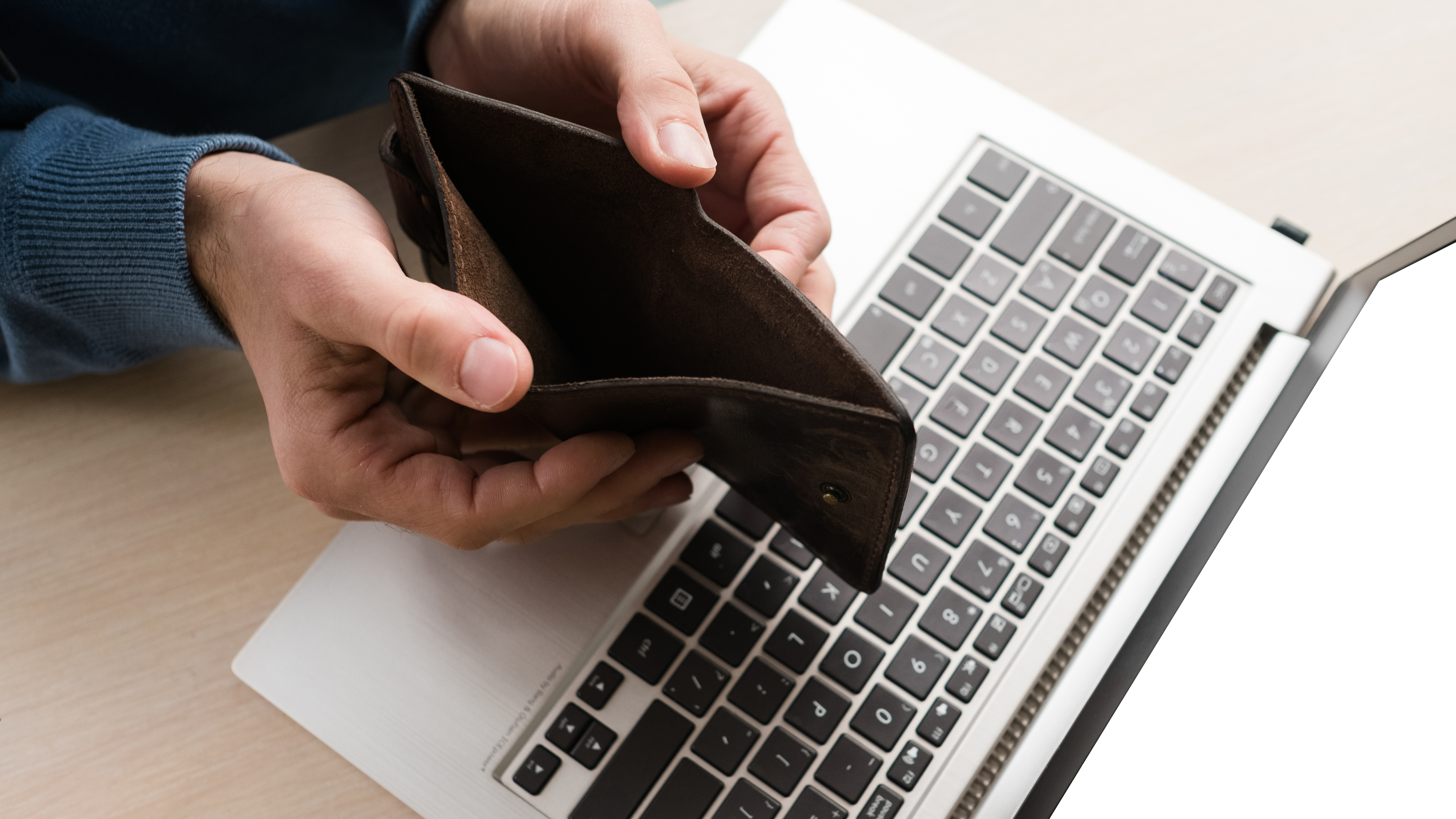 Apartment Renter's Guide to Rental Scams
---
During your apartment search when you find a rental listing that looks perfect, you might be tempted to cut corners to make it yours. This can be especially true in a competitive real estate market. However, if you aren't careful, you could fall victim to a rental scam. In this article, we share everything you need to know about rental scams and how to avoid them. Spotting a scammer isn't difficult if you know what to look out for.
What is an apartment rental scam?
When it comes to rental fraud, the goal of the scammer is to convince a prospective renter to wire money or make a cash payment without a written lease agreement in place. Once the renter hands over the money, the scammer ghosts them, and the renter has no recourse because they never entered into a legally binding contractual agreement. Note that even when you have a written lease agreement, it's not safe to wire money or pay rental fees in cash because, in both cases, it's difficult to document and prove in the event of a dispute.
Hopefully, this article will help you avoid being scammed. However, if you fall victim to rental fraud, reach out to the Federal Trade Commission (FTC) for support. You can contact them by phone or file a complaint in their Internet Crime Complaint Center. You should also enlist the help of your local law enforcement authorities.
14 Red Flags of a Rental Scam
Here are signs you might be dealing with a scammer:
They don't ask you to fill out a rental application.
They don't require you to sign a written lease.
They want you to sign an incomplete lease.
They don't do a credit check or background check.
They ask for personal information like your social security number or bank account info upfront.
They list the apartment rental for a low price that's way too good to be true.
They make excuses about why they can't meet you in person to give you a tour of the rental property.
They want you to move in sight unseen.
They offer to show you a similar unit versus the actual unit.
They request the first month's rent, last month's rent, and security deposit before you've signed a lease agreement.
They ask you to wire money or pay by cash upfront for any part of the rent.
They only accept cash or a money wire transfer — any legitimate landlord won't be looking to avoid a paper trail.
They charge an application fee that well exceeds the going rate of a background check.
They require an upfront deposit to hold the apartment before you've seen it or signed a lease.
Types of Rental Scams to Look Out for
Although most landlords and property managers are legit, and scammers are not the norm, here are a few of the most common scams you'll find in apartment rentals.
One type of rental fraud is when a scammer hijacks a legit rental listing from a reputable site by copying it and changing the contact information. After adding their email address and phone number, they place the ad on a site like Craigslist that does not verify listings, where they are less likely to be detected as a scammer. They may even alter the price to make the rental listing even more appealing.
Always be wary of apartment rental listings that look too good to be true. To spot a copycat rental scam, you can run a reverse image search on Google to see if the image is being used on other sites. Sometimes, you'll find the exact same property info, photos and all, in another part of the country or even overseas. Another way to spot a copycat listing is if the landlord or property manager claims that they have a long line of prospective renters excited about the rental property, but because you sound like a great applicant, they'd be willing to hold it for you if you send them a deposit right away. FOMO and a little flattery are often all it takes to convince an unsuspecting renter to fork over their money without a signed lease.
Another type of rental listing scam is the good old bait and switch, where a landlord or property manager lists an apartment for one price but changes the numbers in the lease agreement.
Be sure to read your lease agreement carefully to ensure you don't inadvertently sign a lease for the wrong monthly rent. In this type of rental scam, the landlord or property manager may also add extra fees that you weren't expecting. Once all parties have signed the lease agreement, it's a legally binding contract. There are no do-overs or take-backs. So, as boring as reading the legal language in a lease may be, it's worth taking the time to review it in detail. If there's something you don't understand or doesn't make sense, don't be afraid to ask questions.
This one seems like an obvious and easy scam to avoid, but fraudsters can be quite convincing. They may tell you that the market is crazy busy right now, they are buried in lease agreements, and if you don't want to lose the place, you should pay upfront immediately. If you hesitate, they may act hurt or offended that their word isn't enough for you. Don't fall for the act. At worst, they're trying to make off with your money. At best, they're disorganized, unprofessional, and not likely to be a good landlord.
Tips on How to Avoid a Rental Scam
Now that you know the red flags and types of rental scams to watch out for, here's some advice on how to avoid them.
Don't make any payments before you've received a copy of the written lease signed by all parties. No lease agreement in writing? No money. It's that simple.
Don't pay by cash or wire transfer because neither leaves a paper trail in the event of a dispute. There are plenty of other safer ways to pay your first month's rent, last month's rent, security deposit, and subsequent monthly rent, including via a personal check, certified check, cashier's check, credit card, electronic payment from your bank, or through an online rental payment platform if accepted by the landlord or property manager. Also, never send money overseas.
Don't pursue listings full of spelling errors, typos, and information that doesn't add up — for example, photos that don't match the geography where the apartment is located.
Don't provide personal information like your social security number or bank account info before verifying the identity of the property owner, landlord, or property manager. While this information is necessary to conduct a background check and to verify your ability to cover the rent, you'll want to make sure you have done your due diligence on the listing beforehand.
Don't sign a lease without doing your due diligence. Know who you're renting from — get the name of the property owner / landlord or management company and do an internet search to make sure they don't have any complaints, negative reviews, or claims of fraud against them.
Don't just take the internet's word for it; ask real people who live in the building. While touring the property, talk to other tenants in the building about what it's like to rent from the landlord or property manager.
Don't settle for just pictures or a video. Whenever possible, view the property in person with the landlord or property manager. With the rise in virtual tours, you may be inclined to skip the in-person apartment walk-through. However, it's best not to sign a lease on an apartment rental before you've seen the actual unit in person. During the walk-through, use an apartment tour checklist to look for signs of a good versus a bad rental. If you can't attend the walk-through yourself, send a friend or family member in your place. If that's not a possibility, in addition to viewing a virtual video tour online, ask the landlord or property manager to walk you through the apartment virtually via Skype or FaceTime.
Don't place your trust in a landlord or property manager willing to rent you an apartment without checking your background. As part of the rental application process, any legitimate property manager or landlord should require a credit check. If they're not worried about your ability to pay, you should be worried about their credibility. By running a background check and credit check on potential renters, they can increase the chance of finding a good tenant.
The Bottom Line
To help determine the value of an apartment, always use a reputable rental site. At ApartmentAdvisor, we even include a deal rating showing whether an apartment is a fair, good, or great deal.
Just remember, if the price is way too good to be true, it probably is. Any time an apartment is priced significantly under comps in the neighborhood, there's reason to be wary. Proceed with caution, or not at all.
---
About the author
Adeeva is a content and creative strategist with more than 20 years of professional writing experience. Before joining ApartmentAdvisor as Director of Content, she wrote for CarGurus, New Balance, The Grommet, and more. When she's not writing and editing, you'll find her trying to train her puppy with the help of her husband and two daughters.