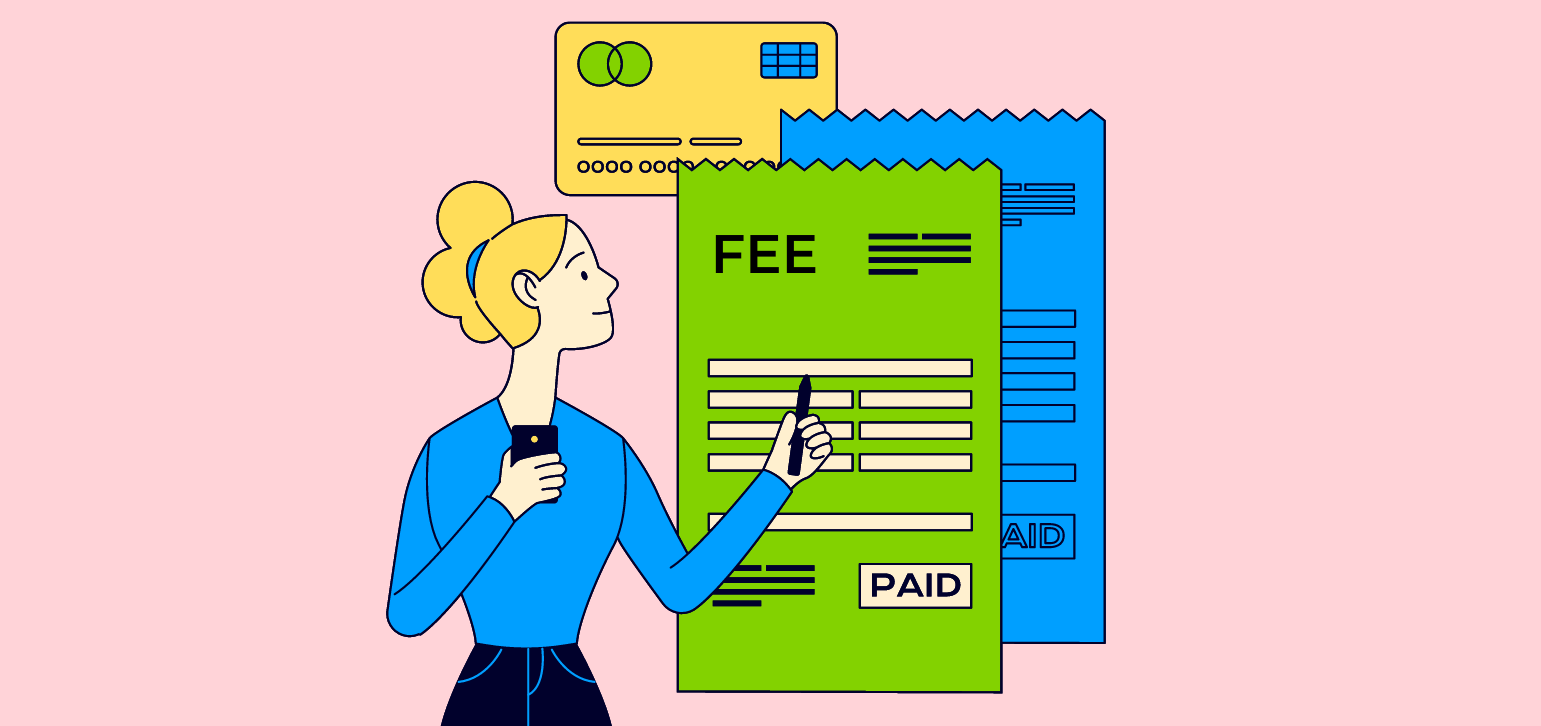 ---
While many renters realize they'll have to pay the first month's rent and the last month's rent, plus a security deposit upon signing a lease for a new apartment, there are quite a few additional fees that may take you by surprise when you see them for the first time.
From application fees to admin fees, amenity fees, so-called "move-in fees" and more, this article describes the many costs of renting an apartment beyond the monthly rent — all of which should be factored into the budget when figuring out how much rent you can afford during the apartment hunting process.
What is an application fee?
A rental application fee is the amount of money that a property manager or landlord charges an applicant to process their application. Ranging from $30 to $100, application fees are usually non-refundable and help cover the cost of a background check and credit check run by the property as part of the applicant screening. Recently, as part of the Biden-Harris administration's push against "junk fees," several states passed laws limiting the amount that landlords could charge for application fees. Now, in Rhode Island, for example, rental application fees cannot extend beyond the actual cost of obtaining a background check or credit report, if the prospective tenant does not provide their own report. In Massachusetts, where ApartmentAdvisor is based, landlords cannot charge an application fee at all. If you are being charged an application fee for an apartment, look up your state's local laws to see if there are any limits on how much you can be charged.
If I don't get approved for an apartment, will my application fee be refunded?
It depends on your state. In Montana, for one, the senate recently passed Bill 320, which requires landlords to refund application fees to unsuccessful rental applicants except any portion of the fee used to cover costs related to reviewing the application (like a background check or credit score report). Always check local laws to learn more about your specific rental market.
What is an admin fee?
While most renters probably expect to pay an application fee for an apartment, they may not know about a fairly common fee called an administrative fee (admin fee for short). As part of the application process, some property management companies charge an admin fee in addition to the application fee. Like application fees for an apartment, admin fees are usually non-refundable. Note that the admin fee can also be quite a bit higher than the application fee, ranging anywhere from $100 to $250.
An admin fee is an additional cost that covers the time and expense associated with vetting an applicant, such as answering questions, confirming employment, checking references, and executing the rental agreement.
When do you pay the admin fee for apartments?
Like application fees, admin fees are typically an upfront cost due at the time that an application is submitted.
Can all property managers and landlords charge apartment admin fees?
State laws regarding apartment fees vary. For example, New York and California have laws that place restrictions on apartment fees. So, do your homework and understand what to expect in your state before renting.
What is a broker fee?
In a few big cities, like Boston and New York City, you are expected to pay the real estate broker that you worked with during your apartment hunt a one-time flat fee, usually equal to one month's rent. The broker fee is, essentially, the tenant paying for all the work that the agent did on their behalf, like finding apartments, setting up tours, handling paperwork, and acting as a middleman between the prospective tenants and the landlord. It is like a broker commission.
What is a security deposit?
Unlike application and admin fees, a security deposit is a refundable payment— assuming, of course, you leave the rental in the same condition you found it. Security deposits are generally equivalent to one month's rent and are due at lease signing. While some normal wear is to be expected, the purpose of a security deposit is to cover the cost of any in-unit damage caused by renters during their tenancy. To help ensure you get your security deposit back at the end of your lease, we highly recommend doing an apartment walk-through with your property manager on move-in day to identify and document in writing any pre-existing issues in the unit. Note that security deposit amounts and terms vary, so it's best to check your rental agreement for details.
What is an amenity fee?
Certain highly coveted apartment perks like covered parking or an on-site fitness center may come with an extra price tag called an amenity fee. Amenity fees can be monthly payments or can be a one-time charge. However, amenities are often factored into the monthly rent and available to residents at no extra cost. Since amenities and associated fees vary by property, it's always a good idea to ask about amenity fees during the application process. If your apartment complex or building has a lot or garage but doesn't have a monthly fee for amenities, don't be surprised if they charge you parking fees instead.
Always check apartment listings closely to learn more about extra fees that you may be charged.
Can I be charged a pet fee?
If you're lucky enough to find a pet-friendly apartment that accepts you and your furry friend, be aware that there's usually an extra monthly charge for the privilege of cohabitating with a four-legged roommate. Apartment pet fees (a.k.a. pet rent) are non-refundable fees and tend to be around $10 per month per pet.
What is a pet deposit? How much is a pet deposit?
In addition to monthly pet fees, you're also likely to be required to pay a pet deposit upfront at the start of your lease. The difference between a pet fee and a pet deposit is that a pet deposit is refundable. As long as your pet doesn't damage the rental unit, you can expect to get your pet deposit back at the end of your lease. Pet deposits can be several hundred dollars.
Will I get charged for pet fees if I have a service animal?
If you have a service animal or an emotional support animal (ESA), your landlord cannot charge you any additional pet fees like a pet deposit or pet rent — even if the rental property has a no-pets policy. They also cannot require you to get extra training for your pet.
What is renters insurance?
Renters insurance is a policy purchased by a tenant to protect their personal belongings in a rental in the event of theft, vandalism, or damages caused by unexpected circumstances such as fire or sewage backup. Renters insurance can also protect you from personal liability if someone sustains an injury in your apartment and you need to pay for legal fees or medical bills. In some cases, a landlord can require their tenant to have renters insurance.
What is a cleaning fee?
In some states, when you move in or move out of an apartment, your landlord can charge you an extra cleaning fee. If you deep clean your apartment before you move out, this may not be necessary. The limits on what you can be charged are set by your state, but keep in mind: A landlord should not be charging you for cleaning upon both move-in and move-out.
Can I be charged late fees for missing a rent payment?
Yes — though the amount they charge and when they can charge it will depend on your state. In many places, you may even be charged interest on late rent. Your landlord can also begin eviction proceedings if you fail to pay rent on time, which can negatively impact future apartment applications when you're asked to provide your rental history, so avoid applying to apartments that you aren't sure that you can afford.
The Bottom Line
Apartment fees can really add up. Depending on the application and admin fees, you may be charged anywhere from $30 to $300 per application. At the time of the signing of your lease, you should also be prepared to pay the equivalent of three months' rent. And if you have a pet, need parking, or choose to take advantage of other amenities that cost extra, you should factor those additional rent fees into your budget as well. Needless to say, there's much more to affording an apartment than the monthly rent. However, legislation is being passed to limit how much tenants can be charged in additional fees — so stay up to date with your state's local laws on rental housing.
We rate and sort every listing based on fair market rent.