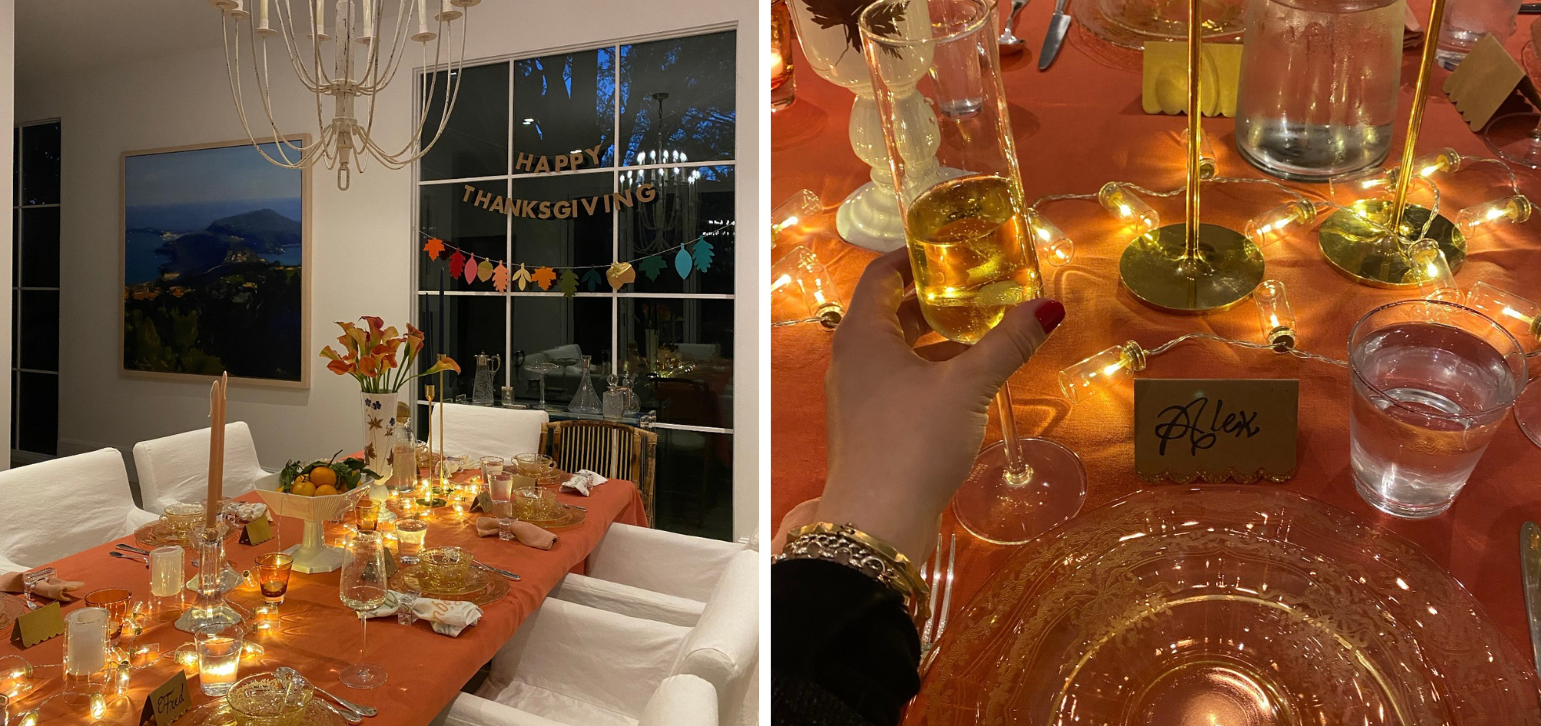 ---
Having people over when you live in a small space isn't always easy — and the idea of hosting a Friendsgiving or Thanksgiving dinner for the first time when you don't have a dining room can feel downright impossible. However, just because you live in an apartment doesn't mean that you can't be an incredible host for your loved ones on Turkey Day. It just might take a little creativity to prepare your space for your party.
We turned to the pros to learn how they host holiday gatherings like Thanksgiving meals in their small spaces. Read on for their tried-and-true tips.
Tip: Rent a Table
If your space lacks a traditional dining table, you can create one with a rented table. When Alex Bass, founder of the art and event space Salon 21, hosts a dinner party in her New York City apartment, she uses the small table that she already has in her apartment to serve a meal buffet-style and rents a folding table to eat on in her living room. If you have a lot of counter space, that's also a great place to serve your appetizers or side dishes. Keeping food close to the kitchen makes clean up easy, too, Bass says.
"This is a trick event planners use often," says Sarah Klingman, CEO and founder of event planning company gthr. "A fold out table is a great way to create more seating in a small space that doesn't normally work [for events]."
Find a linen tablecloth (skip the disposable plastic ones; they're wasteful and can make your space feel less elegant) to cover the table with, and suddenly your apartment will feel like a formal dining space.
You may need to move around some of your other furniture to make room — Bass recommends taking pieces like your coffee table and pushing them against the wall temporarily to free up valuable real estate — but it will be worth it to give your guests a more elevated experience. Whenever she is setting up a table, Bass also likes to make place cards for her guests. It may seem overly formal to some, but it can relieve your guests from wondering where to sit, especially in a group of people they don't know well.
If you lack seating, you can also rent folding chairs.
Place settings created by Alex Bass at Salon 21. All photos courtesy of Alex Bass.
Tip: Map Out "Dedicated Spaces" Before the Party
Bass's pet peeve when she enters a party? A lack of logistical planning.
"When I walk into someone's apartment, I want to know exactly where to put my shoes. I want to know exactly where to put my coat," she says. "If you're able to like control that, you're going to be able to like control the clutter."
For that reason, she always creates a dedicated shoe and coat area by the door before guests arrive, whether it's with an actual shoe or coat rack or on a DIY solution like a desk that she's cleared off for the occasion. This is beneficial for the host and the guests: The host gets to relax knowing their apartment will stay relatively neat, and guests are less likely to forget their belongings. Plus, no one has to share the limited seating space in a small apartment with a coat or a bag.
Tip: Skip the Traditional "Holiday Décor"
While the plastic cornucopia display at your local craft store may look like a tempting centerpiece for your party, buying seasonally dependent décor isn't always a smart move when you don't have a lot of storage space. Instead, try finding décor for your dining area that won't become obsolete after a holiday passes by — like candles, string lights, or florals.
Not only will this be more efficient storage-wise, but your guests will also appreciate it.
"Skip the plastic, party-esque goods for the holidays," Klingman says. "They'll make it feel less comfortable."
If you have a vase or two — or even an empty glass bottle — buy some bouquets and distribute them around your apartment prior to hosting your Thanksgiving feast. "Flowers make a house really feel like a home," Bass says. And if you're into a more minimalist aesthetic, she recommends buying some decorative branches for your vases.
Tip: Streamline Your Communication
When you're stressed out with last minute event set-up, the last thing you want is for someone to come early. Bass avoids this by using the app Partiful, which allows you to create guest lists, upload photos from the party, and send text blasts. 
"I did a Halloween party and I was running late setting up, so I [used Partiful] to text blast everyone and say 'Please do not be early, this is the time that I actually need you to come by,'" she says.
Being able to keep all communication on one platform rather than messaging each guest individually can help keep the party planning process stress free. Plus, if you are hosting your holiday dinner potluck-style, you can keep track of who is bringing the cranberry sauce and who is in charge of the mashed potatoes with ease.
We rate and sort every listing based on fair market rent.