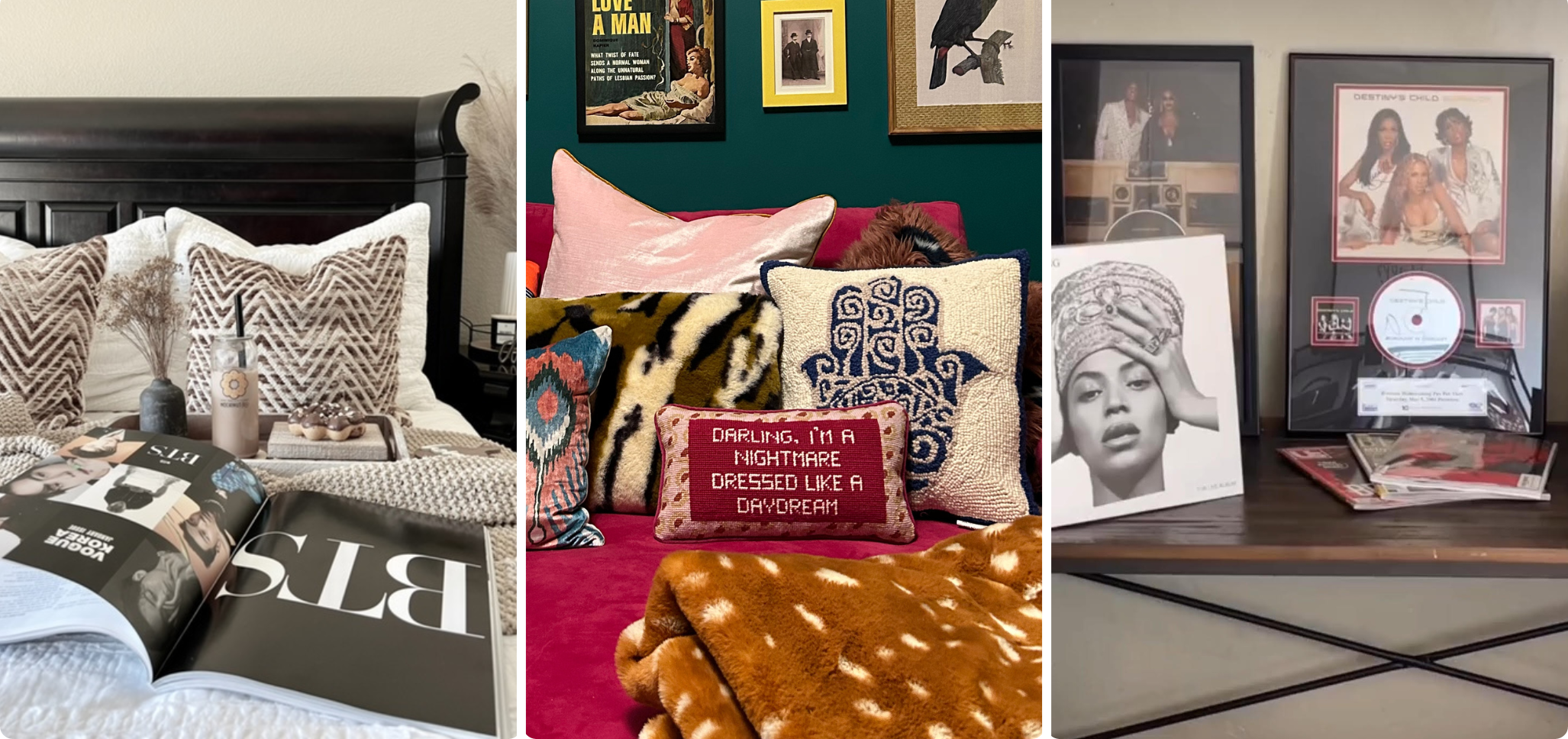 ---
Band posters taped and fraying on the wall. Cherished concert mementos like wristbands, backstage passes, confetti, and tour booklets tacked up or stuffed in drawers. Many of us had bedrooms like this growing up, but some fans continue to celebrate their favorite musicians in their apartments as adults, finding creative ways to elevate their fandom so it can grow with them.
It's not all about buying official merchandise directly from the artist. By combining items like fan-made lyric artwork, prints that relate to specific images in songs, and candles made to evoke the same feelings as the artist's music, these fans are going beyond the surface level understanding of the songs and the artist they admire, incorporating the symbols and themes of the artist's work and the emotions it produces in them into their home. While a casual listener of Taylor Swift's music may not recognize how a disco — or rather, mirror — ball relates to the artist, a Swiftie will, and that's what counts.
We spoke to superfans of Taylor Swift, BTS, and Beyonce to learn more about their apartment decor.
Queer Maximalist Swiftie Style
Frankie de la Cretaz is a freelance journalist in Boston, MA and has been a Swiftie since the artist's Folklore album came out in 2020. De la Cretaz describes the style of their three-bedroom condo as "queer maximalist," saying "there is no such thing as too much." This idea extends to their Taylor Swift décor.
For de la Cretaz, their home is their oasis, and its aesthetics reflect that. "My home is very queer, and I tend to mostly purchase Swift-themed items — whether it's official merch or fan products from somewhere like Etsy — that have queer undertones to them."
Highlights of their Swift-inspired home include an Eras Tour throw blanket with the colors of the lesbian flag, and a candle with the lyrics to "Lavender Haze" on it, a song many queer fans see as having queer themes. Other favorite items are a vintage vase from Perfect Pour Art with Taylor's face on it, a themed throw pillow (It reads: "Darling I'm a nightmare dressed like a daydream"), and a painting that features their favorite Swift lyric, "I had a marvelous time ruining everything."
For them, decorating with Taylor Swift–themed merchandise is more than a salute to their favorite star; it's also representative of their independence. "I purchased it after my divorce, and it was the first time I had a place all to myself where I could make all the decor decisions without having to run them by anyone else," they say. "I have truly made it mine in every single way by buying items that I love and finding a way to make them work."
In terms of practical advice, it depends on the desired aesthetic. De la Cretaz layers color, pattern, and texture, balancing visual appeal with comfort and functionality. They also choose to seamlessly integrate their Taylor pieces into their space, rather than hiding them away. Their best advice: "Buy the things you love and display them in your home without shame or apology. You deserve to be surrounded by things that make you happy."
Monochromatic BTS Decor
Anne Salvan has been ARMY — a moniker that means a fan of BTS, the Korean pop group — since 2018. A registered nurse who lives an hour outside of Los Angeles, CA, she started decorating her home with Bangtan-themed decor in 2019, not long after she started collecting BTS merch. It didn't take long for her collection to spill out from her closet to her bedroom, then her office, living room and, well, everywhere except for her kids' bedrooms, which they decorate themselves.
Salvan likes muted neutral colors and is known for her monochromatic themes on Instagram, which is populated with photos of the band's discography and merch. A fan of interior design, though, she seamlessly integrates her BTS décor with elements like plants, ceramic vases, a wooden record player, and unrelated sculptures and trinkets.
Salvan changes her decor seasonally, as well as for the birthdays of the seven members of BTS.
Salvan changes her decor seasonally, as well as for the birthdays of the seven members of BTS, which are commonly celebrated by fans with donations and in-person events. For example, for BTS leader RM's birthday, she put out the different versions of his 2022 solo album, Indigo, a candle inspired by his 2018 solo mixtape, Mono, artwork inspired by his song "Moonchild," and a set of bicycle bookends from Amazon. While they aren't official or fan-made merch, they feel very on-theme given the rapper's love of bike riding and his song, Bicycle.
Applying her fandom to her home is a way of bringing two of Salvan's passions together. "Home decorating really is something that I love," she says. "Surrounding myself with those things at home, it makes me feel happy and it's part of who I am."
Building a Beyoncé Wall
Vernon Maddox is a box office supervisor for an events company in Los Angeles, CA, where he's been in the same apartment for nine years. Originally an apartment he shared with friends, it's now a space devoted to himself — and Beyoncé. 
Maddox is a collector of many things, though his Beyoncé collection is his largest. It includes official and fan-made apparel, tour books, and CDs.
His favorite pieces, though, are his home-made album plaques.
While Maddox was growing up, his cousin worked in the music industry — and would bring home album plaques when an artist he worked with would reach a milestone in album sales. Inspired by that experience, Maddox now frames every Beyoncé album in that style. This elevated fan art hangs on his "Beyoncé wall." His framed albums have been such a hit on social media that he has started selling them to other Beyoncé fans online.
Beyond the album plaques, Maddox has Beyoncé albums on vinyl, magazines featuring Beyoncé, fan-made artwork, and posters on the wall, which is still a work in progress. He's building it as he goes, though he might consider changing it in a year or two. 
After all, the most important thing is tailoring the space to your own taste: "My advice to anyone decorating after the theme of their favorite artist is to just make it your own. It's a space you have to come to everyday, so make what you want of it."
We rate and sort every listing based on fair market rent.