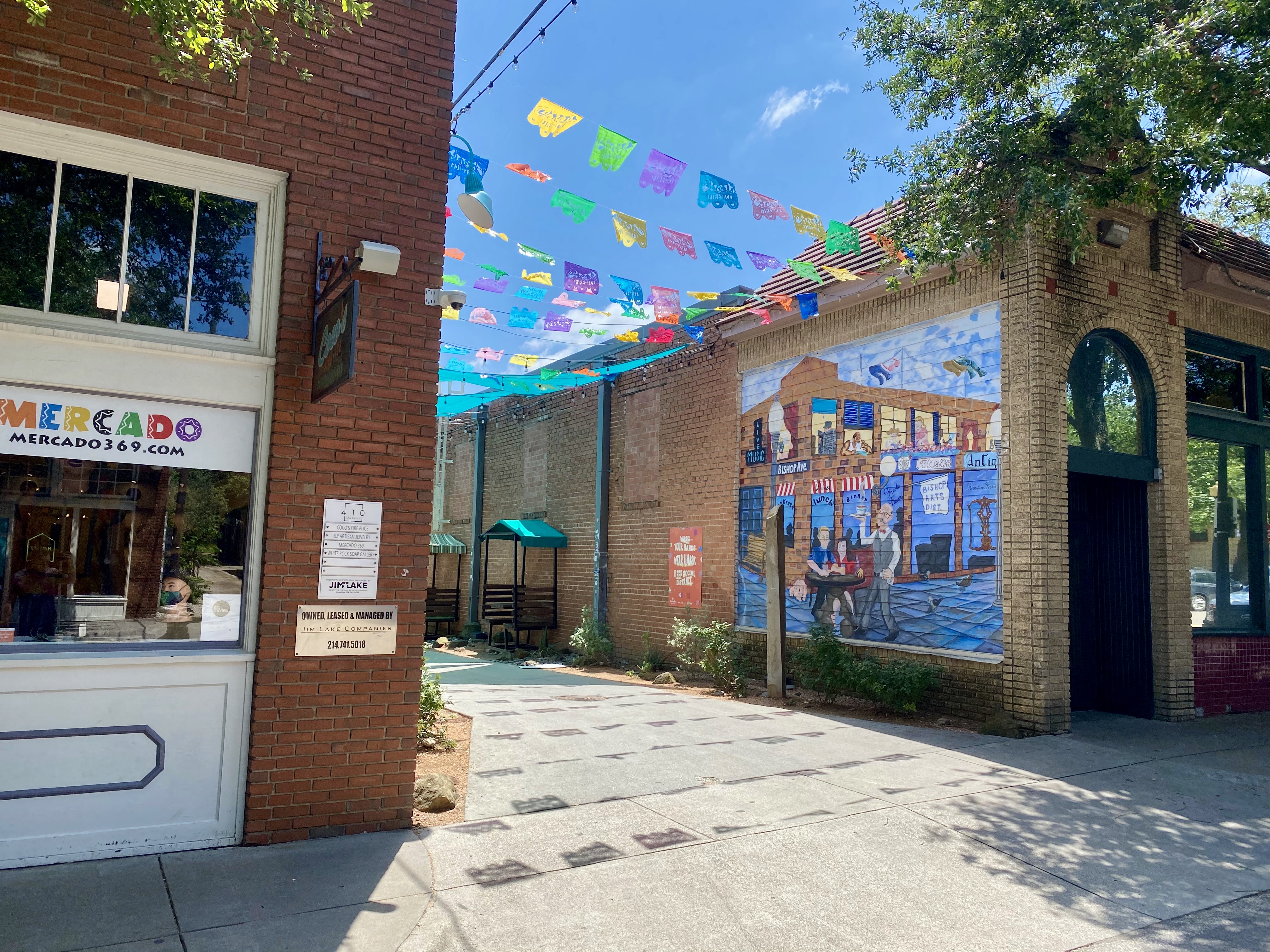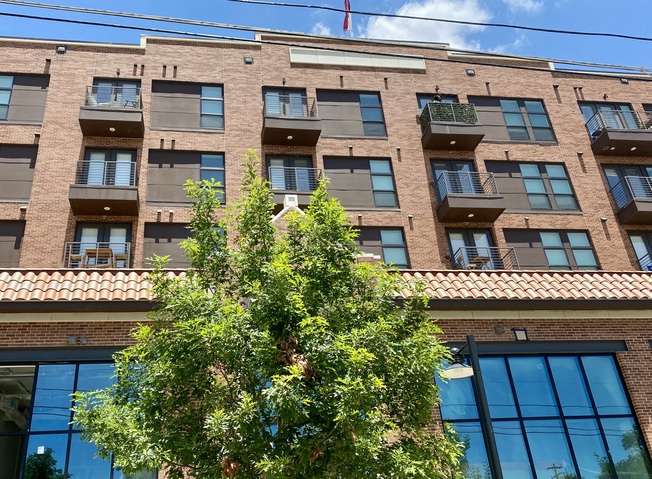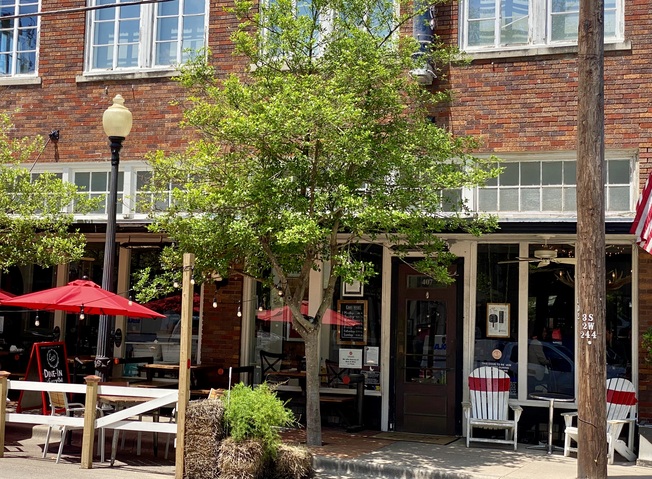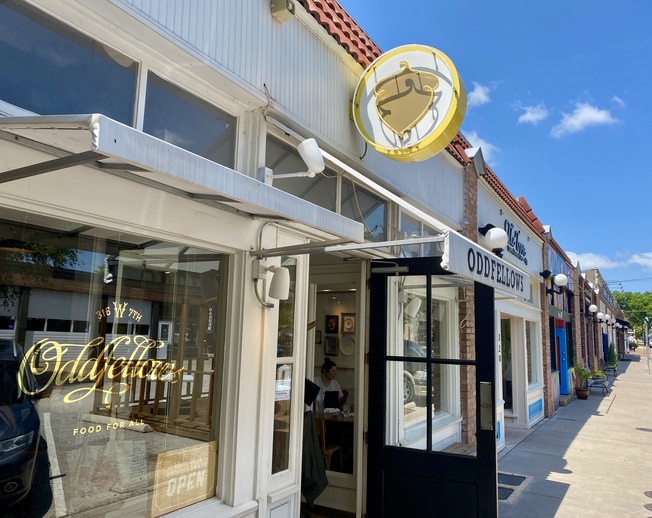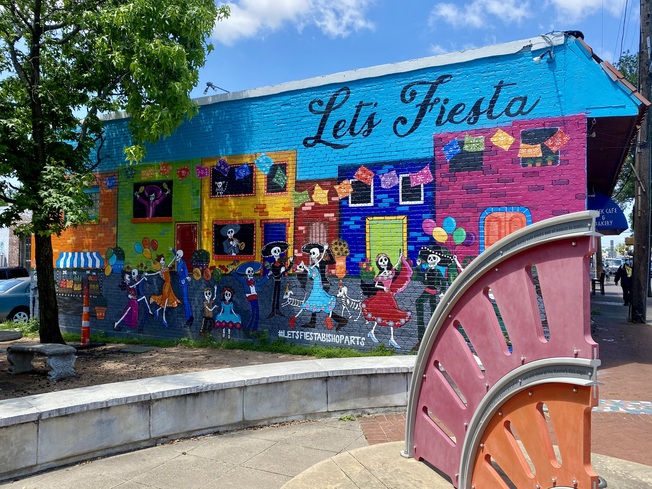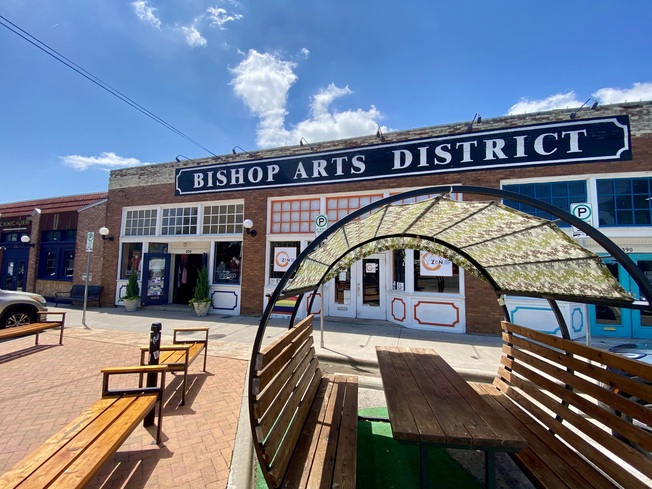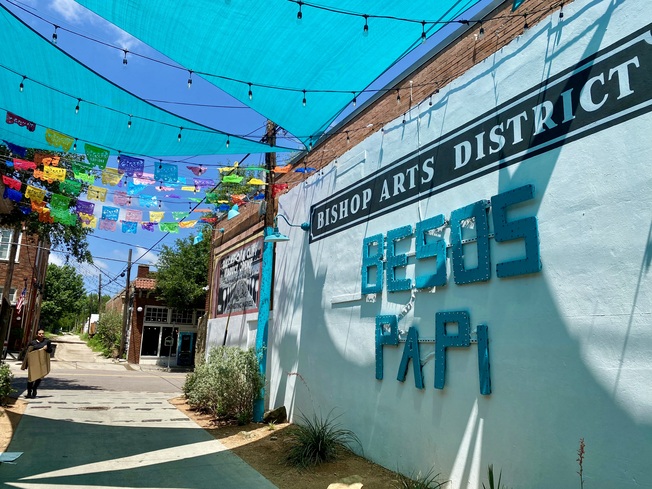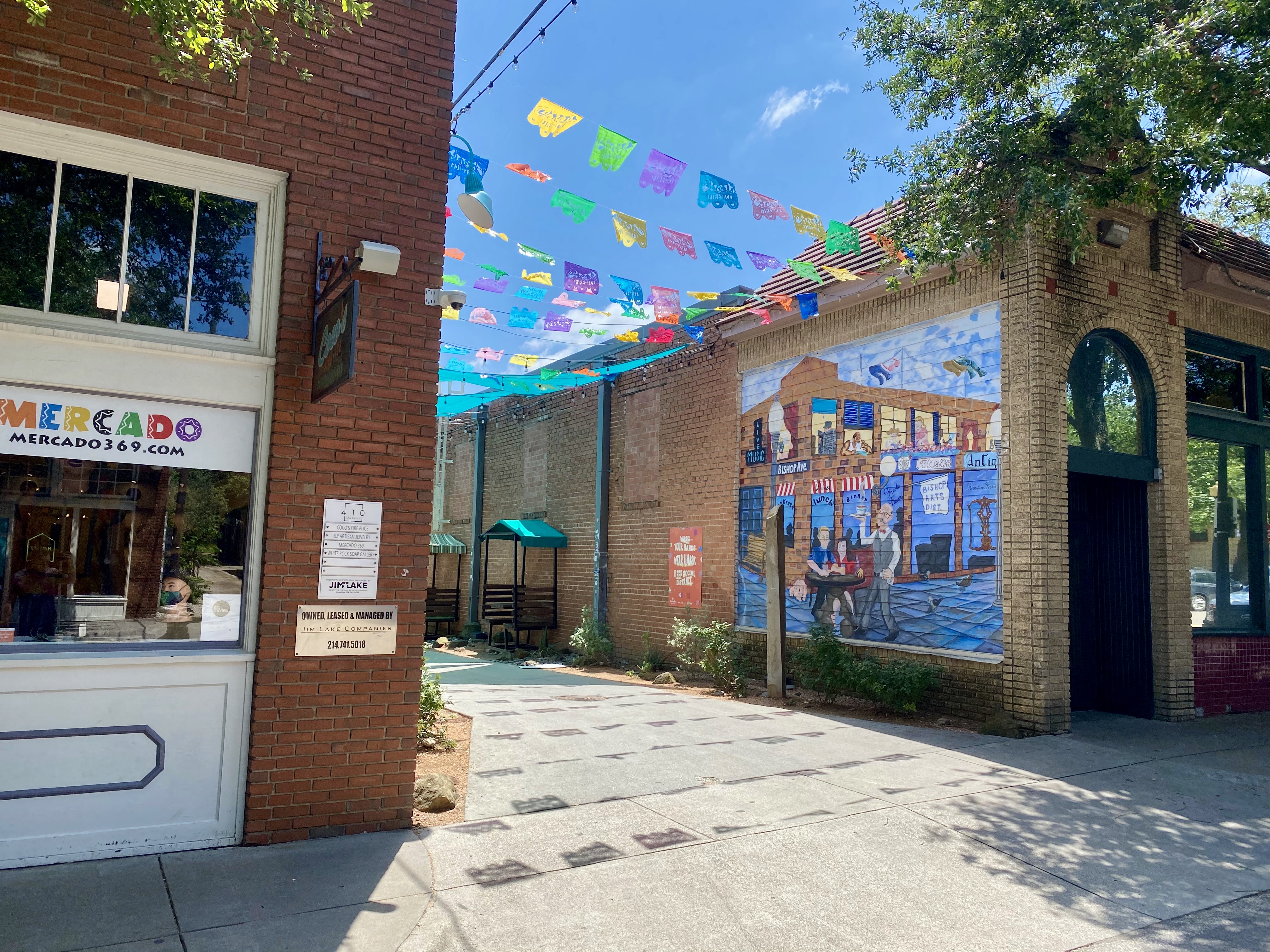 Bishop Arts District Guide
---
| | Median Rent | Median Sqft |
| --- | --- | --- |
| Studio | $1,539 | 572 sqft |
| 1 Bed | $1,809 | 771 sqft |
| 2 Beds | - | - |
| 3+ Beds | $3,750 | 2,100 sqft |
One of the most beloved neighborhoods in Dallas, the charming Bishop Arts District is a small area within the boundaries of Oak Cliff, the largest neighborhood in Dallas County, covering more than 72 square miles. The Bishop Arts District technically only spans 49 square blocks, seven north to south and seven east to west. But with new restaurants, bars, stores, and apartments popping up both within and just beyond its borders, the distinctive Bishop Arts vibe reaches beyond the confines of the neighborhood. As a result, the area feels larger than the land it officially occupies.
Nestled among the historic buildings dating back to the turn of the 20th century, the 60+ businesses here represent a wonderful mix of contemporary concepts thriving due to a group of independent owners and regular patrons who take pride in preserving the past while shopping local. One of the best things about Bishop Arts is its ability to transcend labels. Some call it a Brooklyn-like enclave for hipsters and, while that's partially true, it far from defines all the residents of this neighborhood. Biship Arts is home to one of the most diverse populations in Dallas, including many Latino families who settled here, ensuring the district's success when others bolted for the suburbs beginning in the 1950s. Centered around Davis Street, the Bishop Arts District has transformed from a sleepy hidden gem to a major destination visited by both tourists and people from the farthest reaches of Dallas-Fort Worth to stroll among the tree-lined streets and quaint storefronts.
Even though it's easily the smallest neighborhood in the city, the Bishop Arts District is served by its own light rail stop within the Dallas Area Rapid Transit (DART) system. Bishop Arts Station sits at the eastern edge of the neighborhood on Zang Boulevard and West 7th Street, making it super convenient for residents to travel to other parts of the metropolitan area with ease—and vice versa. Eight bus stops also serve the area.
The district itself is extremely walkable and bikeable for residents in the immediate area, but visitors from both nearby neighborhoods and farther beyond keep a steady flow of vehicular traffic through its few streets. Parking can be very hard to come by, especially on nights and all day on weekends, but a handful of larger parking lots exist. Otherwise, it may take some time to search the side streets for parking in front of someone's house, which definitely makes a strong case for taking advantage of the DART rail.
When driving makes the most sense, however, easily accessible nearby freeways include I-30 (R.L. Thornton Freeway) and I-35E.
Because of the neighborhood's small size, there are no grocery stores in the Bishop Arts District, and the nearest full-service Tom Thumb store is more than two miles away. But if you have a car or enjoy the convenience of grocery delivery services, it should have little impact on a decision to rent an apartment here. Plus, being able to walk to so many restaurants in Bishop Arts balances things out considerably.
Some of the top dining spots in the district include Âme for upscale French-Indian; El Jordan for traditional Mexican; Pho 88 for Vietnamese; Lockhart Smokehouse for Central Texas-style BBQ; Gloria's for a variety of Latin American styles; Eno's Pizza Tavern for creative Italian; Oddfellow's for breakfast; Boulevardier for French; Dallas Grilled Cheese Co., Hunky's Old-Fashioned Hamburgers, The Local Oak, and 303 Grill for American; and Zen Sushi for Japanese.
Meanwhile, Lucia's beloved Italian cuisine has made the restaurant legendary for some of the most sought-after (and hardest-to-get) table reservations in the entire city. Seats often get booked within minutes of becoming available online each day for bookings one month from that date.
For anyone with a sweet tooth, several options delight with their sugary temptations, including Espumoso, Emporium Pies, Azucar Ice Cream Company, MELT Ice Creams, and Dude, Sweet Chocolate. Or if you're looking for a place to hang out with friends over a cocktail, wine, or beer, pop inside Bishop Cider Co., Ten Bells Tavern, Whitehall Exhange, Oak Cliff Social Club, Neighborhood Cellar, and Parker Barrow's, a Bonnie & Clyde-themed bar, which has significance in the overall Oak Cliff history and lore.
You won't find any chains in the Bishop Arts District, making for a thoroughly unique shopping experience that's hard to come by these days. For eclectic gifts or to treat yourself with something great, head to All Good Things, Bishop Street Market, Fete-ish, DIRT Flowers, DFW M'Antiques, Epiphany, and Blue Dahlia. For clothing, check out Indigo 1745, Laughing Willow, Harkensback, and AJ Vagabonds. Find furniture and home accessories at Home on Bishop, Neighborhood, and Society by Jackson Vaughn. Catch up on your reading at Red Pegasus Comics and the Wild Detectives, a book store that's also a bar and performance space with a great patio. Several salons, day spas, barbershops, and other services can also be found. True to the district's name, you can enjoy (and procure) art at several of the previously mentioned shops, as well as Mercado 369 and Ellison Valencia Gallery. Or get inked with wearable art at Saints and Sinners Tattoo.
The sense of community is evident in the various festivals and events that take place in Bishop Arts, from semi-monthly wine walks to large-scale Mardi Gras and Bastille Day celebrations.
One of the liveliest spots in the area beckons people through its doors with music that can be heard sometimes blocks away. Reveler's Hall feels like it's been dropped into the Bishop Arts District straight from Louisiana with its classic cocktails and daily live music, often from the Reveler's Hall Band, a New Orleans-style jazz ensemble that gets people off their feet and dancing in the street—literally.
Though it's a few blocks away, the Bishop Arts Theatre Center deserves a mention as one of the highlights of the broader neighborhood with its plays and other staged productions throughout the year, often created by local playwrights and artists.
Other nearby greater Oak Cliff attractions include the historic Texas Theatre for 35mm films (cult and new releases); the Kessler Theater for live music and other performances; Delta Charlie's Bar & Grill, which offers dinner and a flight over Dallas in a small plane; and the Commemorative Air Force experience at the Dallas Executive Airport, featuring the world's largest collection of still-flying World War II aircraft.
And a mile or less from the Bishop Arts District, you can escape to the great outdoors at either Lake Cliff Park or Kidd Springs Park. Lake Cliff features a small body of water, rose gardens, walking paths, sports fields, and tennis courts. And Kidd Springs offers another modest lake (fed from natural springs) that's filled with turtles and fish, plus a small Japanese garden, recreation center, and a newly constructed pool and small water park. Both are great for picnics, barbecuing, and fishing.
Though not directly in the Bishop Arts District, Oak Cliff itself has three college options, including Dallas College Mountain View, Dallas College West Dallas Center, and the University of North Texas Dallas campus. The Bishop Arts District's proximity to downtown makes it an ideal residential home base for students of Downtown Dallas' campuses of the Dallas College system, the University of North Texas, and Texas A&M University.
We rate and sort every listing based on fair market rent.