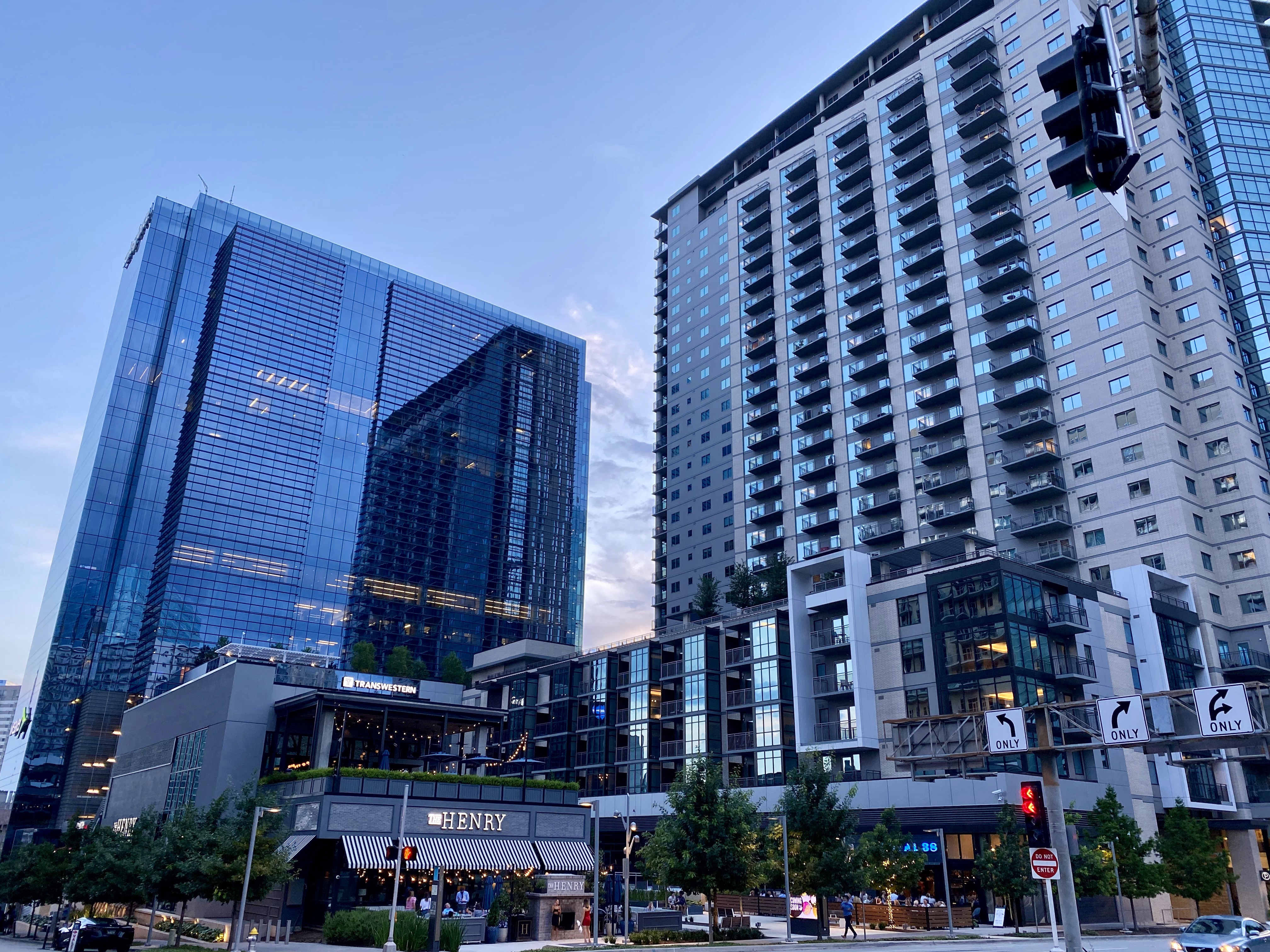 ---
| | Median Rent | Median Sqft |
| --- | --- | --- |
| Studio | $1,348 | 507 sqft |
| 1 Bed | $1,367 | 700 sqft |
| 2 Beds | $1,995 | 1,143 sqft |
| 3+ Beds | $3,000 | 1,902 sqft |
Known affectionately as Big D, Dallas lives up to its reputation of doing things on a large scale — and always with a sense of grandeur. (You may also know the city from the iconic TV show of the same name.) Dallas is the third-largest city in Texas, the ninth-largest in the United States, and the largest in the United States that's not navigable by water. And, when it's finished, the 44,000-acre Trinity River Corridor Project will dwarf Central Park in New York City more than ten times over. But more size boasts later.
Dallas has a population of nearly 1.3 million, according to the most recent data as of the writing of this guide. That number increases to 7.5 million people if you factor in the entire metropolitan statistical area of Dallas, Fort Worth, and Arlington. The demographic makeup shows a melting pot of races, with Dallas County home to an estimated 40% Latino or Hispanic, 29% White, 24% Black or African American, and 7% Asian American Pacific Islanders (AAPI).
The sun shines on Dallas a vast majority of the year (though it's pretty darn hot during July and August), with only 81 rainy days and less than two days of snow on average. That provides numerous opportunities to enjoy time on a patio, a beloved part of Dallas dining culture. And because of the summer heat and mild-but-warmer temperatures in the spring and fall, access to swimming pools and hot tubs is essential. They're also often at the top of the amenity lists for apartment complexes, which can be found in an extensive array of price points from affordable to high-end. Apartments in Dallas can be found in everything from older, sometimes historic buildings to new, contemporary communities and high-rises bursting with features.
Distinctive neighborhoods create an intricate mosaic across the Dallas landscape, with the scenery and vibe often changing quickly from block to block. Funky Deep Ellum, with its 19th century converted warehouses, leads into the Downtown Dallas central business district, where you can find luxury high-rise apartments amid office skyscrapers. Then there's Uptown, a chic haven for young professionals who enjoy the fast-paced lifestyle of the popular restaurant, bar, and shopping hub. Several Dallas neighborhoods surround White Rock Lake, including well-established Lake Highlands and Lakewood, where residents take full advantage of the recreational activities and natural beauty that come with living close to the city's largest urban body of water. Outdoor splendor is a big part of life in Oak Cliff, and the small Bishop Arts District within its borders has become a major destination for dining, nightlife, and local boutique shopping. And North Dallas contains some of the wealthiest enclaves in the entire region.
The citizens of Dallas love their cars (a lot). The vast majority of commuters rely on their own vehicles to get them safely from Point A to Point B, and valet parking is quite common at popular businesses. For anyone not wanting to drive in the sometimes-hectic traffic around town, ride-share services are abundant.
The city also has a robust public transportation system operated by Dallas Area Rapid Transit (DART), which includes more than 120 bus routes and four extensive light-rail lines that stretch to the far reaches of the metroplex, including stations that serve both Dallas Love Field Airport (home to Dallas-based Southwest Airlines) and DFW International Airport (home to Fort Worth-based American Airlines). Meanwhile, the Trinity Railway Express provides rapid service between Dallas and Fort Worth, which lies 32 miles to the west. Many smaller neighborhoods are highly walkable, while others are too sprawling to easily go about your day solely on foot.
Dallas continues to increase its cycling infrastructure. However, many areas don't have dedicated bike lanes, making it more of a recreational option than a viable everyday mode of transportation.
Some cities across this great nation have become known for one particular food or another, but Dallas has the delicious benefit of being the home base for some truly remarkable cuisines across a variety of craveable categories. The dress code has relaxed over the decades, and today's Dallas restaurants almost exclusively focus on friendly experiences with impeccable service while allowing their guests to be a little less buttoned-up.
As for top culinary options (in no particular order), Dallas is a fantastic place for Tex-Mex with queso on almost every menu (a must-order appetizer, especially when loaded with beef and guacamole). BBQ here borrows mostly from the Central Texas-style, but you'd be hard-pressed to find better brisket anywhere in the state than some of the top smoked meat joints in Dallas. Speaking of meat, Dallas steakhouses serve up some of the finest beef anywhere in the country with a huge emphasis on where they source the highest quality protein, how it's aged, and how it's prepared. A large Asian population throughout the metroplex has contributed greatly to the food scene, with restaurants serving authentic versions of home-country favorites that aren't dumbed down for the masses. Rounding out this top-five list, good old southern comfort food can be found every few blocks with fried chicken, meatloaf, and chicken-fried steak common options served with macaroni and cheese, fried okra, braised greens, and fluffy buttermilk biscuits on the side. Though it's not obvious from this assessment, vegan and vegetarian options are increasing on both existing restaurant menus and at entire Dallas eateries dedicated to plant-based eating.
When it comes to bars in Dallas, the two words you most need to know are "ice cold." Whether it's a local craft beer (there are more than two dozen breweries in Dallas alone) or a classic margarita (the inventor of the frozen margarita machine still lives here), tipplers here typically seek out beverages that refresh.
Glitz and glamour will always be a part of Dallas folklore, thanks to both TV shows and movies set in the city. And, while the entertainment business has done much to cement the city's reputation for grandeur, you don't have to look hard to understand why. High-end designer fashion boutiques co-exist in large numbers alongside the ultimate name in retail opulence, Dallas-based Neiman Marcus. Top shopping destinations include the massive NorthPark Center with its museum-worthy art collection, Highland Park Village (the first planned shopping center in the U.S.), and Galleria Dallas, as well as several smaller retail venues populating neighborhoods throughout the city.
Getting back to superlatives for a moment, Dallas is home to the largest contiguous Arts District in America, highlights of which include the AT&T Performing Arts Center, the Dallas Museum of Art, the Nasher Sculpture Center, the Crow Museum of Asian Art, and the Meyerson Symphony Center. During the holiday season, you can ice skate underneath the tallest indoor Christmas tree in the nation at Galleria Dallas. And things don't get much bigger than the international recognition of the local NFL team, the Dallas Cowboys. Rounding out the professional team roster are the Texas Rangers (MLB), the Dallas Mavericks (NBA), the Dallas Stars (NHL), FC Dallas (MLS), and the Dallas Wings (WNBA).
Other claims to fame worth seeing in-person: one of the original copies of the Declaration of Independence on display at the main branch of the Dallas Public Library. It's right there on the 7th floor near Shakespeare's first folio, Mr. William Shakespeare's Comedies, Histories, & Tragedies, and other historical treasures. On the outdoor front, the Great Trinity Forest is a vast and wonderful place to escape the chaos of daily life for hiking and cycling, as well as White Rock Lake. The lake covers more than 1,000 acres in the middle of the city. For more than a century, it has remained a popular place for hiking, cycling, kayaking, sailing, dog walking, fishing, and sunset watching (among dozens of other popular activities). Klyde Warren Park and the Katy Trail, which both connect to Uptown, are used daily by thousands of enthusiasts. Dog lovers have plenty of options for exercise and socialization for their four-legged friends, too, with spacious dog parks on the shores of White Rock Lake as well as Mutts Canina Cantina, a dog park/restaurant in Uptown. Deep Ellum, Downtown Dallas, Knox/Henderson, plenty of other neighborhoods, and many apartment communities offer smaller dog parks.
Higher education draws many people to Dallas and a large number of graduates love the city so much they end up putting down roots and living here for years, if not the rest of their lives. Numerous colleges can be found around town, including community-focused Dallas College, but major universities with campuses in Dallas-Fort Worth include Southern Methodist University, University of North Texas, the University of Texas at Arlington, the University of Texas at Dallas, Texas Woman's University, Texas Christian University, and Texas Wesleyan University.
We rate and sort every listing based on fair market rent.