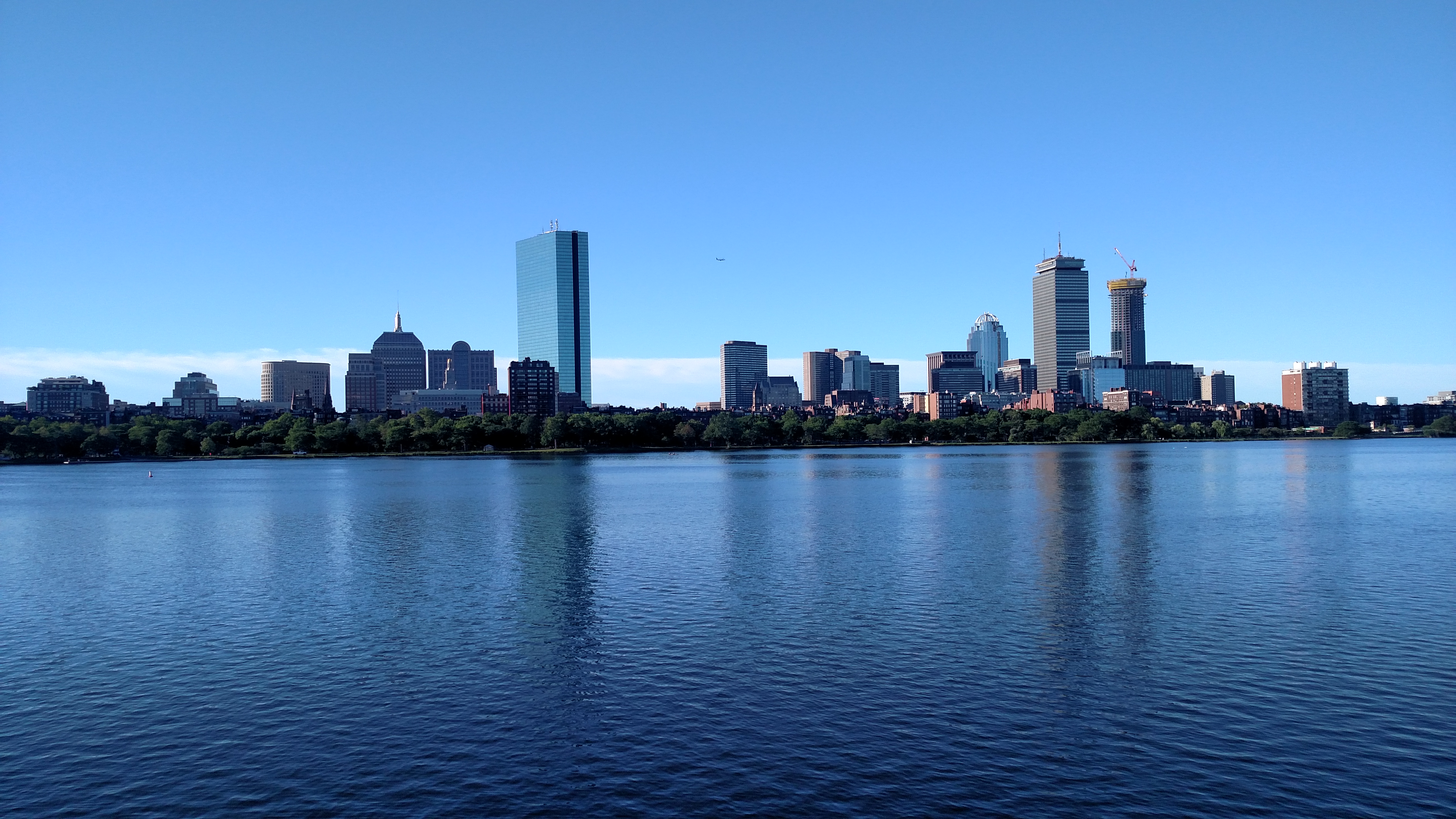 ---
| | Median Rent | Median Sqft |
| --- | --- | --- |
| Studio | $2,500 | 474 sqft |
| 1 Bed | $3,000 | 702 sqft |
| 2 Beds | $3,500 | 1,000 sqft |
| 3+ Beds | $4,250 | 1,486 sqft |
Boston packs a lot of punch into its small size. It's a city that excels at pretty much everything — from education and healthcare to dining and culture (not to mention baseball). Boston values its history, as evidenced by the architecture from all eras and the many historical sights. But it's also not afraid to step into the future, embracing technology, entrepreneurship, and whatever innovation may bring. Best of all, Boston is blessed with a renewable source of energy and ideas: the dozens of colleges and universities in the area. The very mission of these schools is to inspire creativity and learning, and the whole city benefits. Not only that, the schools attract an annual influx of young people, resulting in a population that never gets old. So you may curse the students when they're all moving into their new apartments at the same time on the first of September, but they are the heart and soul of this city, helping to make it the dynamic, forward-thinking place that it is.
From the famous Back Bay brownstones to equally iconic triple-deckers in South Boston, a.k.a. Southie, and luxury seafront complexes in the new Seaport District to more affordable apartments in the Fenway and Allston/Brighton, there's a wide array of homes, condos, and apartments in Boston. The average rent in Boston is expensive compared to other parts of the country, but the prices vary quite a bit, depending on the property's age, location, and style.
Boston is a famously walkable city, thanks to its compactness, not to mention ample sidewalk space, and even more greenspace. Many Boston residents depend on their own two feet as their primary means of transportation, falling back on public transportation or bikes for longer distances. (The city's layout and parkland also benefit folks who walk or jog for exercise.)
The Boston subway system — known as the T — is the oldest in the country, dating to 1897. (So think about that when your green-line train is creaking along the tracks at a snail's pace.) Nowadays, the four MBTA train lines (the Red, Green, Orange, and Blue Lines) stretch out to the suburbs in all directions. Additionally, the Silver Line is a rapid-transit bus line that runs to the airport and a few other neighborhoods underserved by the subway. Thanks to the T, Boston is one of the few cities in the United States where residents don't really need a car, depending on where they live. Many of Boston's most desirable neighborhoods and destinations are accessible by T.
And if the T doesn't go there, an MBTA bus does. While the bus lines vary in frequency and punctuality, they are generally reliable — most of the time. Bluebikes is the city's bike-share program, with bike stations all around Boston, Brookline, Cambridge, and Somerville. And, there are even a few commuter ferry routes, namely serving Charlestown and the south-shore towns of Hull and Hingham.
For outlying suburbs, the commuter rail has a dozen train lines extending as far as Worcester, MA and Providence, RI.
The good news is that Boston is still a seafood epicenter, with enough fresh fish and lobster rolls and clam chowder to satisfy even the most ravenous seafood lover. Seafood restaurants are ubiquitous in Boston, ranging from old-school fish shacks to trendy oyster bars to modern interpreters of seafood classics. In Boston, you're never more than a few miles from a Legal Sea Foods restaurant. The chain is almost as popular as Dunkin' Donuts here. Starbucks fans, rest easy; it's not hard to find a venti vanilla latte in Boston either.
You don't have to be a seafood eater or coffee drinker to enjoy restaurants in Boston. The city's many immigrant populations have made their mark in various ways, not the least by introducing the world's cuisines. The North End is packed with Italian restaurants, while Chinatown is rich with dumpling houses, dim sum, and Asian eateries of all kinds. Dorchester is the place to go for Vietnamese and Caribbean cuisine, and Allston/Brighton is like a United Nations of cheap eats. And, of course, there are Irish pubs everywhere (but especially in Southie). Meanwhile, in the South End and the Seaport District, creative cooks are rediscovering farm-fresh ingredients, fusing regional and international influences, and concocting new combinations. These restaurants are on the forefront of nouveau cuisine, and curious foodies are (literally) eating it up. The number of restaurants varies, as does the culinary specialty. But every neighborhood has a local dining scene that is worth exploring.
For more than a century, Filene's Department Store was the premier destination for shopping in Boston, with its handsome 19th-century building and famous bargain basement. Downtown Crossing had already lost its luster when the department store closed in 2006, but the closure confirmed the end of the era of Boston's downtown shopping district. There are still stores in this area — including Macy's and Primark — frequented by commuters and city dwellers for fast fashion and affordable necessities. But luxury shopping has moved elsewhere.
Nowadays, upscale shoppers are more likely to train their sights on stores in the Back Bay, whether the high-end boutiques and independent shops on Newbury Street or the fancy malls at Copley Place and Prudential Center.
Several other neighborhoods have a smaller quantity of unique venues, as well as some specialty shopping. The South End is Boston's artistic center, replete with art studios and galleries, as well as the city's largest art market (weekly, from May to October). In Beacon Hill, Charles Street is lined with sweet boutiques and more than a few antique shops, which makes for a fun outing. In Jamaica Plain, the shopping strip is Centre Street, with a truly eclectic array of cute and quirky independent shops.
Outside of Boston proper in Cambridge, Harvard Square is a cool place to shop, with a mix of national chains and independent shops (and plenty of bookstores!). Assembly Row in Somerville is a large outdoor shopping mall with more than 40 stores in one complex. Many other neighborhoods have a handful of shops that merit a visit when in the area (if not a special trip).
Blessed with a rich history, a cultured population, winning sports teams, and a premier seaside location, Boston has more things to do and places to see than one person can feasibly take in. Residents are truly blessed for choice.
Boston is rightfully proud of its colonial and revolutionary history, and the city shows off many of the related historic sites along the 2.4-mile Freedom Trail. A red-brick (or painted) line winds through Downtown Boston, the North End, and Charlestown, connecting 16 sites of historical significance. Nearby, the Black Heritage Trail explores the streets and sites of Beacon Hill and reveals the rich African-American history there. This is not only Boston history, but American history — with interesting and worthwhile lessons for any resident.
That said, these are historical sites, so they don't change much. After you do it once, you're unlikely to go back anytime soon. Fortunately, that's not true of the city's many museums. Boston has two world-class art museums — the encyclopedic Museum of Fine Arts (MFA) and the cutting-edge Institute for Contemporary Art (ICA). Their permanent collections and rotating exhibits, not to mention film and performances series, guarantee to inspire repeat visits. The excellent Museum of Science is vast and ever-changing, including shows at the IMAX theater and the planetarium. Other worthwhile museums include the award-winning Children's Museum, the New England Aquarium, the Isabella Stewart Gardner Museum, the unusual Mapparium, and the many diverse collections at universities and colleges around town.
The performing arts are also major attractions, thanks to the Boston Symphony Orchestra and the Boston Pops (in the Fenway), the Boston Ballet and Boston Lyric Opera (in the Theater District), and a host of smaller theater companies (in the South End, Cambridge, and other neighborhoods). One can check out the local musical talent at bars and clubs all over the city, especially the Fenway, Allston/Brighton, and Cambridge.
Besides being a city of arts and culture, Boston is also a great sports town, with five professional sports teams (baseball, basketball, football, hockey, and soccer), all of which have a fanatical following. College sports are a big draw, especially for students and alumni. The Beanpot is a fiercely competitive annual hockey tournament that takes place between four local colleges: Boston College, Boston University, Harvard University, and Northeastern University. And of course, the city's most famous annual event is a running race: the Boston Marathon, the oldest and most prestigious marathon in the world.
Active types will appreciate the city's many acres of greenspace and miles of coastline, which offer myriad opportunities to get outside and get moving. Boston's favorite outdoor spaces are the Charles River Esplanade and the Emerald Necklace, both offering playgrounds, sports fields, and plenty of perfect picnic spots, not to mention miles of trails for walking, running, or cycling. Franklin Park, the city's largest park, includes a golf course and a zoo, in addition to more standard park features. Not the least, Boston's waterside location allows for swimming and sunning at South Boston beaches, sailing out of Charlestown, canoeing and kayaking on the Charles River, and more.
Boston is a true college town, with some 35 institutions of higher education in the city proper and more in the immediately surrounding towns. The number of students in the city exceeds 150,000, representing nearly a quarter of the total population. Needless to say, the influence of this young, dynamic population cannot be underestimated.
The schools are spread throughout the city, but a few neighborhoods are student hubs. Most significantly, the Fenway is home to the city's largest educational institution, Boston University (although the campus stretches west along Commonwealth Avenue). Additionally, Northeastern University is located in the southern part of the neighborhood, as are the five smaller Colleges of the Fenway. Berklee School of Music is also nearby. As such, the Fenway is more densely packed with students than any other neighborhood in Boston.
Allston/Brighton is also heavily populated by students (and sometimes called the "student ghetto") due to the proximity of Boston University and Boston College at either end of the neighborhood. Other schools with sizeable student bodies include UMass Boston in Dorchester, Suffolk University and Emerson College in Downtown Boston, and Bunker Hill Community College in Charlestown.
There are more educational institutions across the river in Cambridge, including Harvard and MIT, as well as a few smaller schools. Tufts University is just up the road in Medford. And about 12 miles west of Boston, Waltham is home to Brandeis University and Bentley College.
We rate and sort every listing based on fair market rent.