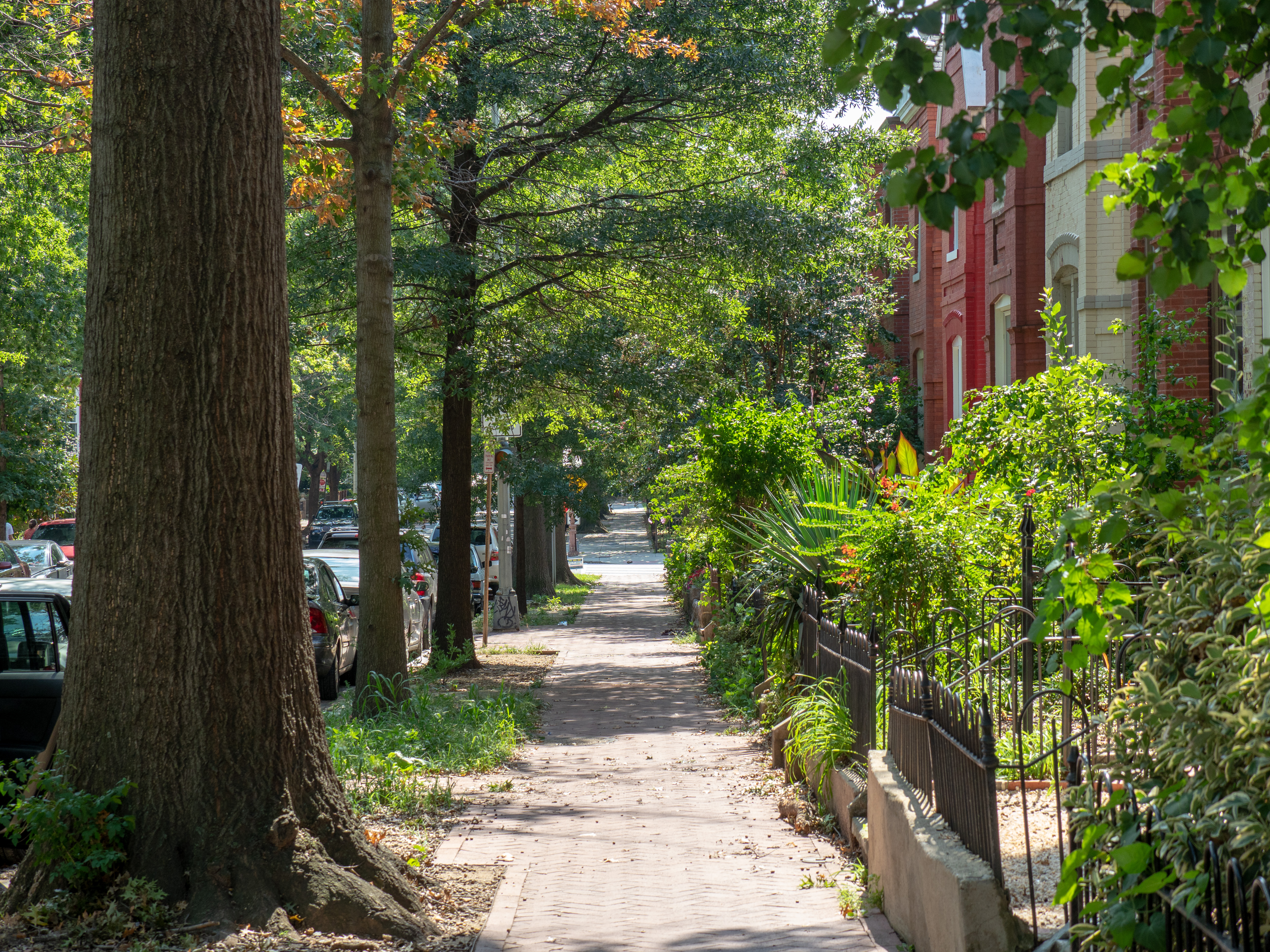 ---
| | Median Rent | Median Sqft |
| --- | --- | --- |
| Studio | $1,770 | 592 sqft |
| 1 Bed | $2,155 | 680 sqft |
| 2 Beds | $3,025 | - |
| 3+ Beds | $3,900 | - |
You could say the H Street neighborhood gave birth to Washington DC, as it was used to house the workforce that developed initial city infrastructure. Some two decades later, with the advent of streetcars, it became a thriving commercial district. Then, a resurgence of commercial investment in the early 2000s kicked off the neighborhood's revival that continues today.
H Street, also called H Street Corridor, is an eclectic community of nightlife and theatre nestled near NoMa, Capitol Hill, and Union Market. The boundaries of H Street begin where the "Hopscotch Bridge" at 2nd Street NE breaks from the formality of Capitol Hill to a mile and a half stretch of urban diversity. H Street is characterized by renovated row houses stacked alongside new luxury apartment buildings and some grand dame federal-style dwellings towards the northern end. It extends in a straight line — thus the name "Corridor" — along H Street NE until 15th Street NE, where Benning Road, Maryland Avenue, Florida Avenue, and Bladensburg Road intersect in a starburst. The diagonal slash of Florida Avenue delineates the northern boundary, and the commonly considered southern boundary of the H Street Corridor is two blocks south, along F Street NE.
The heart of H Street Corridor overflows with restaurants, coffee shops, bars, and cultural attractions. In fact, the National Trust for Historic Preservation dubbed H Street a "Great American Main Street," nodding to the Corridor's independently owned shops and galleries blended with large mixed-use development and unique retail.
Depending on your outlook, that brimming streetlife could come across as gritty, a bit noisy, or full of "character." Some might say it creates prime conditions for crime and a troubling amount of trash. Others are drawn to the neighborhood's ever-present buzz and vibrancy.
Supermarkets, dry cleaners, boutiques, and other neighborhood staples are all within easy reach, making H Street highly walkable and bikeable. For many locals, it has a reputation for being far from other downtown neighborhoods, but it's just a 6-minute walk to Union Station, a 20-minute walk to the National Mall and Eastern Market, and a 10-minute walk to Union Market.
Don't want to walk? Consider taking the streetcar. It's a free transportation service that crawls up and down H Street. It's reliable enough running every 15 minutes Monday through Thursday until midnight, Friday and Saturday until 2 am, and Sunday and holidays until 10 pm.
There are also options for public transportation that pass near H Street Corridor. Take busses X2 and X8 or the Metrorail Red Line.
If you must drive, do so with caution. H Street known for reckless speeding and a fair number of accidents.
Begin your days at Ebenezers Coffeehouse and start off on the right foot. Its "coffee with a cause" is owned and operated by National Community Church, with all profits benefiting community outreach projects, locally and internationally. Prefer to linger a while? Enjoy the hospitality of the Wydown coffee shop located in the lobby of the Apollo apartments. Run by two brothers with roots in the Midwest, you're welcome to sit with coffee and pastries or an afternoon wine or craft cocktail.
Just as eclectic as the neighborhood itself, H Street offers diners flavors from near and far. Try some French fare in a polished, industrial setting, whether for brunch or dinner. Don't miss the classic French onion soup or moules frites, a common French dish of mussels in white wine sauce served with crispy shoestring fries. Want to go Swiss instead? Stable has your fondue pot ready. And if you're lucky, you can dip into your cheesy melt while seated in a charming chalet.
Local chef Erik Bruner-Yang first attracted foodies to H Street with a tiny restaurant called Toki Underground. If you're into noodles, they serve hearty ramen with a citywide reputation and a line out the door. Though the celebrity chef is no longer there, you can still enjoy his touch at Maketto's hybrid dining-retail-coffee shop space, where he serves up Taiwanese and Cambodian dishes.
Non-meat eaters are just as pampered at The Fancy Radish. It bills itself as a modern vegetable restaurant where the plant-based menus change with the seasons. Its James Beard-nominated chefs are known to serve boundary-pushing vegan cuisine.
More award-winning food can be had at Burmese kitchen, Thamee. From tea leaf salad to mohingar, a rich, brothy, catfish noodle soup (and the national dish of Myanmar), the chef brings an elevated take on classic dishes from the Southeast Asian nation that combines Chinese, Thai, and Indian influences. One possible complaint? They don't take reservations.
Not every place in H Street calls for high-brow experiences. The Pug aims to please with the opposite end of the entertainment spectrum. It's a dimly lit dive bar that is so no-frills, you can drink your beer out of the tin can it came in. A local crowd comes to this small, boxing-themed bar for drinks, weekend brunch, and late-night hours.
If you can resit the tantalizing restaurants around you, stock up for at-home dining with groceries in H Street at the neighborhood Giant Food or Whole Foods Market.
Though you can technically eat here, communal Maketto might also serve up your latest wardrobe addition in its combination coffee shop-bar-retail store-Asian restaurant marketplace. You can even shop online while you're sipping your latté.
For more consumer fusion, visit Shopkeepers, a neighborhood boutique, cafe, and gallery in one. It's a space for every occasion — to browse home decor, gaze at art, pick up Asian groceries, or hangout with friends and family. Oh, you can also play fetch with your four-legged friend as Shopkeepers is pet-friendly.
Shopping in H Street continues at another two-for-one shoppers' experience, Sankofa Boutique, featuring some of the most creative clothing using hand-woven textiles from all over the world. But that's not all. Once you pick out your T-shirt and leather accessories, peruse some quality cannabidiol or CBD products promising a variety of health benefits like relief from anxiety, insomnia, and chronic pain.
The Atlas Performing Arts Center, responsible for one of the neighborhood's nicknames as the Atlas District, is home to a variety of performances and events across a range of artistic traditions. Art lovers flock to the beautiful art deco building. It's been one of the area's mainstays where locals can catch a jazz concert, dance performance, or theatrical productions year-round.
The annual H Street Festival has become one of the most popular celebrations in all of DC. The festival spans 11 blocks with 14 stages and features a broad, culturally diverse mix of music, fashion, arts, poetry readings, and family-friendly programs. It's also one of sixteen hosts to Art All Night, an event that opens pop-up galleries that stage exhibits from 7 pm to 2 am. On an ordinary day of the week, you can still dance all night since many live music venues make their home in H Street, like the Rock & Roll Hotel and Little Miss Whiskeys.
There's even a nightlife scene for DC's hipster crowd, no jacket or tie required. Come dressed down to the tongue-in-cheek H Street Country Club, where you can play mini golf, skee ball, and shuffleboard while dining on casual Mexican food.
Another must-do seasonal affair, the H Street Farmers' Market treats visitors to the best of the local bounty on Saturdays, 9 am to 12:30 pm from mid-April to mid-December. Visitors will find local quality produce and products, including handmade cow milk cheeses, fresh-picked fruits, vegetables, handmade pastries, and flowers.
H Street is a dog-friendly community, so thank goodness for the nearby parks. Though they are small and not directly inside the neighborhood boundaries, there are options to bring your fur babies to some green grass at Stanton, Lincoln Park, and Swampoodle dog parks.
The neighborhood's unique vibe is also influenced by the presence of Gallaudet University students who study next door in Near Northeast. One tangible effect is the line out the door at Starbucks' first US signing store that opened in 2018 where all baristas are fluent in American Sign Language (ASL).
We rate and sort every listing based on fair market rent.