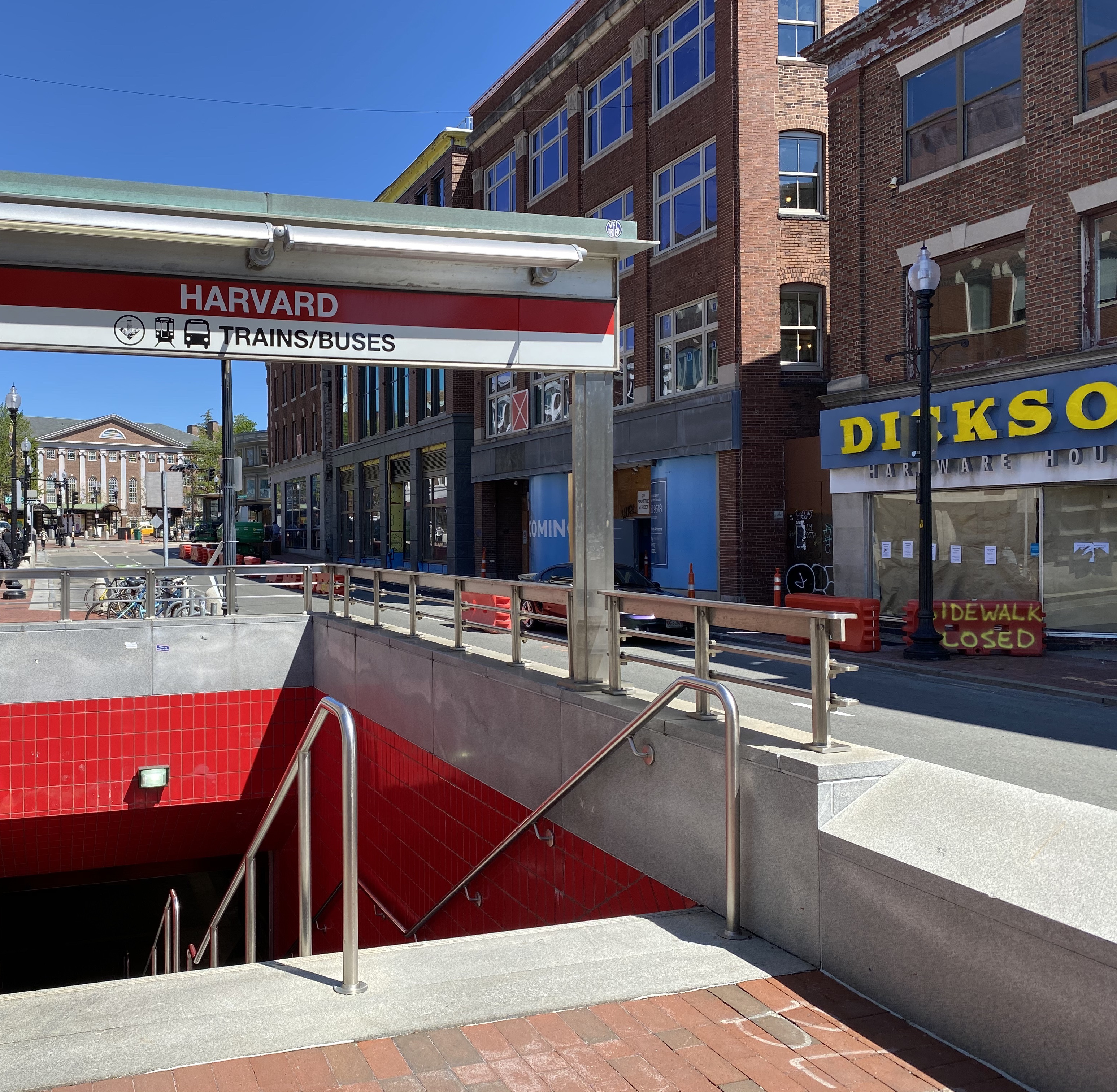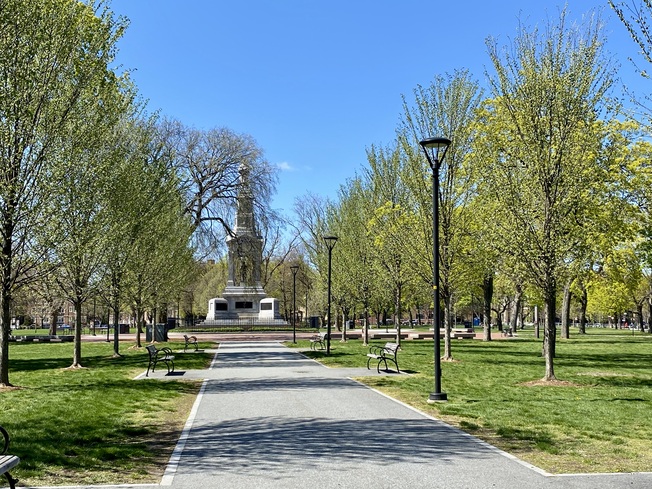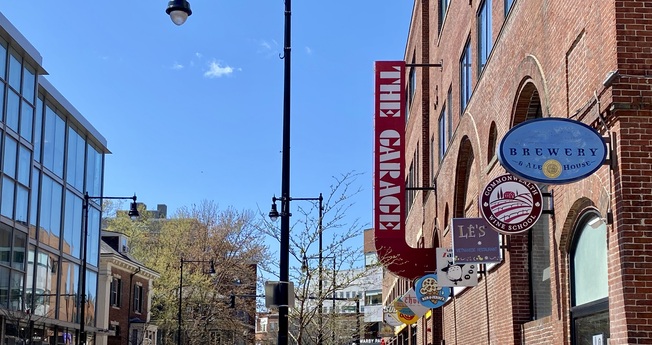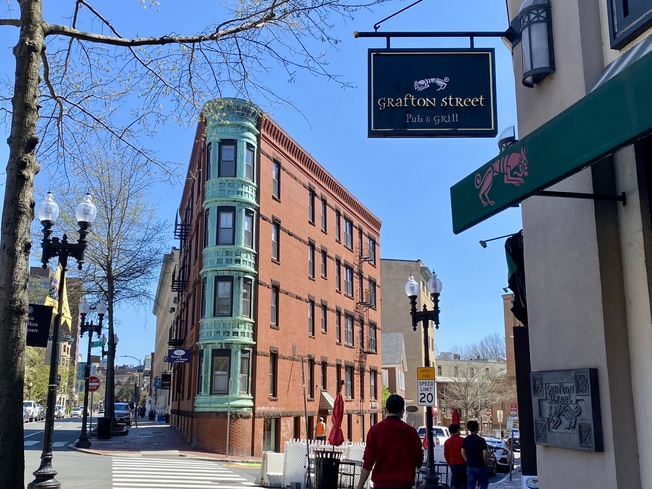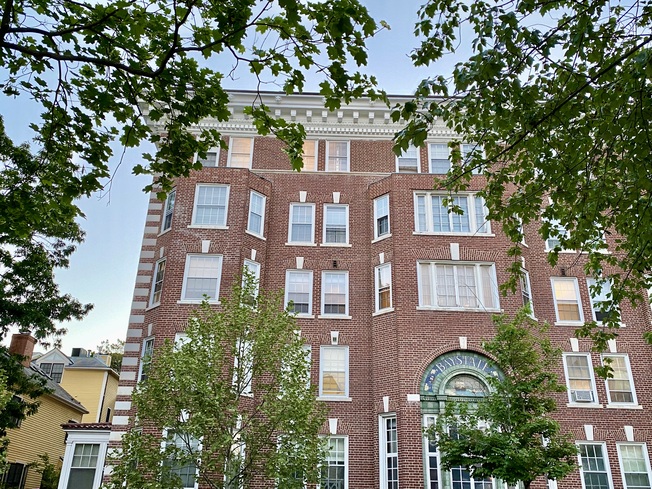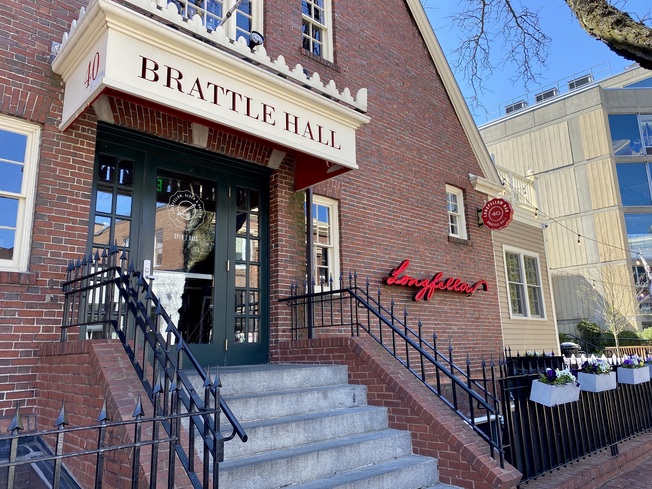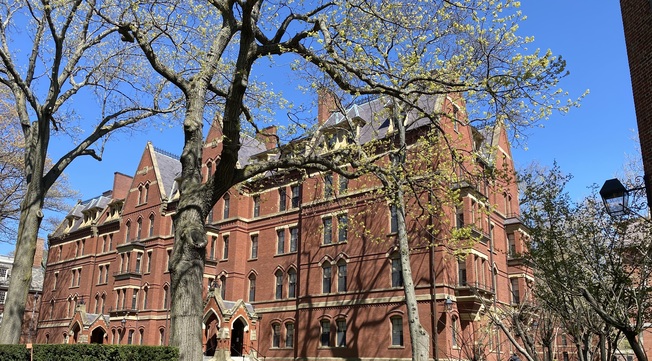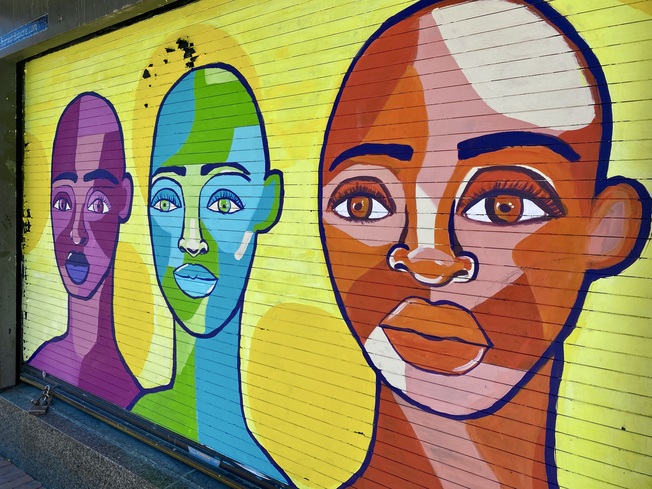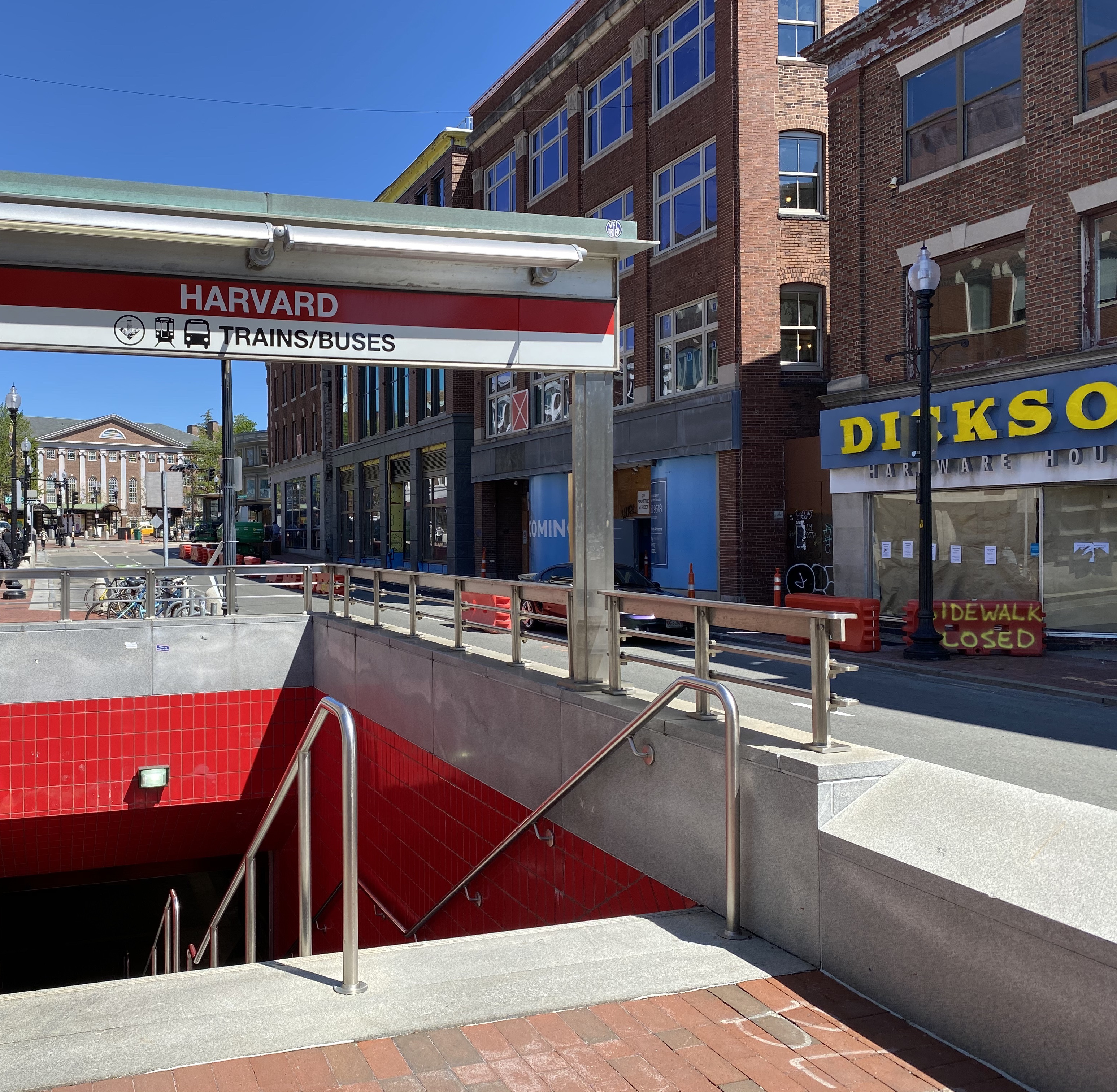 ---
| | Median Rent | Median Sqft |
| --- | --- | --- |
| Studio | $1,735 | 325 sqft |
| 1 Bed | $2,850 | 710 sqft |
| 2 Beds | $3,975 | - |
| 3+ Beds | $6,200 | 1,500 sqft |
Ivy League epicenter and longtime bohemian gathering place, Harvard Square exudes ambition, idealism, accomplishment, and creativity. Home to its esteemed namesake university, the oldest in America, Harvard Square is the birthplace of innovations and innovators that have changed our world in countless ways. If residents and students sometimes feel like they live in the middle of a tourist attraction, that's because they do. Aside from the atmosphere of polished academia, the neighborhood also contains historic sites, waterfront greenspaces, and buzzing commerce, all of which attract crowds of international visitors.
Founded in 1630, Harvard Square was the first planned village in English North America, and its original streets are still in use today. Harvard Square welcomed the very first printing press in America in 1638 and has been a hub for authors, poets, publishers, printers, teachers, students, and booksellers ever since. In fact, some of the country's most brilliant literary talents have lived or worked in the area, including E.E. Cummings, T.S Elliot, Margaret Fuller, and Henry Wadsworth Longfellow.
Nowadays, the neighborhood clings to its roots, with bookstores and coffee shops attracting literary and scholarly types despite gentrification which has resulted in some long-standing neighborhood institutions being replaced by CVS, Starbucks and the like. While homeowners here are more likely to be well-established academics and professionals, as well as old Cambridge families inhabiting the historic homes around Brattle Street and its surroundings, Harvard Square apartment rentals cater to students of all kinds, from local to international and undergrad to Ph.D.
Venture from the main streets to find picturesque New England architecture, flanked by blossoming trees in spring and postcard-perfect white snow in winter. Settle into a cozy cafe to surround yourself with creative thinkers who may be budding novelists, scheming entrepreneurs, or mad scientists.
With its Harvard University ties, it's not surprising that Harvard Square is home to its fair share of university-owned housing. But it's not only students who live here. Drawing a diverse mix of young professionals, families, academic folks, and Cambridge lifers, the streets around Harvard Square are dotted with charming single- and two-family houses. There's a mix of attractive low-rise apartment buildings in the area as well. Living in the neighborhood can be on the more expensive side. However, affordable apartments near Harvard Square are available — especially for those willing to consider renting in nearby Central Square or just over the line in Somerville.
Geographically compact, Harvard Square is one of the most walkable neighborhoods in Cambridge. The hub of Harvard Square is the intersection of Massachusetts Avenue (or "Mass Ave"), Mount Auburn Street, and Brattle Street. This is where you'll find Harvard Yard, the oldest part of the university campus, as well as the neighborhood's commercial center, with shops, restaurants, clubs, pubs, theaters, and more. From here, the roads spoke out through residential districts, reaching Central Square (Cambridge) in the east, Somerville and Arlington to the north, and Watertown and Belmont to the west. Good news for cyclists: most of these roads are well marked with bike lanes.
The Charles River marks the southern border of Harvard Square. Memorial Drive snakes along the river's shore, providing an attractive route for walkers, runners, and bikers.
Harvard Square sits atop the MBTA station by the same name, a Red-line T station and major bus hub, guaranteeing easy access to nearby squares and towns (including Boston).
Parking in Harvard Square (not to mention traffic) can be a challenge for even the most patient drivers. Residents can park along Cambridge side streets with a permit. For those visiting by car, street parking among the tightly packed, shop-lined roads can be tricky. Local parking complexes charge as much as $31 per day ($14 on weekends). On the outskirts of Harvard Square, however, metered parking is usually available.
Restaurants in Harvard Square are both varied and curious, with multicultural staples alongside tried-and-true American cuisine. In keeping with Harvard Square's historic atmosphere, there is no shortage of neighborhood institutions that have been around for decades. Mr. Bartley's Burger Cottage and Charlie's Kitchen are two favorites, celebrated both for their satisfying food and friendly vibe. Grendel's Den Restaurant & Bar has been serving pub food and cold beer in their cozy basement for 50 years. In more recent years, restaurants in Harvard Square have evolved to represent every corner of the world, from Felipe's Mexican Taqueria and Orinocco's Venezuelan Kitchen, to Vietnamese Le's Restaurant and Sushi Café.
For fine dining, head to Waypoint for classic seafood dishes, Benedetto in the Charles Hotel for rustic Italian dishes, or Alden & Harlow for small plates and an extensive cocktail menu (with pub cousin Longfellow Bar just upstairs).
Considering the large student population, it's no surprise that Harvard Square excels at cheap, tasty (and even healthy) fast food, not to mention some excellent late-night munchie options — a rarity in the Boston area. Falafel Corner offers one of the city's best shawarma until 3 AM. Also not surprising are the many cozy pubs and lively patios serving up cold beer and stiff cocktails. Secure a spot early on weekends at Shays Pub & Wine Bar, a garden-level patio that's perfect for people-watching. Or head to Grafton Street Pub & Grill's patio for cocktails and dollar oysters come midnight.
Grocery stores in Harvard Square are limited to several small but well-stocked markets, as well as the famous specialty shop Cardullo's Gourmet Shoppe (with a double-p-e and everything). For farm-fresh produce, there is a year-round, bi-weekly farmers market, plus an additional weekly seasonal market hosted by the university.
Large grocery stores are harder to come by in Harvard Square. However, Porter Square's Star Market and Central Square's Whole Foods and HMart are easily accessible by bus or MBTA.
Harvard Square has long been famous for its alternative culture, characterized by Communist bookstores and used record stops. The shopping scene has gone mainstream in recent years, but suffice to say that there's still plenty of quirky independent stores to pique a shopper's interest.
Case in point: Leavitt & Peirce Tobacco is a 133-year-old shop across from Harvard Yard, specializing in chess and other classic board games, old-fashioned shaving supplies, and of course, loose-leaf tobacco of every kind. The Garage has an eclectic mix of shops in a funky corner building (yes, a former garage), with stores like Anime Zakka and Newbury Comics. Fun fact: the piercing & tattoo parlor Chameleon was the first licensed ink shop in Massachusetts.
Today, the Communist bookstore is gone, but there are numerous places to browse for books, whether you go wandering in the multi-level halls of the Harvard Coop, exploring the independent Harvard Book Store, or searching for high-quality second-hand finds at Raven Used Books.
Clothing stores in Harvard Square include everything from luxury boutiques to more accessible fashion to fabulous vintage, and specialty shops. Plus, all your favorite chain stores can be found here as well. And the Coop has got you covered for the obligatory Harvard sweatshirt.
Harvard University is a destination in itself, thanks to historic spots, interesting architecture, and live performances. Take a tour of Harvard Yard to see the oldest buildings and learn fun facts about the famous university. Harvard shows off its many collections at a half-dozen museums, including the amazing glass flower collection at the Natural History Museum, extensive Native American artifacts at the Peabody Museum of Archeology and Ethnology, and three diverse art collections under one roof at the Harvard Art Museums.
Lovers of the arts need not be confined to museums: catch a film at the Brattle theatre or award-winning play at the A.R.T. Harvard Square's artistic heart shines in music venues like The Sinclair and Beat Brew Hall. Club Passim is a beloved landmark for folk-rock music, having hosted famous names like Joan Baez, Shawn Colvin, Bob Dylan, Tom Rush, Joni Mitchell, Suzanne Vega, Muddy Waters, and Jimmy Buffett.
For lifelong learners, the Cambridge Center for Adult Education offers myriad classes, from film appreciation to flower arranging, all without an Ivy League price tag.
Harvard Square is active all year long. Winter brings ice-skating and chili cook-offs. In spring and summer, the neighborhood hosts many street fairs and music festivals. And fall is the season for the Head of the Charles, the world's oldest two-day rowing regatta.
Finally, when you're ready to escape the bustle, stroll down Brattle Street to admire the mansions of Tory Row, discover famous gravesites at Mount Auburn Cemetery, or ride a bike along the picturesque Charles River. Harvard Square may be named after the university, but this neighborhood offers so much more.
Harvard University dominates its namesake square, but it's not the only educational institution in the vicinity. Radcliffe Institute (once a separate women's university, but now an institute of Harvard) is right next door. Lesley College, Cambridge College, and the Longy School of Music are all within a half-mile walk. The Massachusetts Institute of Technology (MIT) is about two miles southeast of Harvard Square, just two stops on the MBTA. Finally, Downtown Boston schools such as Emerson College or Suffolk University can be easily accessed via the Red Line in under 30 minutes.
We rate and sort every listing based on fair market rent.