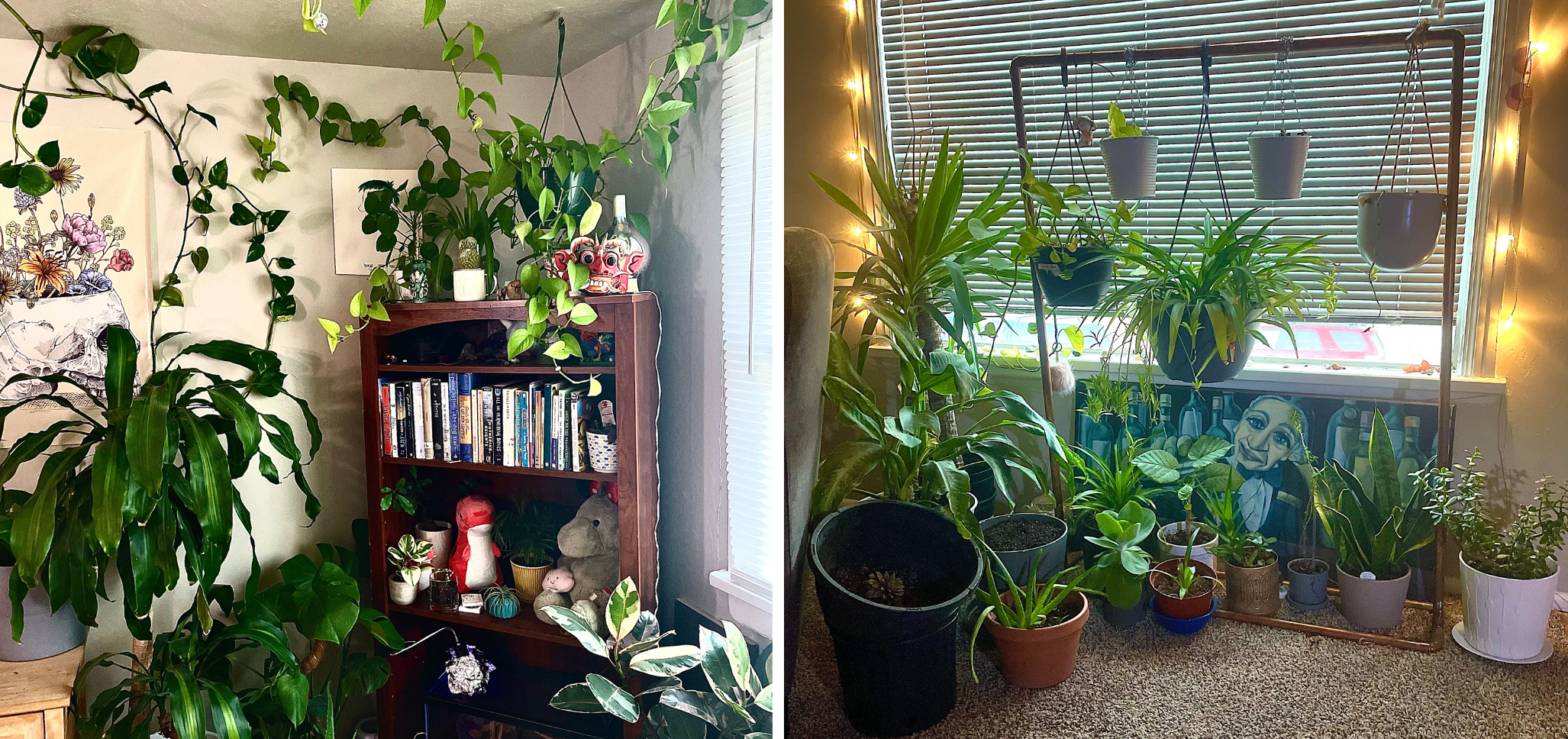 ---
A year ago, my daughter Grey packed up her clothing and some hand-me-down furniture and took off in a U-Haul to move into her first apartment — a 900-square-foot one-bedroom in Boise, ID. There were a few plants tucked in among her boxes, including a sad-looking palm tree that had sat in the corner of our living room for years. While I was becoming disenchanted with anything that required care, she, apparently, was embarking on a houseplant odyssey. In less than a year, she added over 100 more indoor plants to her collection.
So, how did her "starter set" of a dozen plants turn into the urban jungle she lives in now? As Hemingway once noted, slowly — then all at once.
Grey has always loved plants. She and her sister adored spending winter afternoons at our enormous local nursery, running through the trees and shrubs, pointing out topiaries in the shape of small animals. I'd usually let them pick out a tiny plant to take home, hoping, in vain, that they'd be inspired to help in the garden. Indoor greenery was more to their taste, but we were content with our small collection. Over the last year, though, that changed for Grey.
You don't acquire 100 of anything unless you're at least a little bit obsessed. Puttering around in her new apartment, job hunting, and waiting for school to start, Grey had a lot of time to get up close and personal with her plant collection. She got into the habit of visiting each plant every day. It was exciting to see them flourishing, she says, and she got to know what each one liked: full sun or indirect light, lots of water or just a little.
We've always been a family that loves to redecorate. We move our furniture around, rehang the art, paint the walls. As a student, Grey didn't have much of a decorating budget, but she quickly realized that it's easy to change the look of a room by adding plants. She even decorates some of her vines with beads. She puts the bead over the new leaflet; do it with every new leaf and you'll end up with a beaded vine.
In search of more flora, plant parent Grey started to visit the clearance sections at big home improvement stores. Unlike in nurseries, the plants in box stores get only cursory maintenance. The stores make money through volume, so a few dead plants here or there don't make much of a difference to management. They mark down the scraggly, the yellowed, the less-than-beautiful plants. But with care, most can be resuscitated.
This became Grey's new mission: to save all the plants she found in distress. She once brought home a mere stick in a pot, which now sports gigantic, lush leaves. She also propagates cuttings from other people's plants.
"I'll even pick up a piece of a plant I've found on the ground and take it home and put it in a glass of water," she says. 
Last October, she planted a couple of seeds from a tomato she'd put in her salad, just to see if she could get them to grow. By the time summer rolled around, she had a big plant she transferred to a friend's garden. It produced fruit all summer.
Aside from her desire to rescue and experiment, the other reason Grey has filled her small apartment with new plants is because of the way they make her feel. She loves all the different colors and shapes and textures. Seeing a new green leaf unfurl over time and watching the color deepen as it grows helps her mental health, as she prioritizes slowing down and taking note of what's happening in her environment. When you live in an apartment, you can start to feel removed from nature. That's why she brought it inside.
Plants don't need the same care that pets do, but they'll thrive with attention. Removing dead leaves, turning them occasionally as they bend towards the light, keeping the soil loose and hydrated — all of this takes time and deliberation, and it helps Grey feel centered.
"They're like my friends! I talk to them," she says. "Spending time in nurseries and finding cool plants feels therapeutic."
For anyone ready to start their own indoor jungle, Grey recommends starting with hardy plants, especially those that you can propagate from cuttings. Some especially beginner-friendly species to propagate are pothos (runners), succulents, and spider plants, which are easy to grow and sprout babies. Just find a pot with drainage holes, some potting soil, and a spot with the right light conditions, and you'll be good to go. Lucky bamboo can grow in water, so it's low-maintenance and doesn't need as much care as some others. Once you get the hang of those, you can graduate to larger leafy plants like a monstera or fiddle leaf fig.
You might not end up with 100 plants over the course of a single year, but if you're prepared to take the time, you, too, can grow a green thumb and live in an apartment garden.
We rate and sort every listing based on fair market rent.