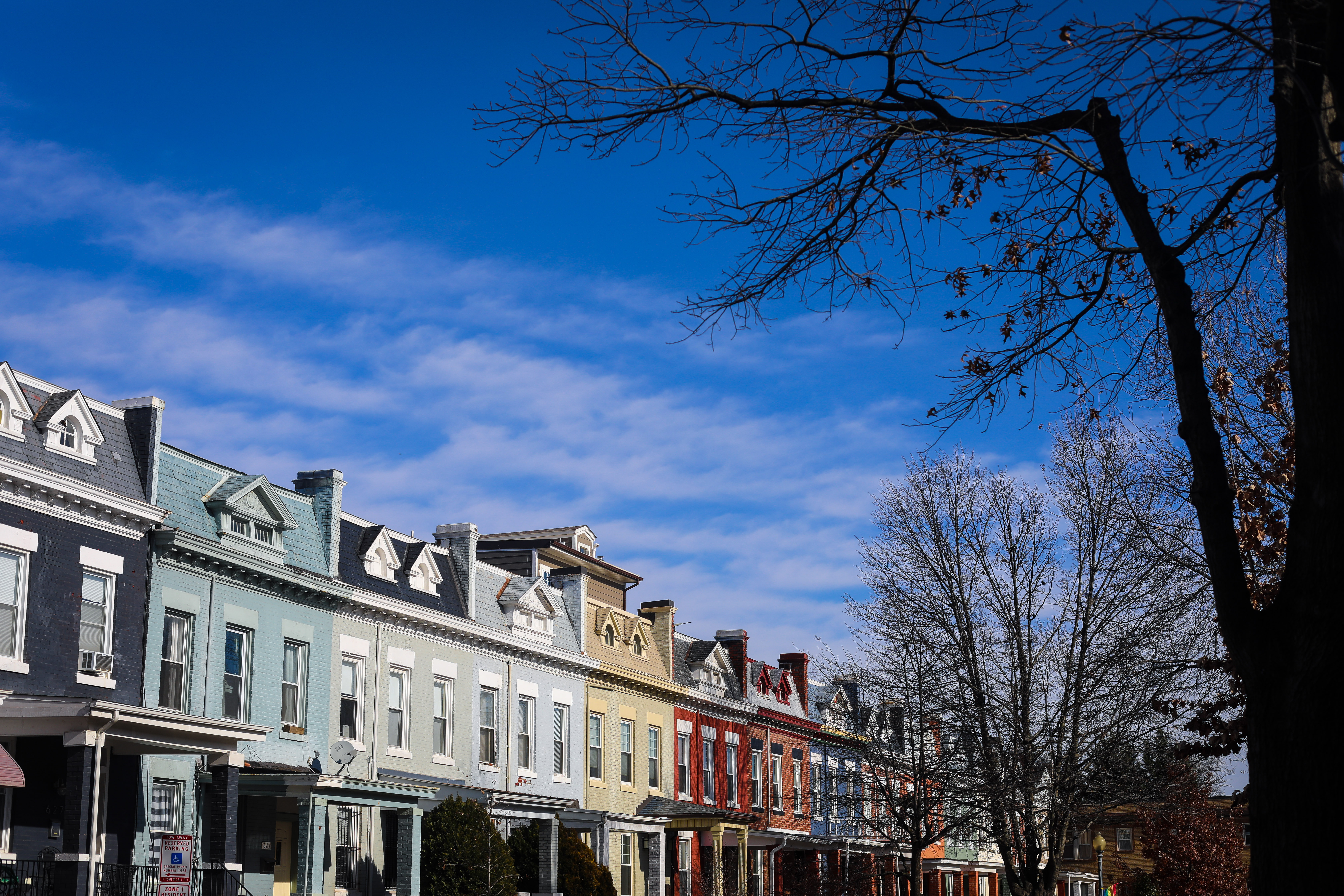 ---
| | Median Rent | Median Sqft |
| --- | --- | --- |
| Studio | - | - |
| 1 Bed | $1,850 | 700 sqft |
| 2 Beds | $2,500 | - |
| 3+ Beds | $3,900 | 2,000 sqft |
Petworth has a strong identity as far as neighborhood vibes go. Living here comes with a sense of belonging to a community that's truly defined by neighbors, the kind you wave to on the porch, borrow a cup of sugar from, or check the mail when they're away on vacation. It's a community with tradition and organized events where you mix and mingle in groups so tight-knit, they may get mistaken for family. It's also a neighborhood that's been slowly in transition.
The boundaries of the neighborhood are up for debate, but are generally considered to be Rock Creek Cemetery and Rock Creek Church Road NW on the east, Spring Road NW on the south, Arkansas Avenue NW and a small stretch of 16th Street NW on the west, and Emerson Street NW to the north. Just five miles north of Capitol Hill, Petworth is one of the largest neighborhoods in Washington DC, housing nearly 20,000 residents. It's quickly becoming a real estate darling for all of its amenities: diverse culture, convenient transportation, and beautifully renovated, "flipped" homes. It's been compared to the U Street neighborhood in that it's developed a fairly trendy commercial strip, bustling public spaces, and crowd-gathering community events. However, the neighborhood at large is on the quieter side. Townhomes are plentiful here, but renters can also find apartments in Petworth in buildings, both large and small, many of which were built in the 1960s.
Though Petworth does make it in quite a few crime headlines, longtime residents say while there are troublesome corners to be wary of, those areas are well known by residents and police. The majority of serious crime is thought to be gang-related, and tends to happen in the northwest and southwest corners of the neighborhood off of Georgia Avenue NW.
Most errands can be accomplished on foot in Petworth. The neighborhood has its own Metro station at the intersection of Georgia Avenue NW and New Hampshire Avenue NW that serves the Green and Yellow Lines. When traveling through these stations, keep your wits about you as they can be loitering areas for questionable characters.
Plenty of busses run along the neighborhood's main streets, including the 60 series. Some other main bus routes operating in this area are the 52, 54, 70, and 24. The H8 operates through Brookland to Metrorail stations in Petworth, which you can take to reach both President Lincoln's Cottage and Rock Creek Cemetery.
Petworth is also bike-friendly whether you commute on two wheels or need to rent occasionally. Bicycle sharing company, Capital Bikeshare, has several stations in convenient locations.
Parking, especially on the weekends, can be frustrating if you want to get close to hopping social scenes. But locals say it's reasonable as far as city traffic goes during weekdays.
If you're an adventurous eater, you'll love the variety of ethnic restaurants in Petworth. From French to Italian and Ethiopian to Scandinavian, many cultures are represented in local eateries. Even the coffee comes from around the world in this neighborhood. Qualia Coffee roasts their own beans in small batches. Taste java from countries throughout Latin America and far-flung places like the Indonesian island of Flores. And, Büna Coffeehouse is more than the name implies. You can get delicious coffee, chai, and matcha lattés, plus a whole lot more. It serves breakfast, lunch, pastries, and traditional Ethiopian food. Sample some vegan rolls prepared with injera, a sour fermented flatbread, rolled up with a lentil stew. Or try the kitfo sandwich, one of the best-kept secrets in DC's Ethiopian food scene.
Got a taste for island fare? Thanks to an influx of immigrants from Jamaica, Trinidad and Tobago, and Barbados during the early 1980s through 2000, you'll find Caribbean food, like jerk chicken and roti, easy to come by.
For casual pizza, try Timber Pizza Co. This Italian pie place used to sell slices in a food truck, but its brick-and-mortar space continues to wow pizza lovers in a small but industrial, chic space. You can also get Argentinian empanadas and gelato with house-made wood-fired cones.
Timber Pizza Co.'s sister restaurant, Call Your Mother, holds court over what it calls "Jew-ish" deli foods. It's been featured in Bon Appétit and Food & Wine magazines for its unique take on Jewish cuisine. For instance, its signature bagels are made with a hint of honey topped creatively with things like candied salmon cream cheese. Other favorites include whitefish croquettes and a matzah ball soup. If you're hungry, make sure to come during off-peak hours because lines can wrap around the block.
If half-price burgers on Monday, Taco Tuesday, and Whiskey Wednesday sound up your alley, get a table at Slash Run. This rock n' roll burger joint doubles as a bar and music venue and serves bottomless brunch on weekends. Don't worry if you're not on time for a live show. You can still enjoy tunes from a jukebox filled with skull-rattling Metallica songs.
When you're craving Tex-Mex, stop into Commonwealth Cantina. The menu is replete with the works: burritos, tacos, carne asada, and more. Come for brunch and ask for a rooftop table. Wash down your meal with a spicy margarita or a tangy mimosa, and save room for the churros.
For beer, wine, and cocktails, there's the Looking Glass Lounge and Red Derby, both serving drinks that go easy on the wallet along with satisfying pub grub to boot.
For grocery shopping in Petworth, Yes! Organic Market has a branch in the neighborhood, where you can find health-conscious, eco-friendly groceries and prepared foods. If you're looking to pick up a few ingredients on the fly, Shepherd Market or Brightwood Mart have enough variety to tide you over, plus ready-made sandwiches to-go.
Residents delight in an area of Petworth referred to as "the block." Head to the block, located on Upshur Street between 8th Street SW and 9th Street NW, to browse eccentric furniture shops and vintage clothing boutiques. Quirky, independent Fia's Fabulous Finds owned by husband and wife team Safisha (Fia) and Frank sells second-hand boutique clothing, accessories, and shoes. Need an outfit for a special occasion or a gift for out-of-towners? Willow stocks clothing, jewelry, gifts, cards, and DC-centric wares.
Bookworms can while away time in Loyalty Bookstore. Its unique aisles hold quirky picture books and work from local authors chronicling DC's past and present. It's a bookstore with just about every kind of title, from essay collections to novels plus puzzles and much more.
From neighborhood gatherings to one-of-a-kind pop-up restaurants and independently-owned shops, Petworth is known for an abundance of community events. Celebrate Petworth, a free neighborhood festival organized by and for the residents of Petworth, is held in early summer. Organizers built this annual event around art, music, food, healthy living, and family. You'll want to visit the festival's Arts Zone, where local arts vendors, clothing boutiques, live muralists, and performance artists spread their creativity.
The Petworth Community Market is fun to wander around on Saturdays from May through November. The weekly farmers' market features fresh-picked produce, prepared foods, and treats from local bakeries and cafés. You can also catch performances by musicians and artists and watch area chefs put on scrumptious cooking demonstrations.
There are even coordinated events at various Petworth greenspaces. Spend a lazy afternoon at Grant Circle Park, named after our nation's 18th president, Ulysses S. Grant, where you might participate in a drum circle or neighborhood social. Don't miss one of Petworth's best-known claims to fame, President Lincoln's Cottage. It's worth paying a visit to a picturesque hilltop on the grounds of the historic Soldiers' Home in Northwest Washington, DC to see the spot where Lincoln penned the second draft of his Emancipation Proclamation. Today, the historic site has become a unique setting for special events.
Students come to Petworth to find off-campus housing for Howard University. It's about a 7-minute drive to campus from one apartment complex, Park Place, at Petworth Metro.
We rate and sort every listing based on fair market rent.