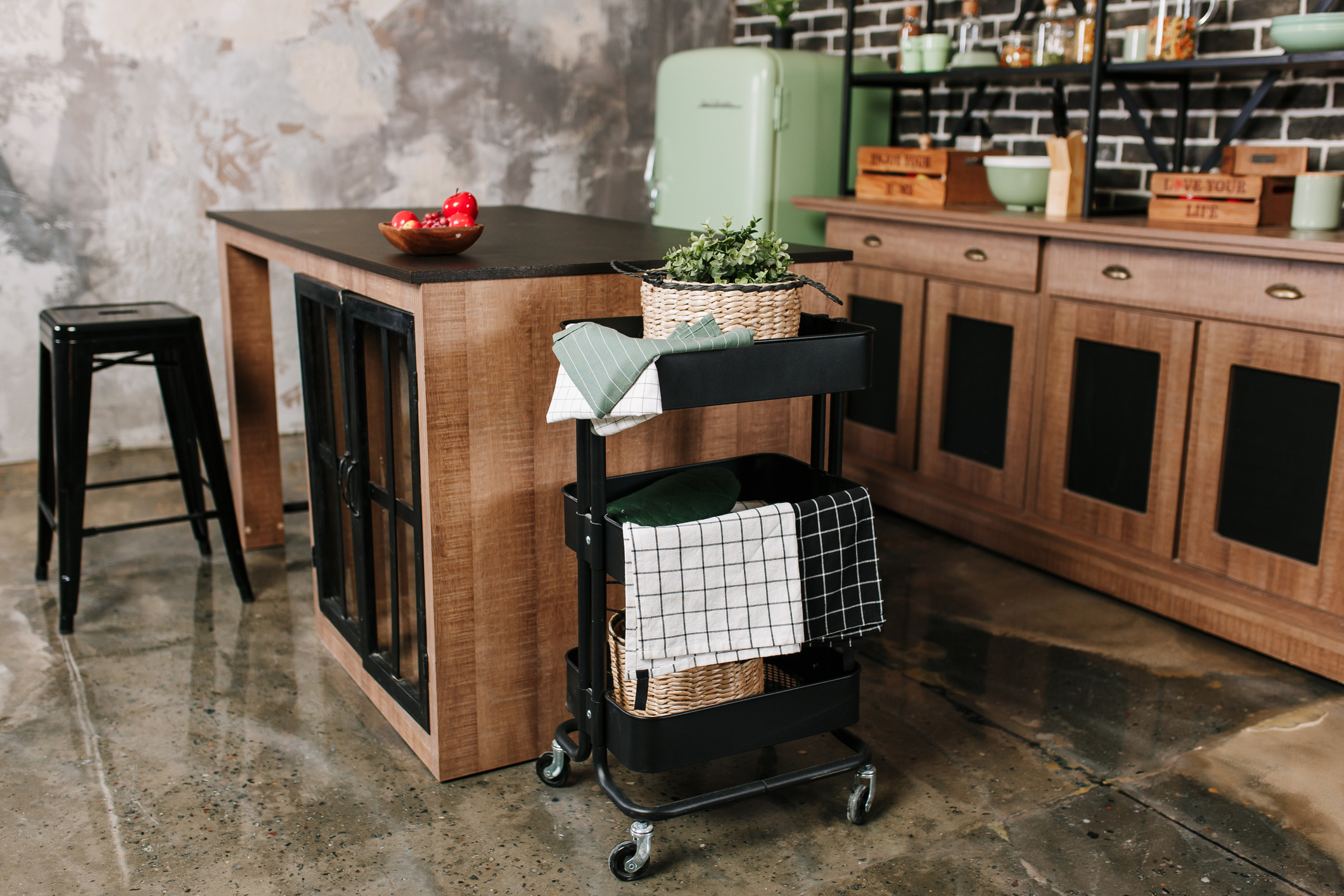 ---
When renting a studio apartment or even a one-bedroom — especially if you are living with another person — it can begin to feel like there's just not enough space for all of your stuff. But just because your home is a smaller square footage, doesn't mean you don't deserve to have a dedicated space for eating, sleeping, working, and relaxing. If you're making concessions in any of these areas, you don't need to be.
With the right hidden storage solutions and space-saving furniture, you can create the home of your dreams. Convertible furniture, which are multipurpose pieces that can often be stored in compact spaces when not in use, can make a huge difference when you're trying to turn your studio into a functional and space-efficient home.
Multifunctional furniture is the first step when you're trying to save space in a small apartment, and we're here to help you find the right fit for you. Check out some convertible furniture ideas below. And if you're looking for more inspiration and design ideas, take a look at some of our favorite small space design influencers.
Convertible Beds
A murphy bed, a wall bed, or a cabinet bed can be a life-saving hack in a small bedroom or a studio apartment. With a unique mechanism that allows it to fold up and mount against the wall, a murphy or wall bed can allow you to save valuable floor space when you're not sleeping. Usually, when the bed is mounted up, it is stylized to look like a cabinet, shelving, or a bookcase — so it can spruce up your wall space as well. Many also have storage space built into different parts of the frame, convenient for your bedding, blankets, and other necessities.
There are a few things to keep in mind when deciding whether to buy a murphy bed, though. First and foremost, the dimensions of the bed and your space. Obviously, you'll want to make sure the bed will fit on your wall — but also take your room layout into account. Will you have enough space to open the bed down and put it back up with ease? If you are living alone, also consider how heavy the piece is. Does it have an opening mechanism that will help you bring the murphy bed down and lift it up?
If you are hesitant on committing to a wall-mounted bed, consider a cabinet bed instead. Another type of convertible bed, a cabinet bed is stylized like a dresser and folds out horizontally in either direction rather than folding up against the wall.
Transformable Tables
If you are forgoing a dedicated eating space and having most of your meals on the couch, it's time to think about a transformable table instead.
An extendable dining table can make hosting guests for dinner or eating at a table at home a possibility for small spaces. Typically, the table will take up a small amount of space—closer to a small coffee table or end table—and will have a mechanism that allows you to open it up and insert a leaf, or an extra piece of the table, in the middle. The leaf usually either comes at a separate piece that is easy to store or it will be attached to the table.
A lift-top coffee table is another great space-saver if you are less interested in having a dining table for hosting guests, but still want a comfortable space to eat at. While folded up, it'll appear like a regular coffee table—but unfolded, it will work as either a table to eat at or a workspace! With a piece that you can lift up towards yourself, it creates an elevated surface that won't leave you leaning over your coffee table and straining your back on the couch. Suddenly, your living room is a home office!
Sofas with Storage
A sofa is usually a non-negotiable when it comes to furnishing your living space, and usually, there's no way to avoid the fact that they take up a lot of square footage. However, you can get more out of your sofa by turning it into a storage solution. A small piece of furniture like a futon can be pushed against the wall and function as a bed for guests, but if you're set on getting a large piece like a sectional, find one with built-in spaces for storing bedding, blankets, extra pillows, and more. Store your second set of sheets and have them handy for when you invite a guest to stay over!
Or take it a step further and find a convertible sofa or sleeper sofa, which will have a pull-out bed attached. If you opt for a fold-out couch or sofa bed, make sure to find one with extra space for storage.
Want to get even more function out of your living room furniture? Find a storage ottoman, which will usually have a removable top cushion for additional storage.
Kitchen Carts
While a kitchen utility cart doesn't transform, it does offer a convenient, space-saving storage solution that will go along way—especially in a studio. Plus, because it's on wheels, you can move it around to different areas in your apartment when needed. If you live in a studio with a kitchenette, these little shelves will be your best friend in your kitchen. Get even more bang for your buck by finding one with a small countertop on top. This can turn your cart into a small countertop cooking surface!
We rate and sort every listing based on fair market rent.