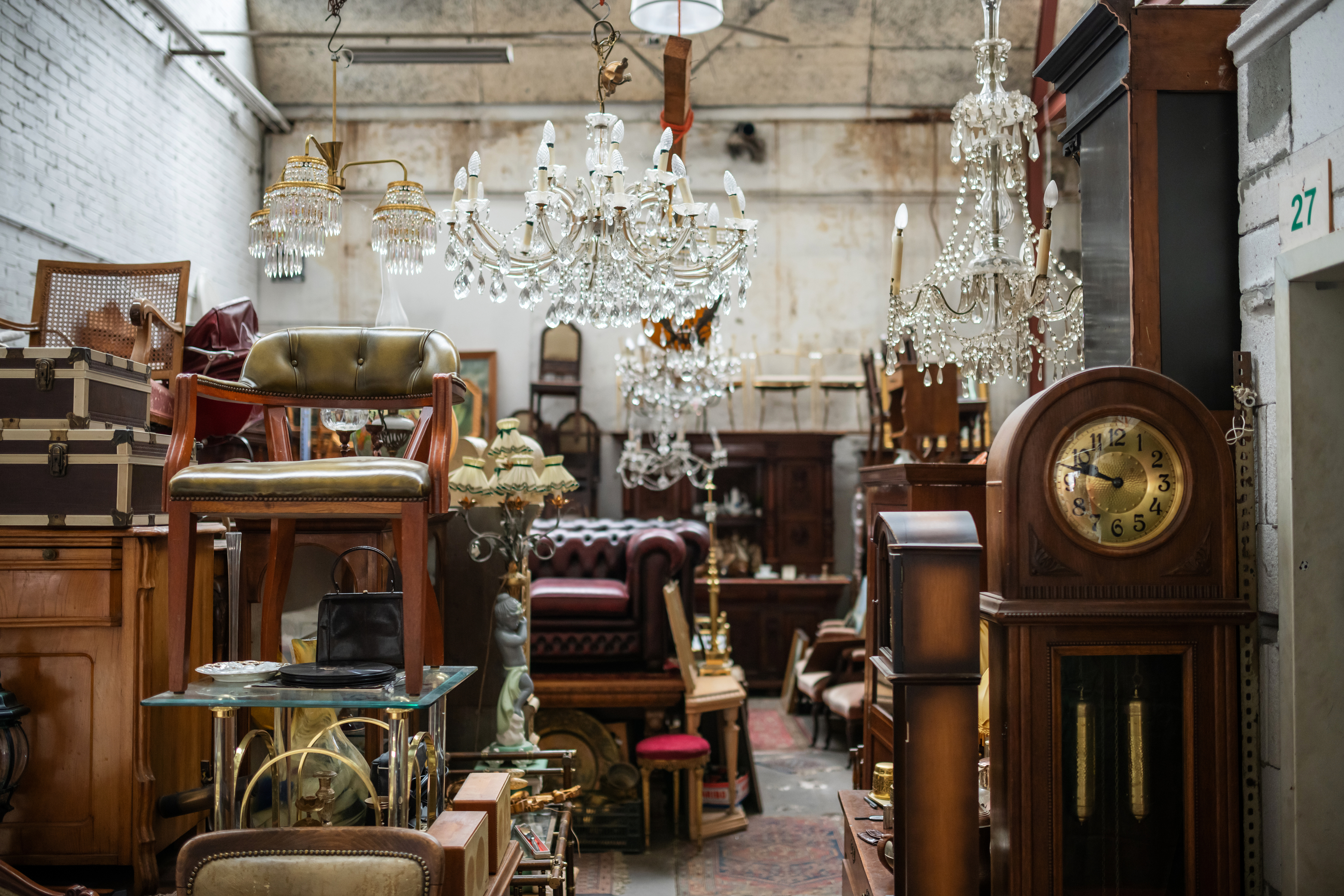 ---
Congratulations, you finally scored an apartment! But after paying the security deposit and first and last month's rent… you're broke. And your new home is unfurnished. If you don't want to sacrifice stylish interior design for affordability (and stop using your unpacked boxes as a nightstand), we're here to help. Here are nine websites and furniture stores to check out that will give you the home decor of your dreams without maxing out your credit card.
1. Facebook Marketplace
Facebook Marketplace can be a gold mine for used or new furniture, but it can take a discerning eye to find the best pieces. We have a few tips for navigating Facebook Marketplace that can make your experience even better.
For one, you'll want to get creative with your search terms. Believe it or not, specificity may not be your friend — even if you are hunting for a particular item. Some sellers on Facebook Marketplace may not be aware of the value of their pieces, so they may not use a brand name in their listing. For that reason, you may end up having better luck if you search for "green velvet sofa" — even if what you'd really been eyeing is the trendy green velvet Sven sofa from the mid-century modern–focused brand Article. Not only do you have a good chance of eventually stumbling onto the right couch (patience is key on Facebook Marketplace), but you'll likely find it for way below the original price.
Also, even when you're not actively searching for a new piece, search terms on Facebook Marketplace that you'd want to buy, like "mid-century side table" or "vintage dining set," to train your algorithm to boost those kinds of listings to the top of your homepage.
2. Your local thrift store
Your local thrift shop can be the perfect place to find a statement piece for an affordable price, especially if you like vintage furniture or home goods. Where a thrift shop differs from a seller-focused marketplace like Craigslist or Facebook is that the pieces for sale there have been donated, which means they're typically priced way below their actual value, even if the pieces are high-end.
Tip: Before heading out to your local thrift shop, browse vintage furniture on eBay and Pinterest to become familiar with the most sought-after pieces, the companies that manufacture them, and the prices they go for online. This will help you know what you're looking for when buying secondhand. By the end of your trip, you may be sneezing from all the dust, but you might also walk out with an antique dining table or accent ottoman that would have cost triple the price from a reseller.
3. Outlet stores
If you prefer to see furniture in person before buying it, you should try your luck at an outlet store, which will likely have a showroom that'll let you see all of your options. Check out the store locator tool on the websites of West Elm, Pottery Barn, and other retailers near you to find outlet stores. If you live in New York, Industry City in Brooklyn is home to a West Elm outlet and a Design Within Reach outlet, both of which have Instagram accounts you can keep up with to see their latest stock. If you're lucky (and fast!) you can score 50 percent off of your dream dresser or coffee table.
4. Spoken
Did you know that many big companies like Target, Urban Outfitters, Overstock, and West Elm get their furniture from the same manufacturers? It's true — the biggest differences between a bed frame or accent chair on Amazon or AllModern may be its price. Many of the products on these websites is the marketing and product photography, as well as the price tag. If you're attracted to some of these furniture brands but don't want to pay full price, you may actually be able to score the same item for a highly discounted rate on a site like Spoken. Spoken finds furniture products that are listed on multiple websites, compares prices, and helps you buy from the store with the lowest price.  
5. Craigslist
Craigslist, like Facebook Marketplace, is hit or miss when it comes to buying good, cheap furniture, but a seasoned user knows you'll get lucky on here sometimes. One of the oldest tricks for scoring a great deal on Craigslist is to misspell the name of the brand you're searching for. Change out a letter or discard a space between names when searching (like writing Bruke Decor instead of Burke Decor), and you might stumble upon a heavily discounted designer loveseat. Sometimes the person posting a listing is in a rush, or not tech-savvy enough to edit a post, so the typos stay and the listing will not be included in any searches for the actual search term, meaning less eyes on it and less competition! 
6. IKEA "As-Is" section
IKEA is a haven for affordable furniture that just requires a little can-do attitude to put it together, but if you'd rather skip the headache of assembly, consider shopping for some gently used (and already assembled) furniture in their in-store "As-Is" section. You can even check out your local store's As-Is stock online! 
The IKEA As-Is section has a little bit of everything — dining room tables, living room sets, home office needs, bookcases, bedroom furniture, and even kitchen cabinets and sinks — so it's a good option if you're looking for a one-stop shop. Whether you check it out in person or browse from the comfort of your home, you can find some minimalist, modern furniture at great price points. The average discount offered is a whopping 50 percent off the original price.
7. AptDeco
If you don't have a car to pick up pieces from local shops, a used furniture marketplace with a huge selection that offers delivery like AptDeco will probably be your best bet. The website specializes in picking up and delivering used furniture, allowing its users to easily buy or sell items online, and it separates its pieces by brand. So, whether you're looking for higher-end brands like Design Within Reach or trying to find a bargain on gently used IKEA or Wayfair furniture, AptDeco has you covered. 
8. Etsy
If you lack DIY skills but love DIY styles, you can find the perfect one-of-a-kind piece on Etsy. There are many furniture up-cyclers and vintage furniture resellers on Etsy that curate their stores to match a particular style, so do a little digging and find a store you like and follow. It may take a while, but you'll likely be able to find an entire apartment's worth of matching furniture from one Etsy store. Unlike other marketplaces, Etsy sellers thrive on keywords, so getting as specific as possible in your search can really work to your benefit.
9. eBay
The bidding model on eBay can satisfy your urge to visit an estate sale and score a unique piece of furniture at a low price. Like Etsy, you can find cool furniture on eBay and have it shipped, though local pickup can also be an option for some pieces. Another perk of shopping for furniture on eBay versus competitors like Facebook Marketplace and Craigslist is that your purchases are protected with a return policy, so if something you buy doesn't match the seller description, you'll have a better chance of being able to return it for a refund.
The Bottom Line
All in all, furniture shopping doesn't need to be expensive or stressful. Follow our tips to find the high-quality furniture you want at a price point you can afford. For even more advice on furnishing apartments and small spaces, check out the rest of our Lifestyle section.
We rate and sort every listing based on fair market rent.