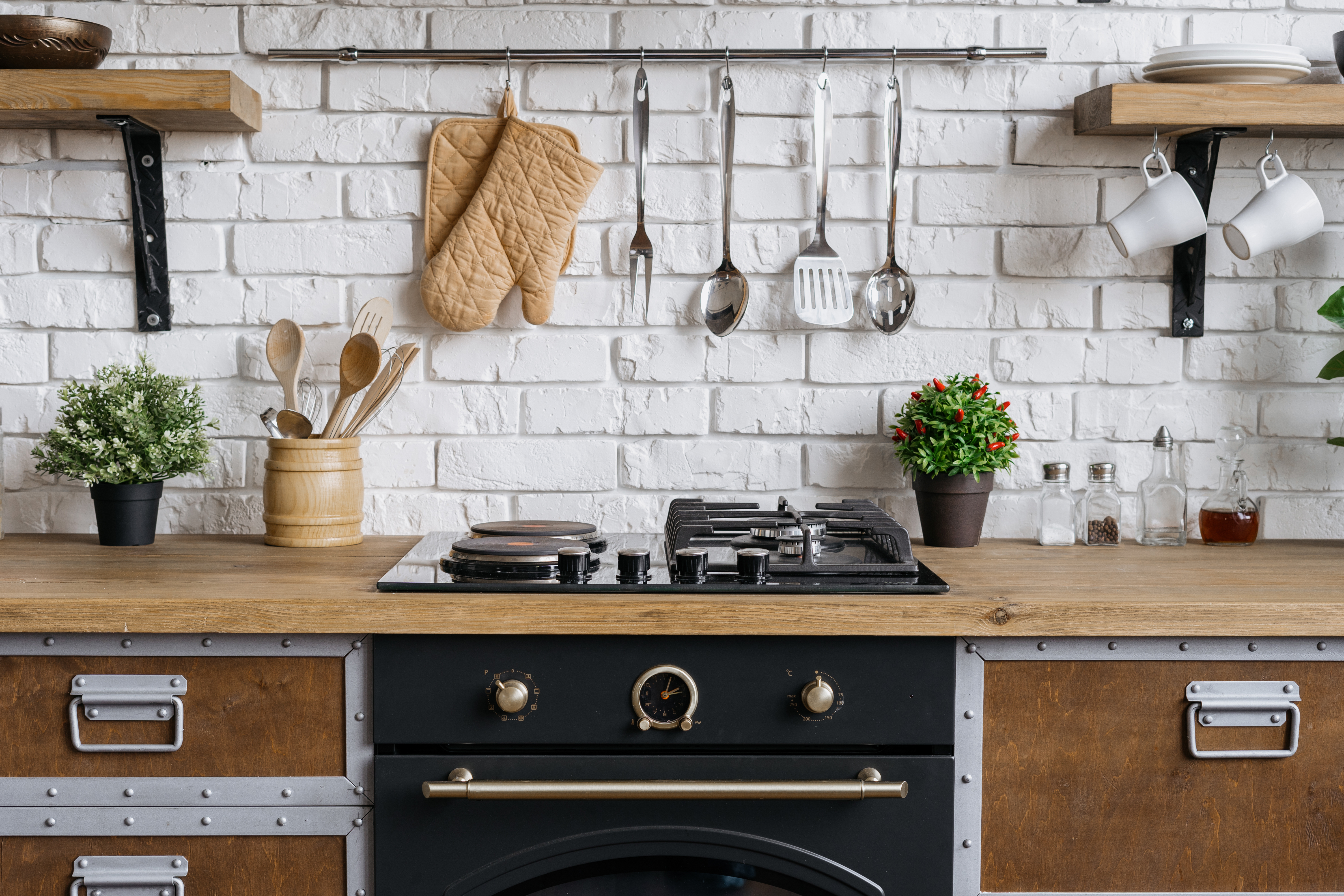 ---
For renters living in small spaces like studio apartments, creative storage ideas can go a long way to decluttering and making your place feel more spacious. Before sharing our favorite storage hacks for small apartments, we need to give credit where credit is due. This article would not have been possible without countless hours of watching HGTV. A handful of the storage solutions that follow were also inspired by dorm living (take, for example, the ever-popular, space-efficient loft bed).
Equip Your Entryway
Swap that entry table for a dresser with drawers. After all, even a small apartment deserves a "junk drawer." To help keep your keys, wallet, and other everyday essentials well organized, we also suggest adding dividers to the top drawer. Meanwhile, the remaining drawers can be used for everyday items you'd typically store in an entry hall closet, such as shoes, hats, an umbrella, and other accessories. Depending on the season, a coat rack may also be helpful.
Choose Furniture That Does Double Duty
Nowadays, it's not hard to find reasonably priced, multi-purpose furniture. Big-box stores like Amazon, IKEA, and Wayfair offer shoppers plenty of choices, from coffee tables with flip tops for hidden storage and indoor/outdoor garden stool side tables that double as extra seating.
Nesting tables are another efficient option for an extra surface when you need it that stows away when you don't. Many retailers also make floating wall shelving units where the bottom shelf can serve as a desk. And let's not forget bed frames with built-in drawers, eliminating the need for a separate bedroom dresser when space is tight.
Free Up Your Floor Space
In addition to doubling as a desk, floating shelves can serve all sorts of purposes while freeing up floor space in small apartments. For example, you can use a floating shelf to store plates and dishes when kitchen cabinets are limited or as a bedside bookshelf when space does not allow for a nightstand.
If you don't have a separate office or living room in your apartment, you may want to consider lofting your bed. Assuming you've got enough ceiling height for a loft bed, you'll gain ample room beneath it for a home office desk or cozy couch area.
Plug-in wall sconces provide lighting without requiring hard wiring or taking up precious floor space, not to mention table space. All you need is an outlet immediately beneath the light, unless you don't mind extension cords. Speaking of cords, you may prefer the look of plug-in wall sconces where the cord is hidden behind part of the fixture.
Behind-the-bed storage can free up floor space next to your bed frame, eliminating the need for a nightstand. Instead of a traditional headboard, consider placing an open bookcase behind your bed where you can store items you'd usually find on a bedside table.
Make the Most of Your Closet Space
To maximize what limited closet space you have, think outside the classic hanger. There's no shortage of space-saving hanging options available at retailers like Amazon and Target. Why hang pants and jeans on separate hangers when you can store several pairs on one hanger thanks to multi-tiered solutions? And why place everything on hangers when some items are better folded and stacked on a collapsible hanging closet shelf?
When it comes to optimizing your closet, don't forget the back of the closet door. Over-the-door shoe organizers are a real space saver.
6 Storage Ideas for Apartments Lacking Closet Space
No closet? No problem. The following storage solutions can help.
Invest in a traditional armoire with a drawer or two on the bottom and doors that open where you can hang items inside.
For a less expensive option, try a freestanding garment rack like those found in retail stores. Wayfair has quite a few to choose from.
DIY type? Affix a curved shower rod to a bedroom corner to create a hanging space for clothes. Add a cloth shower curtain, and you've got yourself a hidden storage area.
Another easy, inexpensive DIY storage hack is to hang a peg board on a wall, attach pegs, and use it for everything from hanging shoes and hats to jackets and more.
For sweater and hoodie storage, you can create your own stackable cubby tower from interlocking cubes available at stores like IKEA, or go with DIY cubbies made from old-fashioned milk crates. When square footage is limited, vertical space is your friend.
As mentioned earlier in this article, bed frames with drawers provide extra storage without taking up extra space. But, there are also less pricy options for under-the-bed storage. Bed risers are an inexpensive way to elevate your bed to create room beneath it for your choice of plastic storage bins or decorative storage baskets.
Don't Forget to Look Up: Ceiling Storage Ideas
One often underutilized and overlooked space in small apartments is the ceiling. Everything from pots and pans to your bike can be hung overhead. And if you're a nature lover looking to bring a little green to your apartment, there's nothing like a hanging plant or two to bring the outside in.
Maximize Your Kitchen
Small kitchens call for small kitchen tables or rolling islands that can do triple duty serving as a meal prep counter space, providing extra storage and offering up a place to sit and gather around for eating. If your kitchen is on the small side, it's not likely to contain much drawer space. Make the most of the drawers you have by adding dividers to keep the contents as organized as possible. What you lack in kitchen drawers, you can make up for on your countertops by using mason jars or plastic containers to store silverware, cooking utensils, sugar, flour, and more.
Bring In More Bathroom Storage
No linen closet? An over-the-toilet storage shelving unit is a perfect spot for folded towels, extra rolls of toilet paper, tissue, and other bathroom essentials. For in-shower organization, don't forget a shower caddy.
Remember the over-the-door storage solutions touted earlier in the article for closets? They also come in handy on the back of a bathroom door for toiletries.
If there's free wall space either over the sink or nearby, consider hanging a mirrored medicine cabinet where you can keep first aid supplies and other pharmacy items.
The Bottom Line
In addition to outfitting your place with smart storage solutions, there are a few other tips for making a small apartment feel more spacious. Let the natural light in. Never underestimate the power of a few strategically placed mirrors to help give the illusion of size. And pare down your belongings — because in small spaces, less really is more.
We rate and sort every listing based on fair market rent.