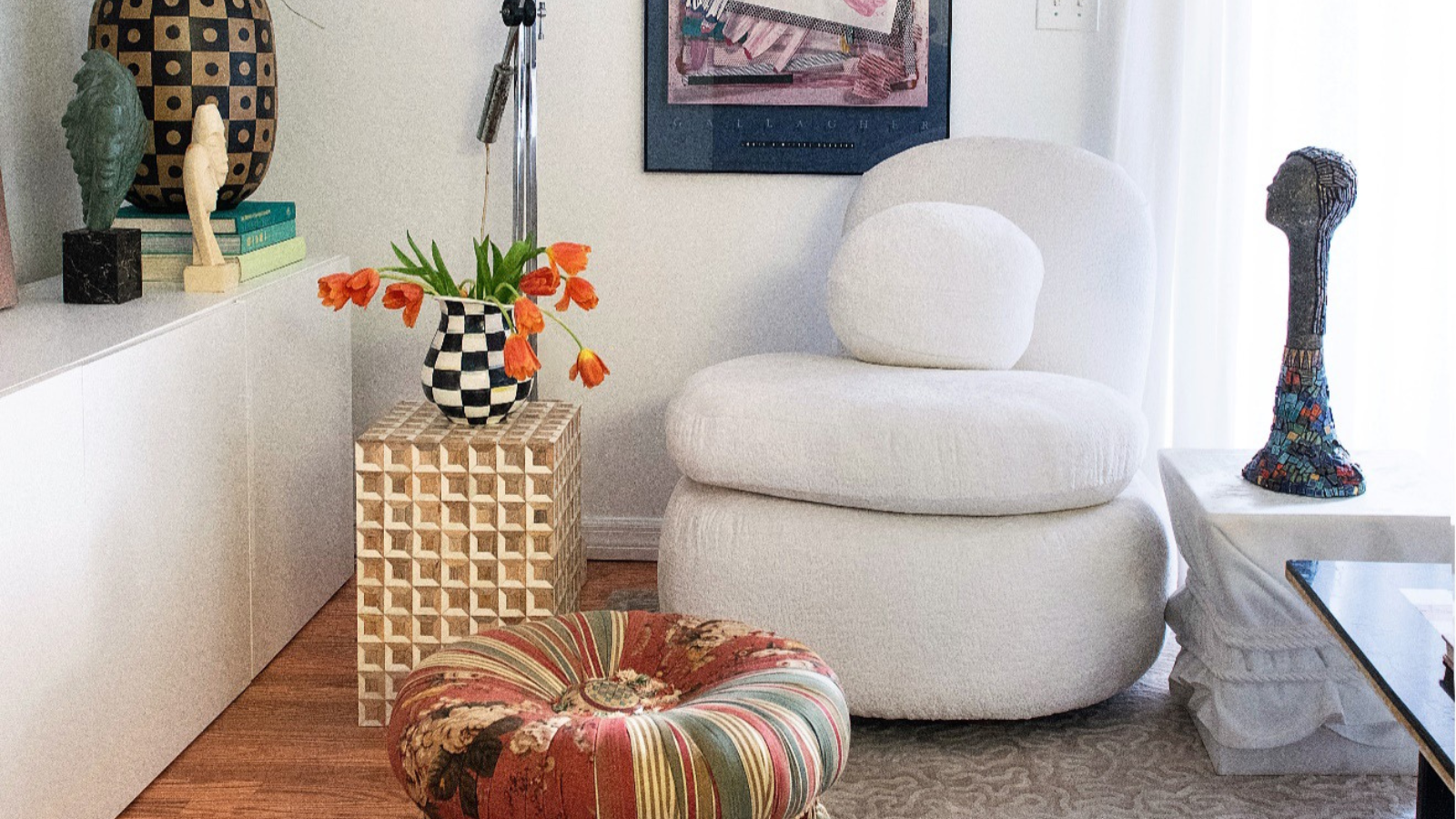 TikTok's Best Estate Sale Finds and Tips For Finding Great Pieces Yourself
---
Estate sales are basically treasure hunts. You can find almost anything your heart desires. Often, you'll find things that you never even knew you wanted. Estate sales are kind of meant for serendipity.
Hitting up an estate sale is the perfect way to start decorating your apartment for a few reasons. For one, there are some truly unique pieces at estate sales. Not only can you find amazing things, but a lot of times, the companies running the show price the items competitively — meaning that you could have beautifully curated decor at a fraction of what it would cost to buy the same furniture new. Plus, secondhand shopping is much more sustainable.
I personally love estate sales because I have what they call champagne taste and a beer bottle pocket… I want expensive things, but I'm so, so cheap. Normally, for there to even be an estate sale, there has to be an estate. By that, I mean, the person who lived there had invested a decent amount of money into their things, whether that's high-quality dishware, Iranian rugs, designer furniture, or an eclectic art collection, like framed prints of old lighthouses. I've seen all of those things with my own eyes, in their original homes.
One of writer Mary Kay McBrayer's favorite estate sale finds is a rug that still had the original Iranian tag attached.
Actually, one of my favorite estate sale finds was a rug. I bought it for $225 on my birthday, and it still had the Iranian tag on it. Unbelievable. Look at those colors!
What's Old is New
As the timeworn saying goes, what's old is new again, and a younger generation is starting to embrace estate sales, too. But this time, they're sharing their finds on social media — sometimes to thousands of followers as estate sale influencers.
Madison Brill is the creator behind the TikTok account @ilovecraigslist, where she highlights the best secondhand finds on Craigslist and Marketplace.
"I've always loved vintage pieces because there is a history and a story. I try not to focus on current trends or styles for this reason," she says.
Shopping at estate sales also forces her to be creative: "Sometimes rehoming pieces and giving them a second life requires thinking outside the box."
A year and a lot of craigslist finds later. Decorated entirely secondhand!
Estate sales are often filled with fun and exciting pieces, but to really get a good bang for your buck, you have to know what you're looking for. Through their TikTok videos, Brill and her peers seek to educate others on how to find good pieces while wading through a boatload of stuff at a sale. Finding a valuable piece takes a discerning eye, as well as some research.
"I am constantly doing research on sites like Chairish and 1stDibs — both to get an idea for trends but also to familiarize myself with labels and makers," says Virginia Chamlee, author of the book Big Thrift Energy and the creator behind the TikTok account of the same name. She's an expert on secondhand designer furniture, both flipping it for a profit on her online stores and styling it in her own home.
Once you know what you're looking for, it becomes a lot easier to find the best deals as well as the sales where you're going to find pieces that match your personal style. Typically, at an estate sale, when there's one, there's more where that came from, Tricia Beanum, who works at the online furniture resale and home decor store Pop Up Home, explains.
"Usually, when someone has one good thing, they have many, many good things. For example, if they collected Gucci purses, they also have other things of quality or design," she says.
Shopping for old stuff is such a great way to find the newest trends. Sounds counterintuitive I know but all modern designers are taking inspo from the past!
Finding The Real Deal
But what happens if you don't know what you've found? Sure, you like it, but how do you know that it's real?
Matt Ellison, the director of marketing at the estate sale database estatesales.net, says, "If you arrive at the sale and find something you are curious about, you can use the Google Lens app. Take a picture and scan the image to find more information."
If you're not familiar with estatesales.net, get friendly! The app (and site) is the best way to find estate sales near you, whether you cast a radius from your current location or scout far-away sales based on their photos.
Cristy Tongate, owner of the estate sale company RetroBettiesEstateSales, agrees that you don't have to go into a sale knowing everything about every piece. You can do some recon on site.
"For purses, clothing, and furniture, old-fashioned research is the key. Estate sales will usually let you put items on hold for 30 minutes, which gives you time to pull out your phone and get to work. Between Google, Google Lens, and eBay 'sold,' [which is a page that shows the history of similar items sold on the platform], you can learn how to quickly authenticate just about anything," she says.
If information about a certain piece isn't easily available online, there's a reason: It's a tough one to authenticate. Try and find someone who specializes in authenticating that one type of item. Often, at a good estate sale, there will be an appraiser who authenticates pieces and provides information on them, according to TikTok creator Quinn Garvey (who runs the account @vintageonq).
If your Google Lens search isn't yielding results, Brill suggests starting at the bottom: "I always look for a label or signature and then search online to see what I can find. I also account for how much wear the item has. If the piece is over 100 years old, then it should show that and not be pristine."
One of the beautiful pieces we found today!
It's easy to get bogged down in the value of certain items at an estate sale, but authenticity isn't the end-all, be-all when it comes to finding pieces to furnish your home.
"Treasures are truly in the eye of the beholder," says Tongate. "It doesn't really matter if you get the real or fake, the new or vintage. What matters is that you love it. We've had customers drive hundreds of miles for vintage felt stocking kits and vintage Christmas ornaments, but we also have a lot of buyers who come for new and trendy decor, clothing, furniture, and kitchen items. Let your heart guide you, buy what you truly love or need, and you'll never have buyer's remorse when it comes to your estate sale purchases."
Remember: That Jadeite that's so popular and wildly expensive today used to be the cheapest. So even if you can't turn it for a profit tomorrow, that doesn't mean you can never do it. Plus, value is totally subjective. So pop open estatesales.net, and trim your home with a treasure haul of everything you love. If you catch the secondhand shopping bug, you can also try hitting up a flea market, garage sale, a consignment or thrift store, or even Facebook marketplace. The yard sale down the street may even have some treasures — right under your nose.
Ask the Experts
If you are in need of some more inspiration before you get started, I asked the TikTok experts about their best estate sale finds. Here's what they said about their favorite treasures.
Madison Brill (@ilovecraigslist) drove an hour in the middle of the night to get this Kevin Walz chair.
One of Madison Brill's best hauls included a chair by Kevin Walz, an artist and designer from the '90s, that she found on Craigslist. "It was originally from an estate sale, but it was the one piece that didn't sell. I drove an hour in the middle of the night to go and get it. It had some damage, but with a little bit of fixing, it looks almost brand new and I absolutely love it."
Some of Quinn Garvey's (@vintageonq) favorite finds are a lacquered coffee table with a built-in ice bucket (now a plant holder) and a vintage soda company poster.
Quinn Garvey recalls a favorite find thatshe was able to reimagine once she put it in her home. Her favorite reimagined furniture find is a mid-century lacquered coffee table, complete with a built-in ice bucket. "My boyfriend and I decided to put a plant in the ice bucket." Imagine having a piece like that in your living room!
Garvey's other favorite item is a piece of art: a print that says "Aspen," which she just felt drawn towards. "I had no idea what it was, but wanted it anyway," she says. "Eventually, after scouring the internet and doing a reverse image search, I found out it was a soda company from the late '70s. It was an apple-flavored soda that was discontinued in 1982. The logo looks pretty cool if you ask me."
One of Virginia Chamlee's (@bigthriftenergy) favorite purchases is this white designer chair, which she has since reupholstered.
Among Virginia Chamlee's favorite finds is a "fabulous" round chair that she found at an estate sale for $10. But she didn't leave it as it was. "I took it to my upholsterer, who said it was one of the nicer pieces he'd ever seen, and it's no wonder; the home had original works of art by Frank Stella and all sorts of designer furniture." Again, where there's one, there's many!
We rate and sort every listing based on fair market rent.