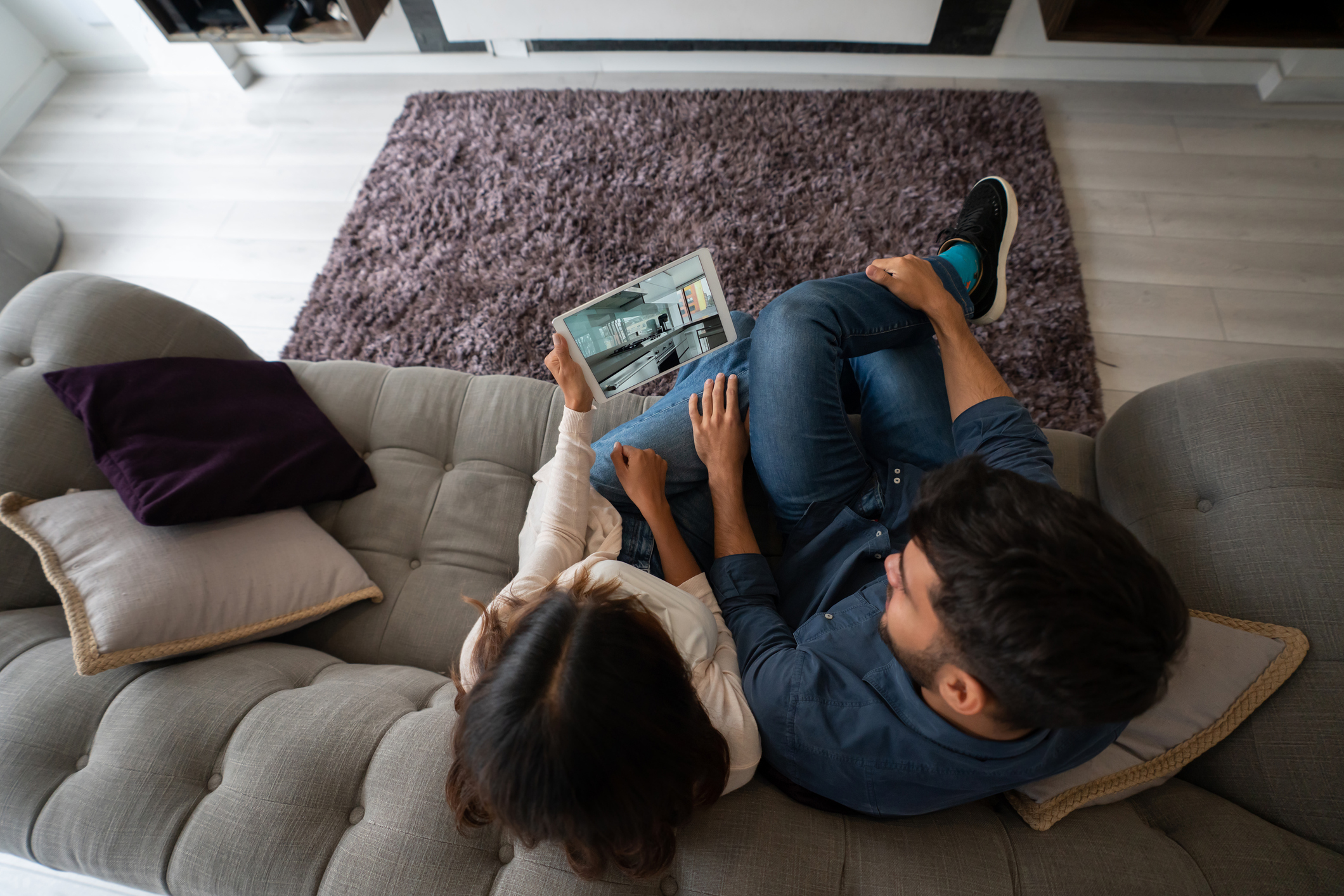 These Tenants Rented Apartments Sight Unseen — And They Would Do It Again
---
Kelsey Thomas, 30, looks forward to the moment every morning when she gets to pull open the shades covering a set of windows in her apartment to reveal a view of the Bellingham Bay. Even though she and her fiancée Rachel LeWitt, 32, are paying a little more for an apartment than they would have liked to, she admits, this element makes it worth it.
Thomas is far from the first person to get swayed by a beautiful view when searching for housing — but the difference is, the first time she saw it was after she and LeWitt had already signed their lease and started to move in.
That's right: The couple is part of a growing trend of young millennials and Gen Z who are becoming more comfortable with renting a property completely online, sight unseen.
A Cross-Country Move
Signing on to a property without viewing it first wasn't exactly their intention, but after a series of roadblocks in the traditional renting process, they didn't feel they had a choice. Thomas had grown up in Bellingham, and after spending several years living in Philadelphia, PA, she wanted to return to the idyllic, nature-surrounded city of her childhood.
"Bellingham is an absolutely gorgeous city," Thomas says. "There's tons of outdoor activities to do, and beautiful parks, and no traffic. … It's definitely the type of town that a lot of remote workers want to move to during the pandemic."
A view of the Bellingham Bay in Bellingham, WA.
The only problem was that the competitive rental market made it hard to plan this cross-country move ahead of time. According to our rental data, on average, apartments in Bellingham, WA are listed for significantly fewer days than in nearby Seattle, WA. Meaning, for someone like Thomas who doesn't have the option to visit and apply for a lot of properties in a short amount of time, finding a rental can pose a significant challenge. She and LeWitt tried to visit the city the winter before their move to get a sense of the rental market, but their trip turned out to be unsuccessful.
"We had tried to look at some of the bigger buildings that we thought would be a good fit, and a lot of them were like 'Well, we won't know our vacancies then,' and blew us off," Thomas says. "They're not trying to court people to live there because they're going to have way more applicants than they need for a single unit, so they weren't being hospitable."
Han Goldstein, 28, had a similar experience when deciding to move with her partner from Manhattan, NY to Asheville, NC in the summer of 2021. They wanted to live in a smaller city that was LGTB+-friendly and had closer access to nature. But when they visited, they were hard-pressed to find any buildings that would rent a few months out.
To have a fighting chance in these competitive rental markets, both couples decided to start searching for rentals online.
In Thomas's case, they found their new home in a Craigslist listing only 10 days before moving in. It didn't have a backyard like they were hoping for, and was a little out of budget, but it was in a good neighborhood and available on their timeline. The landlord was skeptical about renting to tenants who had never seen the apartment, but luckily, Thomas's mother happened to be in town, and was able to visit the property on her behalf. Now, Thomas describes him as one of the best landlords she's ever had.
A farmer's market in Asheville, NC.
Goldstein also found a happy ending. Her partner found an online listing and — despite the landlord not being keen on renting to out-of-towners — was able to secure the rental with a strong application and a series of emails detailing how passionate the couple was about the move. The only view of the place they got before moving in was a video from the landlord. The place has its quirks — and a much smaller kitchen than Goldstein would have wanted — but the landlord was upfront about them before her move. And Asheville has been a dream come true for her and her partner.
"I really love Asheville," she says. "It's all about slow living and shopping at farmer's markets, going to the mountains… It was everything I wanted in a place to live. And we're planning on sticking around for the long haul."
Their stories highlight a few themes of the current sight-unseen rental process: a tight turnaround, a looming pandemic, a large distance, and a small leap of faith.
A Pandemic Pressure
Both Thomas and Goldstein were hesitant to visit the cities they wanted to move to because they didn't want to risk a COVID infection on the plane ride over or mingle with a lot of other people during the apartment hunt.
COVID also heavily impacted the renter journey of Jessica Oliphant, 26, who to relocate from New York to Kansas City, MO for a new job during June 2020. Not only did she have to move by herself to an apartment without visiting it, but it was the early uncertain days of the pandemic and she was terrified of being within six feet of another person. Even though it was her first time going through the rental process online, it provided solace for her because it felt safer than staying in hotels and having to meet with other people.
Kansas City, MO at sunrise.
Another sight-unseen renter, Ash Peterson, 24, agrees. One of the main benefits that Peterson saw in renting sight unseen was the fact that they wouldn't have to share space with multiple landlords, real estate agents, or other potential rental applications at in-person tours during the pandemic. They saw their apartment for the first time on FaceTime.
The pandemic made many landlords and property managers realize that having an option to rent sight unseen may become a requirement for acquiring new tenants. In 2021, Tamara White, a blogger and property owner, began regularly renting to tenants without them ever seeing the space in person. White owns five rental properties, a combination of short-term and long-term rentals, across California and Georgia. She posts detailed listings with professionally taken photos of each room to websites like AirBnB, VRBO, and Furnished Finder (a rental website specifically for travel nurses) — and then relies on phone calls or video calls with the prospective tenants. White feels she can get a good sense of a tenant's character and personality through a call, and from her experience, tenants seem to enjoy speaking with her before signing a lease as well. Once she begins building a rapport with a potential tenant, she also always sends them a video tour.
"Once COVID started, we all wanted to reduce in-person contact. So, I bought a high-end, consumer 360 camera and I started doing my own virtual tours. … It's been a game changer. I do virtual tours for all of my properties … and I make everybody use the virtual tour before they book an in-person showing with me."

— Frank Perkins, Property Manager
"The [tenants] that I have put in place — I found that they're just more eager because they're coming from afar and want to secure something. It's a sigh of relief that they can speak to someone versus just [sending an] application," she says.
Frank Perkins, owner of the Bay Area–based boutique property management company Perkins Realty Partners, says the pandemic had a big impact on how he rents properties. Because prospective tenants were so weary of in-person interactions at the time, the pandemic pressured Perkins into investing in creating virtual tours for all of his units. According to Perkins, they've been well-worth the expense: Not only do they give tenants an opportunity to rent a property without visiting it in person — but they also free up his time.
"I had already been looking into virtual tours for rentals at the beginning of 2020 as a way to stand out from the competition when marketing a rental property, but also as a way to free up my time. I would have to drive 30 minutes sometimes to some of my showings to meet one person, who would then say they didn't like the layout of the home," he explains. "Once COVID started, we all wanted to reduce in-person contact. So, I bought a high-end, consumer 360 camera and I started doing my own virtual tours. … It's been a game changer. I do virtual tours for all of my properties … and I make everybody use the virtual tour before they book an in-person showing with me."
Don Chambers, a property owner based in Georgia who also runs a website on real estate investing, says that in some ways, he actually prefers renting sight unseen when he can. He estimates that he's rented to tenants who haven't seen the property in person between 20 and 25 times, and every instance has been a positive experience. When communicating with potential tenants, he offers photos, videos, and FaceTime tours. A self-identified introvert, he says he doesn't feel skeptical of tenants whom he hasn't met in person: "It doesn't bother me at all."
A New Kind of Renter
When Goldstein moved to Asheville, it actually wasn't her first time renting sight unseen — which was the main reason she felt so comfortable doing it again. In 2017, when she graduated college in Seattle, she had dreams of moving to New York — so, after finding an internship and an apartment on Facebook marketplace, she packed her bags. It was a five-bedroom apartment in Brooklyn with four girls her age, and they had all received the same video from the realtor before agreeing to move in.
"I was worried about everything," she remembers. "I was 22, had never signed a lease… I was really scared that it was going to be a scam … and I was really scared that I was going to be living with people [whose] lifestyles didn't match [mine]… But it was a lot of fun."
She used the internet to make sure there was nothing to worry about: She found the licenses of the real estate agent and brokerage that she was communicating with online and past listings that had been rented through them. She also spent time educating herself about what the red flags are when renting an apartment — like a landlord asking for cash instead of a certified check.
Goldstein ended up living in a few more apartments in New York — all rented through the traditional process of using a broker and visiting the place before sending an application — before moving south, but after her first experience, she doesn't feel nervous about renting sight unseen again. She was able to convince her partner, who had never rented sight unseen before, to try it for their Asheville move. She also keeps in touch with most of her original four roommates on Instagram.
Brownstones in Brooklyn, NY.
As people who make most of their purchases online and have grown up in a highly digital age, all four renters felt confident that they could accurately assess the properties that they were moving into using online tools. Each did extensive online research before signing the lease, even if only a couple of days passed between applying for the apartment and signing — from street view on Google Maps, to looking up property management companies on Better Business Bureau, to finding building reviews online.
Speaking with a current tenant on Facebook is how Oliphant found her apartment — and why she felt comfortable renting it. She's not alone. According to a paper from the Joint Center for Housing Studies of Harvard University, social media is one way that digitalization is heavily impacting housing rental trends. Because one needs to have a profile on platforms like Facebook or Instagram — unlike other parts of the internet where one can remain anonymous — it builds trust between people who have not met in person and can foster connections that wouldn't have otherwise occurred.
White, Perkins, and Chambers have noticed that all of the tenants whom they have rented sight unseen to have been either Gen Z or young millennials. For Perkins, all of his sight-unseen tenants have been below the age of 30.
"I enjoyed doing most of the process online. I really liked that I got to fill out the application online… I liked that way better than having like a piece of paper. … I would do it again."

— Jessica Oliphant, Tenant
Thomas and Goldstein are both planning on buying houses with their respective partners rather than renting, but each says that she would rent sight unseen again if necessary. Peterson, who has also already rented sight unseen twice, and Oliphant also say they would do it again.
While they all agree that seeing an apartment in person can provide a feeling of security, they also admit that an in-person tour doesn't guarantee that an apartment will meet expectations. For example, Peterson's parents visited the first apartment that they rented sight unseen on their behalf, but they toured a unit on a different floor and a different side of the building, so the floorplan was very different. In this situation, renting through a video or virtual tour can feel like a similar gamble to renting in-person.
Renting sight unseen may come with concerns about potential scammers or unmet expectations, but the ease and cost-saving benefits of not having to travel to multiple units (and, in some cases, different sides of the country) is worth it for some renters — especially those willing to do their due diligence.
"Honestly, [renting an apartment sight unseen] wasn't that different [from the traditional experience]," Oliphant says. "It still is nice to be able to see the apartment that you're going into just to gauge how big the space is, but I enjoyed doing most of the process online. I really liked that I got to fill out the application online and that we used DocuSign to sign all the documents… I liked that way better than having like a piece of paper. … I would do it again."
---
If you are interested in renting sight unseen, ApartmentAdvisor can help. Our new Verified Listings program (available in Texas and coming soon to other markets!) gives you access to select properties that we've vetted. Their listings also include video tours that we've produced ourselves, so you can get the full picture of what a property looks like. Even better, you'll work directly with one of our leasing advisors to apply online — and we'll even cover the application fees. View Verified Listings in Austin, Dallas, and Houston. Plus, at ApartmentAdvisor, we give every listing a deal rating to let you know if an apartment is fairly priced for the market.
Do you have a unique renting story you'd like to share? Let us know! Email lilly.milman@apartmentadvisor.com.
We rate and sort every listing based on fair market rent.