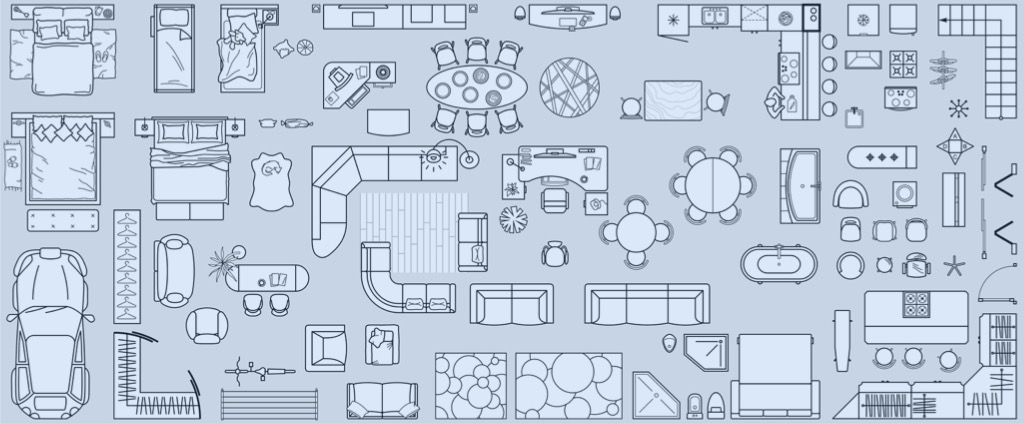 ---
When you look at new apartment listings online, there are a few places your eyes probably drift to first, like the number of bedrooms and bathrooms and the rent price. As you start to visualize your future home, you may have a sense of how much space to expect in a one- or two-bedroom apartment. However, not all apartments are created equal — so the square footage is just as important a factor to pay attention to when apartment hunting.
If you need a better sense of how much you can fit in a particular space, we're here to help. Read on to learn more about one designer's tips for decorating various apartment sizes.
We spoke with Artem Kropovinsky, an interior designer based in New York City, to learn more about his rules for decorating a range of apartment sizes — from 400 square foot studios to 1,000-plus square foot two- and three-bedroom apartments.  
What kind of furniture can I fit in a studio apartment?
Throughout his career, Kropovinsky worked with some clients renting pretty small spaces — which are not uncommon in New York City. He's picked up some helpful tips along the way for maximizing square footage.
How to Decorate a 400-Square-Foot Studio Apartment
When he was tasked with decorating a 400-square-foot studio, he focused on functional furniture more than anything else.
An apartment of this size is best served by furniture that is foldable or has multiple uses. A 400-square-foot studio doesn't leave much space for separation, so a tenant renting an apartment of this size will most likely be eating, sleeping, and hosting all in the same space. Kropovinsky recommends getting a sofa bed or a murphy bed, which can be folded up during the day to save floor space. If a renter in a small space insists on having a more traditional bed, then it's important to find one that has underbed storage. Other space-saving furniture options include wall-mounted desks or very small tables for eating — some which can be folded up when not in use.  
While there is room on the walls to incorporate some décor, he recommends that renters ultimately keep nonessential items to a minimum in a studio on the smaller end of the spectrum.
How to Decorate a 600-Square-Foot Studio Apartment
If your studio is a bit larger, though, you may have more room to dedicate different areas to different uses. For example, with 200 extra square feet, Kropovinsky says you can likely swing a combined living and dining area as well as a separate sleeping area that doesn't require a murphy bed.
In a 600-square-foot studio, Kropovinsky would add in a sofa, as well as a large coffee table that can also be a dining space. He'd also feel comfortable adding a queen-sized bed and a dresser that can perhaps serve as a nightstand. You can also opt for a dresser and small nightstand.
What kind of furniture can I fit in a one-bedroom apartment?
One-bedroom apartments offer the luxury of dedicated spaces, even if they are on the smaller end. Many of the one-bedroom apartments that Kropovinsky works on in NYC are within the 600 to 800 square foot range.
How to Decorate a 600-Square-Foot One-Bedroom Apartment
Even though they might have the same amount of square feet, a 600-square-foot studio and a 600-square-foot one-bedroom should be decorated very differently, according to Kropovinsky. In a one-bedroom apartment, you can easily fit a dresser or two, two nightstands, and a queen-sized bed in the bedroom — as well as a sofa, coffee table, and dining table that can accommodate up to four people in the living room. You are also likely to have more closets and built-in storage space in an apartment of this size, so you will have more flexibility when it comes to adding decor.
How to Decorate an 800-Square-Foot One-Bedroom Apartment
Generally, Kropovinsky doesn't add a sizable L-shaped sectional sofa in an apartment that's under 800 square feet. With the extra space in an 800-square-foot apartment, he may also even add an armchair as well as a dining table that can accommodate up to six people if the tenants are interested in hosting in the common area. If not, then adding some pieces to create a home office space is another option. It's also at this size that he begins adding many more personal design touches, as he does not need to worry about focusing solely on function with this amount of livable space.
One Designer's Rules of Thumb
Of course, the proposed apartment layouts above highly depend on each renter's personal tastes as well as their respective floor plans. Just knowing the total square footage usually isn't enough information to make effective design decisions.
However, Kropovinsky did offer a few rules of thumb that he believes every renter should strive to follow when decorating their apartments, no matter the amount of space they have in their apartment:
If you are going to add in a sectional and coffee table, try to reserve around 100 square feet in your living area for these items.
Create walkways between pieces of furniture that are at least 36 inches wide, otherwise you won't have enough space to comfortably move around your living space. So, if a walkway feels too narrow, it's time to pull out the tape measure.
In smaller apartments, make the most of vertical space with pieces like floating shelves.
For help figuring out the amount of square footage that you can afford, read our guide here. You can also find out your perfect monthly rent price with our Rent Calculator.
We rate and sort every listing based on fair market rent.