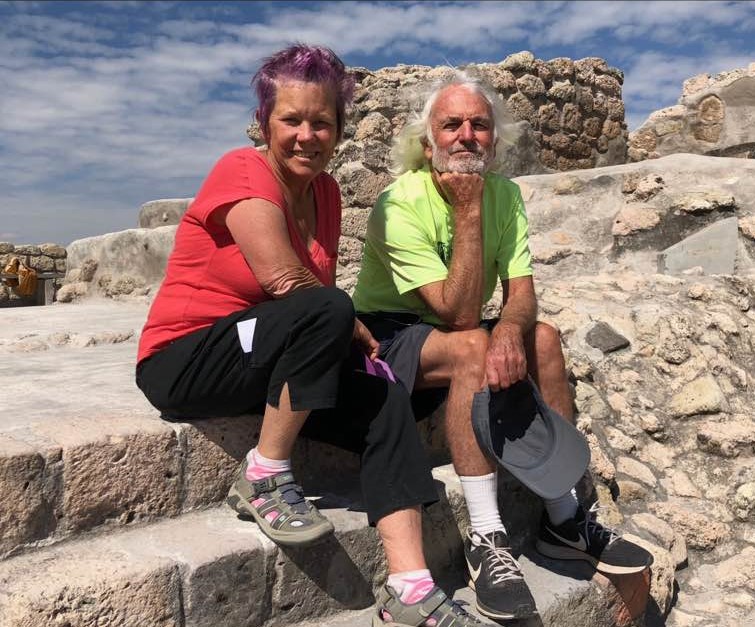 ---
The first time that my husband Barry and I toured our apartment in Old Town, Eureka, on California's North Coast, we fell in love with the partial view of the bay, a light-filled second floor, and the a garage — rare in this part of town. "Look, there's no risk," I said. "Let's just rent it for a while, until we figure out our next steps."
Ha! So much for that short-term plan. Twenty-two years later, we're still there. Our landlord is as surprised as we are. When he showed us the apartment, Barry and I had just returned to the U.S. after traveling abroad. We gave him our card, which announced we were "lovers of Leaving," because we never seemed to settle down.
"I'm not sure I should rent to you!" he said, as he read the card, chuckling. Now we're his oldest tenants, in both senses of the word, and he jokes that we'll never leave.
Our move to Eureka really began twenty months earlier, when we left our previous home in Palo Alto, wanting a radical change from the intensity of Silicon Valley. In the fall of 1999, we flew to Mexico and, from there, to Greece, the Middle East, and Ireland, starting and ending our period abroad in the UNESCO World Heritage city of Guanajuato, Mexico. We paid for our travels by renting out our Palo Alto home.
Louisa and Barry's Eureka, CA dining room and kitchen. Photo courtesy of Louisa Rogers.
When we returned to the U.S., ready to settle again, our house was still leased. We knew we didn't want to go back to Palo Alto anyway — so we bought a camper van and meandered up California's coastal Highway 1, looking at different towns along the way at possible places to live. That was when we found our Eureka apartment.
When we moved in, I told a friend that it reminded me of the second-story Russian apartment where Lara in the movie Dr. Zhivago lived, complete with a big pot of comforting soup on the stove. Our apartment isn't elegant, but it feels very cozy, intimate, and safe.
Four years later, we sold our Palo Alto home and bought a 200-year-old adobe house in Guanajuato's centro. To have an international base had always been our dream. Today, we love our lifestyle, divided across what we call our three "homes": our Eureka apartment; our house in Guanajuato; and our camper van, in which we roam around Northern California, southern Oregon, and beyond.
You could not pick two more different environments than Eureka and Guanajuato: moist, green, and at sea level, on one hand, and high, dry, on a 7,000-foot mesa on the other. From these different perches, we get to enjoy not only distinct landscapes, but different cultures, languages, climates, altitudes, friends, cuisine, architecture, and history. This lifestyle wouldn't be possible if we weren't renters.
When we bought our home in Guanajuato, I was so smitten with our colorful, vibrant, city that I felt ready to move there within the next hour. But after the "sugar high" wore off, I realized I liked the contrasts our two lifestyles offer.
Louisa and Barry on the terrace of their home in Guanajuato, Mexico. Photo courtesy of Louisa Rogers.
We're very happy renting in Eureka, rather than owning. As realtors say, it's all about location. In Old Town, we walk to everything — coffee shops, two supermarkets, the library, the gym, the boardwalk, and the bay, where we paddle. If we didn't own our Mexican home, we'd want to buy in Eureka, but the real estate market here doesn't match our needs. Very few houses are for sale in our neighborhood, and most are much bigger than what we want. Our 900-square-foot, two-bedroom apartment is the perfect size for us. We have plenty of storage space downstairs in a room with a spare bed, plus a workshop. Outside, we have a deck, a fence framed with potato vines, and our hot tub, which we love having, since Eureka can be chilly year-round.
Unlike many other parts of California, the rent is affordable (the median rent for a two-bedroom is $1,475, according to our rental data), and we don't want the complications involved in owning two homes. Our older Guanajuato home has plenty of maintenance issues already.
Fortunately, we can manage financially without subletting our apartment when we're in Mexico, though we've had friends house-sit from time to time. We do rent out our Mexican home when we're away, which helps to cover expenses.
When there's a problem in our apartment and we aren't in Eureka, our friends pitch in. For example, last winter, a friend who works in a bookstore a block away checked our home after the 6.4 earthquake that rattled the area. And a couple of years ago, during heavy winter rains, our neighbors moved our basement furniture to protect it. 
At 80 and 71, Barry and I are not exactly the typical renter demographic. Will we still love this lifestyle in ten years? Who knows. For now, between van trips and paddling on our bay in Eureka, and hiking in Mexico, we're having too much fun to think about it.
We rate and sort every listing based on fair market rent.