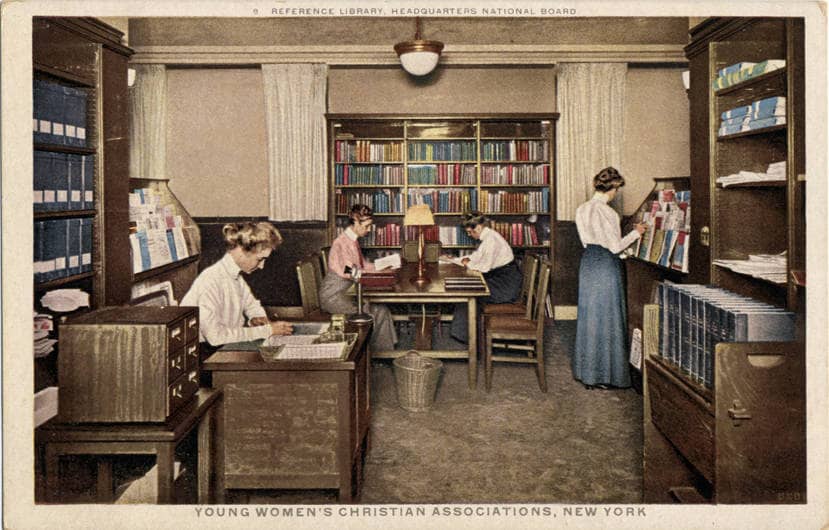 Women's History Month: 3 Types of Rentals That Revolutionized Housing for Women
---
If you're a woman currently sitting in your apartment — where you live alone or with a group of women roommates — it can be difficult to imagine that, once, this was a privilege you wouldn't be given in the United States. You may already be aware that choosing to live alone, to earn a wage, and to pursue leisure activities were all rights that were earned by women in the 20th century — but did you know that apartment buildings and room rentals also played a big role in the changing roles of women?
That's right: If you do your laundry in a laundromat or laundry room in your building, buy a coffee on your way to work, order in takeout for dinner even once or twice a week, or live with a roommate that isn't a family member or partner, then you have this generation of women — and the various apartment buildings that were popularized at the time — to thank for creating the blueprint for this type of living. (Literally. According to Sarah Allaback's book The First American Women Architects, by 1920, over 200 women were practicing architecture in the U.S., designing apartments, hotels, churches, and mansions across the country.)
The development of the economy as well as the construction of boardinghouses, apartment hotels for women, and, finally, rooming houses and apartment buildings in the late 19th and early 20th century gave single women their first opportunity to leave their family home and begin lives of their own, says Kate Ratcliff, a U.S. History and Women's Studies professor at Emerson College.
"The rise of factory work provided an economic opportunity for women, and as the century progressed, new urban institutions like department stores, new retail opportunities, ... the rise of clerical work for women ... provided the conditions where women could live alone," she explains. Because of these new economic opportunities, "members of the family could have independent access to the economy."
To celebrate Women's History Month, we dive into this unique period in history and take a look at each of these types of rentals, and their impact on women's housing today.
Women's Boardinghouses
Toward the end of the Industrial Revolution, boardinghouses began cropping up as one of the only affordable housing options for single women who needed housing in cities like New York, which was home to some of the first all-women boardinghouses in the country. They catered to working-class women, and provided low-cost, minimally furnished bedrooms in larger buildings that also included a parlor for socializing, a dining room, kitchen, and bathrooms.
"Throughout so much of history, women were really daughters, wives and mothers, and they lived those roles at all times in their lives. So even in these early boarding houses, despite these trappings of the family ethic, they were there as individual women in the city."

— Kate Ratcliff
At first, these dwellings were seen as temporary — and potentially scandalous — living arrangements for young women. According to Ratcliff, many viewed a woman living in a boardinghouse as an act of economic necessity. To counteract that image, admittance into the buildings typically came with a rigorous application process and a long list of rules. Boardinghouses for women were often incredibly strict, with "lights out" times and curfews, restrictions against hosting guests (unless monitored in a common room) and fraternizing with men, requirements about church membership, and general emphases on "moral character," according to articles by the New York Historical Society and Bloomberg. Many of these homes were religious in nature — like the homes started by the Ladies Christian Union and the Young Women's Christian Association (YWCA) in the second half of the 1800s — and were run by house matrons, or "mothers," who ensured that tenants stayed in line and didn't speak out against the house rules.
"The boardinghouse matrons ran a tight ship," Ratcliff says. "Many of those boarding houses were meant to be protected spaces for women. Women weren't out and about so much in the city. They ate in the boardinghouse and often socialized in the boardinghouse. Boarding houses provided parlors and kitchens where women would gather... It was more of a quasi-familial environment."
A menu from the Margaret Louisa Home.
Despite their narrow definition of "appropriate" women's-only housing, these boardinghouses paved the way for women who wanted to live outside the home of a parent or partner, inspiring future dwellings that had less of a focus on discipline and crafting an early image of an independent woman. Not only that, but boardinghouses also provided women, many of whom were in a new city and far away from any friends or family, with a sense of community and mentorship.
"Throughout so much of history, women were really daughters, wives and mothers, and they lived those roles at all times in their lives. So even in these early boarding houses, despite these trappings of the family ethic, they were there as individual women in the city," Ratcliff says.
Apartment Hotels
Around the same time that boardinghouses were taking over industrial cities like Boston, Chicago, and New York, apartment hotels, a more luxe and less strict option for semi-permanent or extended temporary housing, also began appearing for middle- and upper-class women.
In the early 20th century, New York City became home to the Martha Washington Hotel, one of the first buildings of its kind. An apartment hotel made for "business women," it housed between 400-500 residents, some temporary and some permanent. It contained single rooms (similar to the boardinghouse room style) as well as fuller apartments. With an all-women staff and an emphasis on independence, it was a hit among professional women (it was fully occupied and had a long waitlist) as well as feminist groups of the time (like the Interurban Women's Suffrage Council, which used the hotel as their headquarters), according to the an article by Curbed New York.
While the Martha Washington Hotel catered more to affluent business women, New York's Trowmart Inn provided similar accommodations for working-class women. Both offered amenities like drug stores, libraries, dining rooms, and more, within the respective buildings.
A postcard depicting the Martha Washington Hotel.
These apartment hotels were revolutionary for single women, who were rarely allowed to rent a room at traditional hotels without an escort. They also allowed women to pursue employment and art, socialize, and live without the rules of "house mothers" or religious figures, marking a departure from the restrictions of the boardinghouses.
Though no longer a women's-only hotel, the Martha Washington is still around today, under the name The Redbury New York.
Rooming Houses and Furnished Housing Districts
Most similar to the modern housing we know today, rooming houses and furnished housing districts in the early 20th century solidified the place of women in cities.
According to Ratcliff, by the beginning of the 20th century, every major city had a furnished housing district — which was a neighborhood populated with rooming houses, where people could rent a single furnished room. These neighborhoods also typically featured other new urban establishments for renters, like cheap restaurants, cafeterias, dance halls, and other spaces for socialization in furnished housing districts.
"[Rooming houses and furnished housing districts] were really part of a major shift. In these districts, women lived in a much more unsupervised environment," Ratcliff says. "There was a lot more privacy, a lot less supervision. Women enjoyed the freedom to eat when they wanted, where they wanted, with whom they wanted."
Similar to boarding houses and apartment hotels, these rooming houses also began to free women from the amount of domestic work that had been expected from them in their family homes. For the first time, women were able to focus on their own independent lives.
"Feminism really involved a lot of innovation around housing and forming communal living situations for women... I think that we enjoy the fruits of that movement today."

— Kate Ratcliff
In 1872, Feminist and apartment living advocate Sarah Gilman Young published an analysis of Parisian apartments, in which she argued that one-floor apartments presented the solution to the housekeeping crisis women were facing in the city. According to Elizabeth C. Cromley's book Alone Together: A History of New York's Early Apartments, Young argued that apartments were easier to keep clean because they were only one floor and had less furnishings, were safe to leave for the holidays because they had concierges who could watch over the space, were more efficiently laid out because they did not need individual laundry equipment or space for washing and drying, and lessened the need for cooking at home because of cafes and restaurants available outside the home.
With these new freedom came new ideas — and furnished housing districts became hot spots for new subcultures to form among women, Ratcliff says. Groups of artists, feminists, and political radicals began to meet.
Looking Toward the Future
By the late 1920s, construction of new women's-only housing slowed significantly due to the economic pressures of the Great Depression. But the foundation for a future of more independent living had already been laid. Historian Joshua Zeitz writes: "By 1929, more than a quarter of all women — and more than half of all single women — were gainfully employed. In large cities like Chicago, Philadelphia, and St. Paul, anywhere between one-quarter and one-third of adult women workers lived alone in private apartments or boardinghouses, free from the close surveillance of their parents."
"By 1920, the cultural images [of single women] really changed," Ratcliff says. "Think of all the images of young women embracing opportunity and excitement in the urban environment. Those entrepreneurs who had developed these new urban consumer culture opportunities that women took advantage of really promoted this new image of the young single woman."
While there was still a long way to go before expectations around marriage for women began to loosen their grasp, single living opportunities planted the seed for this kind of thought. In 1936, Vogue editor Marjorie Hillis published her humorous guide, Live Alone and Like It, a manifesto for single women to take charge of their current lives and enjoy life. A few decades later, in the late 1960s, Cosmopolitan magazine editor-in-chief Helen Gurley Brown published a similar book. By then, single men and women were living in youth-oriented apartment complexes in cities across the country.
"Feminism really involved a lot of innovation around housing and forming communal living situations for women," Ratcliff says. "I think that we enjoy the fruits of that movement today."
We rate and sort every listing based on fair market rent.