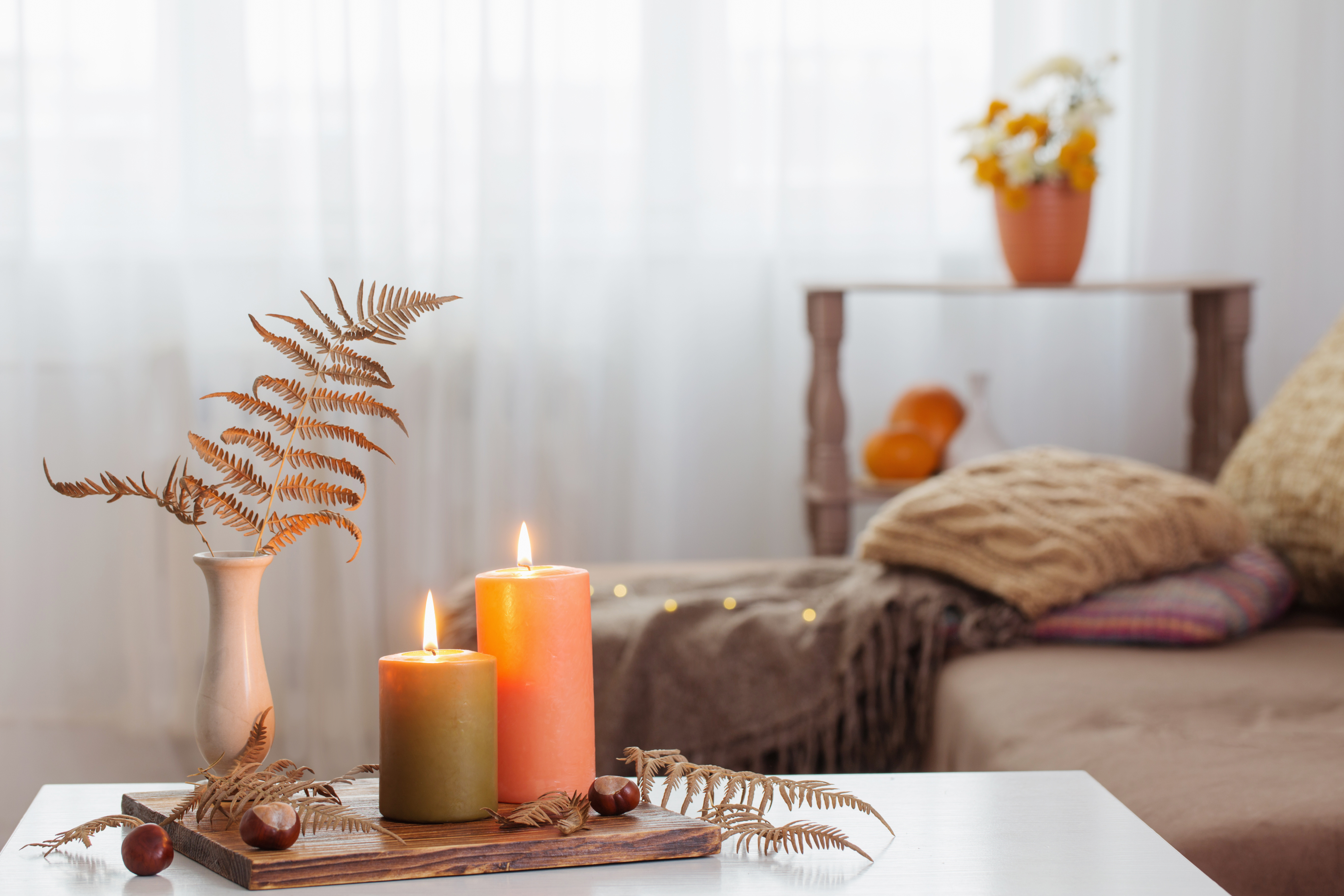 ---
If you've lived in the same rental apartment for a long time, you may find yourself getting a little tired of your décor. Seasonal decorating, if done right, can be a low-cost and low-commitment solution for sprucing your place up.
We spoke with Diana Hathaway, color expert and interior designer, to get her best apartment decorating tips for renters who want to redecorate in the fall — without breaking the bank (or going overboard on mini pumpkins).
1. Turn to your produce for inspiration.
When Hathaway is looking to freshen up home decor for the fall, she turns to the vegetables in her local supermarket for decorating ideas. "The secret is to look at what is in season you're doing a fall theme," she says. No, she's not suggesting it's time to start decorating your apartment with eggplants or squash. Instead, use them for color inspiration. Hathaway loves colors that remind her of a hearty fall soup: deep purples, browns, a burnt orange, or a deep red.
2. Make use of texture. 
While winter is the time for heavy, opulent fabrics — for your throw pillows, blankets, and curtains — and spring is all about translucent or light fabrics, fall is more of a transitional period. If you want to add texture in your living room, Hathaway recommends incorporating fluffier or woven fabrics: "What is perfect for fall is a really refined burlap… or velvet." Go for neutral fall colors like taupe, charcoal, or a rich dark gold or brown, which are more versatile than the classic autumn orange or red. If patterns are more your speed, find fabrics that create a pattern using texture. "That can be a really a nice way to diversify what you're doing."
3. In a small space, invest in a few large pieces rather than many small ones.
When redecorating for the season, don't go to your nearest homeware store and buy up all the mini pumpkins, gourds, and other fall decorations. A small living space can start to feel cluttered quickly, so focus on finding one or two statement décor pieces (like some lush purple curtains) rather than going overboard on small pieces of decor. "With a smaller space, everything you do have to make a huge impact," Hathaway says. "In a small apartment, you need less. So, what you're using for decor needs to be larger in scale… You don't want lots of little collections of things."
4. Follow the rule of threes on surfaces.
If you have a bookshelf, coffee table, console table, or other surface you'd like to decorate, try not to clutter it with more than three items of various sizes. Like the last tip, Hathaway says the biggest design mistake she sees people making is having too many items. "I like to alternate items with various sizes," she says. So, if she was decorating a shelf with one large item (like a flower vase or large framed photo or artwork), she'd place it next to a medium-sized and smaller-sized item (Hint: This is where you can add in a fun decoration like a pumpkin). Too much stuff can make an apartment feel smaller.
5. Most of your pieces should be able to be easily folded up and stored.
While some pieces, like wall art, may be harder to store, Hathaway recommends that mostly everything you buy for seasonal decorating should be able to fit in a chest, a box in a closet, or another similar storage space. (Another reason not to buy up your local store's supply of Halloween decorations.) If you focus on fabrics, like curtains or throw pillow covers, you can fold them up and store them in an easy-to-reach place, where they'll be ready for next year. This is one of the most important renter-friendly tips, especially if you live in a small space like a studio apartment. 
6. Go to physical stores for styling ideas.
If you're not sure which pieces will work well together, head to a store to see how they styled their fall collection. (Hathaway always turns to the Pottery Barn catalogue or store when she needs fall design inspiration.) Then, you can try to recreate that look at home by ordering similar pieces from another store at a price point you can afford.
7. Use lighting to create a mood when you're entertaining.
For those who want to impress company coming over, small string lights can be an easy but effective way to set a mood in a certain room. Hathaway recommends getting the small, LED bulbs (rather than the classic Christmas lights) and draping them across a table or hanging them up on a window. She's also a fan of LED candles and floating candles. If you're feeling particularly festive, you can even put seasonal fruit like cranberries, a small string of lights, or small pinecones under some floating candles, she says. This could make a compelling centerpiece in a dining room (or dining area), especially during a season with less natural light.
8. Don't forget the bathroom.
If your apartment has multiple bathrooms, pick the one that guests use most often, and bring in some minimalist elements of your décor. You don't need to do a full bathroom makeover but swap out hand towels for ones that match your color theme or add one or two LED candles. "That's one of the things I love to do because it's welcoming," Hathaway says.
9. Focus on one subtle scent for the whole apartment.
This may be controversial, but Hathaway recommends staying away from the cinnamon brooms this year when you're looking for fall scents. "They're so overwhelming," she says. She looks for candles or diffuser sticks that offer a blended scent and generally sticks to buying just one. She recommends the options at West Elm. "That's going to be more satisfying than [if you smell something] and go "oh, this is pumpkin spice. I love pumpkin spice, but you need to temper it," she says. Too many or too strong of a scent can make a space feel less cohesive and put together.
10. If you're going to DIY, make something you can use year-round.
One of the most cost-effective ways to pick up a new larger piece of décor to your apartment is by finding one in need of a little love at an antique store, estate sale, or secondhand shop. A DIY project that Hathaway loves is finding a wooden box or small side table and painting one surface of it with chalk paint. The dark charcoal color is neutral, and you'll be left with a unique piece of décor that will be perfect for the rest of the year. You can also replace knobs on drawers with vintage brass or crystal ones, which should also be readily available at your local thrift store. Both options are easy hacks for upcycling a piece of older furniture.
Diana Hathaway is a color expert and interior designer, author, and owner at Diana Hathaway Home. She regularly works with renters and homeowners on design projects.
For more apartment decorating ideas, check out the rest of our Lifestyle section.
We rate and sort every listing based on fair market rent.