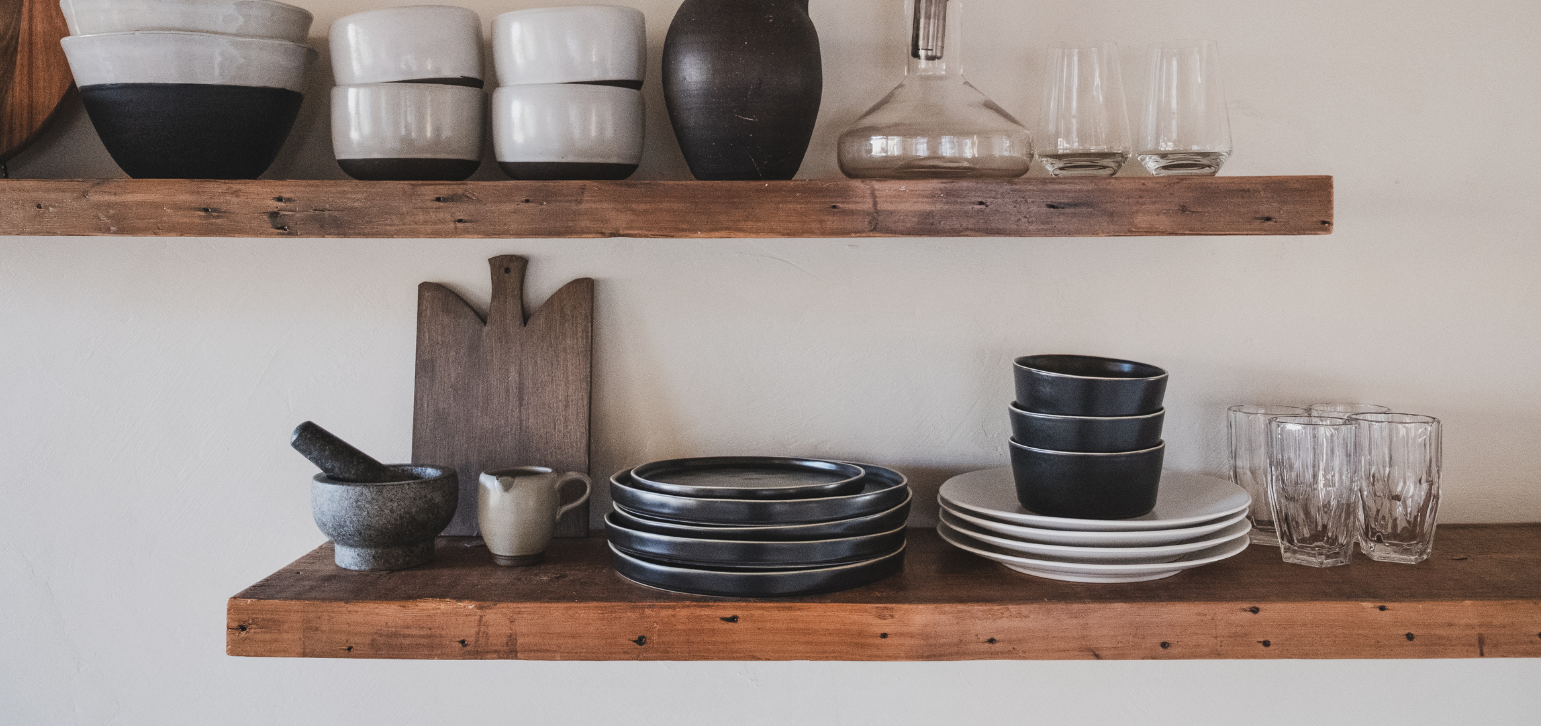 ---
It's important to feel good in a space you're renting — especially since you won't be able to make as many big changes as you could if you were buying a place.
If are living in an apartment that fits your needs (like your budget and location) but you aren't crazy about the wall color or the cabinets, you may feel limited to two options: Stick it out or go on the apartment hunt again. But what if we told you that how your apartment looks if more flexible than you think?
From removable wallpaper to plug-in sconces and lighting solutions that only take a few screws to install, renter-friendly interior design has come a long way. Now, you can totally switch up the look and feel of your apartment — without losing your security deposit. 
We've rounded up a list of all the renter-friendly apartment upgrades and hacks you didn't know existed and will make you feel like you're living in a brand-new apartment. 
Peel & Stick Wallpaper or Tile
Sick of the bland paint colors your landlord has chosen for your apartment? Consider investing in some removable wallpaper to create an accent wall in your living or to even kick off a full bedroom makeover. Play around with colors, patterns, and textures to make your space feel more like you. (You can even use a peel & stick tile to create your own rental-friendly backsplash!) Just keep in mind: If your wall already has loose wallpaper or loose plaster, the adhesive of the removable wallpaper can leave damage when you try to take it off.
Adhesive Contact Paper
Give your rental kitchen a DIY countertop or cabinet makeover with adhesive contact paper, which can make old or stained countertops look like high-end granite or give new life to dated faux-wood cabinets — all on a budget. If you have leftover paper or want to go the extra mile, you can also line the inside of your kitchen, desk, or dresser doors with contact paper as well. Once you've finished covering your cabinets in the contact paper, consider swapping out the old knobs for newer cabinet pulls. Just make sure you keep any hardware you swapped out, so that you can replace it once you are ready to move.
Stick-On Floor Tiles
It's time to finally do something about those tiles that have seen better days. New floors can make an older home look brand new, and peel & stick floor tiles make for an easy upgrade. Peel & stick vinyl flooring — which come in all shapes and sizes, from a luxe imitation granite to a classic hardwood-inspired style — can be applied over concrete, tile, vinyl and wood. This DIY may be more involved than others, as removing the adhesive flooring can take a little elbow grease, so make sure to clear this renter-friendly upgrade with your landlord first.
Plug-In Light Fixtures
A lack of good lighting can be a big drawback, even in an otherwise perfect apartment. Luckily, budget-friendly stores like Ikea now sell easy-to-install, plug-in light fixtures that can brighten up any room. That's right — no wiring work required. Pick your favorite renter-friendly sconces from their collection and add light to any dimmer areas in your living space.
New Shower Heads
Your bathroom should be your sanctuary. So, even if you live in a rental apartment, take the extra steps to make your bathroom a place where you can relax and feel at home. Replacing your shower head with a new one can make all the difference when it comes to improving water pressure, filtering water, or just upgrading the look and feel of your bathroom. Just remember to keep the old one so you can replace it when you move out.
Renter-Friendly Shelves
If you live in a small space like a studio or a one-bedroom apartment, it's important to make use of the vertical space you have access to. If your landlord prohibits hanging anything that requires more hardware than a Command strip, you're in luck. Command actually sells their own floating shelves that can be easily fixed to your wall with one of their strips, and removed when it's time to move out.
We rate and sort every listing based on fair market rent.