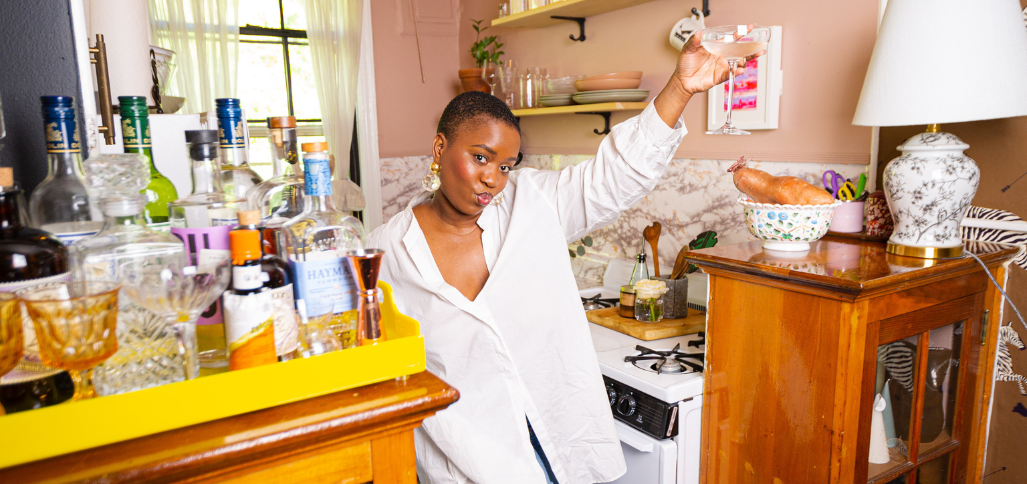 ---
Imani Keal, better known by her handle Imani At Home, is social media's favorite renter — and also one of its most controversial. She reached viral TikTok and Instagram success during the pandemic for her videos on painting, adding maximalist zebra-covered peel-and-stick wallpaper, and even changing out the sink in her Washington DC studio apartment.
Now — three years, tens of thousands of followers, and a New York Times feature later — she has moved into a new place and is ready to start over. Yes, she's documenting the process again.
We sat down with the content creator to find out exactly why she'd rather rent, discuss her viral pandemic success, learn more about her recent move from her studio to her new two-bedroom apartment, and break down her favorite design tips for renters.
If you're interested in learning more about Keal, visit her Instagram page or website — or join her subscriber community, Homeish, where she answers subscriber questions about designing homes, shares product recommendations, DIY ideas for rental apartments, and more.
This interview has been condensed and edited for clarity.
How did the interior design that the studio apartment you went viral for evolve? How did your maximalist style develop?
When I moved in, I was like "This is a small space. I need to be organized. I need to not have a lot of stuff out." The apartment was cute; there were rugs, there was art on the walls. It just didn't feel like me.
I grew up in a family of people who shop like crazy. I call my aunt the Tri-City shopper; she'll be in Delaware in the morning, New Jersey in the afternoon, Philly in the early evening. So, I always had a very big sense of: "If I love something, I'm going to take it home with me." If I'm walking my dog and I see a chair on the street, I'm going to take the chair.
I don't think that I have an eye. I'm not going to sit like forever and measure every inch to make sure everything fits perfectly. I will buy something and then I'm like, "Oh, this is beautiful. I frickin' love it. How can I make it work in this place?" That's how I got here.
Do you have a piece of home decor?
My grandfather passed away when I was a baby, but I like to collect things from my house and I have a cane of his that he used to use. I ended up getting it framed at Michaels. It's truly one of my favorite things.
"Every person that I sent that wallpaper to was like, 'Are you sure?'" Photo credit: Farrah Skeiky
What is your favorite project from that studio?
I have to give it to the zebras because that was a project that nobody believed in until it was done. Every person that I sent that wallpaper to was like, "Are you sure?"
It was around the time that I started working on that project that my account blew up and it got crazy attention. I credit that project with kickstarting my growth.
What do you have to say to the people who criticize how much you've invested in your rental?
My new favorite comment is "Mind your business, kissy face."
In all seriousness, I have never told any person not to buy a house. What I have tried to express is that owning a home isn't better than renting in every situation. In DC specifically, where a lot of people overpay for homes, it's not uncommon for homes to go for $200, $300, $400K over the asking price
I make the choices that are best for my actual life, not for the life that I want people to see me living. As a black person, when people hear that I don't want to buy a home, they assume it is because I'm uninformed or I'm not knowledgeable about the benefits of homeownership. But I would not be the first person in my family owned a home.
I am not excited about getting a mortgage. I'm not at a stage in my life where I want to do that.
I have no desire to move to the suburbs. I don't even know how to drive. I'm in a rent-controlled building. Most of my utilities are covered in the rent. At most, my living expenses are going to be like $2,600 in an 850 square-foot, two-bedroom apartment. I can't buy anything for that amount of money per month. Why would like why would I downgrade my life to just say that I own a home?
You just moved to this new two-bedroom. How did you go about reversing all the changes you made in your studio?
It took about two weeks. My landlord required that everything be back to its original look. I had to prime everything white, so I bought a five-gallon bucket of paint from Sherwin Williams, I got my paint sprayer, and I went to town. I was in there spraying for a couple hours for two days.
The hardest part of removing everything was removing the flooring that I put in the kitchen. It was a peel-and-stick tile that was really heavy duty. The brand intends for them to be permanent, so the adhesive was really strong. I had to rip it off. The video [I posted] had so many comments like "You're supposed to use a heat gun." I was like, "Babes, underneath this vinyl flooring is even cheaper vinyl. If use a heat gun, both layers of vinyl flooring are coming off." I used a trim puller, which is used to rip off baseboards, and a hammer. I wedged it under the peel-and-stick tiles to break the seal a little bit, and I was spraying a little bit of water underneath it. It took forever. I think I went through two bottles of Goo Gone.
I didn't think I was going to be as emotional as I did. I lived in this house for four years. I've been sharing it for three years. This was all I've known for a really long time. I didn't think I could be as sad about leaving that apartment, but I was.
"The hardest part of removing everything was removing the flooring that I put in the kitchen. It was a peel-and-stick tile that was really heavy duty." Photo credit: Farrah Skeiky
Did you get your security deposit back?
When I was leaving, the maintenance team came in to look around at everything and remove some stuff for me, and they were like, "I didn't expect you to take it back to this. It looks like 99% there."
What is your first project going to be in your new apartment?
I'm doing this thing where I'm taking it slow. As soon as I posted that I found a place, the comments started coming in: "Can't wait to see what you do." "Can't wait to see how you transform." "What's your first project?"
I'm trying to save up some of that money again because moving is just deeply expensive. What ended up happening in my old place is that I never lived in this space before I started buying stuff to furnish it. So, I want to take a month or two to just live here and see how I'm functioning in the space.
I figured out what my first project is going to be, though. I need to the front door. The front door is absolutely hideous to me. I want to make that cute.
How do you approach your landlord about the changes you want to make?
Before I even set the tour for my apartment, I asked to speak to the property manager on the phone. I showed her my Instagram. When I signed the lease, I asked about it again. I sent over an email with all of the things that I want to do. And some of these things were like, "Can I rip off the floor in the bathroom?" I am super upfront.
When I asked my landlord if I could replace the sink and install a new faucet in my last place, I was like, "I'll pay for everything." They were like, "Oh, don't worry. We'll hire a plumber." That saved me a couple hundred dollars.
I created a landlord email template that almost 4,000 people have downloaded. I don't want people to get sued. I don't want anyone to get in trouble for listening to me. People in general will be like, "How did you get somebody to approve this?" I asked. The last landlord that I had, he said no to stuff, but I wouldn't have gotten half of what I got if I never asked.
What are your go-to upgrades that you're going to do in any apartment you live in?
New lighting, new hardware, paint.
What stores do you go to when furnishing your apartment?
Target and Walmart online. Some things that are sold at an Urban Outfitters are also sold at Walmart with a different name. The Urban Outfitters stuff usually has better styling and better product photography, but I am good for a reverse Google image search. On that 42nd page of Walmart, you can find some really clutch stuff
I have been on Amazon for like trays, light fixtures, frames. Etsy does really good hardware. You can even find good, quirky light and decorative pieces on Etsy. For smaller picture frames with mattes, I'm going to Michaels and Target. Some sofas from IKEA are hit-or-miss, but IKEA could be a great place for storage, sofas, pillows. H&M Home has incredible stuff.
We rate and sort every listing based on fair market rent.