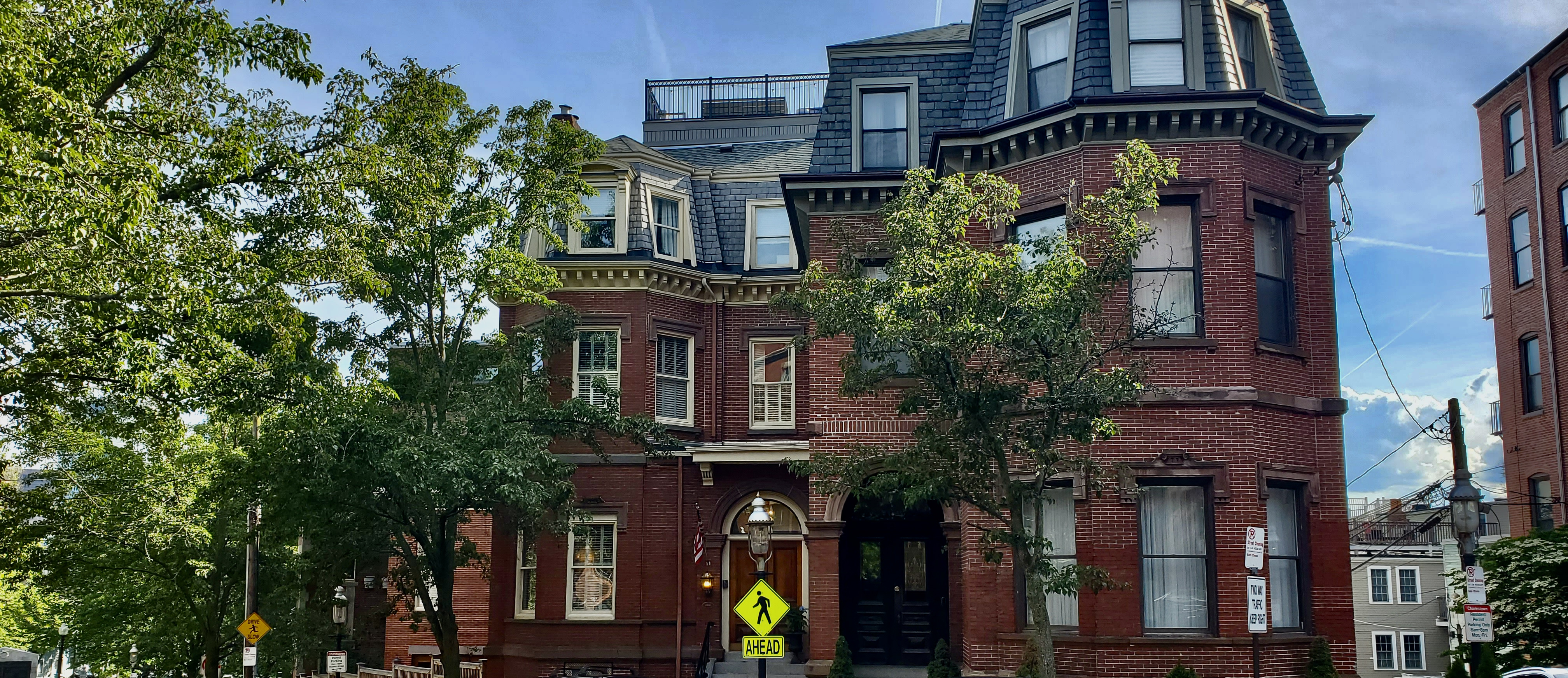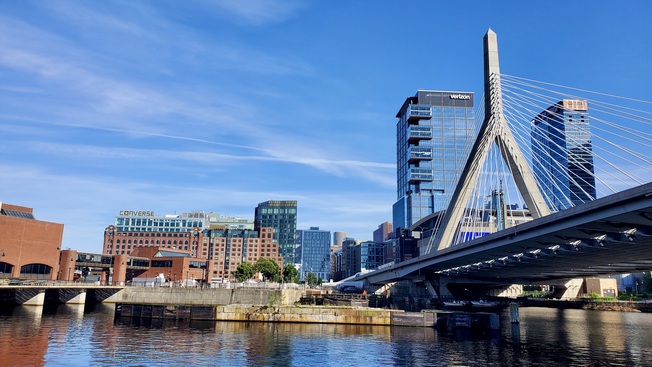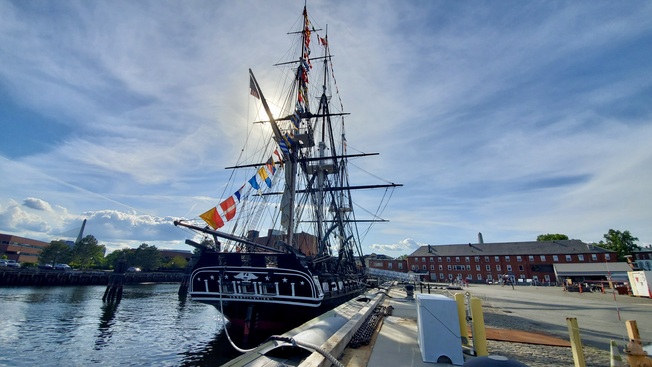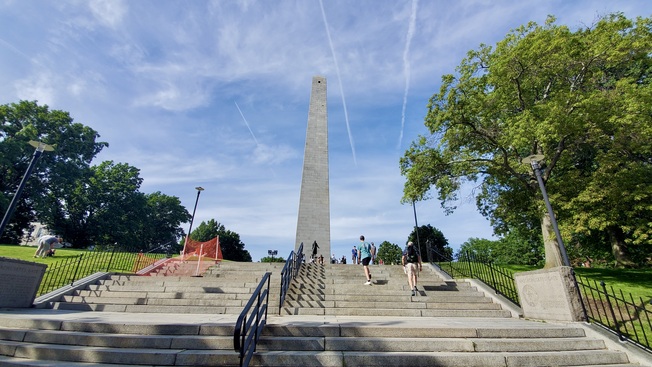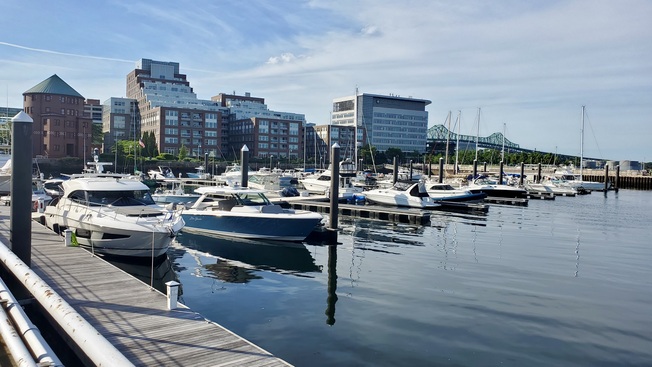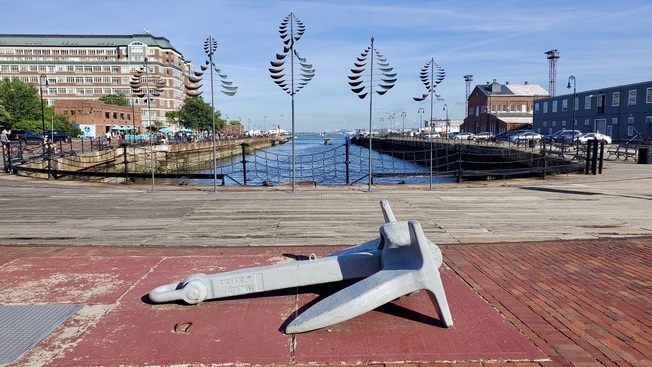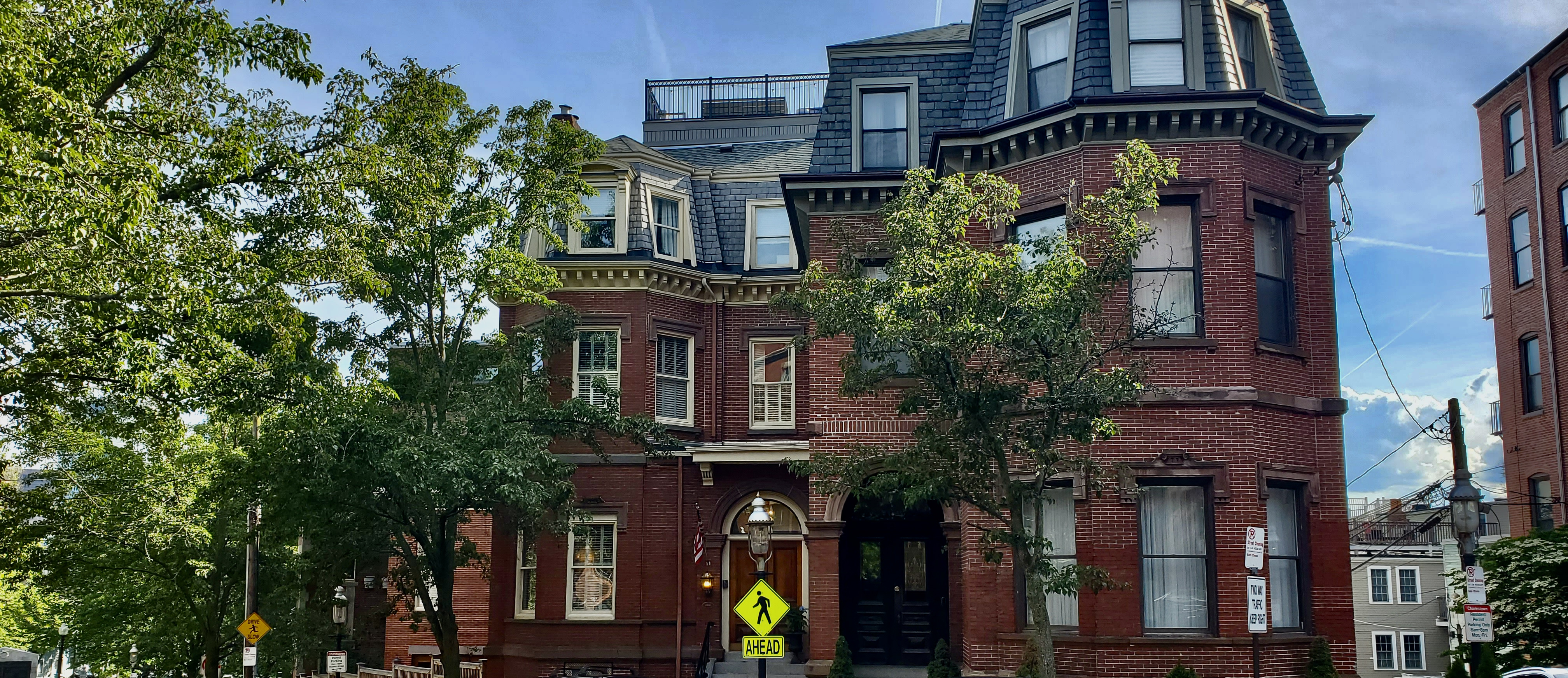 ---
| | Median Rent | Median Sqft |
| --- | --- | --- |
| Studio | $2,450 | - |
| 1 Bed | $3,277 | 771 sqft |
| 2 Beds | $3,750 | 1,052 sqft |
| 3+ Beds | $4,725 | 1,802 sqft |
Charlestown is a self-contained neighborhood that feels a world away from the rest of Boston, even though it is less than a mile as the crow flies. Its location on the north shore of the Charles River means it is geographically removed—a fact that is reinforced by the limited transportation options. A happy result of its north shore location: spectacular views of the Boston skyline across the harbor.
Charlestown has undeniable charm and historic appeal, thanks to the survival of many 18th and 19th-century homes and to the lack of large modern development projects. Dating back to 1624, it is one of the state's earliest European settlements and was the first capital of the Massachusetts Bay Colony. Most famously, Charlestown was the site of the Battle of Bunker Hill, a turning point in the US War for Independence, an event now marked by the landmark obelisk monument. The hilltop site is surrounded by narrow streets and handsome brick townhouses, all evoking an atmosphere of historic significance and prestige.
In the 19th century, Charlestown attracted an influx of Irish immigrants. The Navy Yard and other industry grew up along the waterfront, and Charlestown developed into a tough working-class neighborhood, infamous for the prominence of the Irish mob. Crime thrillers Monument Ave and The Town depict this seedier side of Charlestown history.
Like many Boston neighborhoods, Charlestown has recently experienced its share of gentrification, with the arrival of upper-middle-class professionals and families (thanks in part to the location of two major medical facilities here). There is also a significant amount of public housing in Charlestown. The result is a diverse but segregated population representing all classes.
Through it all, Charlestown has retained its insular atmosphere. Tourists tromp through the area to visit the USS Constitution and the Bunker Hill Monument, but they don't stay long. The handful of restaurants and bars cater to a local crowd. And it's mostly quiet after dark. Residents don't mind — they're just as happy to keep the lovely old streets and skyline views to themselves.
Charlestown is surrounded by water on three sides: the Mystic River in the north, the Boston Harbor in the east, and the Charles River in the south. The western boundary is the Interstate (I-93), so it's no wonder that the neighborhood feels cut off from the rest of Boston. The sole MBTA stations are the Orange-line stations at Sullivan Square and Community College, both on the western edge of the neighborhood.
This compact neighborhood is delightful for walking, but less so for cycling due to narrow streets and somewhat forbidding hills. That said, it's easy enough to get in and out of the neighborhood by bike, connecting to the river routes in Boston and Cambridge. Running parallel to the harbor, 1st Avenue is wide and flat with protected bike lanes from Paul Revere Landing Park to the Navy Yard, and many folks commute to Spaulding Rehabilitation Hospital by bike.
The actual distance into Downtown Boston is not far—a walkable mile across the bridge to North Station. There is also bus number 93 that runs to Government Center, or you can take the Charlestown Ferry, which runs to Long Wharf, either one a 20-minute commute.
Drivers can easily hop on I-93 heading north or south out of town, or Route 1 through Chelsea, Revere, and Saugus. Unfortunately, parking in Charlestown can be a bear. There are few parking garages, and permitted residents wrangle over the limited number of street spots. According to locals with experience, you can always find a spot on the street, but it might be a half-mile from your house.
Unlike some of Boston's trendier neighborhoods, Charlestown does not have a huge number of restaurants and bars. But the ones that are here are solid — not really attracting outsiders, but certainly satisfying the locals. There are a handful of longstanding neighborhood institutions on Main Street. Most significantly, the Warren Tavern has been here since 1780. Legend has it; this was one of the first buildings constructed after Charlestown was sacked by the British. It is named after Revolutionary War hero Joseph Warren, and it's everything a local pub should be.
Other eateries along this strip have not been here quite as long as that, but there are some good ones, including the popular Figs pizzeria, bohemian Zumes Coffee, and trendy newcomer Street Bistro. Other gems scattered around the neighborhood include the sophisticated Dovetail Restaurant, the waterfront Pier 6, and the unexpected Brewer's Fork.
Residents do their food shopping at the local Whole Foods and at a weekly seasonal farmer's market. Alternatively, it's a straight shot on the Orange line or on bus number 93 to Haymarket in downtown Boston.
You wouldn't want to be stuck in Charlestown with a wad of money burning a hole in your pocket: there is little to buy here. The Bunker Hill Mall contains some practical stores, such as CVS and PetSmart, while Main Street is dotted with a few independent shops — a consignment shop, a florist, and a couple of boutiques. If you're in the market for sneakers, the Converse Flagship Store is right across the locks on Lovejoy Wharf.
For a bigger selection, Faneuil Hall is a short bus or train ride away in Downtown Boston. Serious shoppers can also ride the Orange line two stops north to Assembly Square, an outdoor "marketplace" with more than 40 upscale outlets.
Charlestown is not exactly an entertainment hotspot. There are no nightclubs, movie theaters, arcades, amusement parks, or art venues. There are, however, two significant historic sites with accompanying museums. The USS Constitution and the Bunker Hill Monument are the final stops on the Freedom Trail, a 2.4-mile walking route that connects the most important sites in Boston. So that will keep you busy for a day.
More interesting for residents, perhaps, is the neighborhood's several miles of waterfront, with myriad ways to enjoy the chilly water and salty air. There are two marinas along this stretch. If you don't happen to own a boat, you can charter one from Constitution Yacht Charters or learn to sail at Courageous Sailing. Not much for boating? You can still enjoy the water from the comfort of the bar at Pier Six.
Aside from the Navy Yard and the marinas, much of the waterfront property is parkland, offering playgrounds, dog parks, and walking trails. From Paul Revere Landing Park, a pedestrian bridge connects to the excellent Lynch Family Skate Park and nearby North Point Park. From here, it's a cinch to hop over to the Charles River Esplanade, or take the riverside bike trail all the way to Watertown.
By night, Charlestown residents can be found propped up at Paul Revere's favorite bar, the Warren Tavern, sampling the beer selection at Brewer's Fork, or sipping cocktails at Monument Restaurant & Tavern. The local craft brewer Nightshift Brewing is a popular destination across the locks on Lovejoy Wharf. Rest assured, if the local entertainment options sound a bit mundane, it's just a quick ride (or walk) into Downtown Boston, with its wide array of bars, clubs, theaters, and more.
Bunker Hill Community College (BHCC for short) anchors the western end of Charlestown, easily accessible by the Orange-line MBTA station aptly named Community College. BHCC is unique for its racial and ethnic diversity and its older-than-average student body. (BHCC is featured in Good Will Hunting, as the school where Robin Williams's character Dr. Sean Maguire teaches.) In addition to BHCC, both Cambridge College and Springfield College have satellite campuses in Charlestown.
We rate and sort every listing based on fair market rent.