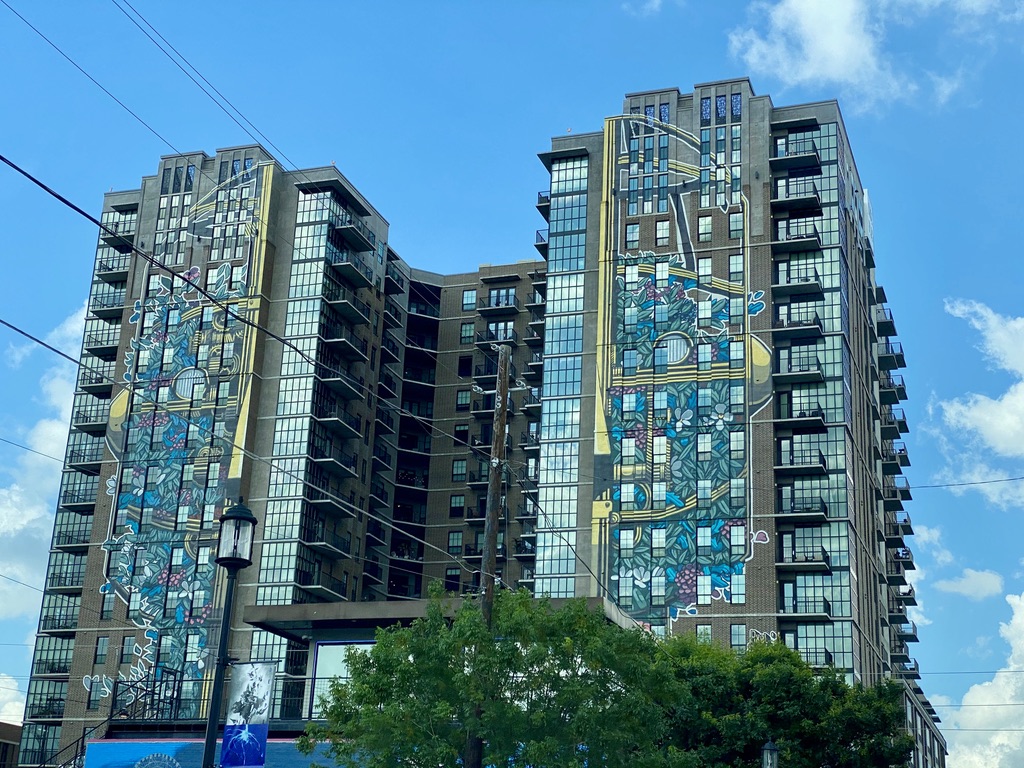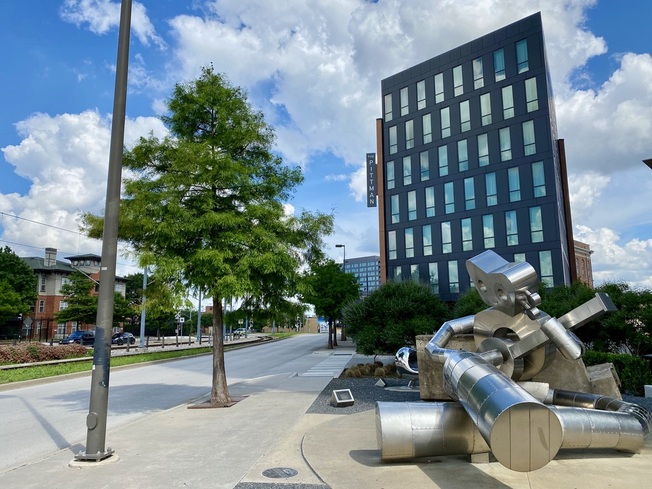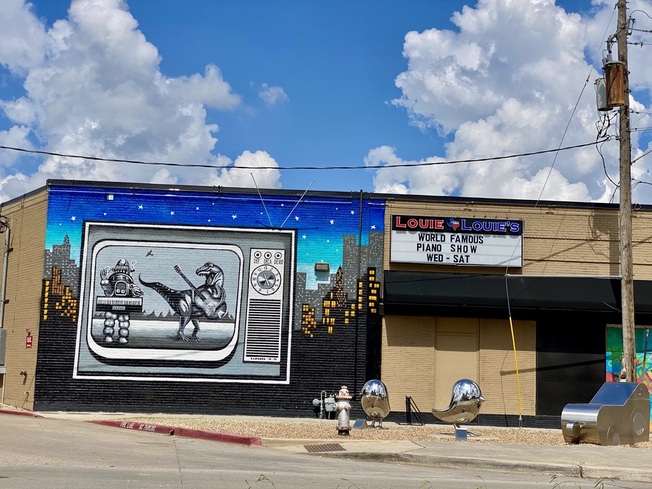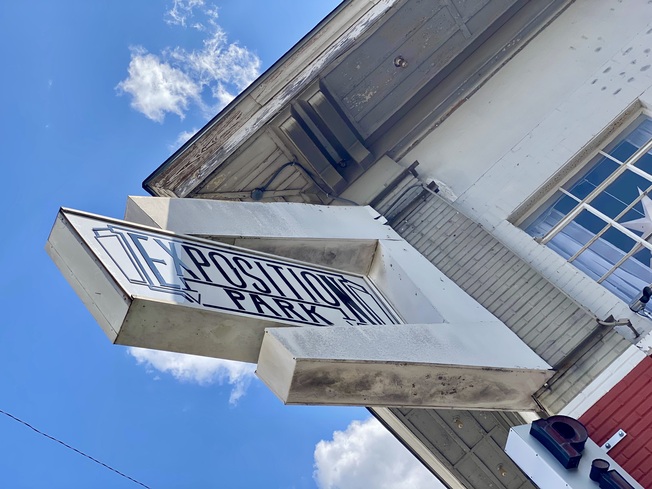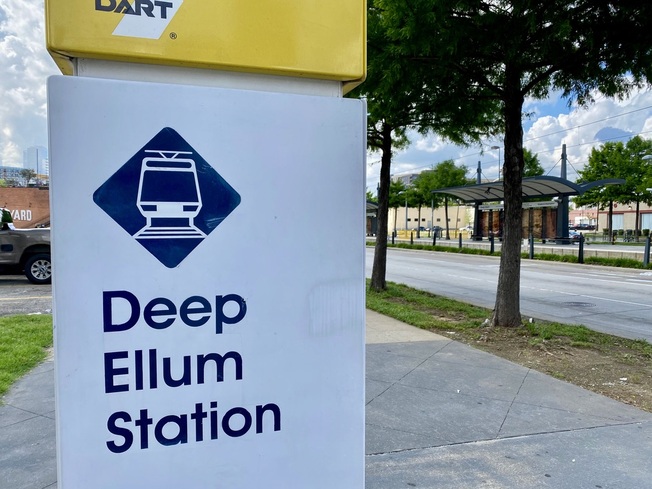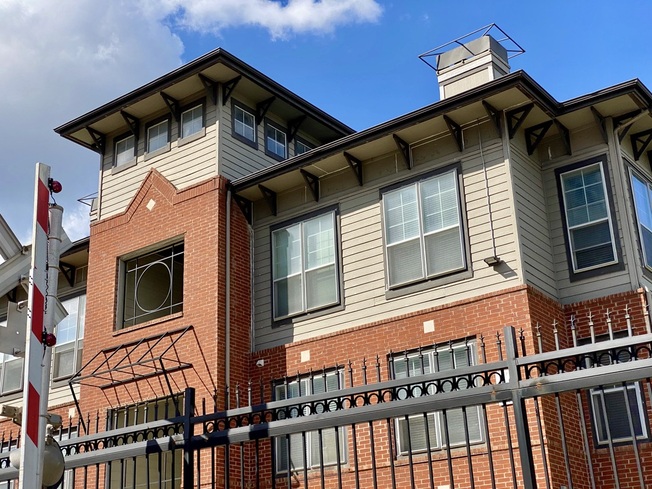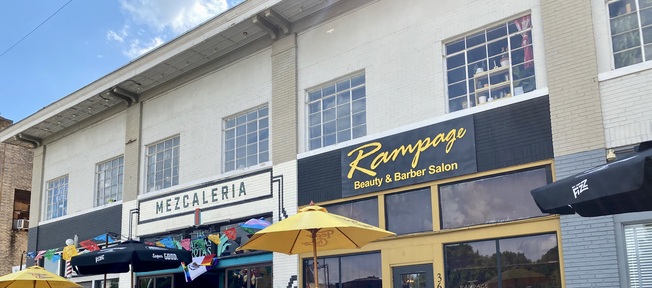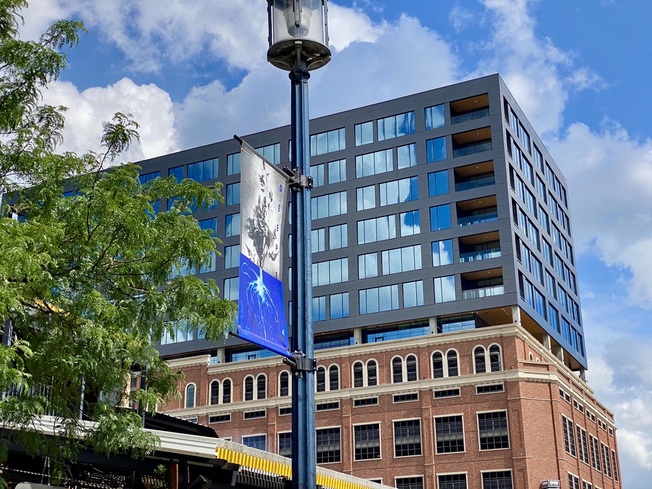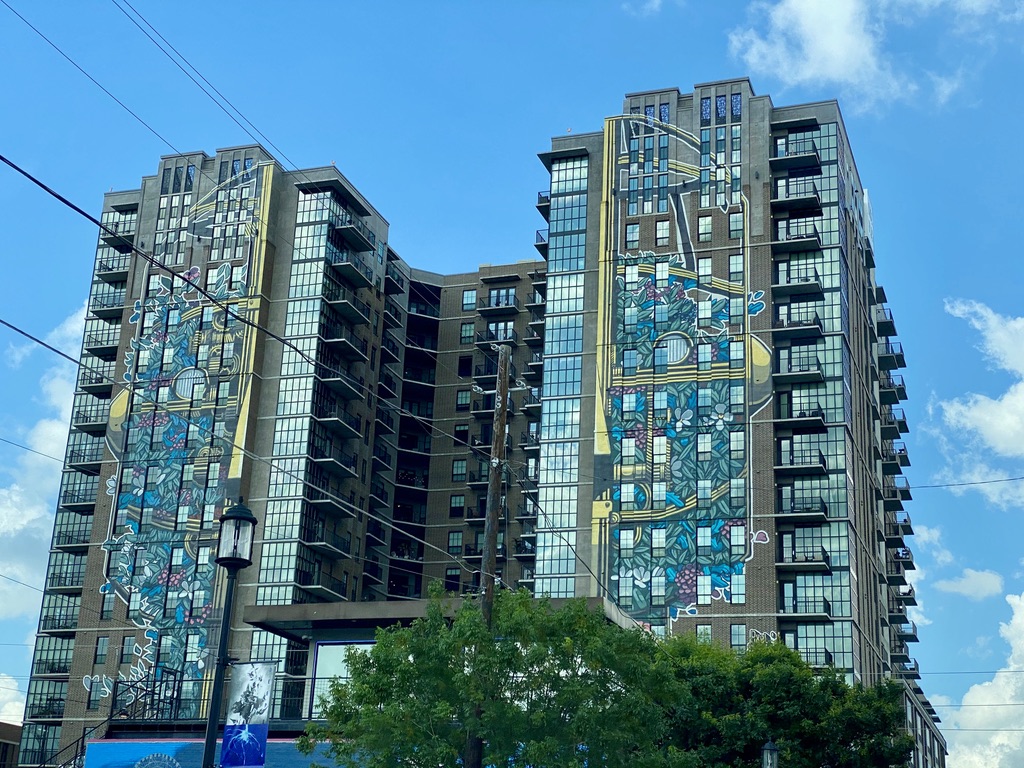 ---
| | Median Rent | Median Sqft |
| --- | --- | --- |
| Studio | $1,565 | 768 sqft |
| 1 Bed | $1,494 | 703 sqft |
| 2 Beds | $2,018 | 1,128 sqft |
| 3+ Beds | - | - |
Established in 1873, Deep Ellum has organically developed an eclectic vibe over the decades to create a unique experience unlike any other in Dallas. Long the home of outsiders—originating with African-Americans and European immigrants before evolving into artists, musicians, and anyone living on the mainstream fringe—the neighborhood in recent years has attracted several high-profile restaurants, new apartment construction, and its first-ever luxury hotel (in a historic building, of course) to complement a charming boutique hostel. Even the corporate takeover of a few structures hasn't dampened the rough-and-tumble spirit of neon-lit Deep Ellum, still emphatically alternative and gleefully rule-breaking. With its vividly colored murals and graffiti, eye-popping public artwork and sculptures, tattoo parlors, dive bars, and a constant soundtrack courtesy of street musicians by day and live bands by night, this neighborhood offers tastes of 6th Street in Austin, the French Quarter in New Orleans, and a little bit of every New York borough—all while still being authentically Dallas. Between the area's unique personality and the ability to find affordable apartments in Deep Ellum, it's no wonder students are drawn to the neighborhood. Living here promises a never-ending list of only-in-Deep-Ellum stories and daily adventures that can only be enjoyed in an urban setting. And the Deep Ellum Community Association ensures that residents feel welcome and included.
Even though it only takes up .63 square miles of land at the northeast edge of Downtown Dallas, the Deep Ellum mystique overflows into adjacent Expo Park without skipping a (rock-n-roll) beat. Combined, the two areas offer the best in local establishments, from mom-and-pop restaurants and cozy bars to art galleries and boutiques. Deep Ellum also features some of the best rooftop patios in the city, with views of the downtown skyline or through the trees to the lively street scenes just below.
Because of its small size and wide sidewalks, Deep Ellum makes pedestrian traffic a no-brainer and a predominant sight. In this extremely walkable neighborhood, bikes, scooters, and skateboards are equally common modes of transportation among the heavy vehicular traffic of visitors to the district. The Dallas Area Rapid Transit (DART) Light Rail system serves the neighborhood on two sides with the Deep Ellum Station and the Baylor University Medical Center Station, while DART bus stops are abundant. And for everyone with cars, I-30 and 75 (Central Expressway) can be accessed quickly and easily when activities beckon outside the immediate area.
One of the downsides of Deep Ellum living used to be the lack of a single full-service grocery store, but that changed with the arrival of a well-appointed Tom Thumb located right on the outskirts of the neighborhood, complete with a gas station (also something that used to be hard to come by).
Becoming a popular dining destination over the past few decades, the neighborhood is also now home to a variety of fantastic food options. Higher-end dining establishments have come and gone over the years because the eclectic mix of residents and visitors demands a more casual, everyone's-welcome-here atmosphere. Deep Ellum restaurants are marked by a come-as-you-are attitude that makes dining out fun and unpretentious. Among the eateries that have stood the test of time, plenty of local favorites await. Breakfast and traditional Texas fare (plus live music) can be found at AllGood Café; burgers, hot dogs, and ice-cold beer at the Angry Dog; all-day breakfast and several varieties of coffee at Café Brazil; certified Neapolitan pizza at Cane Rosso's original location; creative burgers at Twisted Root; Pepe's and Mito's Mexican Café with some of the best tortillas in the city; long lines and appointment-worthy BBQ at Pecan Lodge; and fresh seafood galore at Deep Sushi. However, if you do seek a finer-dining option that's anything but snobbish, Local has been an incredible chef-driven date-night destination since 2003. Newer on the scene, Elm & Good, Biscuit Bar, Ebb & Flow, Gus's World Famous Fried Chicken, and Postino Wine Bar & Brunch Café have already made a splash in their relatively short existence.
The nightlife in Deep Ellum has always been a major draw, so finding a watering hole to fit any occasion, budget, or clientele is easier here than probably any other part of town. For craft cocktails, head directly to Shoals, STIRR, Harlowe MXM, Twilite Lounge, or High & Tight Barbershop (there's a speakeasy in the back that you can visit with or without getting a haircut first). If you're craving a patio scene, settle in for a few hours at Bottled Blonde, Dot's Hop House & Cocktail Courtyard, Vidorra, Toller Patio, or Thunderbird Station at the edge of the area, each with plenty of space to spread out (and bring your dogs, too, in most cases). If a dark, laidback spot is your thing, pull up a barstool at The Free Man Cajun Café & Lounge, Black Swan Saloon, Three Links, Wits End, Crowdus Bar, Adair's Saloon, and Double Wide will all do the trick. In all honesty, you're pretty much guaranteed a great time no matter what door you walk through.
Deep Ellum has also become a hotspot for brewers and distillers, with Braindead Brewing, Deep Ellum Brewing Company, Westlake Brewing Company, Trinity Cider, and Deep Ellum Distillery each making their own beer on-site and serving them to thirsty visitors, along with the option to take tours and get an in-depth look at the journey from raw ingredients to your glass.
You won't find any national big-box brands in Deep Ellum, which is not surprising given the neighborhood's independent spirit. But that doesn't mean you need to leave the area to go shopping. Procure everything you need from clothing to home goods while knowing you're supporting local in a big way. Highlights include cards, stationery, and gifts at Archer Paper Goods; impeccably crafted watches at Breda; upscale consignment at Crossroads Trading; a variety of women vendors operating inside Dallas Pinup; jeans galore at Deep Ellum Denim & Vintage; carefully curated goods for body and home at Flea Style; and the most gorgeous floral designs at Petal Pushers.
Deep Ellum is one of the best places in Dallas for free activities. Top of that list? People-watching. Grab a coffee, sit on a bench or pull up a piece of curb and watch the parade of interesting characters. Or go on a hunt for the many great murals and other public art, primarily the gigantic, silver, several-stories-tall sculptures that are part of the Traveling Man series by local artist Brad Oldham (who also designed the Llinda Llee Llama statue on the rooftop at The Statler downtown). You can also browse artwork in local galleries, including Deep Ellum Art Co., Kettle Art, and the Umbrella Gallery, or step into the Latino Cultural Center for permanent and rotating exhibits, many of which are also free.
If you haven't been to a bookstore lately, the independent seller Deep Vellum will make you fall in love with real (non-digital) books all over again. Get creative while exercising your green thumbs; Jade & Clover offers a variety of build-your-own terrarium options. Attend a staged production at Undermain Theater or The Quixotic World Theatre & Magikal Event Space. Of course, the most Deep Ellum thing you could possibly do would be getting a tattoo or piercing at one of several shops, including Elm Street Tattoo, Taboo Tattoo, and Artistic Encounter.
And speaking of truly Deep Ellum activities, live music remains the heart and soul of the neighborhood, with venues ranging from tiny stages in the corner of dark bars to large, standing-room-only concert venues. Among the best bets, Armoury DE, Canton Hall, Club Dada, Limbo Room, Mama Tried, Sons of Herman Hall, Trees, and the Bomb Factory will all keep you in the groove, often into the wee hours of the morning.
Many students of the branches of the Dallas College system, the University of North Texas (UNT), and Texas A&M University across Good Latimer Expressway in downtown Dallas flock to Deep Ellum for housing because of both the proximity to the campuses, but mainly because of the youthful (and typically more affordable) lifestyle of Deep Ellum. Southern Methodist University (SMU) students also can be found in the neighborhood because it's only a 15-minute-or-so commute to the Park Cities campus.
We rate and sort every listing based on fair market rent.