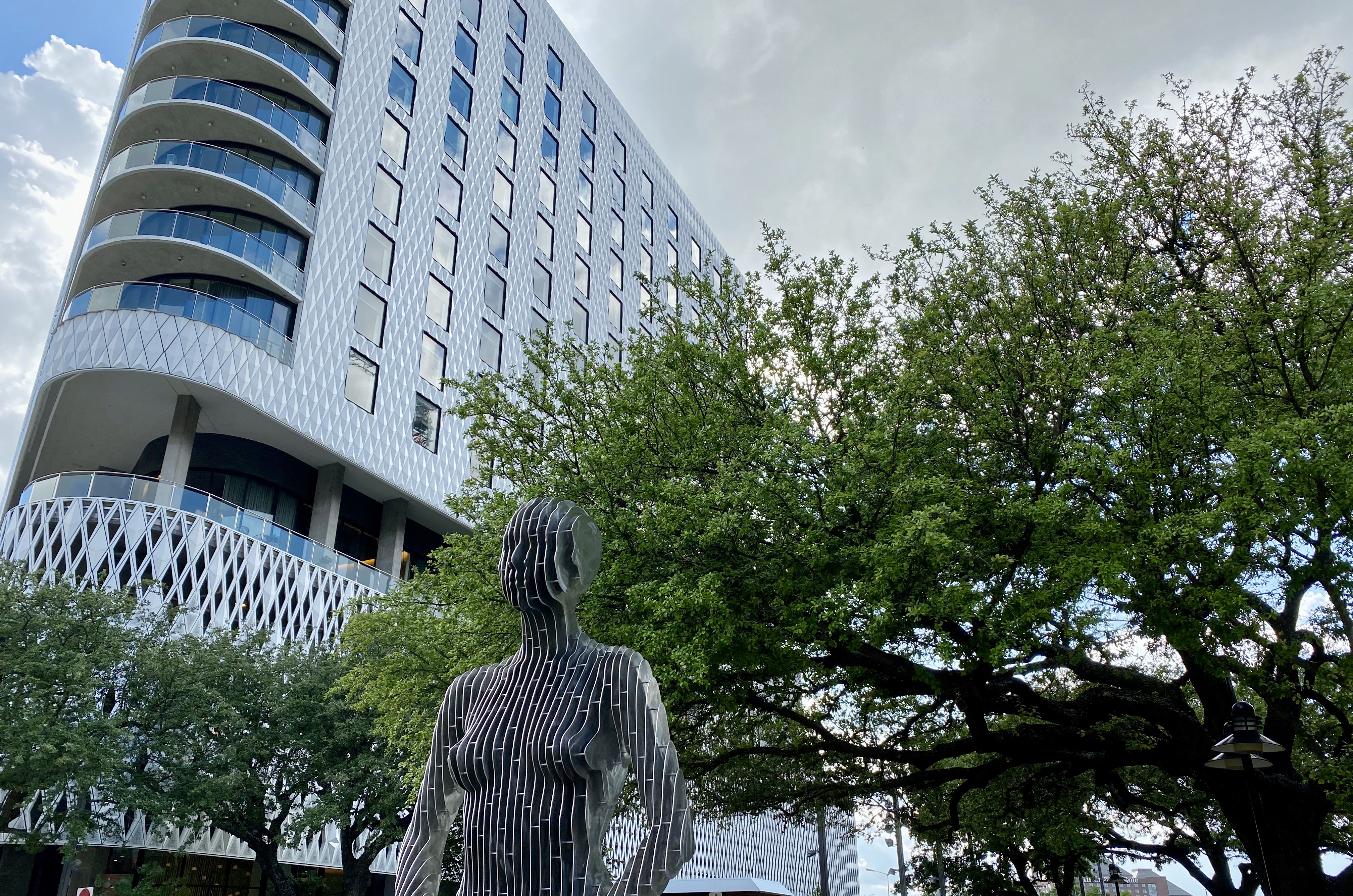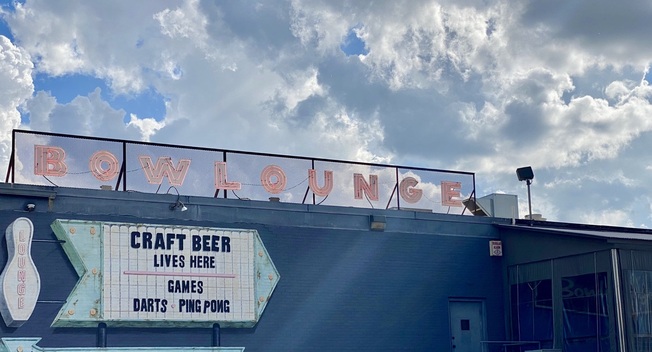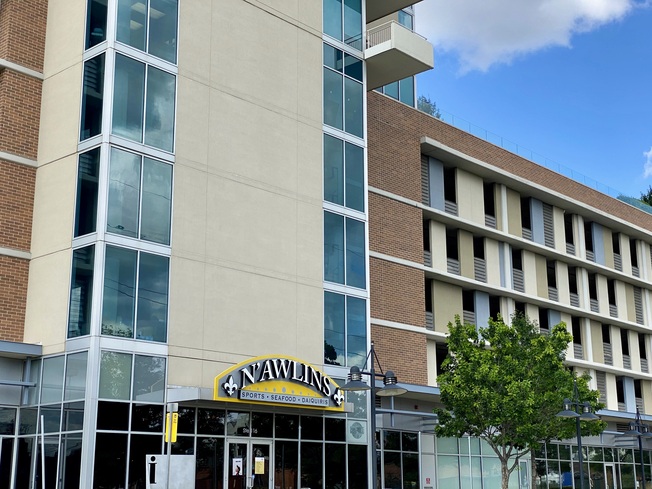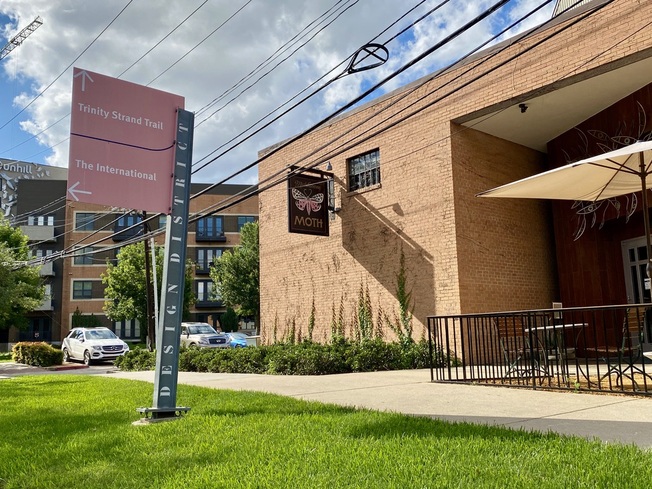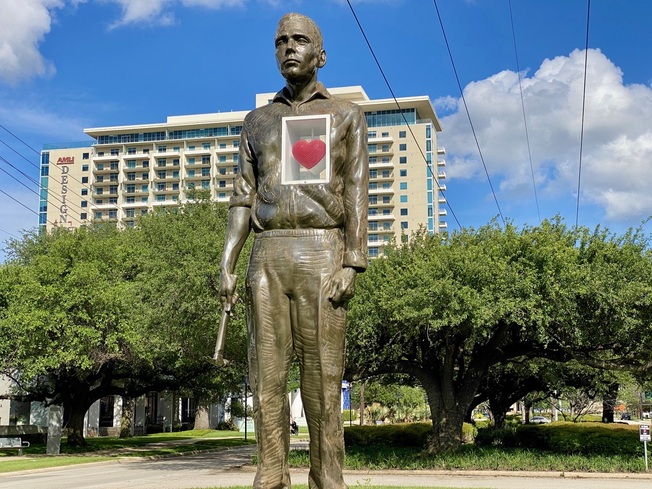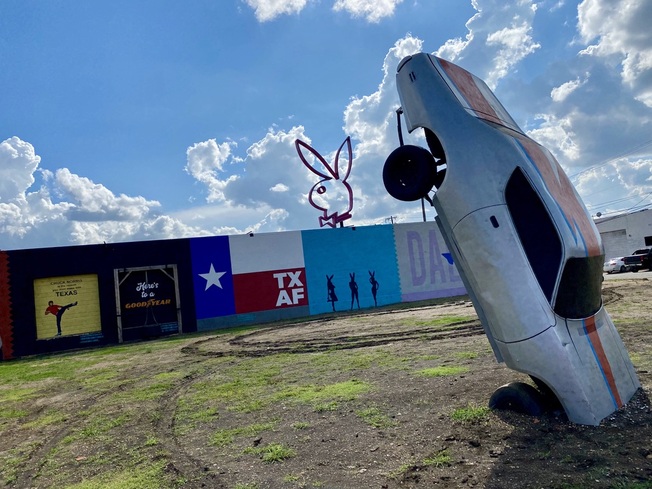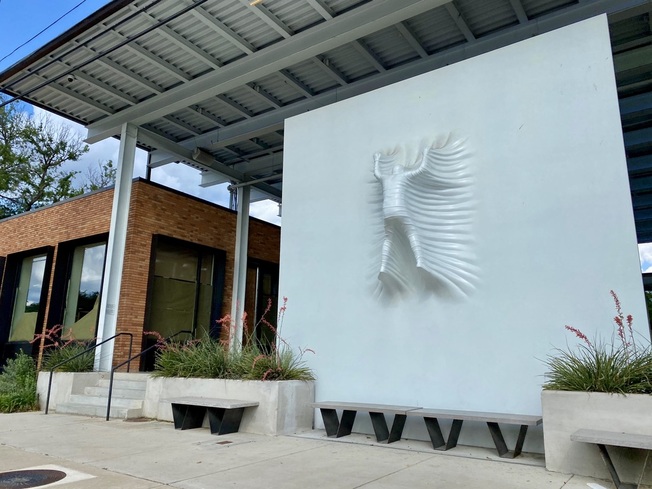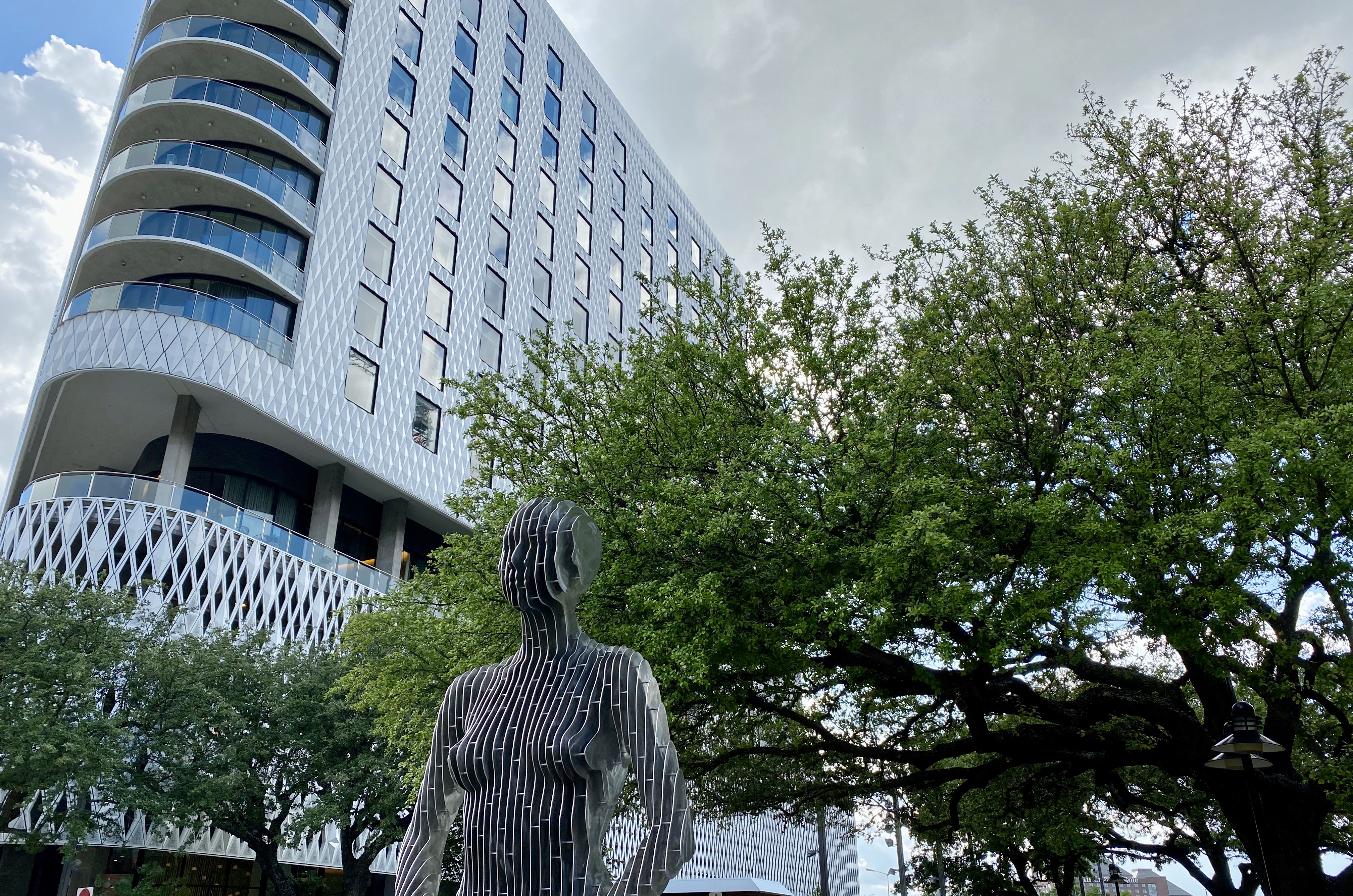 ---
| | Median Rent | Median Sqft |
| --- | --- | --- |
| Studio | $1,608 | 665 sqft |
| 1 Bed | $1,746 | 823 sqft |
| 2 Beds | $2,572 | 1,326 sqft |
| 3+ Beds | - | - |
Once exclusively a business-focused sector for the interior design and fashion industries, the Dallas Design District has evolved over the years to become a vibrant hub that seamlessly combines commercial and residential life. Its creative energy and close proximity to Downtown Dallas, Oak Lawn, the Medical District, and Oak Cliff make the Design District a highly desirable neighborhood for young professionals seeking lively apartment communities, from small-yet-affordable to spacious and super-deluxe.
The Design District is home to dozens of fine art galleries, luxury furniture and fixture showrooms, textile dealers, interior designers' headquarters, and apparel boutiques. But it's also become a high-buzz entertainment destination thanks to multiple chef-driven restaurants, chic bars, and several of the city's breweries — not to mention the new Virgin Hotels Dallas and the cheeky opulence the Virgin brand brings into its orbit. Only about one square mile in size, the Design District is bounded by I-35E (Stemmons Freeway), Wycliff Avenue, and the Trinity River and its associated trails and parks.
Due to a relatively small footprint and network of less-busy side streets, most of the Design District is pedestrian-friendly. Many apartment complexes are within a short walk of restaurants, coffee shops, and bars. The main thoroughfares of Oak Lawn Avenue and Riverfront Boulevard can be a little trickier to navigate on foot or by bicycle, making it common practice to drive within the district, even if only traveling a few blocks. Market Center Station is the closest light rail station for the Dallas Area Rapid Transit (DART) system, but it's definitely a better park-and-ride option for anyone wanting to catch the Green and Orange lines. Walking to the rail station would take more than 30 minutes and involve some interesting maneuvers in traffic from cars entering and exiting I-35E (Stemmons Freeway), the major thoroughfare that forms the Design District's curved northeastern boundary. However, catching one of the buses that frequent the area would be a viable option for navigating the city or connecting to the rail lines.
To go grocery shopping in person, Design District residents must venture to the nearby neighborhood of Oak Lawn to Kroger, the nearest full-service option. Not surprisingly, grocery delivery drivers parked in front of apartment buildings are a common sight here. The most unique place to procure ingredients for the kitchen can be found at Trinity Haymarket, a farm and feed store that also has products for humans, including local honey, cookies, pickled items, sauces, and jellies. Otherwise, the diverse range of restaurants in the Design District makes dining out a frequent habit of many locals.
Only a handful of older restaurants such as Mama's Daughter's Diner, which opened in 1988, have been around long enough to pre-date the influx of residential buildings. But once apartment properties started popping up between the numerous design showrooms and warehouses, the dining scene exploded with everyday and special-occasion restaurants alike. For breakfast, Mama's Daughter's Diner will always be your best bet. Meanwhile, Slow Bone BBQ and Ferris Wheelers Backyard & BBQ offer smoked meats galore (and an actual Ferris wheel in one instance). Elsewhere you'll find: Flying Fish serving fried and grilled seafood in a fast-casual setting, Rodeo Goat doling out creatively topped burgers, El Bolero dishing up high-end Tex-Mex (try the lobster fajitas), Pakpao spicing things up with Thai specialties, and both Pie Tap Pizza Workshop + Bar and Delucca Gaucho Pizza & Wine slicing up Italian pies, the latter with gauchos serving all-you-can-eat pizza direct to your table Brazilian-style.
For special occasions or any time you're in the mood to splurge, make a reservation at Commons Club inside Virgin Hotels Dallas, SER Steak + Spirits atop the Hilton Anatole with sweeping views of the Downtown Dallas skyline, as well as Town Hearth, and Oak Steak, Seafood & Sushi.
The Design District bar scene has an energetic vibe beginning in the early evening when people working in the neighborhood end their days and residents start coming home from their jobs in other parts of the city. On weekends, expect cheerful crowds from open to close as people from all over Dallas descend upon bars and lounges that include Meddlesome Moth, The Pool Club at Virgin Hotels Dallas, Bar Charles, N'awlins Seafood Sports Bar, Media Grill + Bar, and Ascension Coffee (which also serves wine when caffeine's not your main motivation).
Beer lovers, however, have it best with a high concentration of breweries in the Design District featuring on-site tasting rooms. Your choices include Community Beer Company, Texas Ale Project, Peticolas Brewing Company, and Pegasus City Brewery, with Cidercade just outside the Design District offering cider and wine, plus more than 170 arcade games and pinball machines.
Though not every shopping destination in the Design District is open to the public, several places promise designer-worthy finds for those not in the trade, especially if price isn't a factor. For the home, Uncommon Market, Scott + Cooner, and Arteriors will make your apartment magazine-worthy, and you can guarantee yourself many wonderful nights ahead with luxury linens from Peacock Alley (they offer a student discount, too). For one-of-a-kind antiques, head to Lula B's Design District, Lost Again Antiques & Décor, Lots of Furniture Antique Warehouse, Ceylon, and Again & Again.
Women's apparel selections can be made at Chantilly, BuddyLove, Molly's Bridal, and Lulu's Bridal Boutique, as well as Lady Primrose for luxury bath and body products. Meanwhile, men who wish to put their best face forward can shop a full line of specially formulated skincare products at Billy Jealousy. Men and women alike can benefit from the numerous styling and spa treatments at Salons of Dallas, the site to dozens of privately owned service suites. Of course, owning a great pair of boots is practically a requirement for living in Dallas, and the Lucchese Bootmaker showroom has thousands to choose from, including the ability to create your own one-of-a-kind pairs from the ground up.
Some of the city's best charity fundraisers and private parties keep event venues such as Dec on Dragon and the Empire Room booked throughout the year. Bowlounge brings the competitive spirit of bowling together with pizzas, burgers, wings, and handcrafted cocktails. The Design District also has a variety of unique classes to enrich your life, including Stomping Ground Comedy Theater, which offers professional improv shows, as well as courses for anyone looking to master the art of making people laugh. Learn to make chef-quality meals in a dinner party setting at The Cookery Dallas, or create your own hand-blown masterpieces at Dallas Glass Art (you can also simply stop by to watch someone else demonstrating the craft). Plus, two of the best hotels for staycations can be found in the area, including the massive Hilton Anatole complex with its resort-style pools and Virgin Hotels Dallas featuring one of the most sought-after rooftop patios in town.
More than a dozen art galleries, most on Dragon Street, make incredible works accessible to everyone, including Christopher Martin Gallery, Samuel Lynne Galleries, Mary Tomas Gallery, Craighead Green Gallery, Holly Johnson Gallery, Cris Worley Fine Arts, Conduit Gallery, Galerie Frank Elbaz, Dragon Street Glass Gallery, and the Goss-Michael Foundation, which was co-founded by the late pop star, George Michael, and his then-partner Kenny Goss. For artworks of a different kind, a visit to the HAAS Moto Museum and its 200 motorcycles and similar vehicles from the past 12 decades will certainly rev your engine. A collection of metal sculptures also fills the 20,000-square-foot facility.
For time in nature, Trammel Crow Park, DFW Cricket Ground, and the Trinity Levee Trail all can be accessed within minutes of any point in the Design District. The Ronald Kirk Pedestrian Bridge and the Santiago Calatrava-designed Margaret Hunt Hill Bridge both lie at the outer edge of the district for spectacular views of the city, as well as the Trinity River below.
True to the area that surrounds it, Wade College in the Design District offers Associate and Bachelor degrees in fashion design and merchandising, interior design, and visual communications. Design District apartments are especially appealing to the college's students, as well as those attending the array of colleges and universities a couple of miles away in Downtown Dallas.
We rate and sort every listing based on fair market rent.