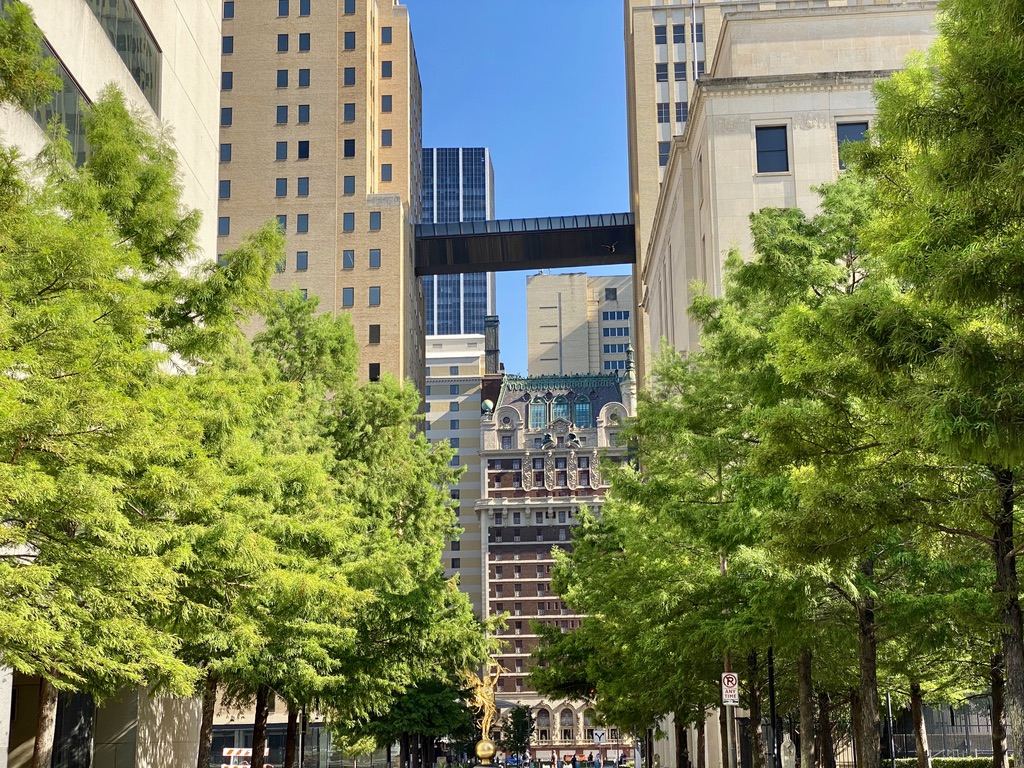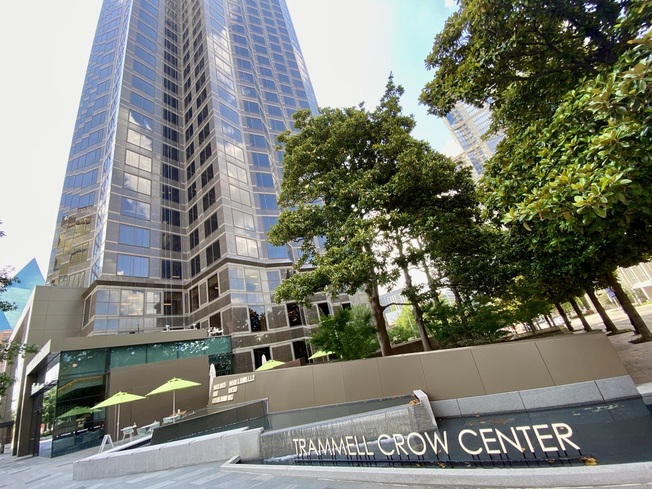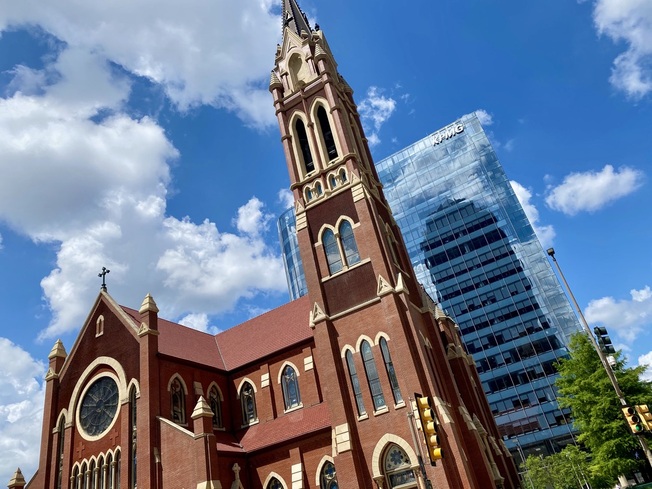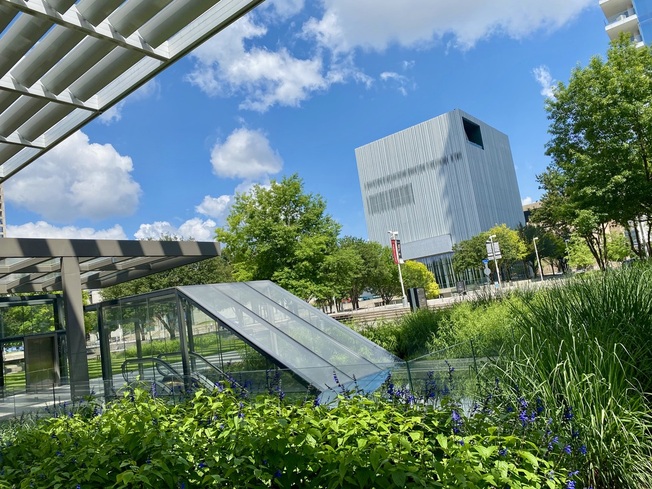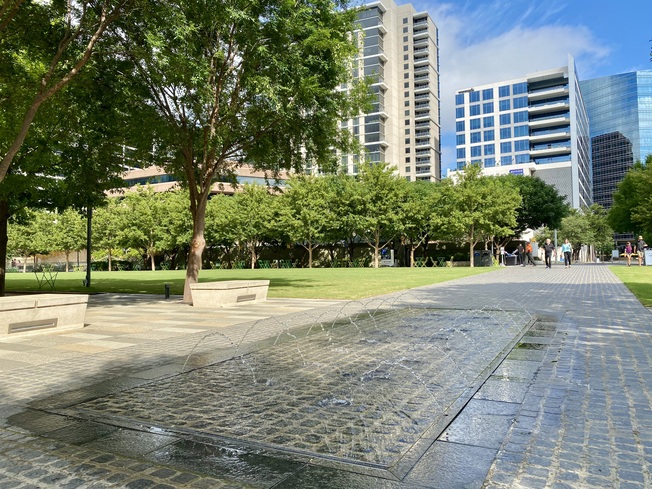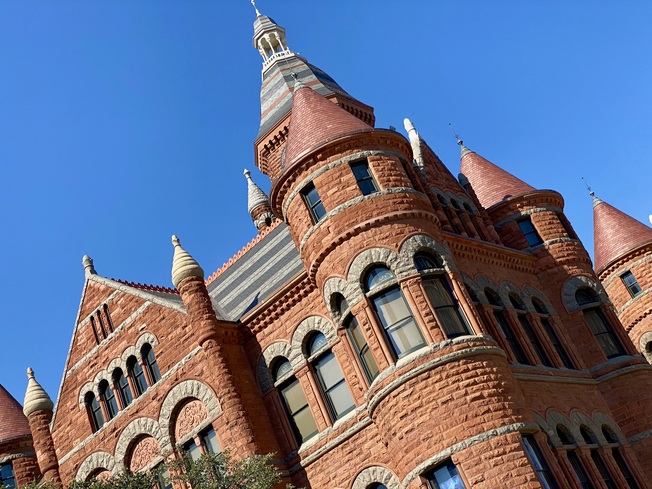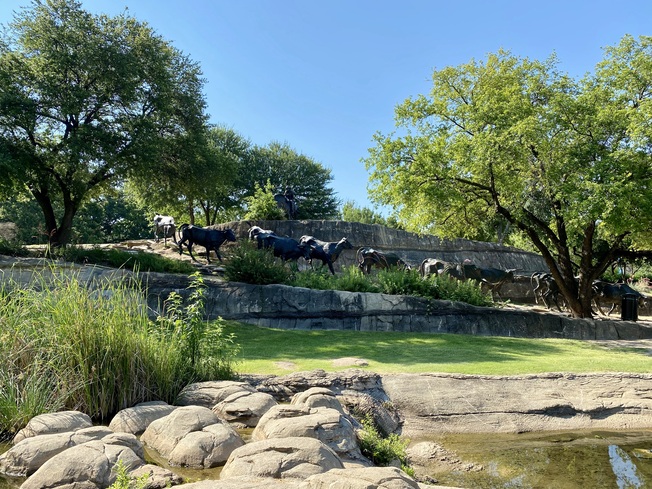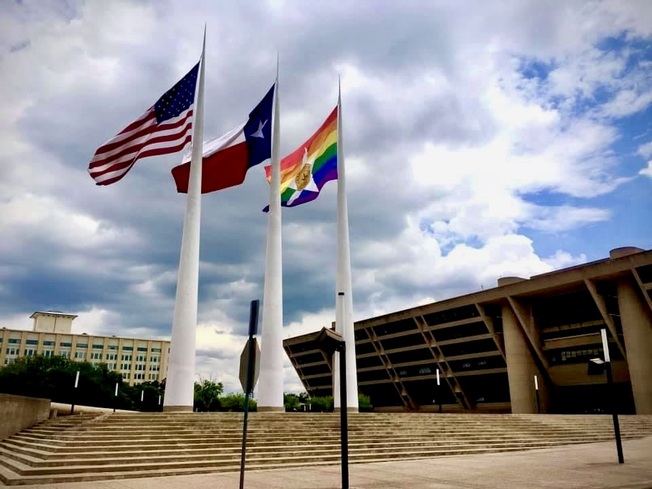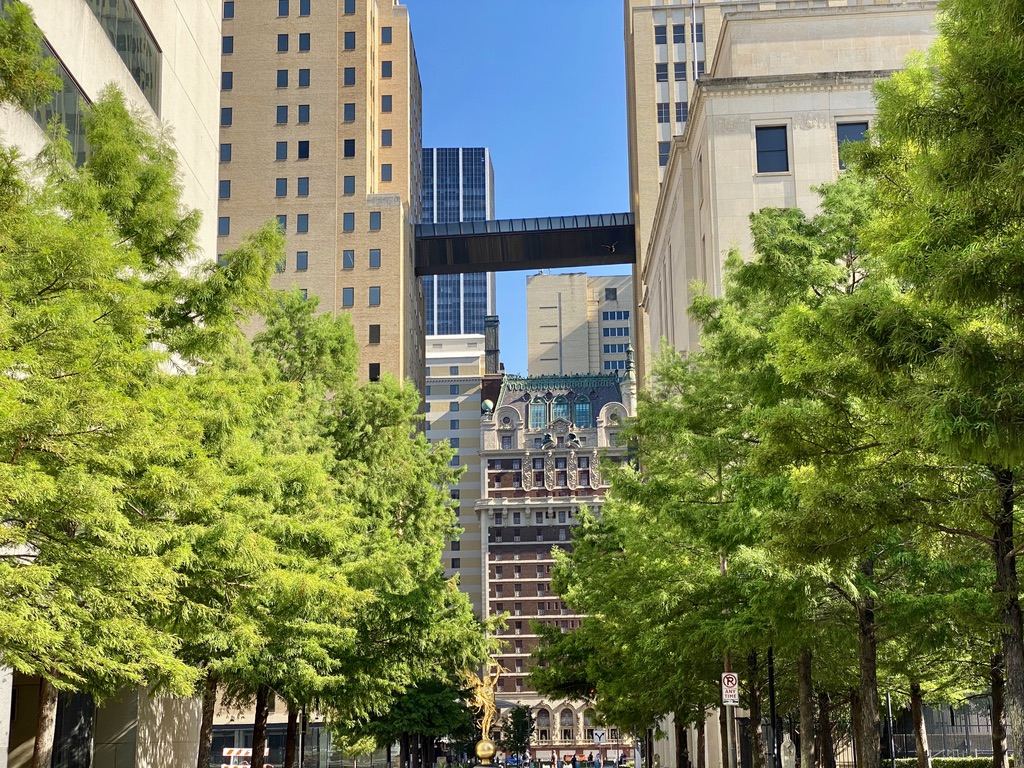 ---
| | Median Rent | Median Sqft |
| --- | --- | --- |
| Studio | $1,706 | 983 sqft |
| 1 Bed | $1,726 | 821 sqft |
| 2 Beds | $2,463 | 1,395 sqft |
| 3+ Beds | $4,225 | 2,356 sqft |
The Downtown Dallas skyline ranks among the world's most famous, thanks in great part to being seen on television screens around the world every week from 1978-1991 and again between 2012 and 2014 on the two Dallas drama series about the fictitious Ewing oil family. In recent years, the Texas city was also voted the "Best International Skyline" in a contest by USA Today and 10Best, beating out 19 other cities nominated by architects worldwide.
But a downtown district can't get by on looks alone. After much work over the past two decades to develop the area into a top-notch live-work-play destination, many of the city's existing buildings and skyscrapers were updated to accommodate hotels, residences, and office space, with several new construction projects mixed in for a pleasing blend of new-meets-old. In Dallas, however, "old" takes on a different meaning than other parts of the country. (The oldest structure in Downtown Dallas, the Wilson Building, dates back to only 1904.) For those living in Downtown Dallas, convenience couldn't be higher thanks to a large concentration of restaurants and services, as well as plenty of reasons to get out and explore their sprawling neighborhood. The nation's largest urban arts district can be found within the district's boundaries, plus multiple parks and plenty of transportation options that all have made Downtown an extremely livable part of town. Deep Ellum, Uptown, The Cedars, and Victory Park all border Downtown for even more opportunities, from professional sports to live music venues galore.
Driving in Downtown Dallas can take some getting used to with its numerous one-way streets and heavy traffic, but once you get the hang of it, getting behind the wheel of your own vehicle opens up the world of opportunities available in the 1.4-square-mile zone. Most apartments in Downtown Dallas come with their own parking spaces for residents (either included in the rent or as an add-on). Otherwise, paid parking is the name of the game, with smartphone app-based meters, multi-level garages, and multiple surface lots making up the majority of options. Downtown also represents a hub to nearly every major freeway in the region, making it quick to hop on and hit the open road.
While you'll find tremendous walkability in the smaller subsections within Downtown (Dallas Arts District, West End Historic District, and Central Business District among them), exploring the entirety of Downtown on foot would be a little time-consuming for everyday needs. Fortunately, you have lots of other options. Biking (if you don't mind sharing the road with so many cars) can be a great choice for quick errands and outdoor excursions, thanks to several dedicated bike lanes scattered throughout. Public transportation options, however, remain your best bet if you don't wish to take your car out of its cozy parking spot or you've opted to live car-free in the city. Buses in the Dallas Area Rapid Transit (DART) system run frequently, as do DART light rail trains serving six downtown stations, with far-reaching endpoints in every direction, including DFW International Airport, Denton, Plano, and south Dallas. In addition to the DART light rail lines, Downtown's gorgeous Union Station is also served by the Trinity Railway Express (TRE), which stops at several key points on its route west to Fort Worth.
If you have a rideshare app, of course, Downtown Dallas is one of the easiest places to catch an Uber, Lyft, or a luxury SUV from the locally-based Alto car service quickly and conveniently. The McKinney Avenue trolley that serves mainly Uptown also makes its way into the Dallas Arts District for a fun and free way to get from Downtown to the multitude of restaurants, bars, and shopping in Uptown.
The lack of a major grocery store is one of the only essential services missing from Downtown Dallas, but residents still have plenty of options. In both neighboring Victory Park and Deep Ellum, you'll find full-service Tom Thumb grocery stores with anything you could ever need. On a smaller scale, however, Berkley's Market (formerly Royal Blue Grocery) has two well-appointed, bodega-style stores with more limited offerings in Downtown proper. For the very freshest in fruits, vegetables, and locally raised proteins, you're only a few minutes away from the Dallas Farmers Market and purveyors bringing the latest seasonal selections daily (plus several on-site restaurants taking advantage of the ingredients). And, there's always grocery delivery, which makes the lack of a nearby store almost inconsequential these days.
Or you could simply opt to eat out often, with the assurance you'll never get bored with a veritable cornucopia of restaurants in Downtown Dallas, ranging from delicious cheap eats to fancy-schmancy options sure to impress. In the newly debuted AT&T Discovery District (a vast outdoor space with lawns, water features, and a giant LED screen), settle in on one of the patios at restaurants, including the casual Jaxon Texas Kitchen & Beer Garden and the Second Floor at the Exchange Hall, a growing food hall destination. A few blocks away, the Joule hotel has several food and beverage options, including their signature CBD Provisions and the swanky speakeasy-style Midnight Rambler bar in the basement. The Statler hotel down the street, which has been recently brought back to its former 1950s-era glory after years of sitting vacant, now features the popular local chain Primo's MX, as well as several on-site spots serving everything from breakfast to late-night cocktails.
Elsewhere in Downtown, pizza lovers flock to the oven-fired pies at Partenope Ristorante; Tei-An in One Arts Plaza has been thrilling diners with its Japanese fare since 2008; Ellie's at the chic Hall Arts Hotel puts a fine-dining spin on southern comfort classics; and Y.O. Ranch Steakhouse Downtown serves up a casual take on the traditional Texas steakhouse with meat raised on their own namesake property. Finally, for a feel-good meal that tastes equally sublime, Café Momentum employs interns who've been in the juvenile detention system and teaches them every restaurant skill imaginable from waiting tables to preparing food, all under the guidance of a renowned chef and a team of mentors eager to lead them to better lives.
Even though Dallas has a reputation as one of the top shopping destinations in the entire southwest, Downtown Dallas has only a handful of major retailers, such as the must-visit flagship Neiman Marcus store and the equally haute Forty Five Ten down the block. For more laidback wardrobe needs, Wild Bill's Western Store in the West End can fulfill every Stetson hat or cowboy boot requirement imaginable.
Around every corner awaits something interesting and unique to Downtown Dallas. One of the city's most visited sites includes Dealey Plaza and the Sixth Floor Museum, both integral parts of the tragic JFK assassination story that have been tastefully embraced as places of healing and education. Another equally popular attraction can be found at Pioneer Plaza near the Kay Bailey Hutchison Convention Center: a giant herd of bronze longhorn cattle captured in motion and beckoning for photos. And speaking of photo ops, a stop in front of the 30-foot-tall Giant Eyeball Sculpture by artist Tony Tasset has been on most everyone's Downtown agenda since its debut more than a decade ago. Equally great for pictures, the chapel at Thanks-Giving Square also doubles as a serene place to reflect while admiring spectacular stained glass as it swirls skyward. And for one of the best birds-eye views of the city, head up to Waterproof atop the Statler and grab a drink to go with sweeping vistas of the skyscrapers and nearby landmarks.
The Dallas Arts District, 19 blocks comprising the largest contiguous urban arts district in the country, provides boundless cultural opportunities. The Dallas Museum of Art, the Nasher Sculpture Center, the Morton H. Meyerson Symphony Center, the Winspear Opera House, and several other museums and live performance venues, both indoor and out, can be found one after another.
If you're looking for a place to relax and soak up some Vitamin D with a picnic or a book, Downtown developers have replaced parking lots and other less-beautiful spots with sprawling green spaces to give residents and workers oases to escape during a hectic day. Main Street Garden Park, Belo Garden, and Pacific Plaza rank high among the plentiful options. The biggest of them all is the wildly popular Klyde Warren Park at the edge of the Arts District, connecting Downtown to Uptown as a central meeting spot for people taking a break at a food truck or bringing their families and pets out for a little fun in the sun.
Right in the heart of Downtown, branches of the Dallas College system, the University of North Texas, and Texas A&M University offer higher-education opportunities in a variety of career fields, including law, medical, and hospitality. The DART system can also easily transport Downtown residents to Southern Methodist University, University of Dallas, North Lake College, and the main campuses of University of North Texas and Texas Woman's University up north in Denton.
We rate and sort every listing based on fair market rent.