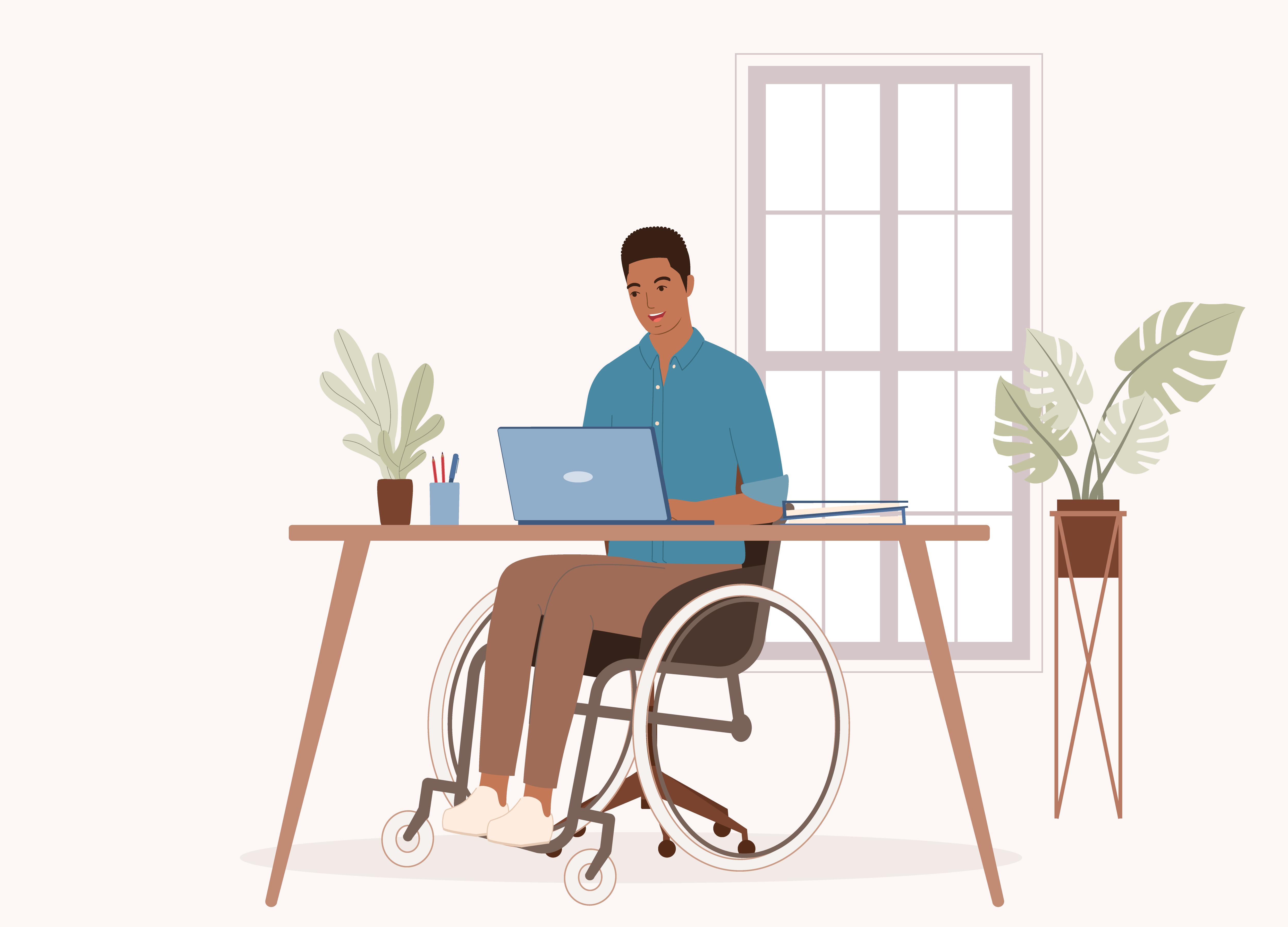 ---
If you're on the apartment hunt as a person with a disability, you not only have to consider whether you like a place, but also if the unit, building, and its surrounding neighborhood will be accessible to you. You'll have to consider whether it's near accessible transit stops or crosswalks, and you also may need to request accommodations in a lease or modifications to a unit.⁠
In this guide, we provide you with the resources you need to secure an apartment as a person with a disability, covering what questions you should be asking when touring to your rights as a tenant to the language you may need to ask for accommodations.
Finding and Touring Apartments as a Renter Living with a Disability
The apartment hunt will almost always start online, with a search on an apartment rental site like ApartmentAdvisor. Your state may also have its own accessible or affordable housing search website; for example, Massachusetts has a Housing Navigator that allows users to filter for affordable and accessible housing.
When searching online, a few questions you'll want to get answers to when apartment hunting, based on your individual needs, may be:
Are there transit stops nearby?
Do the crosswalks have accessible lights and sounds?
Is there easy access to restaurants and other basic services that make deliveries?
Do the sidewalks have wheelchair accessible ramps?
Do you have resources if you need help making rent payments on time? (Check your state's housing website for specific programs that offer rent assistance for the disabled in the form of grants.)
This may require you to go and survey the neighborhood, have a friend or family member check it out, or do some more thorough online research. Whether you or someone else goes to scope out the neighborhood, be sure to keep an eye out for any physical obstacles in public areas that might make navigating the space difficult.
Questions to Ask Landlords
Once you've identified an apartment or two that you'd like to check out, there are also a few questions you should make sure to ask your potential landlord about the property:
Do you have handicap-accessible parking?
Can the doors accommodate my wheelchair, or are they at least 32 inches wide?
Are there accessible handicap ramps available?
Do you have wheelchair-accessible electrical outlets and light switches?
Can I open the doors with a handle, or do they have knobs?
Can I reach the thermostat from my wheelchair?
Is the shower wheelchair-accessible and are there grab bars?
Can I maneuver my wheelchair throughout the apartment, including the kitchen and bathroom?
What are the heights of the counters?
What is the width of the hallways in the apartment and in the public areas of the building?
Remember: A landlord cannot deny your rental application because of your disability. Do not shy away from advocating for yourself during the apartment search.
Knowing Your Housing Rights as a Renter Living with a Disability
Knowing your rights can give you the confidence and knowledge to plan ahead for your move. There are a few different housing laws in place to protect the disabled and to clarify the responsibilities of landlords. These laws, along with the state rights of tenants, are all enforced by the U.S. Department of Housing And Urban Development (HUD). We outline the three federal laws below, although your state may have even more housing equality laws.
The ADA defines a person with a disability as someone who: "has a physical or mental impairment that substantially limits one or more major life activities, has a history or record of such an impairment (such as cancer that is in remission), or, is perceived by others as having such an impairment (such as a person who has scars from a severe burn)."
It protects against discrimination at work or in housing. It requires public facilities, when able, to remove any barriers to accessibility. For instance, all public areas in a university dorm, hotel, or government-owned housing must be accessible. This law doesn't cover privately owned housing such as apartments.
The FHAA prohibits discrimination of tenants or prospective tenants for housing consideration based on disability, race, sex, religion, color, national origin, and familial status.
This means that a landlord cannot refuse to rent to or set different terms or conditions for a person with a disability trying to rent an apartment. According to HUD, "The Fair Housing Act makes it unlawful to refuse to make reasonable accommodations to rules, policies, practices, or services when such accommodations may be necessary to afford persons with disabilities an equal opportunity to use and enjoy a dwelling and public and common areas." It also requires housing providers to allow tenants with a disability to make reasonable modifications to a unit at their own expense. We explain the difference between accommodations and modifications in the next section of our guide.
There are rare occasions where exemptions are made such as with owner-occupied establishments containing no more than four units, housing establishments operated by religious organizations, and private clubs, where the housing is exclusive to members. It can also exempt single-family dwellings sold or rented by the owner without the involvement of a real estate agent.
According to HUD, due to Section 504, "a [federally-assisted] housing provider may not deny or refuse to sell or rent to a person with a disability, and may not impose application or qualification criteria, rental fees or sales prices, and rental or sales terms or conditions that are different than those required of or provided to persons without disabilities. Housing providers may not require persons with disabilities to live only on certain floors, or in one section of the housing. Housing providers may not refuse to make repairs, and may not limit or deny someone with a disability access to recreational and other public and common use facilities, parking privileges, cleaning or janitorial services, or any services which are made available to other residents without disabilities. Additionally, persons with disabilities may not be denied the opportunity to serve on planning or advisory boards because of their disabilities."
This means that a person with disabilities who is applying to rent an apartment must be screened using the same nondiscriminatory criteria that any other applicant would be or and they cannot be charged any extra fees, like a larger security deposit or a fee for an accessible parking spot. However, it does not require that a landlord accept a rental application for a person with disabilities if they do not meet the requirements of the property — such as income.
It also states that housing providers are also subject to reasonable accommodation requirements, which we will elaborate on in the next section of the guide.  
Section 504 specifically requires all new multi-family housing construction projects that are financially assisted by HUD must include a specific number of accessible apartments.
Your Right to Request Accommodations
Did you know that as a renter living with disabilities that you have a right to ask for certain modifications or accommodations to your lease or rental unit? That's right — under the Fair Housing Act, all people have a right to use and enjoy a living space, and for some, that may require some alterations. So, be sure to request the changes that you need, as HUD recommends bringing necessary accommodation requests to your housing provider's attention as soon as they come up. However, requests can be made at any time.
We recommend that you make all accommodation and modification requests in writing, in the case that your reasonable requests aren't met and you feel the need to file a HUD complaint. Making these requests is as simple as writing a letter describing your disability and why you'd need the accommodation/modification. If desired, you could also include resources for your landlord such as references for barrier-free ADA contractors who could, say, install a wheelchair ramp or widen a lobby doorway. Your landlord cannot make you move out for making reasonable accommodations requests.
Accommodations, which are "changes or adjustment to a property rule, policy or service," might include:
Permission to use a service animal, even if an existing pet policy forbids animals
Permission to mail in rent payment
A request for a parking space large enough to accommodate a wheelchair
Modifications, on the other hand, are a structural change to a unit. These can include:
Installation of a wheelchair ramp
Lowering of countertops
Installing special door handles or light switches
If you're formally requesting accommodations or modifications, a landlord can't ask specific questions about your disability. However, if your disability isn't obvious, they can ask for proof in writing.
Who Pays for Modifications or Accommodations?
The landlord will bear the costs of accommodations unless the request could cause them financial burden. For example, adding an elevator to a building that doesn't have one could be considered an unreasonable request and financial burden.
The renter is responsible for paying for modifications to their unit except in instances where their landlord receives federal financial aid. It's important to note when a tenant departs a modified unit, they must, if requested by the landlord, restore it to its original condition.
Financial Assistance for Renters Living with a Disability
For those looking for rental assistance or a housing subsidy, HUD offers resources for locating local low-income apartments and applying for public housing. For example, a Housing Choice Voucher Program (HCVP) voucher can help pay all or part of your rent. HUD has other programs such as Section 811 and the Housing Trust Fund that offer financial aid at the federal and state levels. You can also reach out to receive independent living counseling or help locating an affordable unit. Renters on Social Security Income can also use their benefits for rent.
The Bottom Line
Your home isn't just the place where you sleep. It's meant to be a safe haven, where you live without physical barriers. That's why there are multiple federal housing laws that protect the rights of those with disabilities, specifically when it comes to where they live. In this guide, we discussed everything you need to know from how to find the right apartment to how to make accommodation or modification requests, how to advocate for yourself with your landlord, and more.
We rate and sort every listing based on fair market rent.