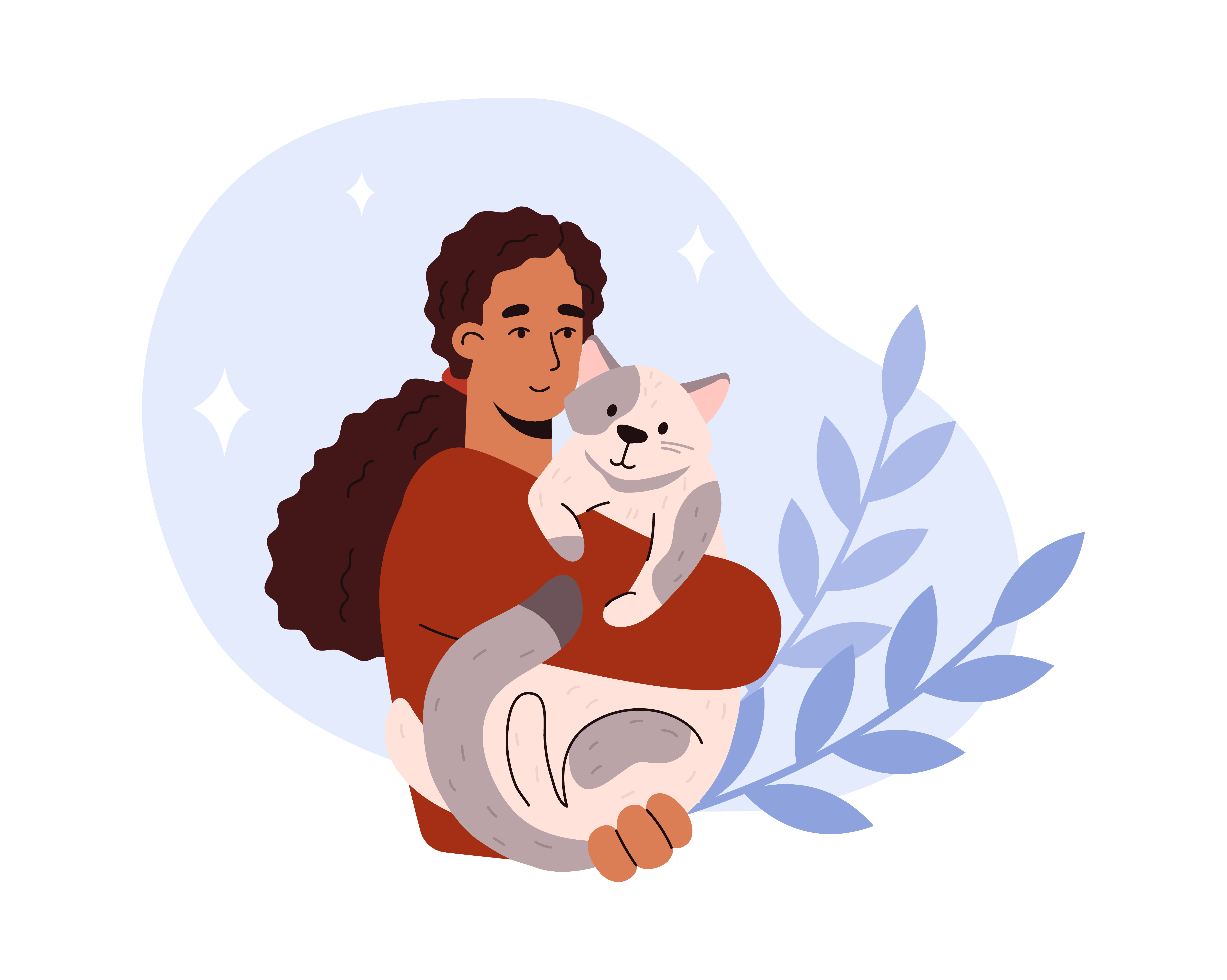 ---
Are you a renter who suffers from anxiety or depression? If so, you may benefit from having an emotional support animal, just like over 200,000 other Americans.
ESAs can provide comfort, companionship, and emotional support to their owners, helping them cope with the challenges of daily life. However, renting with an ESA can be difficult, as landlords may not always be willing to accommodate these animals. Plus, housing laws around renting with an ESA vary at the state and city levels.
Is an ESA right for you? Let's learn more about ESAs and uncover some helpful tips for making this process as smooth as possible.
What is an Emotional Support Animal?
An emotional support animal is a cat, dog, or other suitable animal that provides emotional support to its owner, usually by helping them manage mental health conditions such as anxiety, depression, or PTSD. These companion animals are slightly different than service animals, as explained below.
The Difference Between Emotional Support Animals and Service Animals
Service animals (also called assistance animals) are specifically trained to perform tasks that help their owners with disabilities, such as guiding individuals with visual impairments or alerting those with hearing impairments to important sounds (like a guide dog).
Although ESAs serve a meaningful role, they do not require special training like service animals or psychiatric service dogs. Instead, they simply need to be well-behaved and provide comfort to their owners.
Under the Americans with Disabilities Act (ADA), which is a federal law protecting the civil rights of those with disabilities, service animals can accompany their owners in public places, such as restaurants, stores, and transit. This protection does not extend to ESAs.
Pets that Make Good Emotional Support Animals
Many animals can make great ESAs for their owners. Dogs and cats are popular options, especially breeds with calm temperaments. There are no breed restrictions for ESAs, so your ESA can be anything from a chihuahua to a pit bull. Renters may also choose rabbits, turtles, birds, guinea pigs, or miniature horses to be their ESA. The type of animal you get as an ESA will depend on your living situation and your specific needs.
Benefits of Having an Emotional Support Animal
ESAs can provide various mental health benefits for people with disabilities or psychiatric disorders, including improved mood, reduced stress, and decreased severity of panic attacks. ESAs provide security, comfort, connection, and purpose. They also reduce feelings of loneliness.
ESAs improve overall well-being by providing opportunities for exercise and outdoor activities, often resulting in weight loss and other improved health factors. This can increase oxytocin production and lower blood pressure, heart rate, triglyceride, cortisol, and cholesterol levels.
Understanding Your Rights as a Renter with an ESA
Emotional support animals are not treated the same as "just" pets or as service animals in a legal capacity and have specific entitled rights and protections under the Americans with Disabilities Act (ADA) and the Fair Housing Act (FHA). We outline a few below.
Pet fees
Renters with ESAs cannot be charged additional fees like pet rent normally reserved for animals, and landlords must make reasonable accommodations for these renters, even if their properties have a "no pets" policy. In some states, you may be legally charged a refundable pet deposit or security deposit for an ESA. Landlords also cannot require an ESA to go through any extra training. Though you cannot be charged pet fees for an ESA, you are still responsible for property damage caused by the animal, so don't forget to cat-proof or dog-proof your space.
Pet types
Landlords cannot limit your ESA's weight, breed, or size restrictions. Exceptions include animals that are illegal to own, regardless of ESA status. Additionally, you may face consequences for your animal's aggressive or disruptive behavior.
Documentation
Like other pets, ESAs must still be registered, micro-chipped, and current on vaccinations. An ESA letter does not exempt your pup from the Rabies shot or your cat from FVRCP vaccinations. Make sure they're current and that you have vet records to back them up.
How to Get an ESA Housing Letter
To qualify for the protections afforded to renters with ESAs, you must acquire a valid emotional support animal letter from a licensed mental health professional. This letter should state that, as an expert involved in treating your condition, they believe you would benefit from the support of an ESA.
Start by scheduling an appointment with a medical professional like a therapist or psychiatrist to discuss your condition and how an ESA could help.
Disclaimer: Many online services claim to provide valid ESA letters, but not all of these services are legitimate. Working with a healthcare professional is best, especially if you regularly see one who already knows your history.
Tips for Renting with an Emotional Support Animal
While there are legal protections for renters with ESAs, the reality is that some landlords may be less than enthusiastic about it. Here are some tips for navigating the process:
Be Upfront About Your ESA
Although landlords must allow for a legitimate ESA, you can avoid frustration and miscommunication by mentioning your ESA well before signing a lease. This is especially true for rental properties with no-pet policies.
Have Your ESA Letter Ready
Be prepared to provide a copy of your valid ESA letter to your landlord or property manager when applying for a unit.
Note: Landlords cannot ask for your diagnosis or access to medical records to justify your ESA's status. That's what the letter is for.
Have a Well-Behaved, Well-Trained Animal
While you have the right to reasonable accommodations for your ESA, it's important to be considerate of your neighbors. This includes abiding by leash laws, noise ordinances (or "quiet hours"), and waste disposal laws.
Make sure your ESA is well-behaved and doesn't cause damage to the apartment or a direct threat to any neighbors or neighboring pets. This will make for a better experience for you and your neighbors. It will also help avoid issues resulting in eviction or compromising your ESA's status.
What To Do If a Landlord Denies Your ESA Letter
If a landlord rejects your ESA letter, address their concerns and remind them of your legal protections. You're within your rights to ask for the specific reasons that caused them to say no. ESAs may be less common where you live, so it could be as simple as clarifying any misunderstandings they have.
A landlord may have justification to deny an ESA letter if you're already a tenant and your pet has a history of causing damage or being disruptive. Other possible scenarios that may lead a landlord to deny your ESA is when having a pet in their only vacant unit may put a neighboring tenant at risk or if you are living in a shared space, like if you're renting a room in a home, with existing tenants or pets.
If you've ruled out legitimate reasons that a landlord may have denied your ESA letter, check for tenant rights resources in your state or consider seeking legal advice. You can also file a housing discrimination complaint with HUD, the U.S. Department of Housing and Urban Development, when denied reasonable accommodations.
One Renter's Experience with ESAs
When renting, I've always looked for pet-friendly apartments, which tend to have better accommodations for me and my emotional support dog, like on-site dog bag dispensers and designated potty areas. The other renters also tend to be more enthusiastic about neighboring pets.
Although you're protected by law, there's always a chance that mentioning your ESA upfront can result in discrimination during the application process. I've been illegally asked for my specific diagnosis details when mentioning my ESA, but I knew my rights. I encourage you to do the same. It's nice to have perks like no pet fees, but don't feel ashamed or like you're "getting away with" something. There's a reason ESA protections exist.
The Bottom Line
If you are a renter who suffers from anxiety, depression, or other mental health condition, you may want to consider an emotional support animal. Although they're different from trained service animals, they can provide comfort and ease your symptoms. While ESAs do not have quite the same protections as service animals, you still cannot be denied by a housing provider for having one. All you need is a documented ESA letter from a health care provider who knows and understands your symptoms. Don't forget to check your local laws and understand your renter's rights so you can enjoy the many benefits of having an emotional support animal at your side.
We rate and sort every listing based on fair market rent.