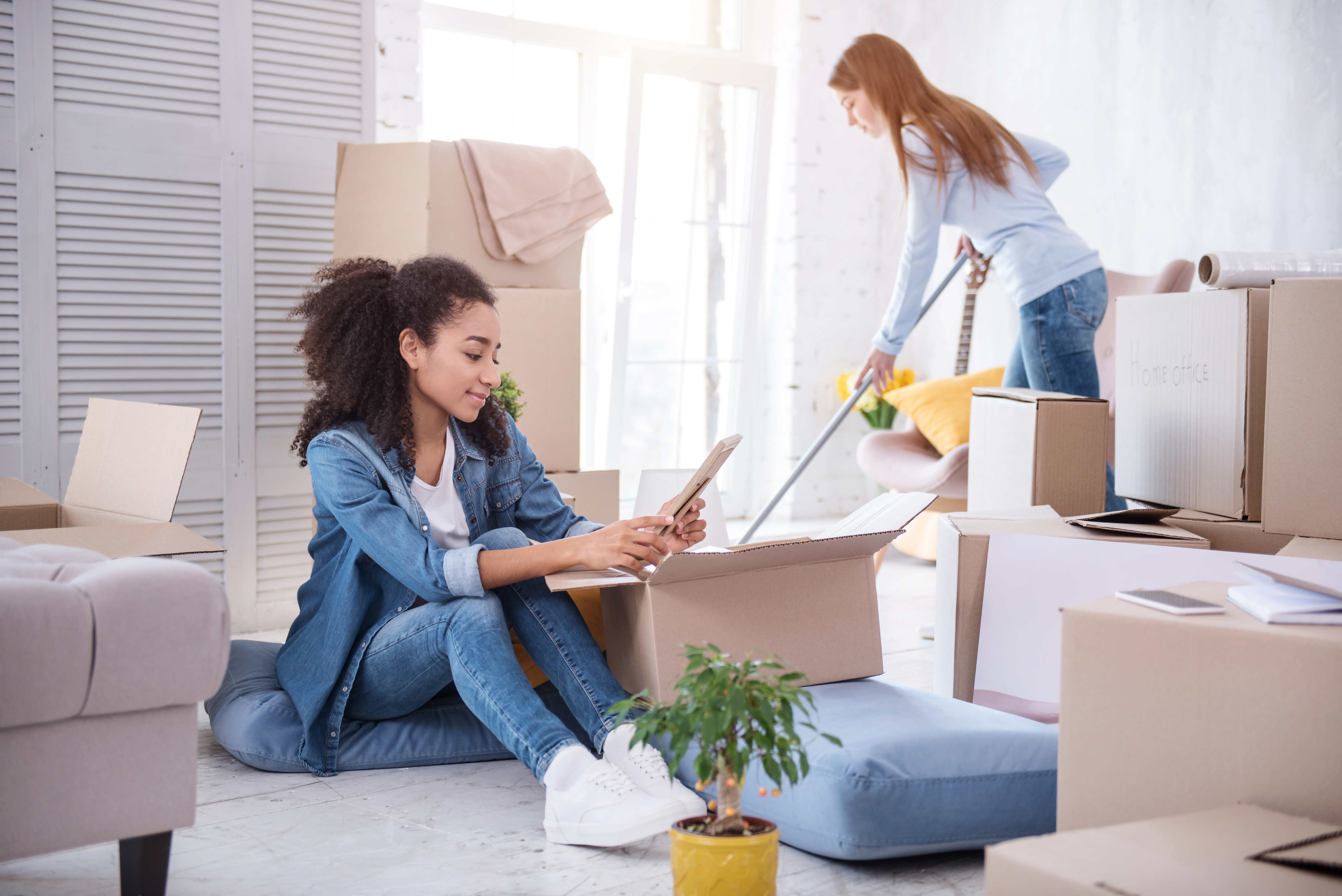 ---
When it comes to finding a roommate, there's a lot more to consider than you might think. This article won't just tell you how to find a roommate, it will tell you how to find the right roommate. Should you room with a friend, an acquaintance, or a stranger? At first, rooming with a friend may sound ideal, but many a renter has learned the hard way that their best friend isn't necessarily the ideal roommate. In this article, we share tips on how to find a great roommate, from screening potential roommates to roommate agreements and other important considerations.
Signs of Roommate Compatibility
Before moving in with a roommate, whether a friend or someone you don't know at all, it's important to make sure you not only like each other's company but that you're well-suited to live together. For example, you're in the same stage of life; you're both neat freaks, messy types, or somewhere in between; you keep similar hours; you're both morning people or night owls; you're both dog people or cat people or really not pet people at all. The list goes on and on. That's why the first stop on our how to find a roommate roadmap is asking questions.
To help you figure out what kind of roommate you would live best with, we created a Roommate Compatibility Quiz. It's free, requires no sign-up, and takes less than 5 minutes.
7 Roommate Screening Questions Every Renter Should Ask
The best way to find out whether you and a prospective roommate are compatible is to ask them questions about their likes, dislikes, habits, and lifestyle. You can keep it casual, no need to make it feel like a formal interview, even though that's the purpose of the conversation. Following are seven questions to help you assess whether you would be good roommates.
Do you keep your common living space neat and tidy, or are you fine with a little clutter and mess? If your new roommate is messy and you're a clean freak, you may not be a roomie match made in heaven. The best way to avoid fighting over the dishes in the sink is to find a roommate who is just as type A or type B as you are.
Do you have a job with a reliable salary? What are your work hours? Do you work from home or go into an office? The last thing you want is a roommate who can't pull their weight and pay their portion of the rent on time. Speaking of rent, if you can't afford an apartment with a designated office space, it may not be ideal to room with someone who works remotely.
Do you have pets? If yes, what kind, how big, and how many? Finding a pet-friendly apartment can be just as challenging as finding a great roommate. If you're allergic to animals or just not a fan, it's probably best to avoid living with someone who can't imagine life without their four-legged friend.
Do you have a significant other, and if so, how often do you expect them to be staying the night? This may feel like an awkward question to ask, but it's worth respectfully inquiring about their relationship status. If your potential roommate has a partner who will be hanging around your apartment often and staying overnight, you may want to meet their other half before signing on to be roommates.
Do you like to host social gatherings in your apartment, or do you prefer to socialize elsewhere? Suppose you're more of a homebody or introvert who needs a lot of personal space and quiet time, and your roommate is an extrovert who enjoys socializing in groups and hosting gatherings at home. In that case, your personality types may not make for the best living situation for either one of you.
Are you a smoker? There are two kinds of people in this world: those who smoke and those who don't. Ok, well, maybe some people fall somewhere in the middle. But, by and large, non-smokers don't have much tolerance for the smell of smoke, certainly not in their own living space. Where there's a smoker and non-smoker under one roof, there's bound to be some fire if you get what we mean.
Do you have food allergies or special dietary restrictions? For people with allergies, exposure to allergens can be uncomfortable and even life-threatening. For people without allergies, living with someone who has food restrictions can be quite an adjustment. If you live on peanut butter and jelly sandwiches and your roommate is allergic to nuts, food could become a source of stress in your relationship.
How to Find a Roommate the Old-Fashioned Way: Ask Around
When it comes to finding a roommate, living with a friend or acquaintance offers a level of comfort and familiarity. However, when that's not possible, the next best thing is moving in with a friend of someone you know. A couple of months before your move, start reaching out directly to friends and family in the area to let them know about your roommate situation. Even if nobody comes to mind immediately, they may think or hear of someone at a later date and get back in touch with you. If you are moving for a new job, the company you will be working for may also be a good resource. Large corporations often have intranets or messaging platforms where employees can connect with one another. You can also ask fellow community members at your gym, yoga studio, or place of worship if they know of anyone looking for a new roommate.
How to Find a Roommate on Social Media
Another way to get the word out more broadly that you are in the market for a new roommate is through your social media network of choice, from Instagram to SnapChat, or Facebook. Share a post to let your friends know your living situation. If you're lucky, a friend of a friend may also be looking for a roommate at the same time in the same city. If that doesn't pan out, you can also post on local Facebook groups in hopes of finding a match, ideally someone with whom you share a common connection who can vouch for the person. If you're a college grad, don't forget about your alumni network. Many colleges and universities have alumni Facebook Groups in cities around the country where you can post about your roommate search.
Roommate Finders: Searching for a Roomie Online
If you can find a roommate who someone you know can vouch for, that's ideal. That being said, it's not always possible. To find a good roommate in a city where you don't have a lot of friends, family, or connections, you may want to try to searching for a roommate online. Not surprisingly, the internet is full of roommate finders, and there are also a handful of roommate finder apps dedicated exclusively to helping renters identify the perfect roommate match. Like searching for an apartment online on ApartmentAdvisor, roommate finders let you set search parameters and filter your results. You can search by monthly rent and move-in date, filter by age, and more. A friendly reminder that finding a roommate online is a lot like online dating: for every success story and perfect match, there are plenty of mismatches. So, whichever roommate finder you use, be sure to follow these tips to help you find a good fit and minimize risk:
Watch out for scams and sketchy listings; if something or someone sounds fishy, listen to your gut and move on.
Don't share any personal information on your profile or upfront before you've done your due diligence (this includes your current address, cell phone, date of birth, and of course, your social security).
Meet up with prospective roommates in person in a public place at least once before agreeing to become roomies.
Rooming with a Stranger
If your roommate search finds you in talks with a complete stranger, rest assured, there are some things you can do to vet unknown prospective roommates before entering into a rental agreement together. For starters, you can do a simple online search of their name. You can also look them up on your favorite social media networks. LinkedIn profiles are a great place to review work history and confirm their ability to hold down a job. If your online search and social media don't turn up any red flags and you want even more assurance, there are online services you can use to conduct a background check for a nominal fee. In addition, any legitimate property owner will run a credit check for those signing a lease, which should reveal issues including poor credit or no credit. Once you've done your due diligence and are comfortable with the idea of entering into a living situation with a stranger, you may find there are some benefits to not being besties. For example, they are much less likely to put a lot of demands on you socially or emotionally. They won't expect you to keep them informed about all of your comings and goings. And, who knows, you might just make a new good friend.
Put It In Writing with a Roommate Agreement
Once you've asked all your questions and feel ready to commit to rooming with someone, writing a roommate agreement can help keep you on the same page. While it's not a legally binding document, an agreement of this kind is a great way to document your house rules. With the answers to your roommate screening questions in mind, it should be pretty easy to draft your agreement. Following are examples of items you may want to include: room assignments, division of responsibilities such as who pays for which utilities, cleaning duties and schedule, tolerance for live-in pets and four-legged visitors, smoking and vaping policy, quiet hours, and how you plan to handle overnight guests.
The Bottom Line
There's a lot that goes into finding a great roommate. But, it's worth doing your research upfront to make sure you're a good match. After all, unless you sign a month-to-month lease, you're going to be spending a lot of time together.
We rate and sort every listing based on fair market rent.