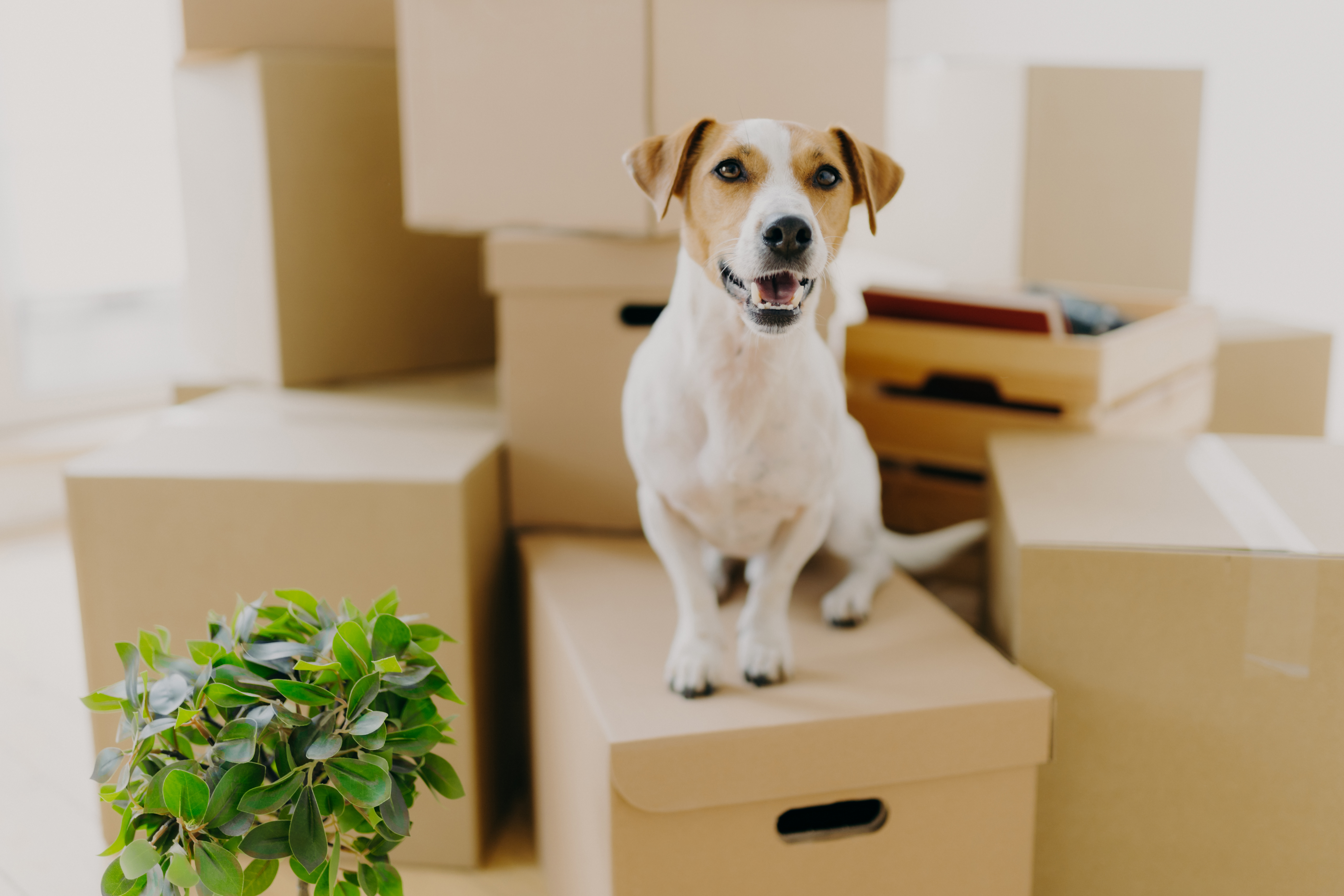 ---
For pet owners, finding a pet-friendly apartment can feel a bit overwhelming. Not all apartment buildings allow pets, and even those that are pet-friendly typically have restrictions on the types of pets allowed (or even breed restrictions on dogs). On top of that, pet owners usually have specific needs when it comes to apartment size, amenities, and neighborhood. In this article, we'll share everything pet owners need to know about renting an apartment, including tips for finding the right pet-friendly housing and important steps to take when signing the lease.
What are typical apartment pet policies?
In general, property owners can decide whether they will accept pets in their buildings. For those that do welcome pets, most will set guidelines for the number and types of pets they will allow, including specific pet weight limits and breed restrictions. For example, an apartment could be pet-friendly, but still not accept large dogs. Likewise, some dog-friendly apartment buildings will not accept specific dog breeds such as pit bulls or German shepherds.
Can landlords charge higher rent for pet-friendly rentals?
It is common for property owners to charge an additional one-time pet fee, a refundable pet deposit, or even monthly pet rent. This is so they can cover any wear and tear and property damage caused by your pet. However, local laws about pet-related fees can vary, especially when it comes to pet security deposits, so it's worth checking your local state tenant laws. Sneaking a pet into your apartment to get around the pet policy or to avoid paying an additional fee is never a good idea, as it can result in eviction.
Six Tips for Finding Pet-Friendly Apartments
Only around half of all apartment rentals are advertised as "pet-friendly" according to ApartmentAdvisor data, and availability can vary a lot depending on your location. This can make finding the right apartment for you and your furry friend a little more complicated. These tips can help you navigate your apartment search:
Allow extra time: Because pet rental policies vary among apartment buildings and potential landlords, it can take a little more effort to find an apartment community that is perfect for you and your pet. Be sure to build in extra time for your search. We recommend starting your research at least six weeks before your current lease expires.
Research neighborhoods: Read guides and reviews of the neighborhoods in which you are interested to confirm that the area has what you and your pet need. This might include proximity to the best dog parks, a vet or animal hospital, or a doggie daycare. If you are a dog owner, visiting an area with your pooch and asking other owners you meet at the dog park can be another good way to learn about what it is like to live in a local area with your pet. Other pet owners may also be able to recommend pet-friendly apartment complexes to check out.
Set clear search criteria: Be thoughtful and realistic about what you will need in your new apartment for you and your pet to be happy. Then, make a list of your must-have amenities and your nice-to-haves. Do you need extra space in your apartment for a dog crate or litter box? Do you need to gate your pet in its own area while you are at work? What kind of access to outdoor space will you need? Will stairs within the unit or the apartment complex be an issue for your dog? Clarifying your priorities and criteria at the start can help you focus your apartment search and ultimately find the right place.
Narrow your search: Use the pet-friendly rentals filter at ApartmentAdvisor as your starting point to search for pet-friendly apartments near you. From there, you can filter your search further for the "must-haves" you've identified. Keep in mind that while most listings will specify if a unit or apartment building allows cats, dogs, or even large dogs, you might still need to clarify with the property manager about any specific pet restrictions. Also keep in mind that some property managers might be open to considering allowing your pet, even if the unit is not advertised as pet-friendly, so it's always worth asking.
Create a pet resume: Landlords will typically have specific questions and concerns about your pet, and you should be prepared to answer them. Organizing information about your pet in one easy-to-read document can help you show the property manager that you are a responsible pet owner, and that your pet has been well cared for. A pet resume can be a simple bulleted list of key information about your animal. It should include the pet's breed and size, its vaccination history, whether your pet is spayed or neutered, and if you have a dog, any obedience training you have completed. Adding a photo along with some details about your pet's demeanor, highlighting friendliness and other positive behavior qualities will also help. If possible, include a letter of reference from a former property owner and/or neighbor, as well as a letter of reference from your vet.
Know the cost: Most property owners will charge an additional one-time pet fee, monthly pet rent, and/or a refundable pet security deposit, so be sure to factor that into your budget. However, keep in mind that rents are sometimes negotiable. For example, offering a longer-term lease might be a way to negotiate the rent down. Read here for more tips from ApartmentAdvisor on how to negotiate your rent.
Three Important Steps to Take When Signing the Lease
Once you find your pet-friendly rental, it's important to take the proper steps to protect yourself should any issues arise with your pet after you move into your new place.
Get your pet agreement in writing: Be sure to review the lease carefully to be sure any "no pet" clause is removed and ask the owner for a pet addendum that includes all pet fees, and any pet-specific policies that you have discussed. Putting everything in writing will protect you and the landlord from any misunderstandings in the future.
Clarify the pet policies: Ask the property owner to outline specific pet guidelines for the building in writing. Are there public areas of the building that pets are prohibited (such as elevators or patios)? What is the policy for dog walkers or pet sitters coming in and out of the building? What is the policy on cleaning up after your dog when using outdoor space at your building? Clear written guidelines on pet policies will not only help you but can also be useful when navigating any issues or concerns that arise with neighbors in the future.
Get renters insurance: Whether or not you have a pet, renters insurance is a good idea. If you have a pet, having an insurance policy with liability coverage becomes even more important. Your landlord might even require it for pet owners. Contact your insurance company to learn more about your liability coverage, and whether or not it covers you for damages caused by your pet. In some cases, you may want to consider additional pet liability insurance.
The Bottom Line
Finding a pet-friendly apartment takes more time, effort, and often comes with extra costs. The good news is that with a little research and preparation upfront, you will be on your way to securing the perfect pad for you and your four-legged roommate.
We rate and sort every listing based on fair market rent.