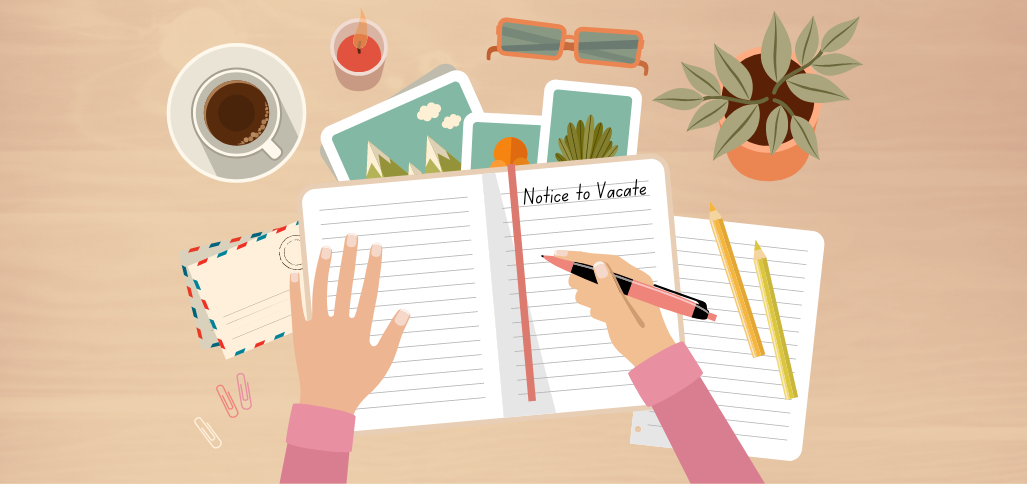 ---
When moving out of one apartment rental into another, there's a lot for renters to remember, starting with notifying the landlord. First and foremost, you must give your notice to vacate by sending your landlord a lease termination letter.
In this article, you'll learn exactly how to terminate your lease with all the details you need to communicate in your termination letter. For your convenience, there's even a lease termination sample letter template included below.
What is a Notice to Vacate?
A notice to vacate is a written letter or statement a tenant gives to their landlord or property manager informing them of their intention to move out of their rental when their lease ends. Some refer to a notice to vacate as a notice of intent to vacate. A landlord needs to know about your intention to vacate the rental property so that they can find a new tenant to move into the space.
When to Give Your Notice to Vacate
The notice period that you give your landlord depends on several factors, including state law and the terms of your lease. Timeframes for when to give your notice to vacate can vary from 30- to 60- to 90-day notices. Determining the correct amount of time to give your notice before the end of your tenancy starts with reading your rental agreement. There, you'll find details regarding whether you should give a 30-, 60-, or 90-day notice.
30-Day Notice
This type of notice gives landlords 30 full days from the time renters give their notice to vacate until the day they move. A 30-day notice is the most common timeframe for leases and month-to-month rentals.
60-Day Notice
Some states, like California, require tenants to provide landlords with at least 60 days' notice before vacating their rental.
90-Day Notice
These notices are typical for those living in subsidized housing, like in California, for example.
Can You Give a Three-Day Notice to Vacate?
The short answer is no; as a rule, tenants must give landlords more than three days' notice if they do not wish to be in violation of their lease. Three-day notice to vacate letters are typically sent by landlords to tenants if there's unpaid rent or there's been a serious lease violation and they're taking steps toward eviction. These eviction notices generally disclose how many month's rent the tenant owes and that they have three days to pay it in full in order to avoid being evicted.
Do You Have to Give a Written Notice to Vacate?
Renters can make their notice to vacate official by sending their landlord a written statement. One thing to remember is that not all landlords require a written notice to vacate. If they do, it's spelled out in the rental agreement. However, no matter what's in the rental agreement, it's a good idea to send a formal lease termination letter rather than to give the notice to vacate verbally.
Why? If you send your letter via certified mail, there's proof that the landlord received it. Although tenants might think it's a good idea to send these letters via email, there's no way to prove that the landlord received your email or that it didn't end up in their spam folder. That said, it can't hurt to email your landlord to give them a heads up to be on the lookout for your certified letter in the mail.
Instead of writing the letter by hand, it's best to type the letter to ensure your landlord doesn't misread or misinterpret what you're saying. Below is a template giving examples of how to set up your notice to vacate letter and exactly what to include in it.
Notice to Vacate Letter Template

[Your name] 
[Your current address] 
[City, State, ZIP Code]
[Date]
[Your landlord or property manager's name] 
[Their address as it shows on your lease agreement] 
[City, State, Zip code] 


Dear [property manager or landlord's name],
I am providing you with this written [number of days your state or lease agreement requires]-day notice informing you of my move-out date on [insert date].
My lease agreement started on [insert date] and ends on [insert date]. I don't intend to renew my lease and, accordingly, plan to vacate apartment #[insert number] on or before [insert date]. After moving out and cleaning the apartment, I'll deliver the apartment's keys and sign any required documentation regarding my security deposit.
Please notify me when my security deposit of $[insert amount your lease agreement shows] will be returned. Please also indicate if you need to take money out to cover damages falling outside of typical wear and tear. You can return my deposit by sending it to [insert forwarding address].
After [insert moving date], you can reach me at [insert phone number].
Notice to Vacate Early
Sometimes renters need to vacate their lease early. Reasons to break your lease may include relocating for a job, issues with your landlord, and more. Because a lease is a legal contract, there could be consequences to this decision. Terminating your lease early could result in the following:
Tenants may have to pay fees up to and including the rent for the remainder of the lease agreement. Tip: Read the rental agreement thoroughly to determine if there are early termination fees.
While it's rare, some landlords take tenants who vacate early to court. Tip: Avoid this by paying the required fees.
If tenants leave without paying the fees required by the landlord, that unpaid debt could be reported to creditors, negatively impacting tenants' credit scores. Tip: If the fees are more than what you can afford upfront, set up a payment arrangement that works for both parties.
Tenants could have issues with future rental agreements if the landlord doesn't handle their decision to vacate well. Tip: Always be open and honest with future landlords about the reasons behind vacating early and the steps taken to give the landlord notice.
Notice to Vacate Letter Tips
Put it in writing. This is so important; it's worth repeating. Document your intent to vacate in a letter. See above notice to vacate letter template for reference.
Keep a copy of your lease termination letter. Print out two copies of the letter. Send one through certified mail and attach a copy of the receipt to the letter you keep on file for yourself as proof.
Date and sign the letter. Before sending out the letter, sign it and put the date it was signed beneath the signature. Make sure signatures are on both copies of the letter. The date on the letter creates a timeline indicating that the landlord received proper notice before your move-out date.
Keep it simple and professional. The notice to vacate is not a place to bring up outstanding issues or other grievances. Keep the letter polite and to the point, indicating your plan to move and that you don't intend to renew your lease.
Include your forwarding address. If your current address is the only way for your landlord to communicate with you, don't forget to give them your new address. That way, they'll know where to send your security deposit.
Provide a clear move out date. The written notice should include a move-out date. Avoid phrasing it as "on or before" a specific date. Instead, clearly define the date you intend to vacate and clean the unit.
Follow-up with the landlord. After sending the notice, it's a good idea for renters to follow up with their landlord by email, phone, or in a face-to-face conversation. That way, if the landlord requires a walkthrough before vacating the property, you can arrange a date that works for both of you.
The Bottom Line
Providing a written notice in the form of a lease termination letter isn't just a polite formality, it's an absolute must. Sending a notice to vacate letter through certified mail gives renters legal proof that they've complied with the terms of their rental agreement. If you don't put your intent to vacate in writing, you run the risk of a misunderstanding with your landlord. Renters should do everything they can to part with their landlord on good terms so they can use them as a reference in the future.
We rate and sort every listing based on fair market rent.