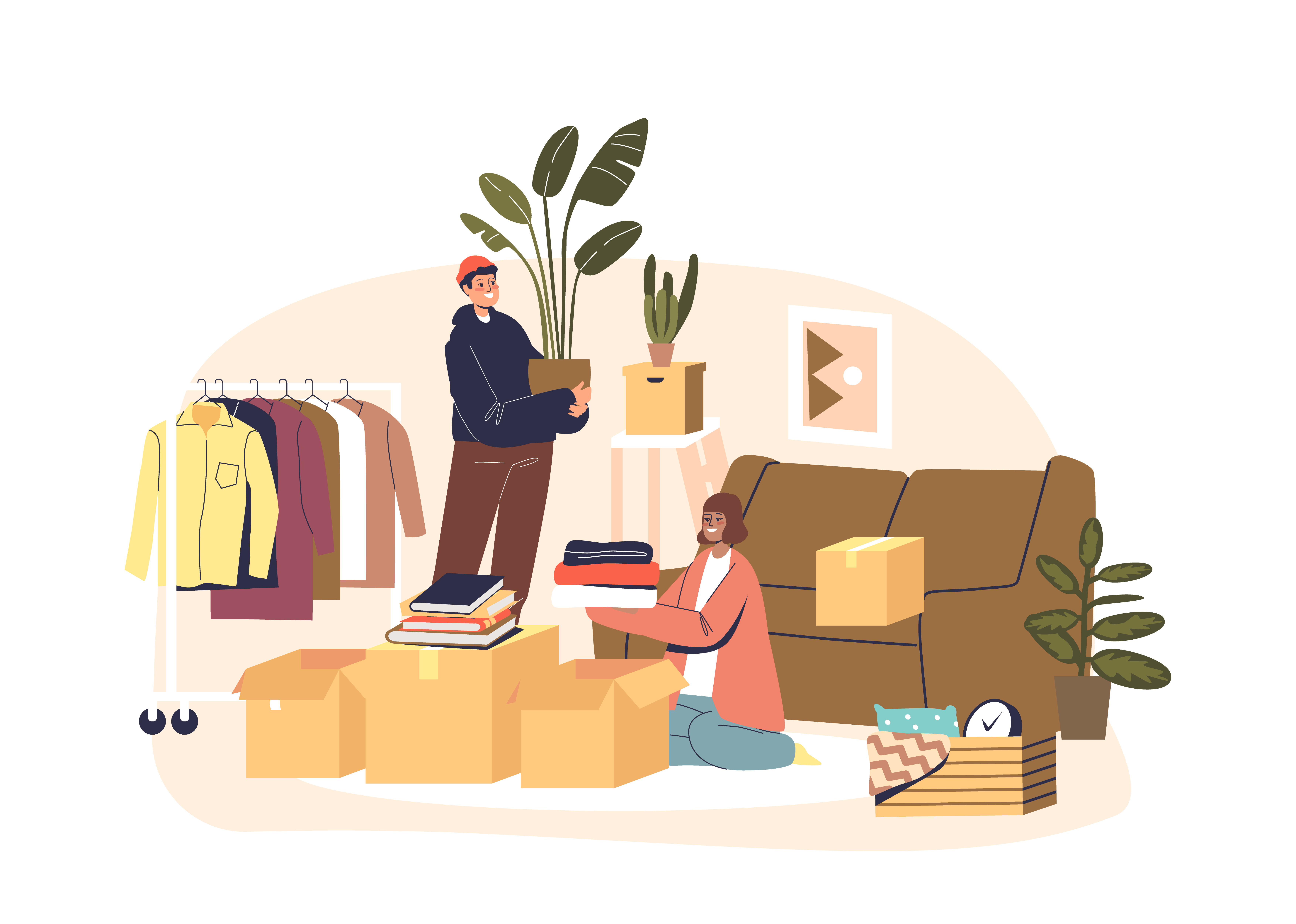 ---
Congratulations! You're moved into your new home and ready to start a new adventure. But if you're surrounded by cardboard moving boxes and feeling overwhelmed, worry not. We've created a plan that you and your roommates can use on day one in your new apartment to make sure your new living situation is a good one.
Read on for our guide on what to do on the first day that you move into a new apartment.
Transfer Your Utilities
Trust us, the last thing you want is to wake up in your new apartment without electricity. If your new unit was occupied until the day before you moved in, then that means you likely haven't had a chance to transfer your utilities from your old place to your new one and will need to do so on your move-in date. If you don't want to be left without electricity, gas, or Wi-Fi at the last minute, moving day is the time to call your providers and let them know about your change of address.
Document Your New Apartment's Condition
Whether you're planning on staying in your new apartment for one year or five, it's important to document the state of the place when you moved in. However long you stay in this unit, some level of wear and tear on the apartment is expected — but if there is staining on the kitchen tiles or a small crack in the wall somewhere, you don't want to get blamed (and have your security deposit drained) when you move out. This also goes for malfunctioning appliances or safety features; double check that the security system or smoke detectors work before settling in. Sometimes, a landlord will even give you a printout on which to report any existing damage to the unit. If not, write it down in a document, date it, and attach any accompanying photos. You can even invite your landlord or property manager to join you during this walk-through. If you'd like any of the damage fixed, email this document to your landlord.
Clean Your Apartment Before Unpacking and Arranging Furniture
The easiest time to deep clean an apartment is when there's no bulky furniture in the way. So, unpack your mop and your cleaning supplies and get to work before you start unpacking your boxes or unwrapping bubble wrap. This will make it easier to clean hard-to-reach areas that will soon be blocked by furniture, and will also give you a better sense of the state of your apartment.
Update Your Renters Insurance
Your renters insurance company will want to know that you moved, so take this time to call them and let them know your new address. Note: Some companies will require at least 30 days notice before you move, so read the details of your plan carefully when planning a move.
Meet Your Neighbors
Moving in to a new apartment is a hectic time, and it can be easy to get lost in the process and forget to introduce yourself to your neighbors. However, the best time to knock on their doors and say hi is when you're new to the building! Befriending your neighbors will help enmesh you in your new community, and will also help you learn more about the building and the new area that you've moved to. Maybe they'll have insights on the best nearby grocery stores or take out restaurants in your new neighborhood. Your neighbors can be great friends and resources.
The Bottom Line
Move in day for a new apartment is equal parts stressful and exciting, but having a plan will make the moving process easier. Follow our five steps to ensure a successful move: transfer your utilities, document your apartment's condition, clean your apartment before unpacking, update your renters insurance, and introduce yourself to your new neighbors. For even more moving tips, check out our other resources like our First Apartment Moving Checklist, our Moving Out Checklist, and more in our Renter Guide.
We rate and sort every listing based on fair market rent.