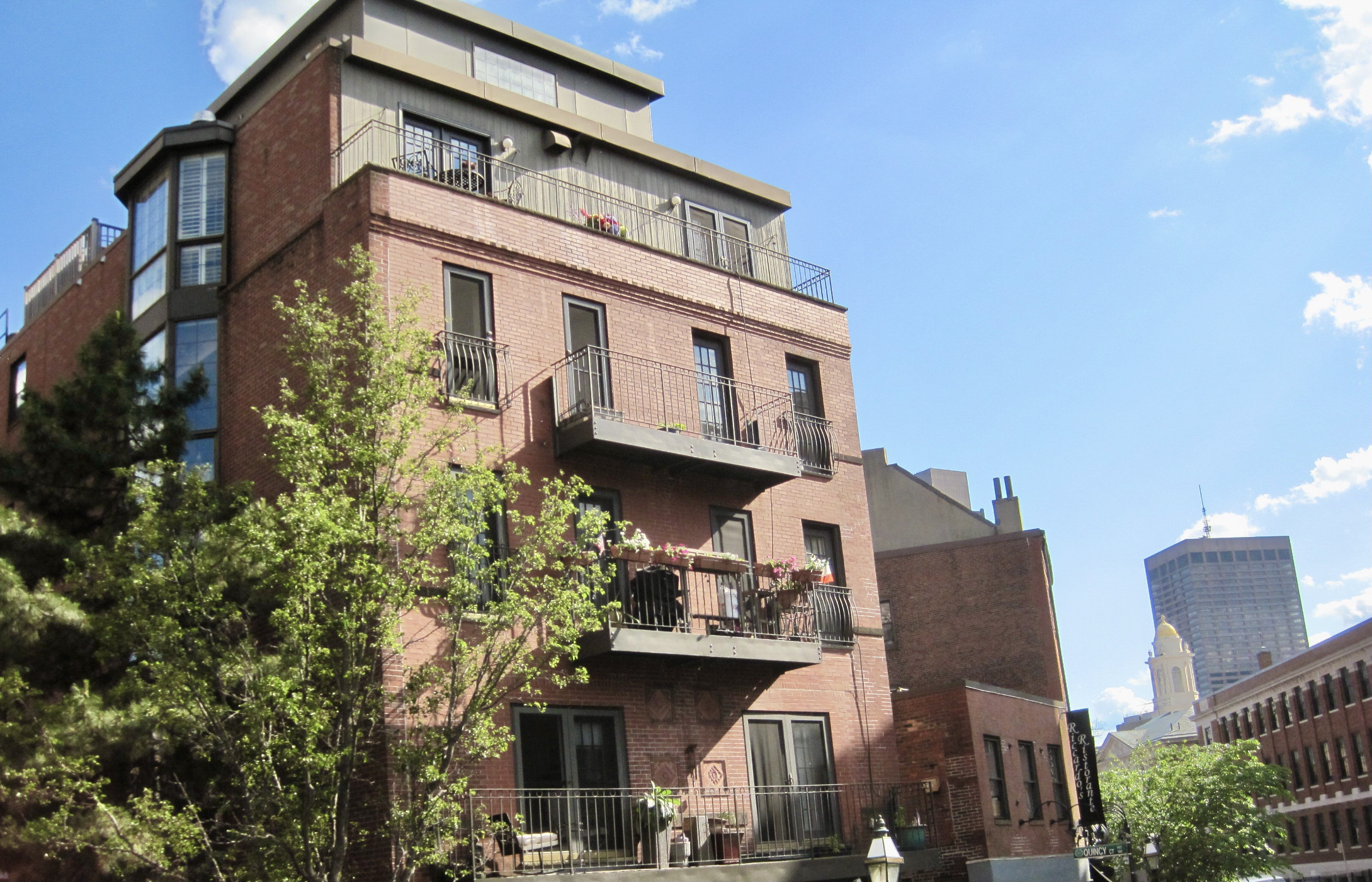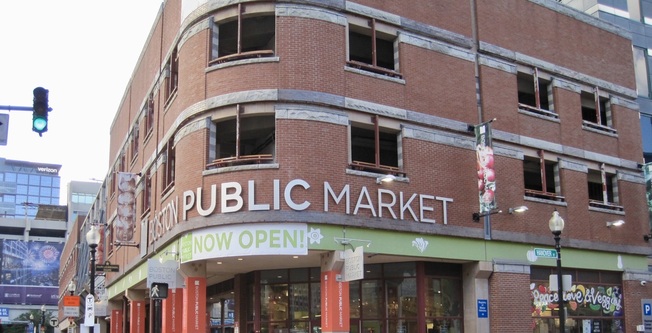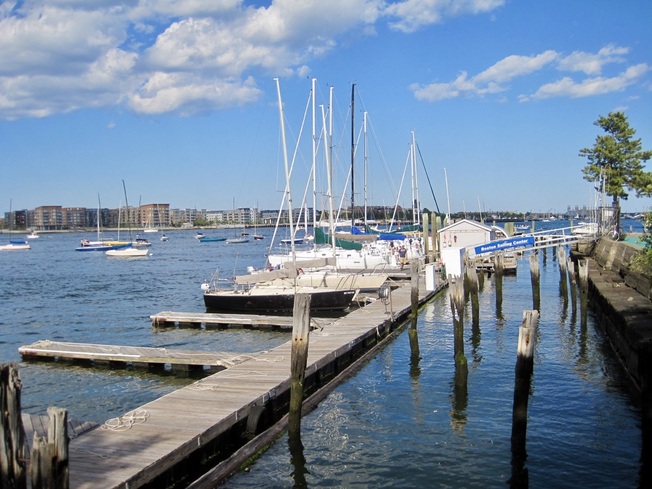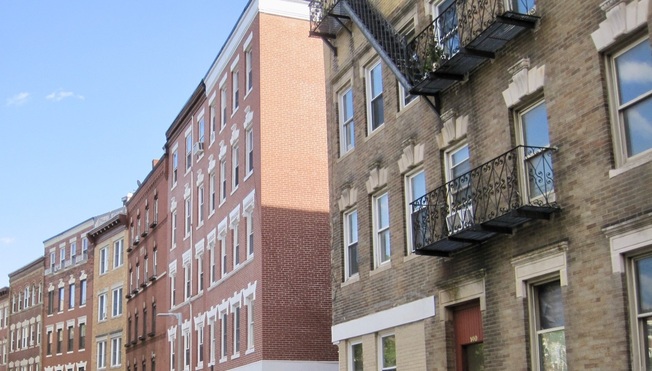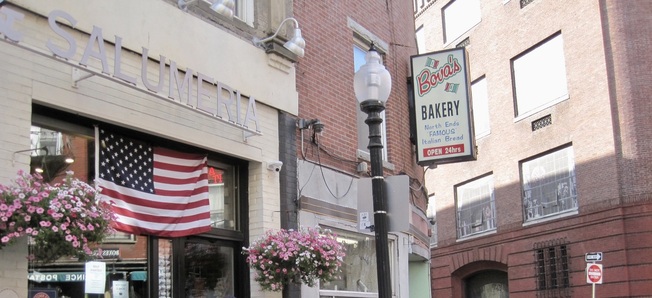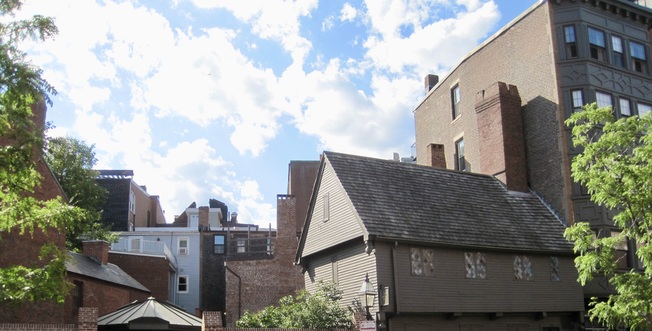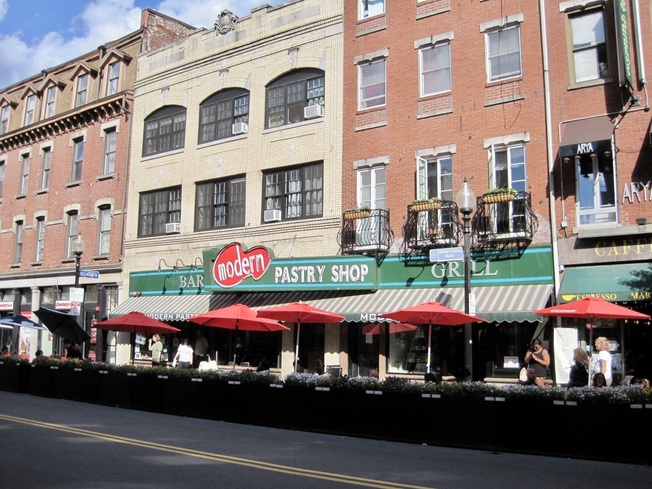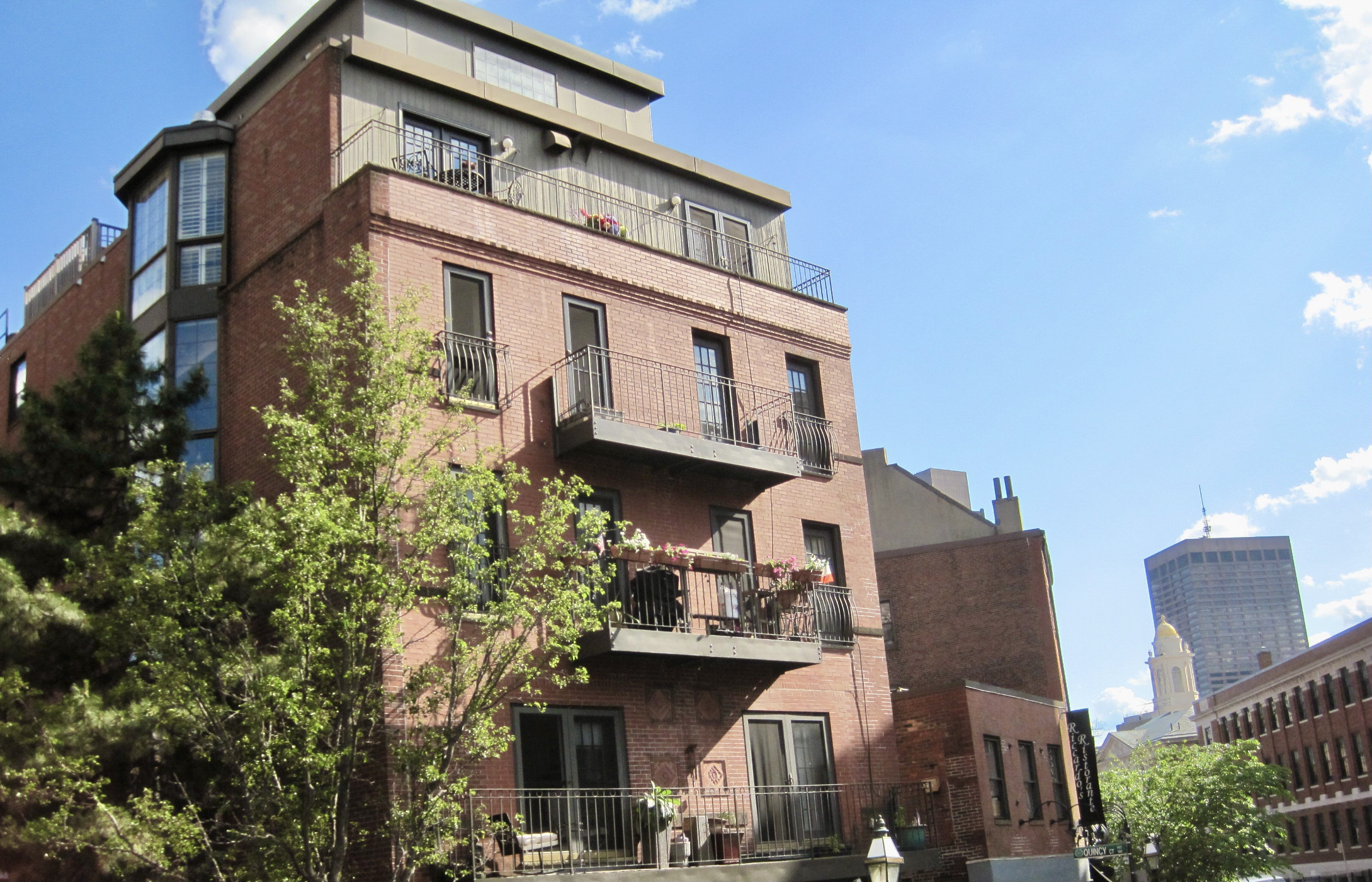 ---
| | Median Rent | Median Sqft |
| --- | --- | --- |
| Studio | - | - |
| 1 Bed | $3,000 | 740 sqft |
| 2 Beds | $4,250 | 987 sqft |
| 3+ Beds | $5,250 | 1,461 sqft |
Jutting out over the Boston Harbor, the North End is one of the city's smallest neighborhoods, covering barely more than one square mile. Yet, what the North End lacks in size, it more than makes up for in history, charm, and character.
Boston's North End is as recognized for its Italian-American culture as New York's Little Italy or San Francisco's North Beach. The mere mention of the neighborhood conjures images of lines outside bakeries for fresh cannoli, steel plates of pizza pies coming out of brick ovens, heaping plates of homemade pasta, or even the green, white, and red decorations strewn across Hanover Street for the summer feasts held in August.
Today, residents come from diverse backgrounds and walks of life. Still, about 30% of the neighborhood boasts Italian heritage. The average age is slightly older at 35.4 compared to the average age of all of Boston as 32.5. According to the U.S. Census Bureau, with a population of just over 10,000, the majority (88.2%) are white, 4.7 % Hispanic, 1.8% Black, 3.3 Asian and the rest reported as other or mixed races.
Though its demographics may have shifted over time, its history endures. The North End is well known as the home of the Old North Church, from where Paul Revere, a folk hero of the American Revolution, launched his infamous midnight ride. Live here, and your apartment could be right next to a stop on Boston's Freedom Trail. As you walk down the cobblestone streets and twisty alleys of the North End, its history as the oldest residential neighborhood in Boston lies in picturesque plain sight.
The north and eastern borders of the North End are a popular section of the HarborWalk, a 40-mile public waterfront walkway that winds along the waterfront neighborhoods, from Chelsea down to Dorchester.
Thanks to its small size, the North End is among Boston's most walkable neighborhoods (second only to Beacon Hill). Apartments in the North End that don't include a parking spot pose a bit of a challenge for car owners as even residential street parking in this area of town is limited. That being said, Government Center Garage offers plenty of space for reverse commuters. These monthly pass holders can enter after 3:30 p.m. but must be vacated before 9:30 a.m. every weekday.
If the parking gods are on your side, you might pull up to a metered space in the nick of time or find a two-hour visitor spot tucked between buildings. But if you don't have the patience and are just popping in for a short stay, you can validate your parking ticket ($3 for up to 3 hours) at the Parcel 7 garage next to the Haymarket "T" stop. For the discount, ask a participating business to stamp your ticket. If you park longer than 3 hours, regular (pricey) rates apply.
Locals find the North End easily bikeable thanks to the two-way separated bike lanes on Atlantic Street. And it's well-connected, otherwise, with about five bus lines passing through it and Haymarket and North Station Green Line subway stops anchoring the western border. But mostly, all you need is your two feet and some cushioned soles to make your way around the North End.
When an entire neighborhood is known for its food, where do you start? Restaurants in the North End are some of the best that Boston has to offer. Sweet or savory, morning or night, we suggest Bova's Bakery, open 24 hours a day, seven days a week. Choose from pizzas and calzones on the salty side and biscotti, cuccidati (Sicilian fig cookies), and award-winning tiramisu on the sugary side. Either way, toss in Bova's Florentine cannoli just so you can compare it to Mike's Pastry.
When it comes to Boston's best cannoli, everyone has an opinion. But former President Bill Clinton's favorite? Mike's Pastry on Hanover Street. Be prepared to wait in line and know exactly what you want when you get to the counter. Orders shouted over the glass display cases are quickly boxed and wrapped in string faster than you can say, "Grazie," (Italian for thank you.)
Equally disputable is who serves the best pizza in Beantown. Some might insist Regina Pizzeria (also called Pizzeria Regina) takes the cake—or in this case, the pie. Known for having a charred outer crust and dough that ferments for up to six days, these pizzas have been churning out of the very same oven for almost a century.
For the North End's best-kept secret, stop into Galleria Umberto. Walk through its unassuming storefront to the counter where, if you're there before the lunch rush, you can get your hands on some Sicilian-style square pizza slices and its famous arancini—fried rice balls stuffed with meat, peas, and cheese.
So close to the waterfront, seafood is bound to be on the brain. That's where the Daily Catch comes in. Squid dishes play a big part here, especially ones served with squid ink pasta. You might like knowing that anything from the ocean to your table has been sourced from fishmongers less than a mile away.
After dinner, try Caffe Vittoria for a cappuccino and dessert. It's one of the only North End places that serves affogato—hot espresso poured over frozen gelato. For something a little stronger, check out Stanza dei Sigari, a former speakeasy turned cigar parlor and liquor lounge. Thanks to the vintage ambiance, it's like stepping into the 1920s. Also inspired by a speakeasy, Parla Restaurant mixes imaginative cocktails in a similar throwback environment.
If there's a game on TV that you want to catch, Corner Cafe is your place. A dive sports bar on Prince Street, it's a classic, locals hangout with a good beer list. It's so relaxed that the establishment lets patrons bring in their own food. The only catch? You have to pay with cash.
On warm days, the ultimate treat is rooftop dining. It's hard to find in the North End, but Ristorante Fiore delivers. Their rooftop patio has a retractable awning, plenty of seating, and a full menu of traditional to creative Italian dishes and wines. There's also a ground-level patio that's heated and covered.
For a break from Italian food, as amazing as it is, branch out at Billy Tse's serving Japanese, Chinese, and Thai dishes with equally exotic cocktails. And give North Street Grille a try for brunch, reputed to be one of the best in all of Boston. They all have an extensive all-American menu of burgers, sandwiches and salads.
If living in the middle of amazing Italian restaurants inspires your own culinary skills, pay a visit to Salumeria Italiana where you can get a range of Italian groceries, including imported meats, cheeses, pasta and sauces. Find a similar quality (and therefore, pricier) selection at Monica's Mercato that also has a deli for fresh made-to-order sandwiches.
Boston Public Market gives you a year-round indoor market to find fresh produce, meat, eggs, dairy products, fish, bakery treats, and prepared foods. Established in 2001, the market gathers nearly three dozen vendors under one roof. Among them are Crescent Ridge Dairy offering more than 35 creative ice cream flavors and Red Apple Farm frying up fresh, hot cider donuts. Besides food, you'll find handmade cutting boards and bowls, plants and fresh flowers, jewelry, and more.
If fashion is more your fancy, shop at LIT Boutique on Hanover Street. You can browse through a selection of bright and colorful clothing from name-brand designers like Paige Jean, Mink Pink, and BCBGeneration. Be prepared, it's not for the budget-conscious, so if you're tight on cash, make a beeline to the back of the store for sales.
When you're shopping for fun, poke your head into Shake the Tree on Salem Street. You can find clothes and jewelry as well as whimsical gifts and "just because" items such as lotions, perfumes, and soaps. Decorative dishes, fanciful barware, and tempting cookbooks are just the thing for decorating your apartment or a housewarming gift.
Apartment living in the North End's studio, one- and two-bedroom homes can be quite…shall we say, cozy. So much so that you'll appreciate being able to get outside and stretch your legs without venturing far. There are great open spaces to move about with a few minutes outside your door.
To the north of the neighborhood sits Langone Park. Newly renovated, the park offers residents a multisport synthetic turf field, universal access playground, memorial garden, and bocce and basketball courts. The general public can also enjoy plaza spaces to take in harbor views, read a book by the water's edge, or bring a bag lunch and soak up the culture.
To the southeast, Christopher Columbus Park gives residents, Bostonians and tourists alike, another beautiful outdoor space with waterfront views. There's a blooming rose garden in summer and likely a street performer or two inviting you into their show.
Further to the south, behind the Boston Marriott Long Wharf Hotel, is the New England Aquarium and the Rose Kennedy Greenway carousel. No matter how many times you've been, both are always a treat.
When living in the North End, be sure to allow yourself to make like a tourist now and then. For instance, you might walk by the Old North Church countless times, but ever climbed Boston's oldest standing church's steeple stairs to the bell-ringing chamber? If you did, you might get a feel for its historical weight. It was here on the night of April 18, 1775, when Robert Newman climbed the steeple and held two lanterns signaling to Paul Revere that British troops were coming by sea, not by land.
For a more contemporary outing, Improv Asylum on Hanover Street is around for laughs. You can catch some improvised or sketch comedy just about every night. The seats are limited, so tickets sell out fast. And, if you want to partake in the show, you can enroll in professional improv and sketch-writing classes there, too.
One of the most interesting educational establishments resides in the North End: the North Bennet Street School. An artisan institution, it's a training ground for a number of trades utilizing evolving technology. Students can enroll in one of nine full-time professional programs including Bookbinding, Piano Technology, Cabinet & Furniture Making, Security Technology, and Violin Making & Repair to name some. There are also continuing education classes taught by master craftspeople and a Business Fundamentals course to help students enter the professional world.
We rate and sort every listing based on fair market rent.