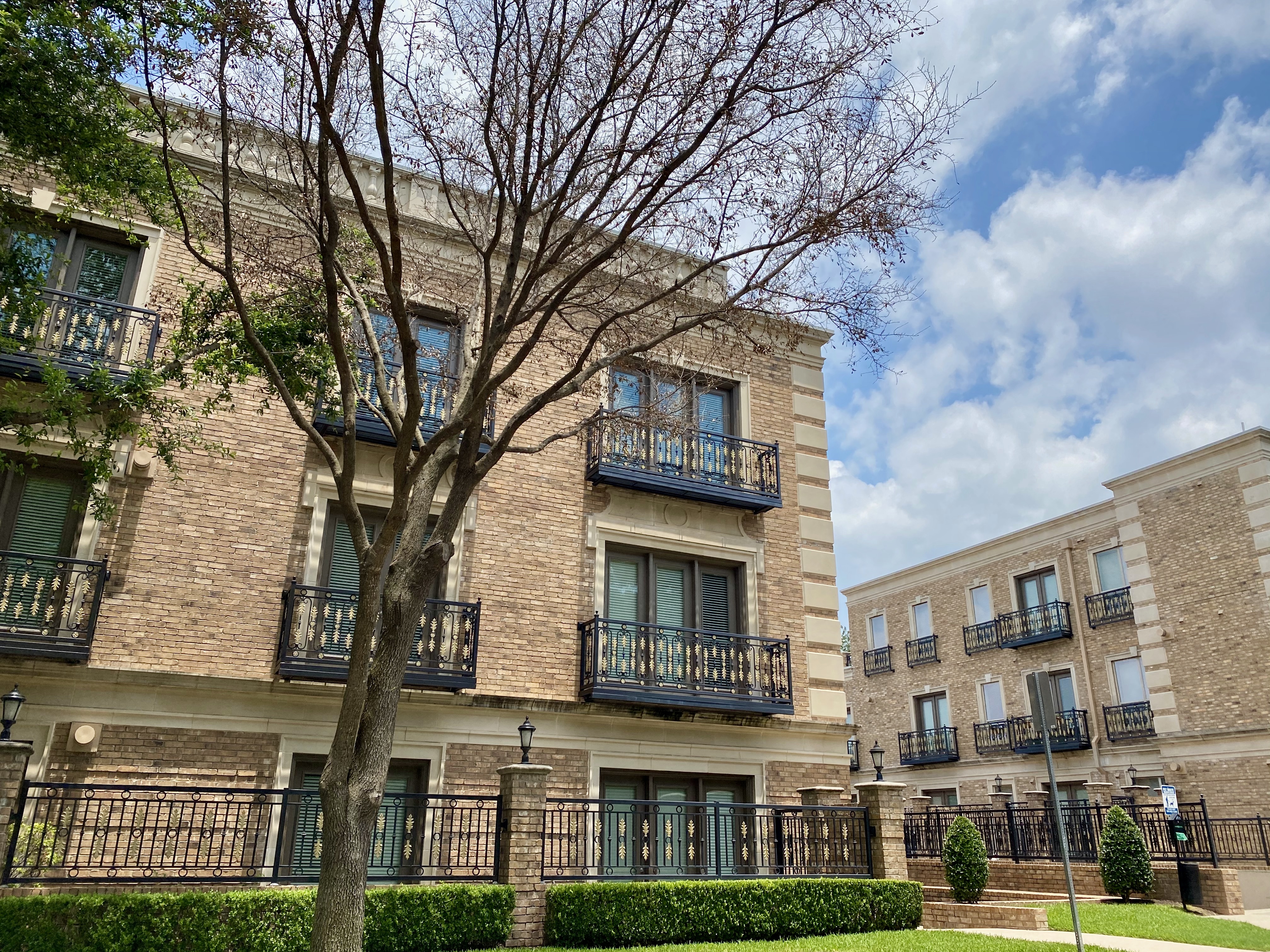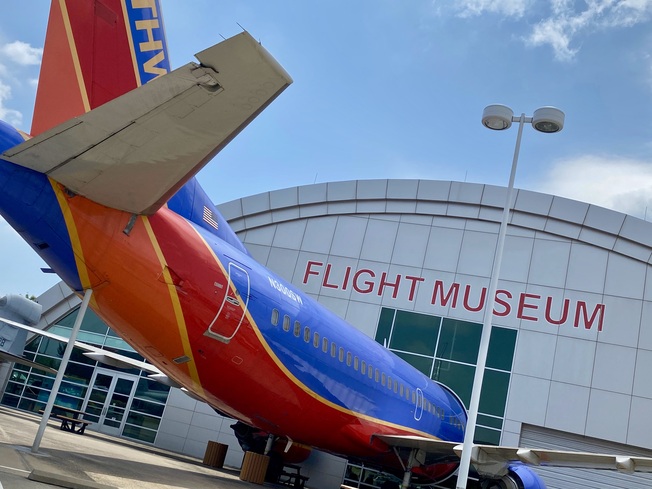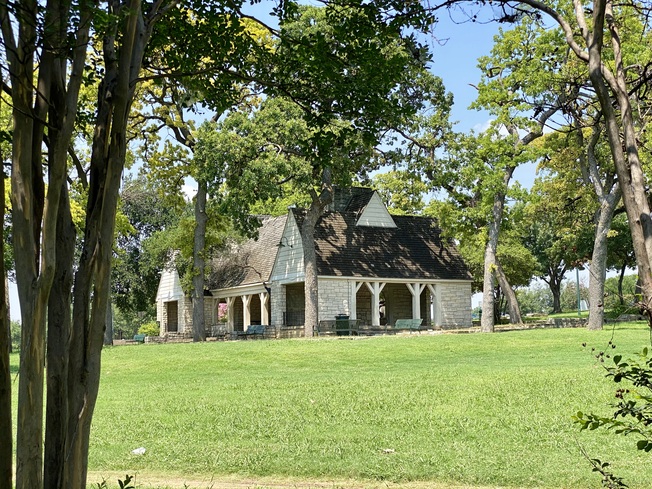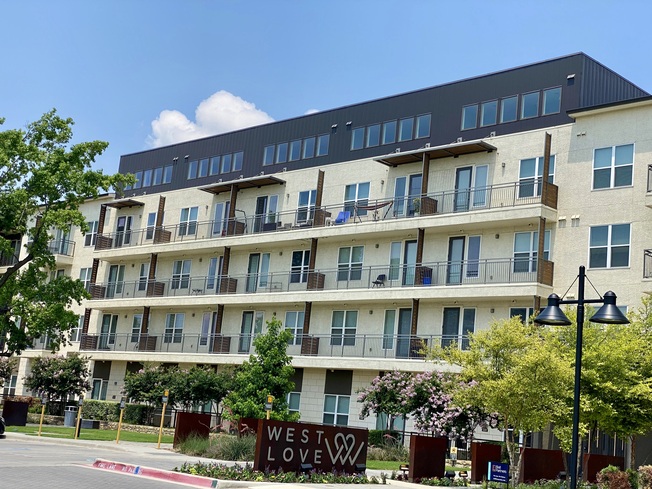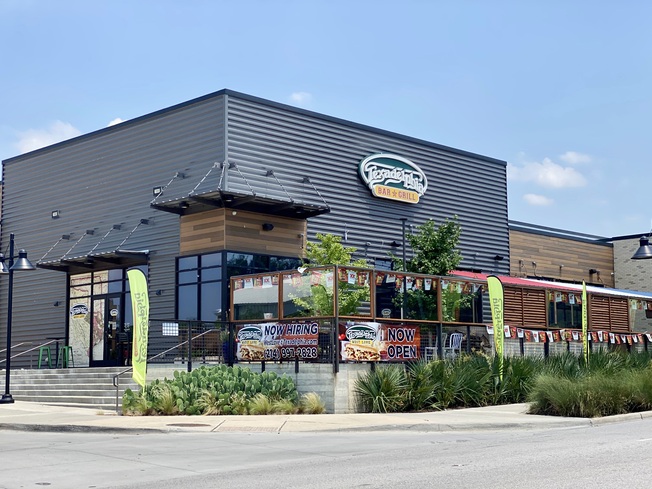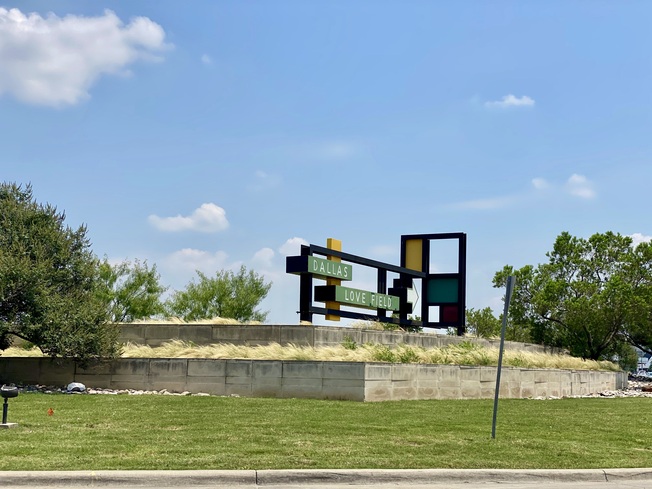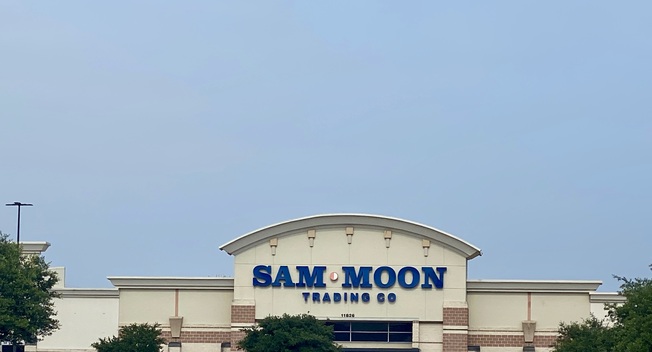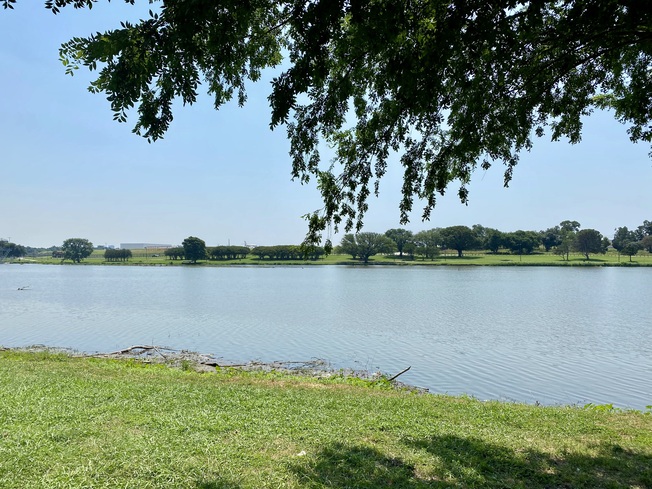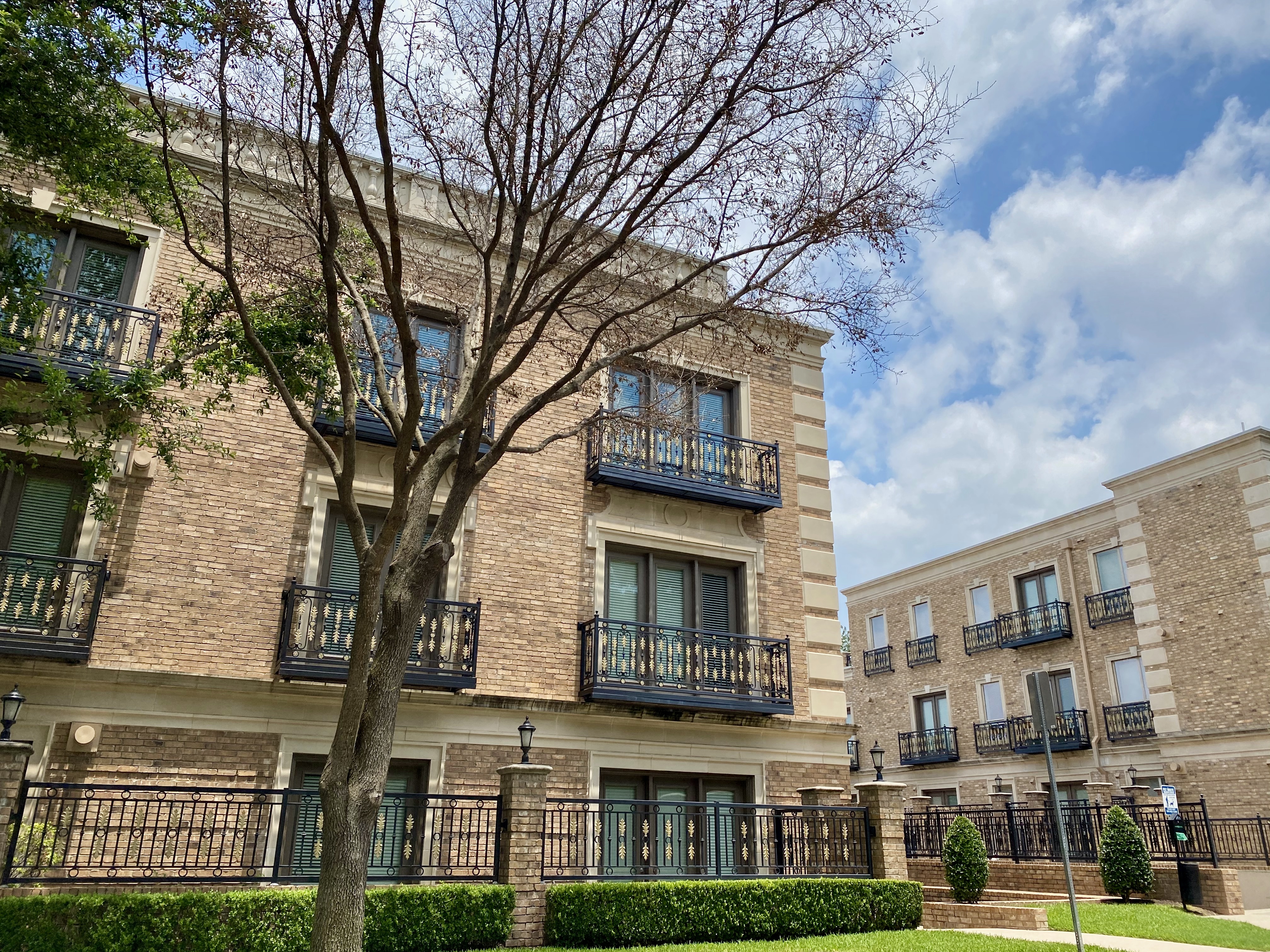 ---
| | Median Rent | Median Sqft |
| --- | --- | --- |
| Studio | $1,350 | 495 sqft |
| 1 Bed | $1,408 | 680 sqft |
| 2 Beds | $1,589 | 1,056 sqft |
| 3+ Beds | $2,930 | 1,630 sqft |
For a quiet, laidback suburban vibe without moving to the actual suburbs, Northwest Dallas checks all the boxes. At its edges, you'll find a great number of industrial parks, Dallas Love Field (DAL) airport, and lots of freeways, but like a great candy bar, the center is filled with all sorts of surprising delights.
Multiple quaint, serene neighborhoods make up Northwest Dallas, including the locally famous "Disney streets" with names including Peter Pan, Pinocchio, Cinderella, Snow White, and Aladdin Drives, as well as Fantasia Lane and Dwarfs Circle can be found tucked away off Royal Lane. Equally charming for those who can afford it are Preston Hollow and Old Preston Hollow, which sit at the southeast edge of the area and are home to some of the city's most expensive properties (and some very well-known celebrities). Yet, intermingled among the fairytale boulevards and homes of the rich and famous, you can find apartments and houses with surprisingly affordable rents given all that this neighborhood has to offer.
Northwest Dallas' boundaries are roughly 635 (LBJ Freeway) in the north, Loop 12 and Love Field airport to the south, the Elm Fork of Trinity River in the west, and the Dallas North Tollway in the east. Luxury car dealerships line one stretch of road between the airport and Bachman Lake, a popular destination for visitors and residents alike. The newly completed Frasier Dam Recreation Area offers 115 acres of greenspace and promises to be a popular addition to the area. Multiple other parks and greenspaces, plus a beautiful 18-hole municipal golf course, make outdoor activities a key aspect of life for many Northwest Dallasites. A large Asian population has helped create a thriving Asian trade district, and several pockets of Latino neighborhoods bring these two vibrant cultures to life through food and other experiences.
With few exceptions, Northwest Dallas is fundamentally a driving community due to its sprawling landscape and mainly residential concentration. Access to freeways is quite easy with Loop 12 (Northwest Highway), I-35 E, 635 (LBJ Freeway), and the Dallas North Tollway all bordering the area. (Pro tip: Get a toll tag from the North Texas Tollway Authority (NTTA) to enjoy discounted rates every time you drive on a toll road in Dallas, park at DFW Airport, or road trip throughout Texas its many other toll roads.)
Public transportation within Northwest Dallas has its advantages, too, with plentiful Dallas Area Rapid Transit (DART) bus lines and five light rail stations, including Walnut Hill/Denton Station and Royal Lane Station with Green line access, while Inwood/Love Field Station, Burbank Station, and Bachman Station each offer Orange and Green line service.
Of course, one of the biggest perks of living in Northwest Dallas is the proximity to Dallas Love Field, home to Southwest Airlines. (Pro tip #2: Register for Southwest Airlines Rapid Rewards, their frequent flier program, because you'll probably be using the airline often when it comes to out-of-town travel thanks to decent fares and the ultimate in convenience for area residents.)
Thanks to the large Asian community in Northwest Dallas, access to hard-to-find ingredients can be easily procured in a variety of stores. Komart Marketplace is one of the true must-visits, regardless of what neighborhood you call home. Not only can you buy fresh produce and proteins in seemingly infinite varieties, but the Korean market also has a food court with several tasty options for a do-it-yourself sampling menu. Otherwise, all the usual local grocery favorites (Albertson's, Tom Thumb, Sprouts, Whole Foods, and Central Market) will ensure you can indulge your every culinary whim or dietary need.
When it comes to restaurants in Northwest Dallas, Asian and Latino influences abound. Be sure to check out Sura Korean BBQ, Goji Café (vegan Asian), Pho Saigon #8 (Vietnamese), and Hot Stone & Korean Kitchen. Many Korean BBQ places in this region feature inset table grills where you can prepare your own meals for a little fun and interactivity. Latin American fare can be found at no-frills spots including Leylita Restaurant Comida Hondureña, Panaderia & Restaurante Guatemalteca, Tipico's Authentic Mexican, and Casa Navarro for Tex-Mex.
Other Northwest Dallas restaurants worth a visit include: Liberty Burger, Streets Fine Chicken, Rusty Taco, and Village Burger Bar over on Forest Lane, Stratos for Greek specialties and entertainment off Northwest Highway, and Heim BBQ (a Fort Worth favorite) just across the street from Dallas Love Field, making it an ideal spot for dining before a flight or after picking up friends and family from the airport who want a mind-blowing meal at a top Texas spot within minutes of arrival. In and near Preston Hollow, Howard Wangs, Fernando's Mexican Cuisine, Bugatti Ristorante, and neighborhood bistro Suze offer high-end versions of their respective cuisines. And for special occasions, Pappas Bros. Steakhouse in the southwest corner of the neighborhood has long been one of the best places in the entire state of Texas for world-class steaks, chops, and seafood.
Among the nightlife options in Northwest Dallas, you'll find several low-key neighborhood joints. But some of the most fun places to visit are the Asian bars and karaoke bars with private karaoke rooms, delicious food, soju and sake cocktails, and the chance to sing at the top of your lungs for only those people in your orbit (or take to the stage in more traditional public karaoke venues). Encore Family Karaoke is a favorite for many.
Northwest Dallas is known for its array of big box retailers, which means anything you could ever want can be purchased easily at fantastic prices without having to wait on shipping from an online store. But one of the most unique places in the area can be found at the northern edge. Sam Moon Center is an Asian shopping complex anchored by Sam Moon, a discount accessories chain offering handbags, luggage, jewelry, shoes, and other accessories at insanely low prices. A variety of additional stores in the shopping center sell similar items, making it a dream destination for the fashionable bargain hunter.
From indulging yourself to splashing around, King Spa & Waterpark delivers. With more than 33,000 square feet of space for relaxation, pampering treatments, and services, as well as time for contemplation and meditation, King Spa is the largest Asian spa in the country. It features a network of pools, whirlpools, and tubs scented with jasmine, plus multiple sauna rooms ranging from Arctic cold to Sahara hot. An additional 67,000 square feet of wet-and-wild fun and/or tranquility can be found within the waterpark, where you can race down slides, splash in the pools, not to mention, enjoy food and drinks, outdoor massages, and other spa services. Nearby, you'll also find dozens of places for affordable foot massages, chair massages, and full-body massages.
Another popular recreation destination is the Elm Fork of the Trinity River. With its beautiful parks and extensive hiking trails, the area is easily accessible for Northwest Dallas residents (and the citizens of Irving and Las Colinas on the other side). The adjacent Luna Vista Golf Course has 18 holes of play available to the public at low prices without the expense or pretense of nearby country clubs. Bachman Lake is an excellent spot for kayaking and fishing, as well as jogging and cycling, thanks to a 3-mile trail that encircles almost the entire lake. Another Bachman Lake pastime is lying on the grass and watching the private planes and commercial jetliners land at Love Field. The new Frasier Dam Recreation Area transformed a previously unused resource to provide a 115-acre wilderness experience in the heart of the city. Within its zoning is also Hines Park, an 11-acre greenspace with a loop trail, wildlife viewing platform, and rock garden, plus more amenities in the works. For indoor entertainment, a handful of multi-screen movie complexes populate Northwest Dallas, including the Cinemark 17, popular for its IMAX screenings.
Parker University's campus features multiple buildings and a variety of degrees, including business technology, chiropractic, and health sciences, while nearby Dallas College Brookhaven Campus offers two-year programs as part of its community college curriculum. Students at both of these institutions find living in these neighborhoods to be affordable and convenient, as do people attending Northwest Dallas-adjacent Southern Methodist University (SMU) for undergrad, graduate, and doctoral programs.
We rate and sort every listing based on fair market rent.