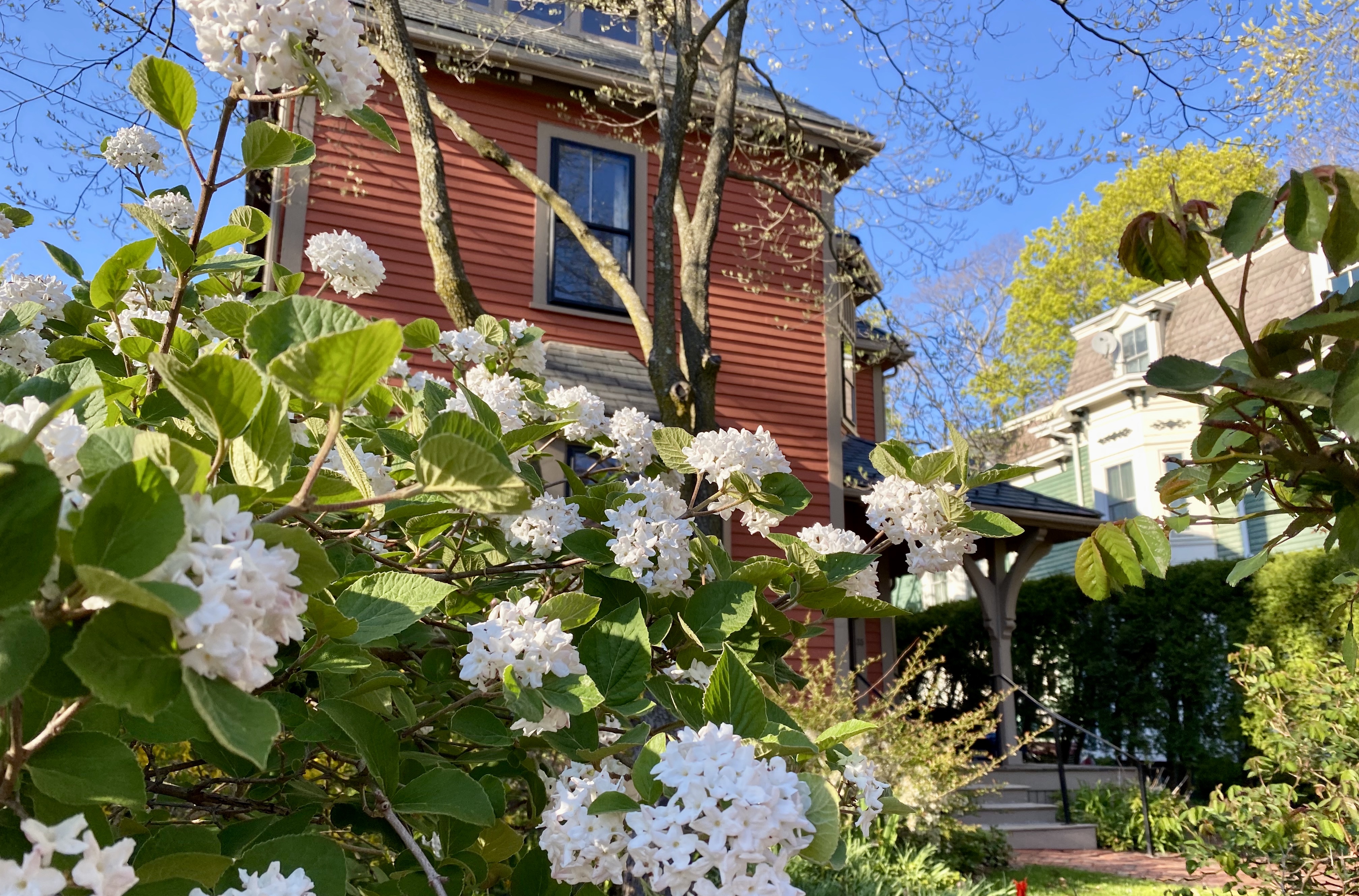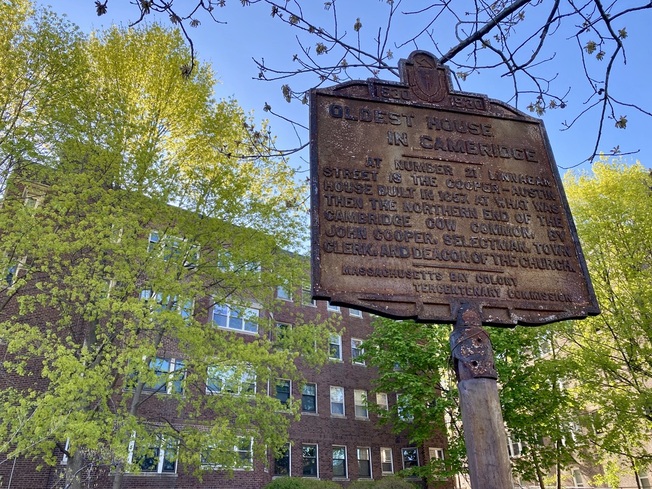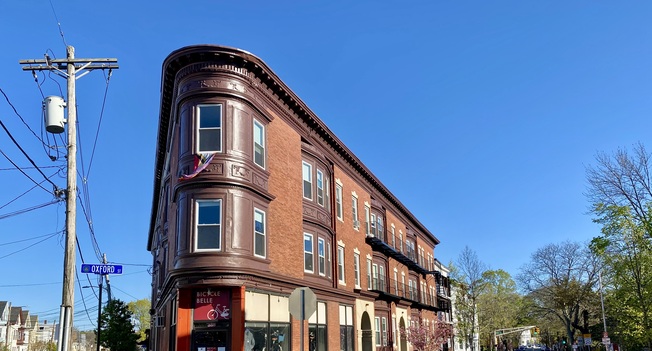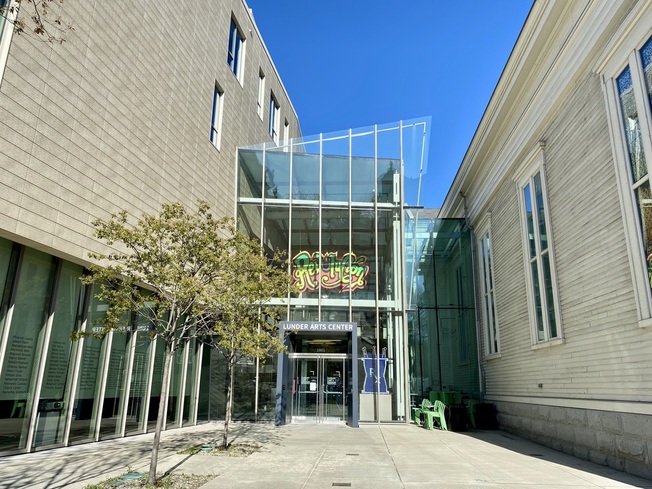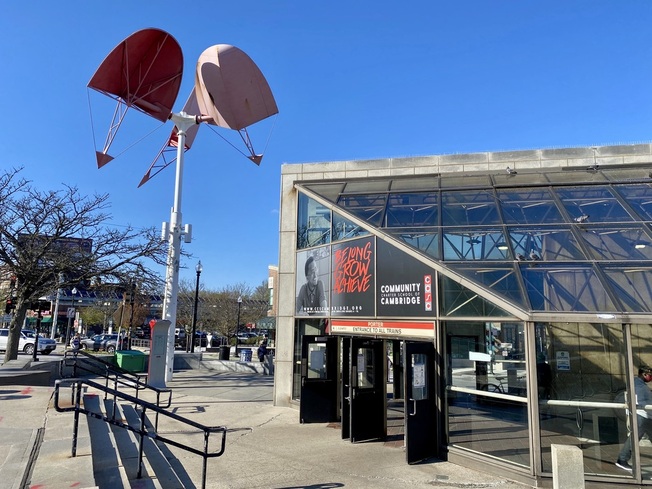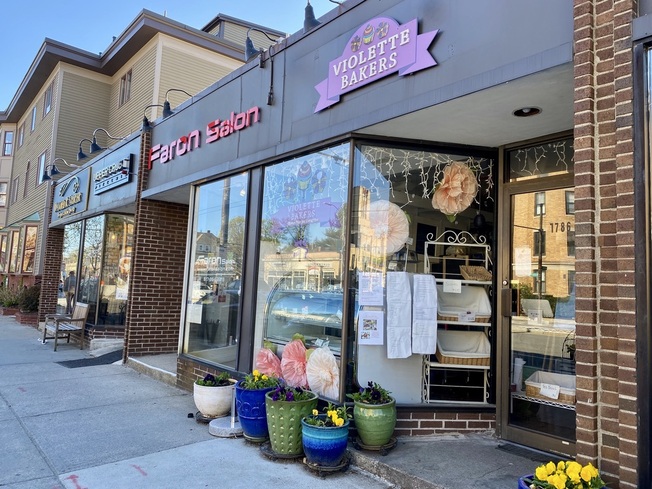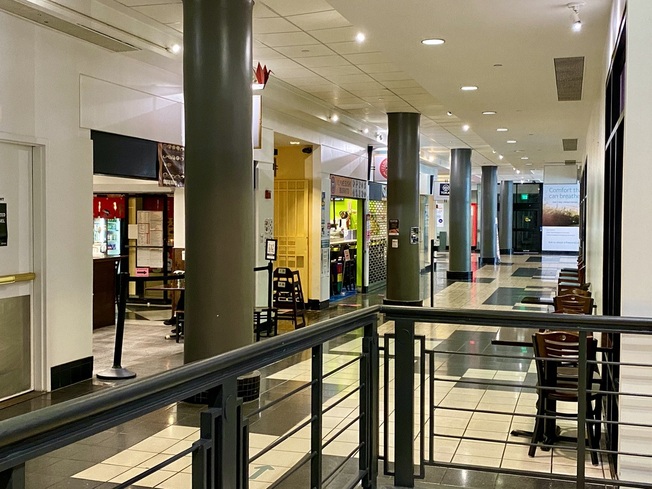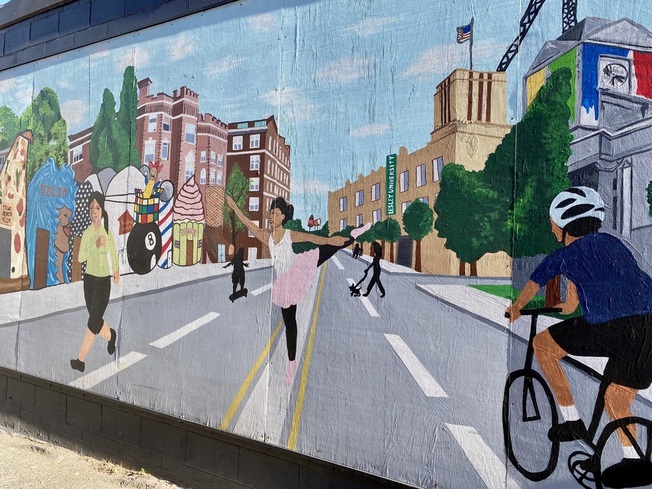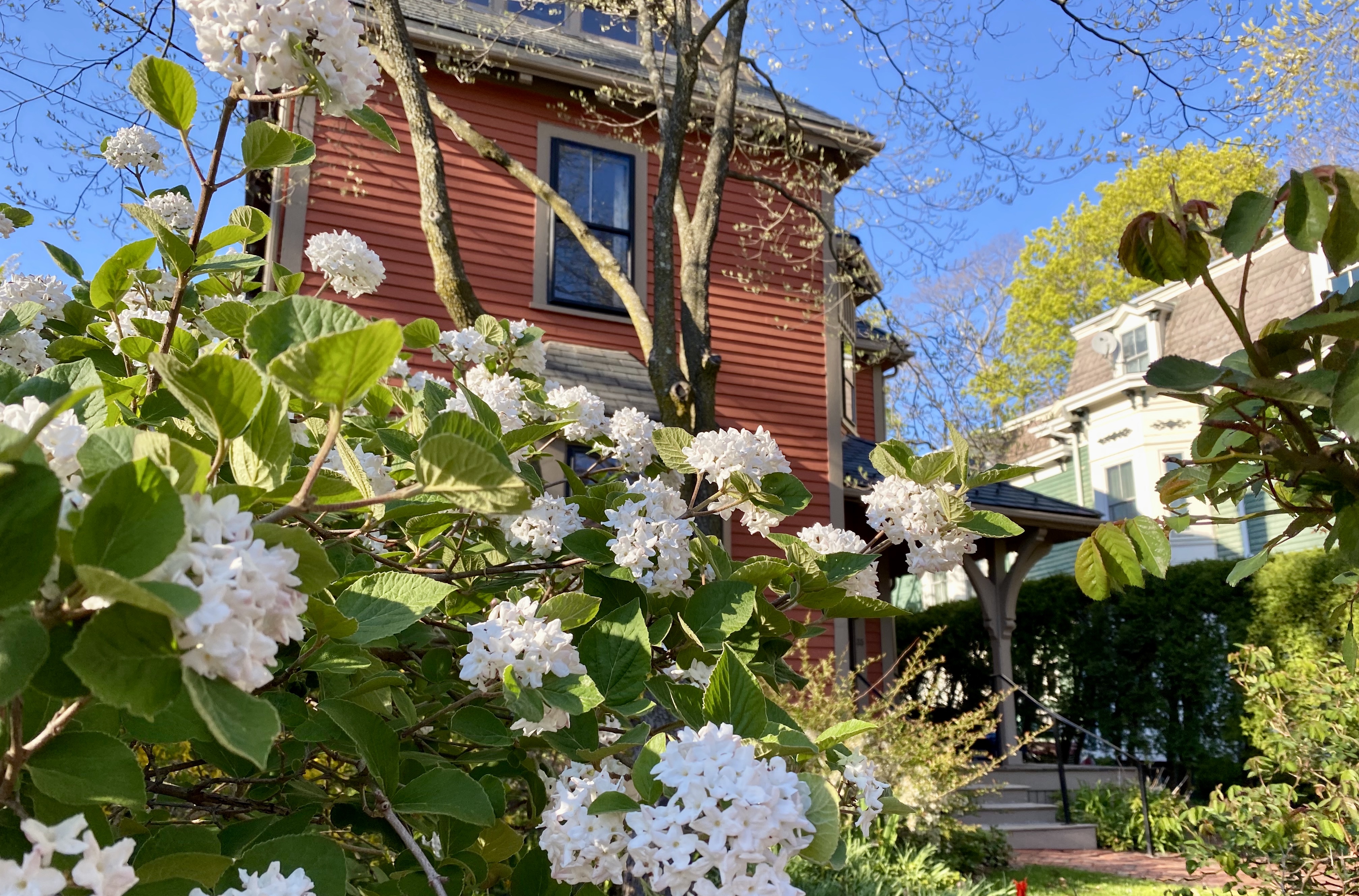 ---
Nestled between Davis Square and Harvard Square along Massachusetts Avenue (referred to as Mass Ave by locals), Porter Square melds lively shops and restaurants with quiet side streets. Originally called Union Square, Porter Square was renamed in 1899 after Zachariah B. Porter, known around town as the ultimate host and owner of the Cambridge Cattle Fair Hotel. Today, Porter Square still hums with a welcoming vibe that draws a diverse mix of young professionals, college students, and Cambridge lifers alike. Apartments in Porter Square offer some of the more affordable prices along the northern end of the Mass transit subway Red Line with stops in Somerville, Cambridge, and Downtown Boston, to name just a few.
The beauty of Porter Square lies in its ability to transport you from the hustle and bustle to a contemplative stroll in a matter of minutes. With graffiti murals and ceramic paths by local Cambridge and Somerville artists, the Porter Square neighborhood is sure to delight walkers, bikers, residents, and visitors. In a word, what makes Porter so unique is its authenticity. It's an area that favors depth over breadth, thinks global but acts local, and won't ask you to be anything but who you are.
Fun fact: Porter Square sits on the border of Cambridge and Somerville, so in parts of the neighborhood, you can technically stand in two places at once. The trick to knowing where you are: green street signs reside in Cambridge, while blue signs signal you are in Somerville.
With plenty of sidewalks and generously spaced bike lanes lining the streets, Porter Square is a walker's and biker's paradise. Located at the corner of Mass Ave and Somerville Avenue, you'll find everything you need from shopping, global cuisine, and live music, all within a 15 to 20-minute walk.
While renters of apartments in both Cambridge and bordering Somerville can apply for a parking sticker to enjoy access to residential street parking, many opt not to own a car due to the ease of public transportation. With four bus lines passing through the area, getting to a major bus route is no problem. Conveniently located in the heart of the action, Porter Station provides commuter rail service on the Fitchburg line and subway service on the Red Line with neighboring Harvard Square just one T stop away and Downtown Boston within a 20-minute ride.
Foodies rejoice: Restaurants in Porter Square offer something for every palate. Each dining experience in the area delivers something truly unique, be it Gustazo's Cuban cuisine or legendary Yume Ga Arukar udon noodles with its consistent block-long queue (worth it). Head over to The Abbey for date night, Newtowne Grille for trivia, or get a taste of Japan by wandering through the eateries at Porter Exchange inside Lesley University. Need a snack or latte? There are plenty of cafes, including chains like Panera and Caffè Nero, fair-trade Bourbon Coffee, and neighborhood staple Simon's Coffee Shop.
A good drink isn't hard to come by either with pub options like R.F O'Sullivan's, The Toad, Shine Square Pub, or upscale go-to, Temple Bar. Weather permitting, you won't have to travel far to score an open patio seat along Mass Ave. Try Sugar & Spice for Thai food and a Singha, Giulia for pasta and excellent wine, or head to Colette's patio for a more intimate affair.
A special treat: Violette Bakers Gluten-free bakery will make you think twice about ever eating anything with gluten again (trust us: the chocolate cake is pure joy). If not, epic Bagelsaurus sandwiches are a stone's throw away. No neighborhood description would be complete without an ice cream shop or two: made-from-scratch flavors from Honeycomb Creamery and BerryLine frozen yogurt and ice creams top our list.
Grocery stores in Porter Square range from the centrally located Target and Star Market to decadent high-end favorites like Cambridge Naturals and Pemberton Farms Marketplace. Other grocers include Happy Market & Spirits, the Foodland Indian grocery store, and budget-friendly Market Basket off Somerville Ave.
While you'll have to go to premier shopping destinations like Back Bay for serious retail therapy, Porter Square has plenty to offer: apparel, books, gifts, hardware, and even locally-made pottery. Charming and eclectic boutiques like Susanna, Sign of the Dove, and NOMAD are must-sees whether you're shopping for yourself or a hard-to-gift-for friend. Also, be sure to check out WardMaps for antique and vintage maps and wall art or abodeon for interior decorating heaven.
Last but not least, don't forget Porter Square Galleria, a shopping complex that hosts Target, Parelli's Optical, Sprint, and perhaps most importantly, one of the best-loved burrito spots in the Boston area: Anna's Taqueria (pronounced AHH-nahs).
One of Porter's defining features, the Gift of the Wind, is a large-scale steel sculpture that sits 50 feet above the Porter Square train station. The three red, wing-like arms of the display are some of the most iconic pieces in the MBTA's art collection. Susumu Shingu, the Wind's Osaka-born sculptor, is known for creating large, movement-inspired pieces such as this one for public spaces worldwide.
While nearby Harvard Square hosts the most historical attractions in Cambridge by far, Porter Square holds its own in terms of entertainment. TOAD is hailed as one of the best (albeit the smallest) music venues in the area with draws like great beer, indie stars, and a promise of "never a cover." Lesley University's art-deco-inspired Sears Roebuck building is worth a visit. Originally created to equip a new generation of teachers for the kindergarten movement, the college now hosts degrees ranging from psychology to art and design. The Lesley University Lunder Arts Center gives students and professionals gallery space to display their work, much to the benefit of any local art aficionado.
If you're craving an adventure close by, head to Huron Village via Upland Road to admire historic homes, friendly parks, and beautiful foliage no matter the season. Grab your bike and go all the way to Fresh Pond for a full day trip, where you'll find many a biker, dog-walker, bird-watcher, and runner making the 2.5-mile loop around the city's reservoir.
In the Summer, gear up for HONK!, Somerville's activist brass-band festival that features a Mardi-Gras style parade through Davis Square all the way to Harvard. Bikers and joggers can opt for an ambitious tour of Boston's best views by way of Harvard through to the Charles Esplanade, or head out to historic Lexington & Concord by way of the nearby Somerville bike path.
On nights and weekends, Porter Square Books becomes a writer's dream with author events boasting famous names like Karen M. McManus and John Grisham. With a PBS partnership, writer-in-residence program, and thoughtfully curated book picks, it's no wonder they won Publisher's Weekly 2020 Bookstore of the Year. You'll find another hidden gem in the Cambridge School of Culinary Arts, which offers culinary education in the form of professional degrees for aspiring chefs and one-off classes for passionate hobbyists.
Looking to expand your horizons? Try your hand at a martial arts class at New England Aikido (kid-friendly options included) or drop into a philosophy class at Acropolis Boston next door.
Other nearby attractions: the historic Somerville Theatre in Davis Square features blockbuster hits and foreign films, while the American Repertory Theater (A.R.T.) at Harvard University brings audiences groundbreaking (not to mention award-winning) theatrical experiences. For art and history buffs, the Harvard Art Museums and the Harvard Museum of Natural History are also worth a visit.
Porter Square is home to Lesley University and you'll find Tufts University in Davis Square next door. Porter is also just a few MBTA stops away from Cambridge's famous Harvard University and Massachusetts Institute of Technology (MIT). You're never more than 20 minutes away from a college campus on foot and Downtown institutions like Suffolk University and Emerson College are easily accessible via train in under 30 minutes.
We rate and sort every listing based on fair market rent.