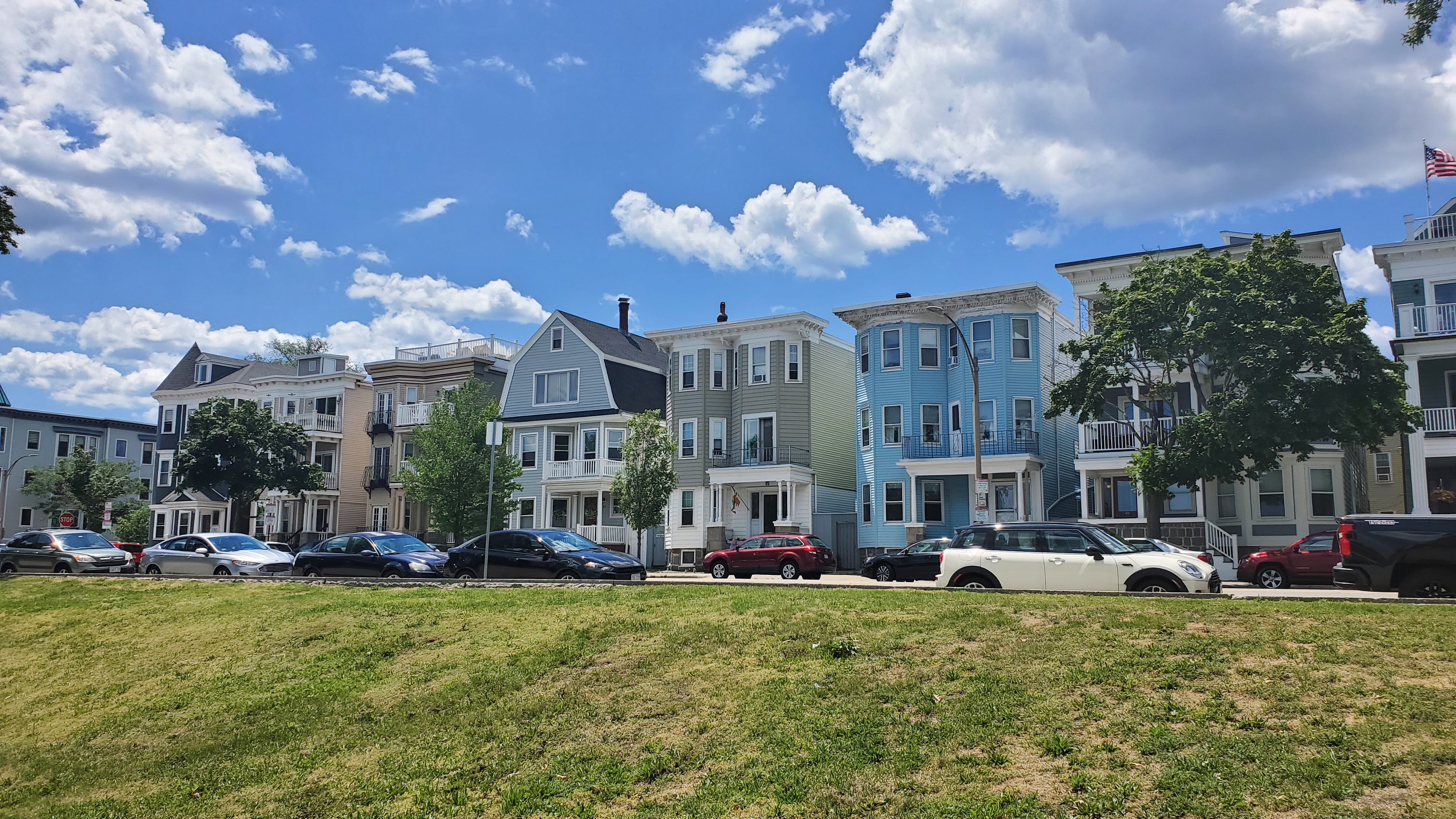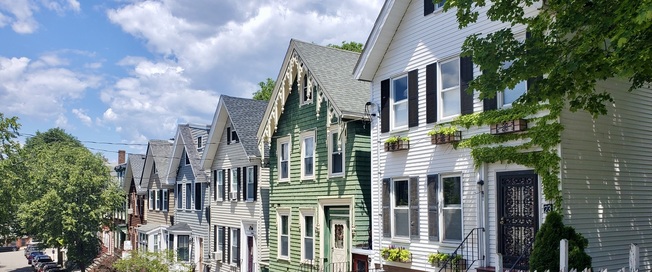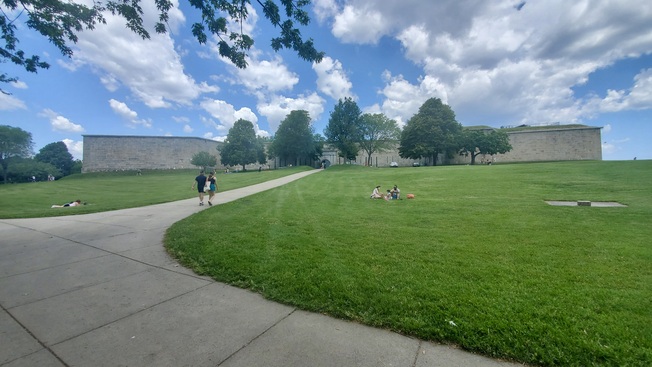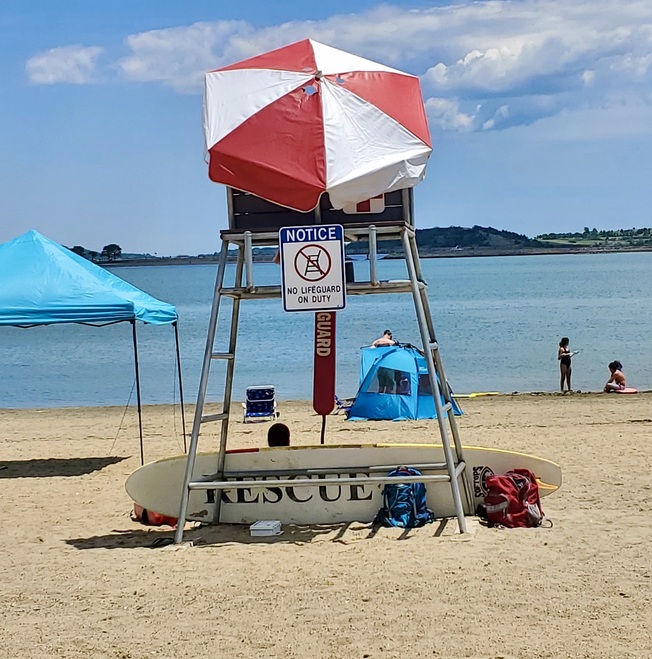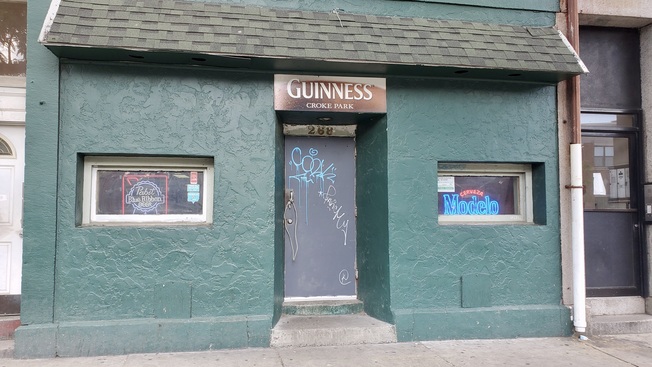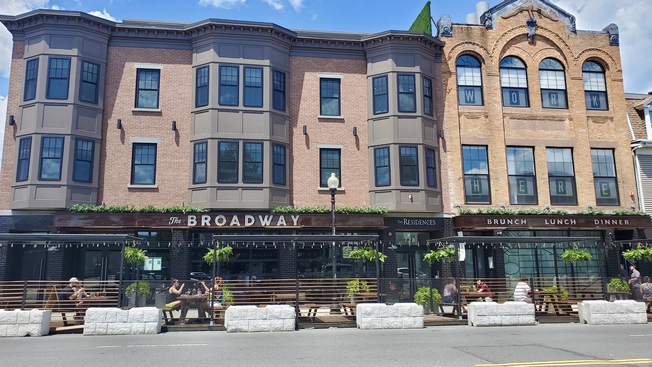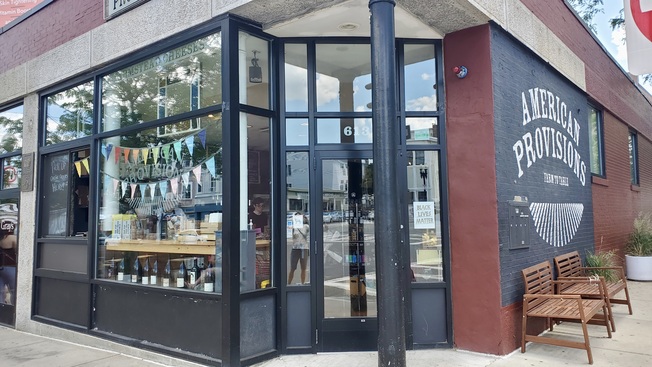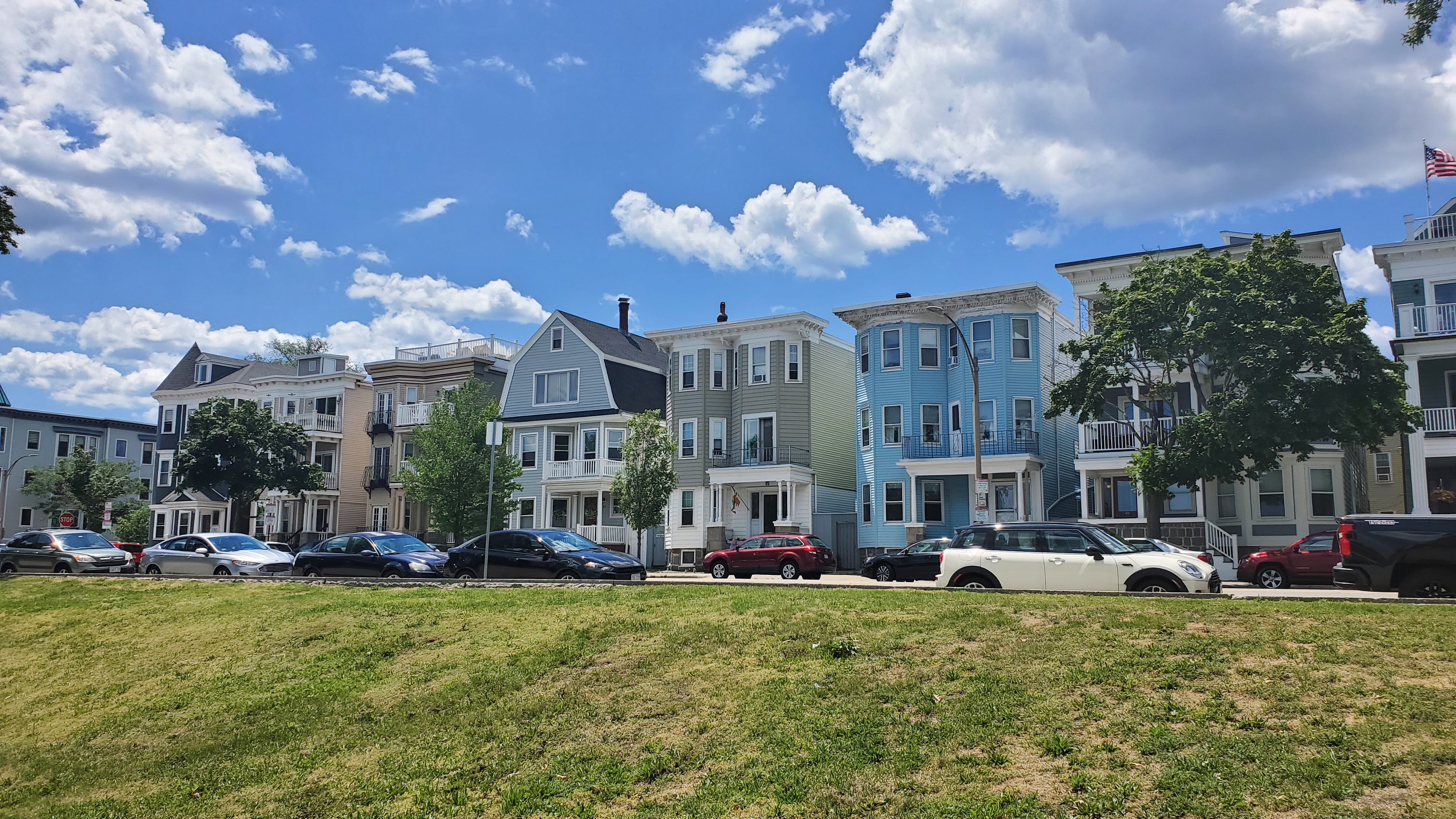 ---
| | Median Rent | Median Sqft |
| --- | --- | --- |
| Studio | $3,121 | 471 sqft |
| 1 Bed | $3,155 | 682 sqft |
| 2 Beds | $3,900 | 1,055 sqft |
| 3+ Beds | $4,450 | 1,357 sqft |
South Boston (a.k.a. Southie) is a beachside residential neighborhood within striking distance of Downtown Boston. Sounds swanky, but it's also the part of Boston made famous, or perhaps infamous, for its gritty, working-class Irish population, depicted in films like The Departed and Good Will Hunting.
Gentrification is a powerful force, though, and in recent years, Southie has become one of Boston's hottest real estate markets, which includes classic triple-deckers and apartments in newer, larger buildings. With the redevelopment of the Seaport District just a mile away, South Boston offers proximity to the trendiest dining and nightlife. All this — and a unique community atmosphere cultivated by the immigrants in the 19th and 20th centuries who made this neighborhood their home — have turned Southie into an attractive place to live for young professionals and families.
South Boston made its mark on history when American soldiers dragged their artillery to the hilltop on Dorchester Heights and forced the British to evacuate from Boston Harbor. That day in history — March 17, 1776 — became known as Evacuation Day, a public holiday in Boston, which would work out nicely for the mostly Irish-American population of South Boston, who also celebrate their patron Saint Patrick on that day.
In the 1970s, South Boston High School was the site of the most violent protests and fighting over desegregation busing. In the 1980s, the neighborhood was a home base of the Irish mob. And until 2015, the local St Patrick's Day parade banned participation by Irish-American LGBTQs. Instead of openness or progressivism, Southie was known for its fierce sense of community—often perceived to be lacking in a transient city like Boston.
Today, diversity of thought, as well as property values, are on the rise in South Boston, while crime is in decline. And while there may sometimes be rivalries between "Townies" and newcomers, it's all part of the charm of this old Boston neighborhood.
South Boston occupies a sort of peninsula that juts out into the Boston Harbor, south of Downtown Boston. The central artery I-93 marks the neighborhood's western boundary. (The Seaport District is technically part of South Boston, but the areas have two very distinct vibes.)
With stops at Broadway and Andrew, the MBTA Red line runs along the western edge of the neighborhood, heading north to South Station and Park Street Station, and south to JFK/UMass and on to Braintree or Ashmont. Useful bus lines include the numbers 9 and 10, both of which run out to Southie's eastern end (the number 9 via Broadway station and Broadway, and the number 10 via Andrew station and Dorchester Ave).
The neighborhood is pleasant for walking, especially along the beach-lined coast. Things get tricky in the western part of the neighborhood, where train tracks and highway overpasses crowd out the pedestrians. Cyclists have to fend for themselves on most streets.
Drivers have easy access to I-93 (even if it is often blocked with traffic in this area). Street parking is usually available for permitted residents, although it can be challenging later in the evening. Residents say there are often spots available on Columbia Road, which can be a hike from the residential area.
South Boston does not boast the most distinguished food scene in Boston, but it's a heck of a lot more sophisticated than it used to be. Broadway is lined with eateries and drinkeries that keep the locals sated, and there are a few outliers along Dorchester Avenue. That said, even Southie stalwarts are probably going elsewhere for their special occasions.
Restaurants and bars in South Boston tend to fall into two categories: old-school hangouts that subscribe to minimalism in their décor and menu (case in point, Rondo's Sub Shop with its incredible cheesesteaks, or the neighborhood's many Irish pubs) and trendy gastropubs doing fancified pub food (Lincoln Tavern and Coppersmith being among the favorites).
A few surprises defy this categorization. Local foodies rave about the upscale deli and wine shop, American Provisions, and its sister wine bar, Gray's Hall. Representing Southie's Polish population, Café Polonia is a cozy spot serving the world's best comfort food (that is, pierogis and potato pancakes). And come summer, you can't beat the lobster rolls and "snap dogs" from Sullivan's at Castle Island. Bonus: sea views and toes in the sand!
Locals do most of their grocery shopping in Southie at the Stop & Shop on Broadway (perhaps with a stop at Dorgan's Packie). American Provisions supplements with artisanal meats and cheeses and an excellent wine selection.
You wouldn't go out of your way to go clothes shopping in South Boston. But if you happen to be in the neighborhood, it's worth popping into the handful of boutiques along Broadway for women's and children's clothing, home décor, and gifts. Southie's Own is a true original, with scally caps, Claddagh rings, and Southie souvenirs. For a much wider variety of shops and products, One Seaport Mall is about 1.5 miles north in the Seaport District.
Cultural venues and historic sites may be sparse in South Boston. But there's one thing in Southie that no other Boston neighborhood can offer: beaches. From Castle Island to Carson Beach, you'll find three miles of sand fronting the ocean blue. They are city beaches for sure, with buildings and industry marking the landscape, and traffic on William J Day Boulevard providing the soundtrack. But the water beckons, clean and refreshing. Each beach has its own "scene" going on, whether for families or teens or beautiful party people. The water is chilly, but it's a great way to beat the heat in the summer.
At the north end of this coastal stretch is Castle Island. It's not exactly an island, but rather the tip of the South Boston peninsula. And it's not exactly a castle, but rather a Civil War-era fort. (The name comes from Castle William, the first fortification that occupied this spot in the 17th century, and from the fact that this used to be an island until it was connected to the mainland by a narrow causeway in 1928.) In any case, this small state park is a delightful place to spend a day — fishing, playing frisbee, swimming, strolling, sunning, and watching the airplanes fly over low.
Nightlife in South Boston is limited to the bars on Broadway and environs. This neighborhood is famous for its dirty dive bars, such as Croke Park Whiteys, which evoke the Southie of old. The new breed of South Boston drinking establishments caters to a hip, young crowd with drawcards like taco Tuesdays and one-dollar oysters (Loco Taqueria), bar games like cornhole and minigolf (Coppersmith), or killer cocktails made with in-house spirits (GrandTen Distillery). The Seaport District offers some evening affairs that are less drink-driven, such as the comedy club Laugh Boston and the Leader Bank Pavilion.
There are no colleges or universities in South Boston, but University of Massachusetts – Boston (UMass Boston) is about 1.5 miles south in Dorchester (one or two stops on the MBTA Red line), while Suffolk University is about two miles in the other direction in Downtown Boston (two or three stops away). Many other schools are accessible with a 30- or 40-minute commute on the MBTA: Harvard and MIT are a straight shot on the red line; while Tufts Medical School, Northeastern, Boston University, and the "Colleges of the Fenway" require a transfer to the Orange or Green line.
We rate and sort every listing based on fair market rent.