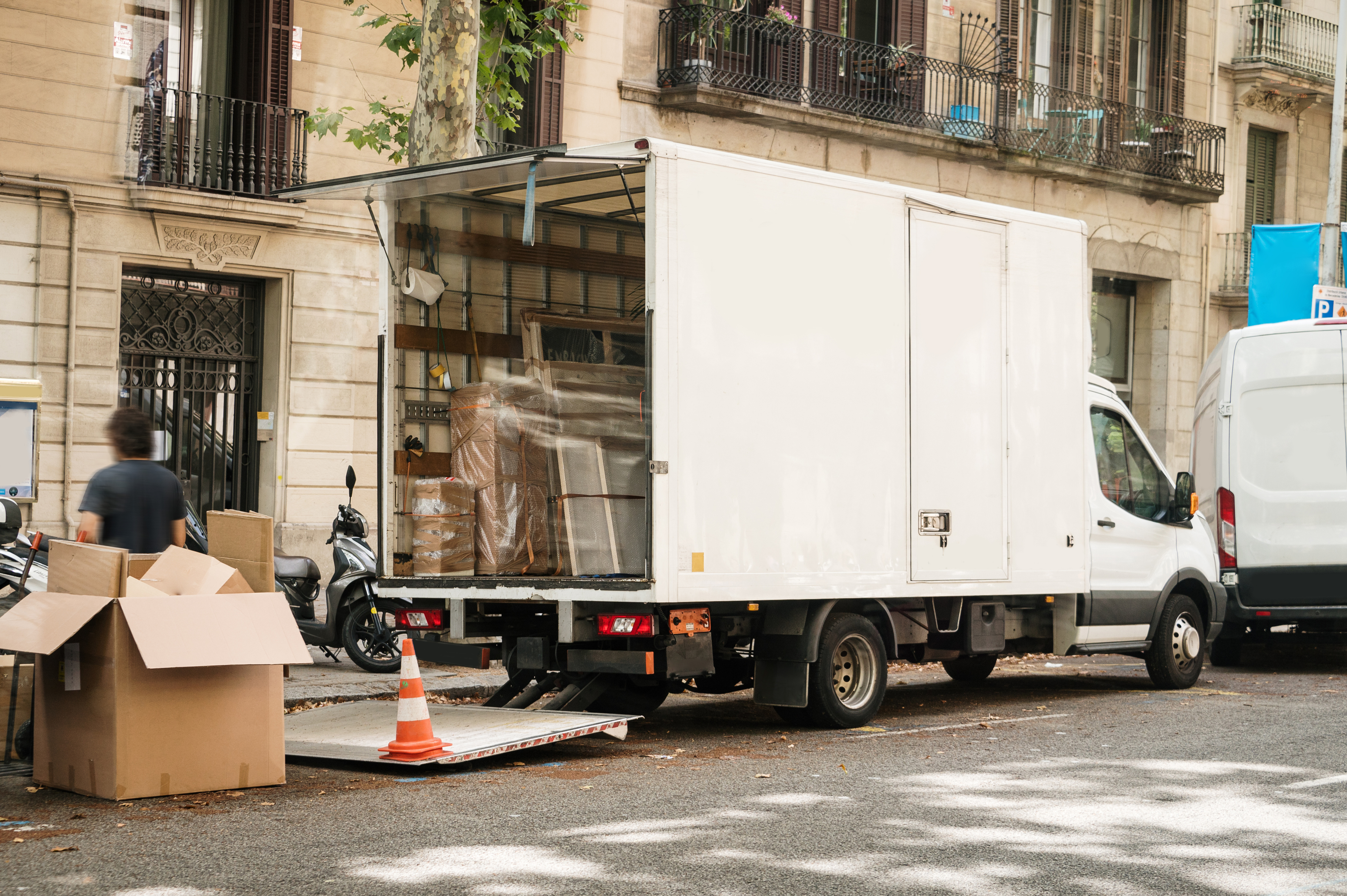 ---
Read on to learn everything you need to know about getting a moving truck, including where to get the right permits, where to avoid driving it, and even how to score free furniture for your new pad.  
Why is Moving in Boston So Difficult?
This is especially visible in the neighborhood of Allston, known for its high population of students and large amount of rental housing, where September 1 is also an unofficial holiday called Allston Christmas. Students who only needed temporary housing for a year or two often leave behind barely used furniture, kitchenware, décor, and whatever else they don't want to take with them. One business even hired carolers for the occasion a few years ago.
You may find some barely used furniture on the street during Allston Christmas.
On moving day, traffic often slows to a crawl and people moving from out-of-town can get confused when a member of the Boston Police Department motions them through a red light just to keep traffic moving. Plus, Boston is known for its narrow, winding streets, so driving a moving truck can make you feel a bit like a bull in a China shop.  
Renter tip: Visit the neighborhood where your new home is in advance of moving day to scout out how you'd drive and park a truck in that area. Similarly, look around online to see if the area you're moving to has parking restrictions and changes to traffic flow on moving day. For example, Roxbury may have different moving requirements than Back Bay or the North End. Look for more information on boston.gov.
How Do I Get a Parking Permit in Boston?
When you're moving in the Boston area, the best-case scenario is that you have a dedicated parking space where you can leave your truck. However, this is a rarity. So, if you plan on renting a moving truck, you may want or (even need, depending on the rules of your municipality) parking permits. These give you a legal right to two contiguous off-street parking spots so you can park your truck.
How you get a parking permit may vary depending on where you live; always check on the requirements with your town website. In the City of Boston, you can get them in person at City Hall or online. They cost $110 each and you must get them at least 15 days before your move. Meanwhile, in Somerville, they cost $40-$75, you have at least four days before your move to get them, and you have to get them in person. You'll also have to call the City to let them know you posted the signs, and call again when you remove them.
Permits are generally valid for one day only, from 7:00 AM to 5:00 PM. 
Where Do I Find a Moving Truck in Boston?
Boston is served by many moving companies – U-Haul, Penske, Home Depot, Ryder, to name a few. However, while there are many locations for truck rentals in Boston, you shouldn't count on being able to actually pick up a truck you reserved in the city. Demand is so high, and people often return trucks late if their moves are delayed by traffic.
Plus, like you competed with other tenants for a limited number of apartments in the city, you're also competing with lots of other movers for a truck rental. If you waited until the last minute to find a truck for your moving date, you may end up having drive to a suburban location in Massachusetts where trucks are still available.
Renter tip: If you can't find anything for August 31 to September 1, you may be able to move with some creativity — you can temporarily move your stuff into a storage unit and move it with a truck once they aren't in such short supply. Whatever you do, just make sure you plan ahead — and have a backup plan. 
What Size Moving Truck Should I Get?
A cargo van would work best for a studio apartment or if you are just moving furniture from one bedroom.
A 15-foot truck is best for two bedrooms or less.
A 20-foot truck fits two to three bedrooms.
A 26-foot truck will fit four or more bedrooms worth of stuff.
Cargo vans will be the easiest to drive and park, but they do come with the drawback of having less space than a box truck. The most common options are 12- and 16-foot trucks — which means that they also have the steepest competition.
You'll notice that people in Boston will use any vehicle they can get their hands on as a moving truck. One roommate I had ended up having to borrow my foldable grocery cart and do a lot of his move with that because the friend getting a truck for him got into a car crash. 
How Do I Drive a Moving Truck in Boston? 
Driving on Boston's narrow and winding roads is difficult enough, but a truck requires you be very careful — especially on moving day when you can expect a lot of traffic, a lot of haphazardly parked vehicles, and a lot of people walking around with bulky or large items.
Another fun quirk about Boston's streets is that the city grew over the years by annexing neighboring cities and towns, but never changed their respective street names to be unique. As a result, it's very important to specify the ZIP code of any address, because of the many Washington, Mount Vernon, Everett, and Chestnut Streets (among others) that are out there. One landlord I had a few years ago ordered a dumpster for the apartment so he could clean out a garage. The apartment was on Mount Vernon Street in Brighton, and the dumpster was delivered to Mount Vernon Street in Beacon Hill.
Avoid going down Storrow Drive in a moving truck.
But the three most important things to remember about driving a moving truck in Boston are:
Never go down Storrow Drive
Never go down Storrow Drive
Absolutely never, ever take a moving truck down Storrow Drive.
Storrow Drive is a surface highway in Boston. It's one of the main routes for getting anywhere in the city, with access to I-90 and I-93. It's especially useful for getting to Allston-Brighton. If you're moving to Boston, your GPS will most likely direct you to take it, but you must choose a different route manually if you're driving a moving truck. The reason is that it's crossed by a number of bridges, which are only 10 feet high. A typical moving truck has a height of 12'6" — meaning that you're going to get your truck stuck on the road. This is known as "Storrowing" around Boston.
One or two Storrowings happen every year. People can be injured, traffic can be slowed or halted, and you might be liable for damaging the truck. Soldier's Field Road, which is a continuation of Storrow Drive and Memorial Drive in Cambridge, also has bridges with a low clearance that you'll want to avoid. Note: Not every vehicle you can rent for a move is high enough to be affected (U-Haul cargo vans fit), but if you don't know the height of your truck, play it safe and avoid the hassle of going near Storrow.
How Do I Pack a Moving Truck?
How you pack your truck will depend on what stuff you're bringing along with you in your move, but there are a few best practices everyone should follow:
Put your heavy stuff in first, then lighter stuff. This will make driving the truck safer and easier. Start with big pieces of furniture (keeping headboards, couches, and tables upright) and ease into your boxes and clothes.
Dissemble bulky furniture if possible to make it easier to load and unload the truck. Think: bed frames, dining tables, desks.
Place large pieces of furniture, like couches and tables, upright rather than laying them horizontally.
And in Allston, just be careful if you're leaving your stuff on the street while moving, even if it's just for a short period of time. Because there's so much new furniture getting abandoned on the street during Allston Christmas, your stuff may get mistakenly taken by someone looking for free furniture. Have a friend watch over it if you want to be extra cautious.
The Bottom Line
The best thing you can do when moving in the Boston area is plan in advance. There's steep competition for moving truck rentals in the city, so you'll want to act early to ensure you can rent the kind of truck you need; otherwise you may have to go with a bigger or smaller truck than you planned for, which can make moving, driving, and parking a hassle. Check the city's online resources before you move as well to see if you need to get a parking permit in order to park a truck on a street in your new neighborhood.
We rate and sort every listing based on fair market rent.