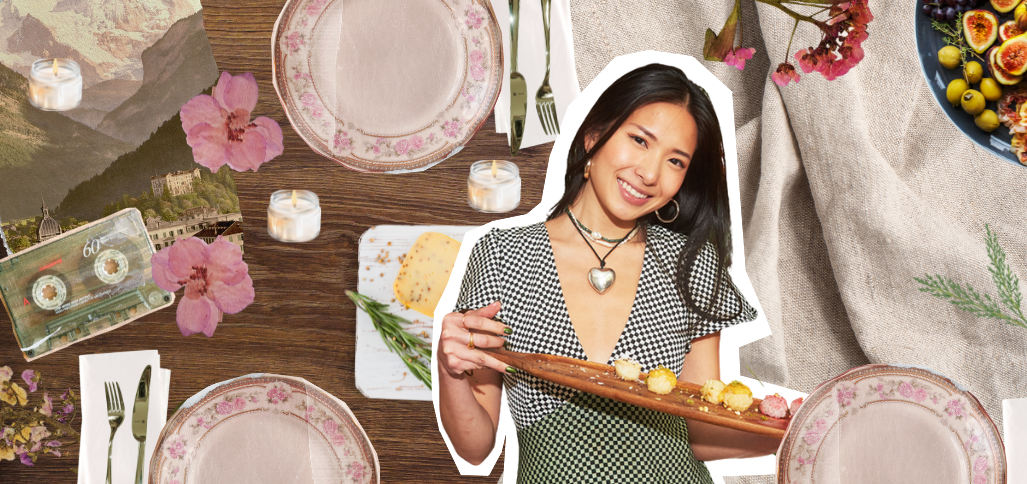 Throwing the Perfect Apartment Dinner Party with Pearl Banjurtrungkajorn
---
In 2019, then-New Yorker Pearl Banjurtrungkajorn, 26, named her dinner table. She and her roommate Misha Sumitra had been regularly hosting dinner parties for their friends in their Brooklyn apartment, and wanted to honor the table that had been at the center of so many of their best memories. They went with the name Nala — an homage to Disney's The Lion King.
When the pandemic hit, the roommates were determined to keep the sounds of clinking silverware and clattering plates alive in their apartment, even if they couldn't invite friends over due to safety restrictions. They made a weekly date to go all out for dinner — imagining fun themes, setting elaborate tablescapes, cooking meals with several courses, picking the perfect playlists, and lighting just the right amount of candles — and chronicled it all on their social media accounts for their friends to follow along on their journey. Soon, their following on Instagram began to take off — and brands started to ask them if they could recreate these intimate and exciting dinner parties for them.
Now, they own a boutique social and supper club, and it has a familiar name — Her Name is Nala. With their company, cofounders Banjurtrungkajorn and Sumitra work with brands or clients to create bespoke dining experiences that encourage people to unplug, open up, and meet new people in new settings. Most recently, they did a collaboration with SoHo House Bangkok to celebrate the opening of the club location. They've both since left the apartment that started it all, and now the company is based in Los Angeles, New York, and Bangkok. The goal is to provide dinner experiences across the globe, and take the food world by storm.
With spring in the air, we sat down with Pearl Banjurtrungkajorn to plan the perfect dinner party. Follow along, and if you're feeling inspired, use this guide to recreate the spring garden party of your dreams — right from your apartment.
The Theme
For our perfect apartment dinner party, we decided on: a whimsical, garden party theme to make the most of the season.
According to Banjurtrungkajorn, a theme is one of the most important elements of a successful dinner party because it will inform the rest of your decisions for the event.
"The theme will be the underlying chord that binds everything together — whether it be the tablescape, the menu, the drinks, what people are going to wear, what music is going to be played, what activities you can play at the dinner table," she says.
A theme can be based on the time of year, but it can also be created around one of your interests. For example, for one client who was particularly fond of Italy, Banjurtrungkajorn created an entire party around the theme of lemons — one of the exports that Italy is known for.
"It looks like a little bit undone, but super whimsical, and feels like the spring time breeze is like coming in and infusing the space with all these floral scents."

— Pearl Banjurtrungkajorn
The Color Scheme
To match our spring theme, our color scheme needs to evoke the fresh feeling of the season. Banjurtrungkajorn describes it in one word: "Verdant."
For this party, she would fill the room with pastel hues, like:
Lavenders
Pinks
Corals
Peaches
Yellows
Greens
You can incorporate these colors in a few ways: from candles and flowers to glassware, tableware, and linens. You can even incorporate your chosen color scheme in your menu and drink choices if you are aiming to achieve a really cohesive look.
The Tablescape
"We eat with our eyes first and foremost, before we taste the food." Photo courtesty of Pearl Banjurtrungkajorn.
Also called table-setting, a tablescape is an artistic or themed way of serving food on a dining table — involving various decorative elements like flowers or centerpieces; candles; different types of tableware, glassware, and cutlery; and napkins and linens, to name a few.
At our garden party, Banjurtrungkajorn would lean into whimsy and her desired color scheme when setting her tablescape, using:
Colorful, tapered candles
Floral-inspired plates, or plates with scalloped or colored rims
A billowing, white table runner
Anthurium flowers, also known as laceleafs, and ranunculus flowers (preferably in peach, color, or pink!)
"It looks like a little bit undone, but super whimsical, and feels like the spring time breeze is like coming in and infusing the space with all these floral scents," she says.
Naturally, the table and corresponding tablescape is one of the most — if not the most — important part of a dinner party for Banjurtrungkajorn. A dedicated dining room or table is a luxury for an apartment, especially for a smaller space, but don't let that discourage you from planning a dinner party. If you don't have a large table to eat at, get creative. Banjurtrungkajorn recommends bringing in fold out tables if space allows and covering them with a tablecloth if space allows. Plus, with a table comes a tablescape — and that's where you can really lean in to the aesthetics of your theme.
"We eat with our eyes first and foremost, before we taste the food," she says. "It has to look presentable… I do love the aesthetic aspect to having a dinner party and getting the candles, getting the crudites on the table, and playing with colors using flowers or elements from nature."
The Menu
This menu would be created around seasonal produce — with a focus on freshness and color. At Banjurtrungkajorn's ideal apartment garden party, she would prepare:
As far as drinks, a few options she would pair this meal with include:
Natural wine, preferably a "funky" orange, but she would also recommend a light Lambrusco or a Sauvignon Blanc

"There's this big connotation when it comes to dinner parties that you have to be this absolute hostess doing every single thing by yourself, but that is really not the case."

— Pearl Banjurtrungkajorn
To create a more fun and friendly environment, Banjurtrungkajorn likes to serve her food family-style at her dinner parties — meaning, big, shareable platters that get passed around the table. This setup tends to spark conversation and encourage guests to talk to their neighbors. "It's supposed to be intimate, not highbrow," she says.
You don't need to have a culinary background to create a great dinner party; Banjurtrungkajorn herself doesn't. She learned to cook from her mom while growing up, and then attended the school of trial and error once she moved out.
The Playlist
Talking is the priority of any great dinner party, but the right music is crucial to creating the right environment for connection. You don't want it to be too loud or distracting.
If Banjurtrungkajorn was throwing this party, she would let French musicians take the lead. The stars of her playlist would be:
The Guest List
The guest list can make or break a dinner party. Photo courtesy of Pearl Banjurtrungkajorn.
The guest list can make or break a dinner party — and the beauty of dinner parties is that you can meet and introduce new people. The guests don't have to all be close friends with each other or even with you, the host. So, when planning a dinner party, don't be scared to be a little controlling when thinking of the guests, Banjurtrungkajorn says:
Feel free to invite some close friends who you feel comfortable with, and encourage them to bring a plus-one.
Make a seating plan or chart, where you place people with similar interests next to each other to spark conversations. If you know two people who have been abroad in the same country, or may have a mutual friend, or mutual career interest, seat them next to each other and see if they can form a new friendship. Focus on connecting the dots between people.
"The crux of a good dinner party is the people and the conversations," Banjurtrungkajorn says. "You can have the best food and the best drinks in the world, but if the conversations aren't flowing, if people don't feel comfortable and are not open, that's just a complete killer for the vibe of the dinner party. The guest curation is very, very important."
Activity
A dinner party doesn't always need to have an activity, but it can be a nice touch that can bring an otherwise shy guest out of their shell.
Harking back to the spring theme, at this party Banjurtrungkajorn would encourage guests to:
Bring flowers — whether they're foraged wildflowers or purchased flowers — to create ikebana arrangements, which are a Japanese artform that involves creating decorative flower arrangements. Not only will guests have a chance to connect over this activity at the party, but they'll leave with a piece of art that will remind them of the party for weeks to come.
The Details
If you want to go above and beyond for your dinner party, feel free to spend a little extra time decorating the space where you will be entertaining your guests. One option is making handmade menus, place cards, or invites. Another is to hang string lights.
For a spring garden party, Banjurtrungkajorn recommends: opening your window slightly and hanging a wind chime near the breeze.
Tips & Tricks
Throwing a dinner party can feel overwhelming if you haven't done it before, but it's well worth the time and effort. Plus, you don't need to do it all yourself.
"There's this big connotation when it comes to dinner parties that you have to be this absolute hostess doing every single thing by yourself, but that is really not the case," Banjurtrungkajorn says. "I would say some of my most fun and like carefree dinner parties were hybrid potlucks. So, whatever cooking can be alleviated, should."
There's also plenty that you can do in advance, like heading to farmer's markets to see what's in season or cooking certain meals that keep well a day or two before.
When it comes to cooking, a few key tips to keep in mind are:
Encourage guests to bring home-cooked meals if you don't mind giving up control of the food
Start looking at recipes a week or two in advance, and make a checklist of ingredients
Creating a detailed timeline for when and where you are going to buy your ingredients, to create a flow for yourself leading up to the party
On the décor front, you also shouldn't feel pressured to break the bank at a home goods store. Some of Banjurtrungkajorn's favorite table- or glassware finds have been at thrift stores or on the sidewalk in New York City. Head to your local thrift or consignment store to find eclectic pieces to add to your collection.
---
We rate and sort every listing based on fair market rent.