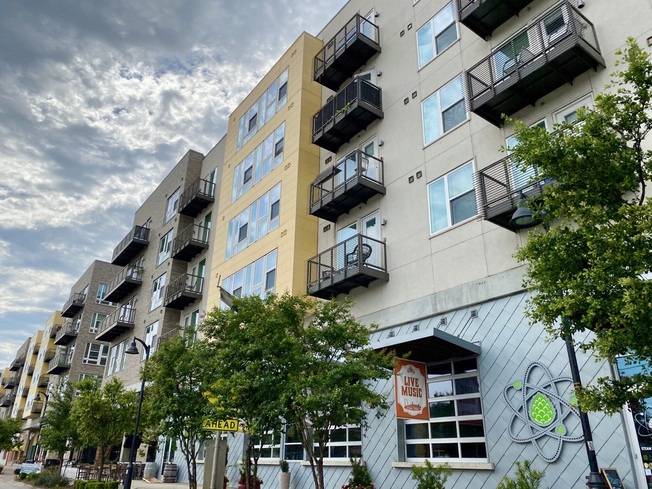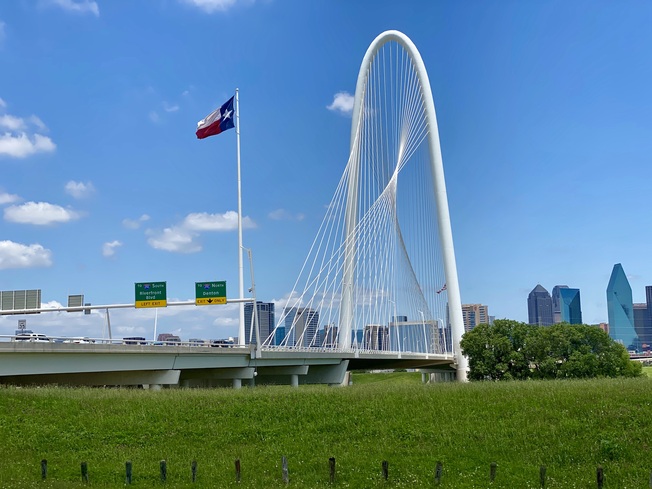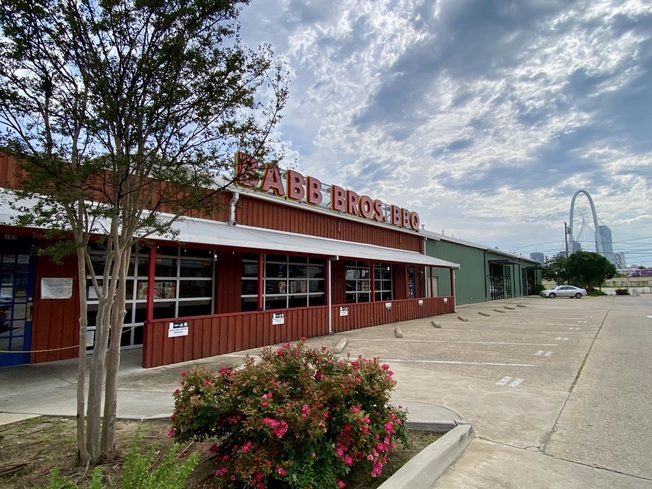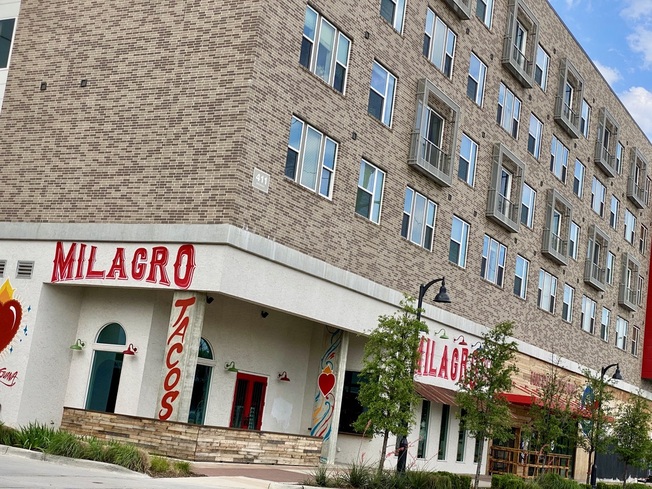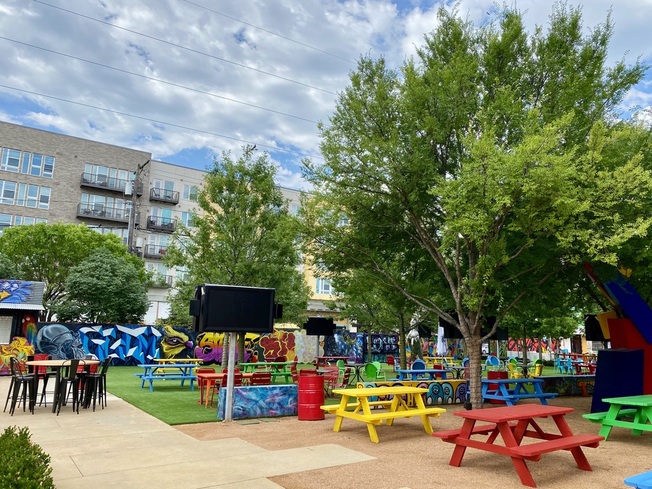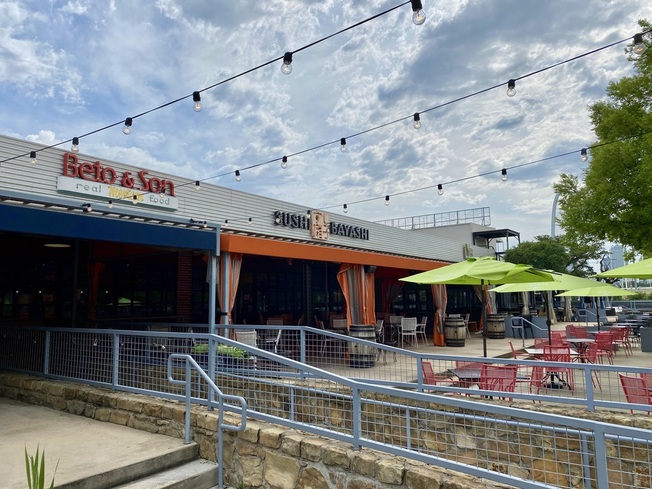 ---
The Trinity Groves neighborhood started with what locals dubbed a "bridge to nowhere," a project with a whopping $120-million price tag that would connect Downtown Dallas to West Dallas. The main expense was the bridge itself, which bestows the city with the spectacular visual gift of sweeping arches and an intricate cable design by Santiago Calatrava. The Spanish architect had a vision to use his work to transform the area into a gathering place for people from all over Dallas-Fort Worth — something it hadn't been for decades. And it worked.
The bridge that now spans the Trinity River opened in 2012, and the West Dallas neighborhood quickly began one of the most dramatic transformations in the city's history, complete with a rebrand that would make "Trinity Groves" two words synonymous with one of Dallas' most festive dining scenes. The 15-acre entertainment destination kicked off with only two restaurants, but it now features more than a dozen. Visitors flock to eateries and food shops on both the main campus, which occupies a former warehouse, and across the street in a multi-use complex featuring retail and eateries on the lower level and apartments with killer views of Downtown from the floors above. Because of the enormous success of the restaurant development, the area has continued to thrive, with sleek apartments in Trinity Groves drawing more people to the neighborhood. As new apartment complexes have popped up, the residential base has grown, turning the area into a real community. Suddenly, Dallas had a bridge to somewhere. Somewhere special.
Trinity Groves remains a bit of an island when it comes to mass transit with no easy-to-access light rail stations served by the Dallas Area Rapid Transit (DART) system. However, several bus stops along the main thoroughfare of Singleton Boulevard make it possible to connect to light rail lines and into the far reaches of Dallas-Fort Worth.
At the epicenter of Trinity Groves, the walkability is fantastic when it comes time for a meal, but apart from restaurants, services lie almost entirely outside the immediate neighborhood. And though biking could technically be feasible, it's a rare sight other than on nearby trails. So, it should come as no surprise that most residents in this area rely on their cars and trucks to get where they need to go. Just across the Margaret Hunt Hill Bridge, the entire region is ready to explore with connections to nearly every major freeway system in the city accessible within minutes.
Trinity Groves debuted as a food destination, and it's true to its origins to this day, becoming one of Dallas' must-visit hot spots for North Texas locals while offering neighborhood citizens the ultimate in convenience and an abundance of choices.
Within the main Trinity Groves compound, all Singleton Avenue-facing eateries are connected by a massive covered patio, making it a great place to dine, drink, and enjoy the city views nearly year-round. Meanwhile, what started as a parking lot in front of that long patio has been transformed into Art Park. The new, dedicated area is highlighted by graffiti murals from West Dallas street artists and plenty of shaded areas covered by umbrellas and newly planted trees. Bar food can be procured from the Art Park kitchen, which serves Hoffman Hots hot dogs, burgers, wings, and a variety of State Fair of Texas-worthy foods (SpaghettiOs fritters, anyone?). And ice-cold adult beverages from the frozen drink bar offer those of age a great way to keep cool.
One of the biggest selling points of Trinity Groves has always been the variety of cuisines available. So, if bar food is not what you're craving, you can order up your favorites from any of the on-site restaurants to enjoy in the Art Park, inside each restaurant's dining room, or on the covered patio. AvoEatery brings all things avocado to the table, from guacamole flights and Cajun shrimp cocktail to less-expected options such as creamy avocado-infused cocktails and desserts. Babb Brothers BBQ, one of the original two restaurants at Trinity Groves, doles out excellent smoked meats and sides. Beto & Son brings together an experienced chef and his innovative son who's following in his dad's footsteps while recreating Tex-Mex classics. Many items here hit the table with a bit of showmanship (make sure to get your camera ready for the liquid nitrogen margaritas). Holy Crust satisfies pizza cravings with a variety of delectable pies. Hula Girl Poke brings a fresh taste of Hawaiian waters with its light poke bowls. LB Wings lets you order wings or tenders by the pound with more than 11 flavors and eight dipping sauces. Sum Dang Good Chinese specializes in made-to-order Asian classics. Saint Rocco's hails from one of Trinity Groves' co-founders and national restaurant royalty, Phil Romano. With a nod to New York-style Italian fare and a second-floor patio with the best view of Downtown Dallas and the Margaret Hunt Hill Bridge from any restaurant in the area, it's a must-visit. For sweet treats, get a glorious sugar rush from Cake Bar or edible works of art at Kate Weiser Chocolate. A little farther down Singleton, Milagro Taco Cantina serves Tijuana-style tacos and Mexican food. Or compare the between-bun offerings at both Whiskers Fish and Burgers and Wimpy's Famous Burgers.
When happy hour beckons (or day drinking is on the weekend agenda), you can wet your whistle at any of the restaurants in Trinity Groves. But for a more dedicated drinking experience, check out the membership-based Network Bar, a social space created specifically for business professionals to mingle and build relationships with other movers and shakers. Leave work behind entirely as soon as you step into the 440 Rattler Bar inside Lone Star Axe Throwing. Or toss back a pint or two at Steam Theory Brewing, a brewpub with a variety of beers made on-site, along with a full bar and a variety of sandwiches and artisan pizzas.
Grocery stores in Trinity Groves are rather limited, but you will find a Jerry's Supermarket a few blocks down Singleton from the main Trinity Groves hub. Or you can quickly pop over to specialty grocer Cox Farms Market at nearby Sylvan Thirty, only a few minutes away.
Trinity Groves' primary draw continues to be for restaurants, but retailers are starting to trickle in alongside a couple of well-established stores. SEPT Showroom brings together a variety of designers, mainly focused on women's apparel and fashion accessories with an emphasis on sustainability. Yellow Rose Barbershop, Ray's Hardware and Sporting Goods, and a few tattoo shops round out the local retail and service options in the immediate area.
Even though restaurants and residential buildings are the main attraction of the area, the river at the eastern edge of Trinity Groves not only lent its name to the neighborhood, but it's also a major draw in its own right. The Trinity River water levels can fluctuate drastically with the seasons, but you're almost always guaranteed a delightful respite in nature when walking along its shores, hiking its trails, or simply relaxing and soaking up the dramatic juxtaposition of urban and bucolic at every turn. The Trinity Skyline Trail offers nearly five miles of hard-surface paths, perfect for pedestrians and cyclists — all with views of Downtown Dallas in the distance, an especially enjoyable sight from Trinity Overlook Park. Another great vantage point can be found from the Ronald Kirk Pedestrian Bridge, named after a former Dallas mayor and the perfect place for taking pictures with the Margaret Hunt Hill Bridge and the skyscrapers just beyond.
Indoor recreation in Trinity Groves is also available. Test your skills at Lone Star Axe Throwing. Take in some experimental theater with Dead White Zombies. See visible results with performance-driven fitness at Athletic Zone 214. Or experience contemporary art at 500X Gallery in its converted, circa-1916 tire factory space.
Heading back outdoors, take a one-mile walk or drive to absorb some of the area's wilder history outside the childhood home of Clyde Barrows (of Bonnie-and-Clyde notoriety) a few blocks down Singleton.
As one of the newer and highly coveted residential areas for the city's students, apartments in Trinity Groves house students from many nearby universities and colleges. These include Southern Methodist University (SMU) about 10 minutes away in University Park, across the bridge to Downtown where multiple Dallas College campuses await, or the University of North Texas at Dallas only about 15 minutes south.
We rate and sort every listing based on fair market rent.