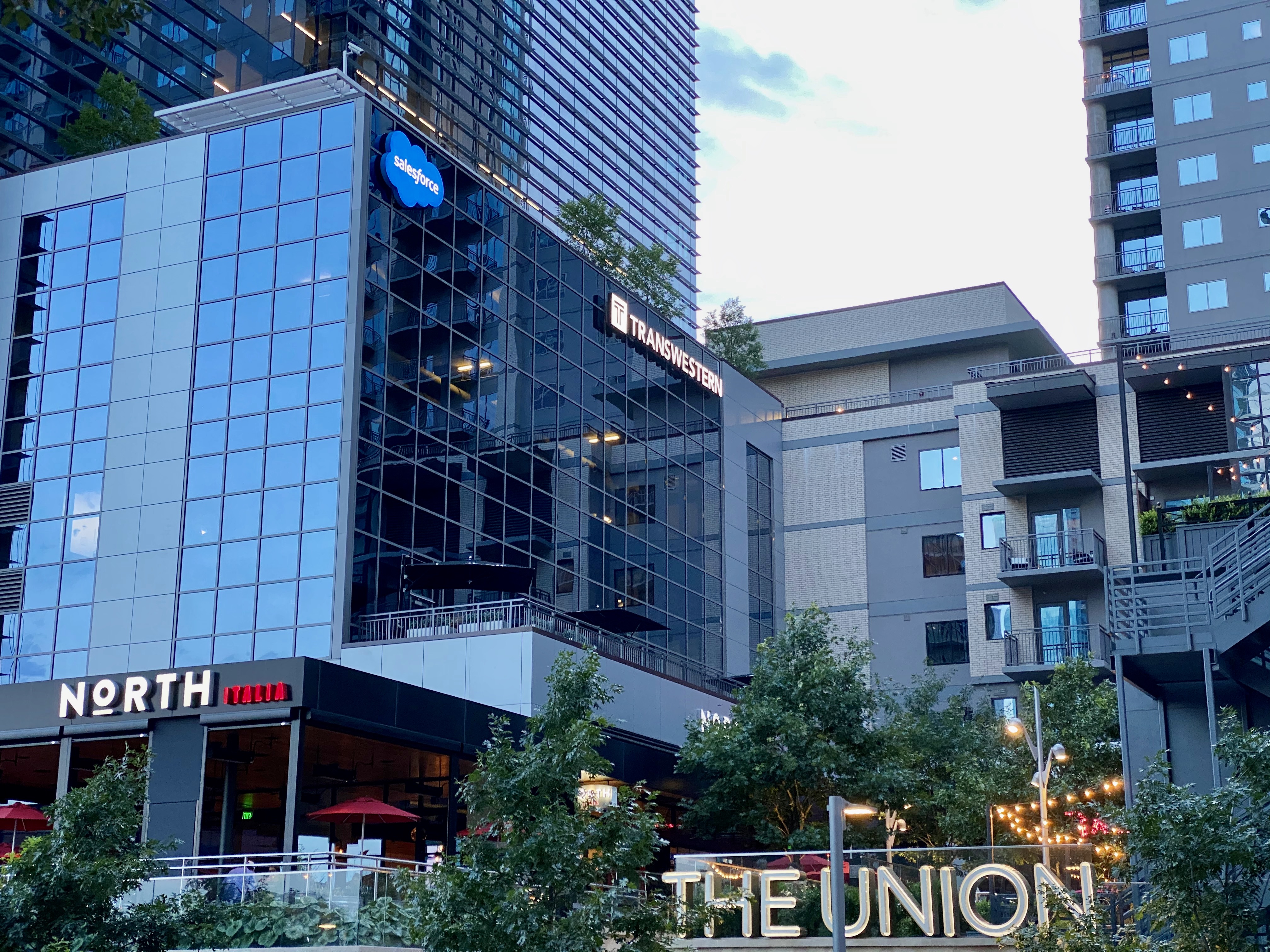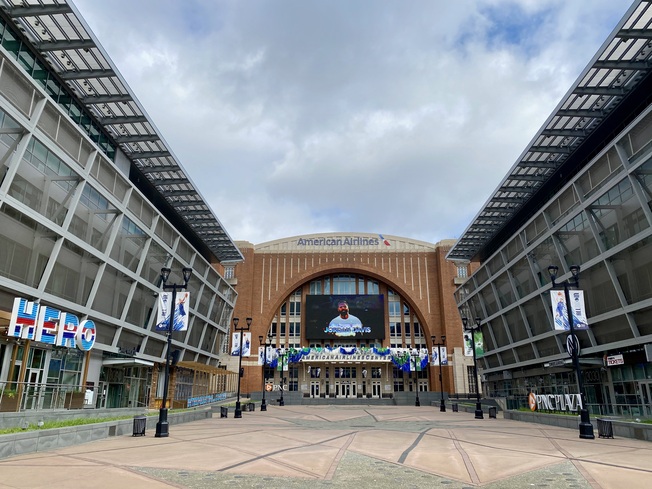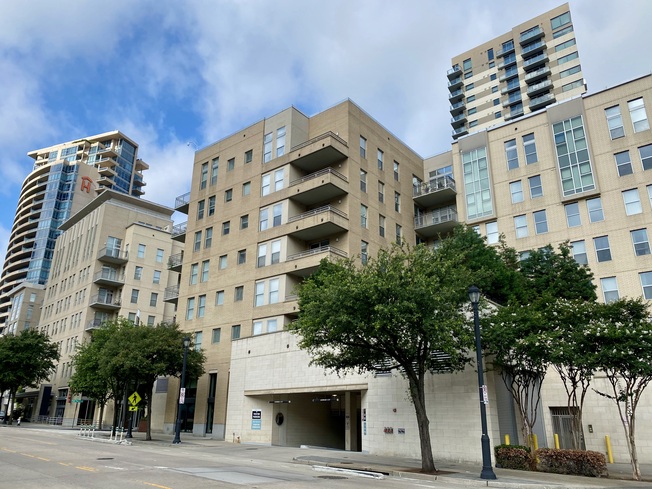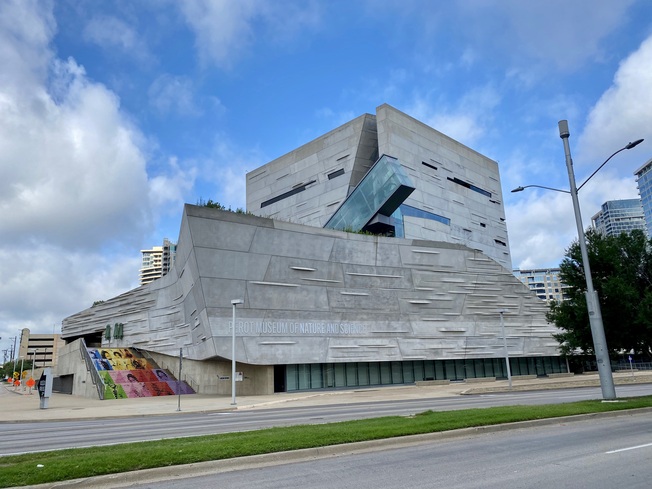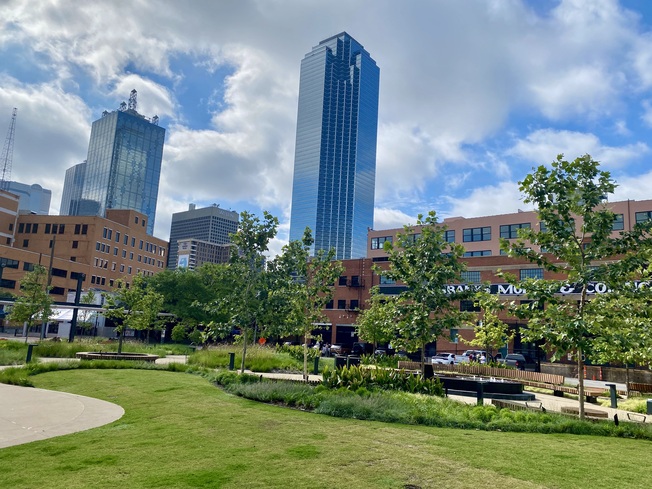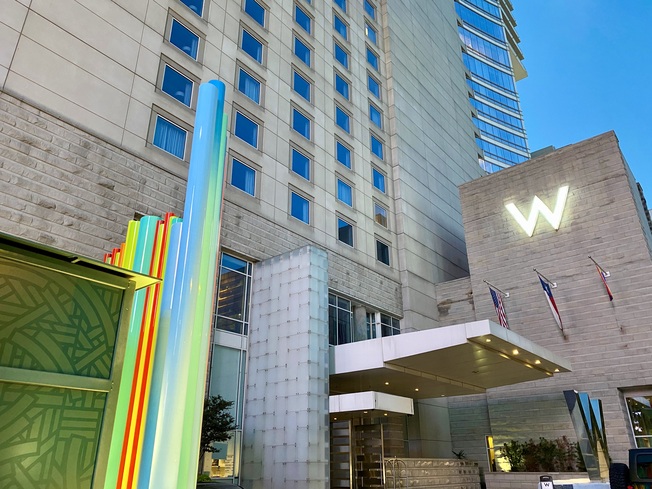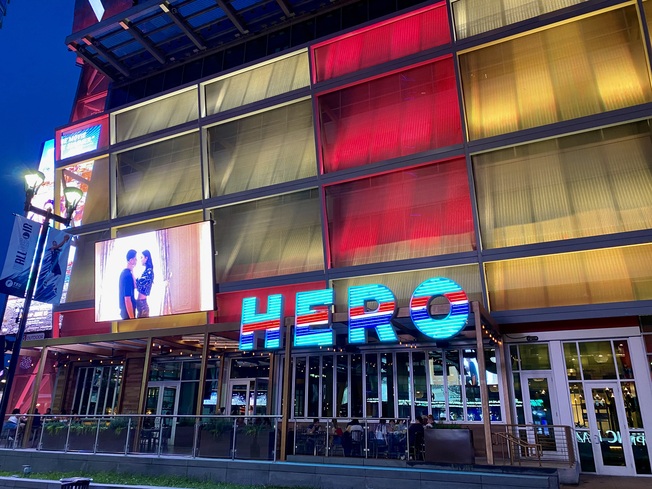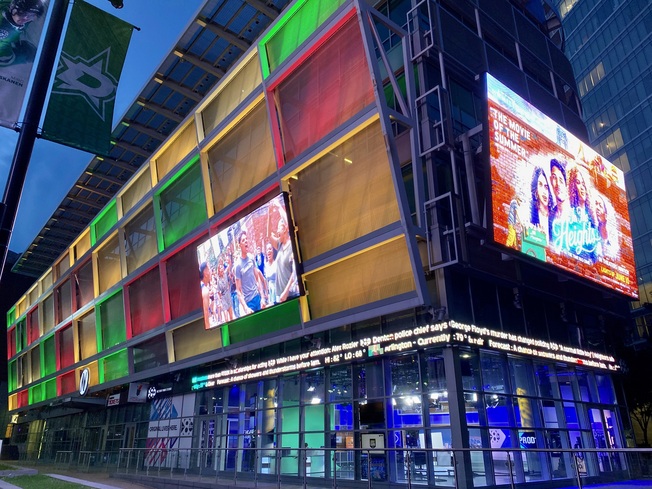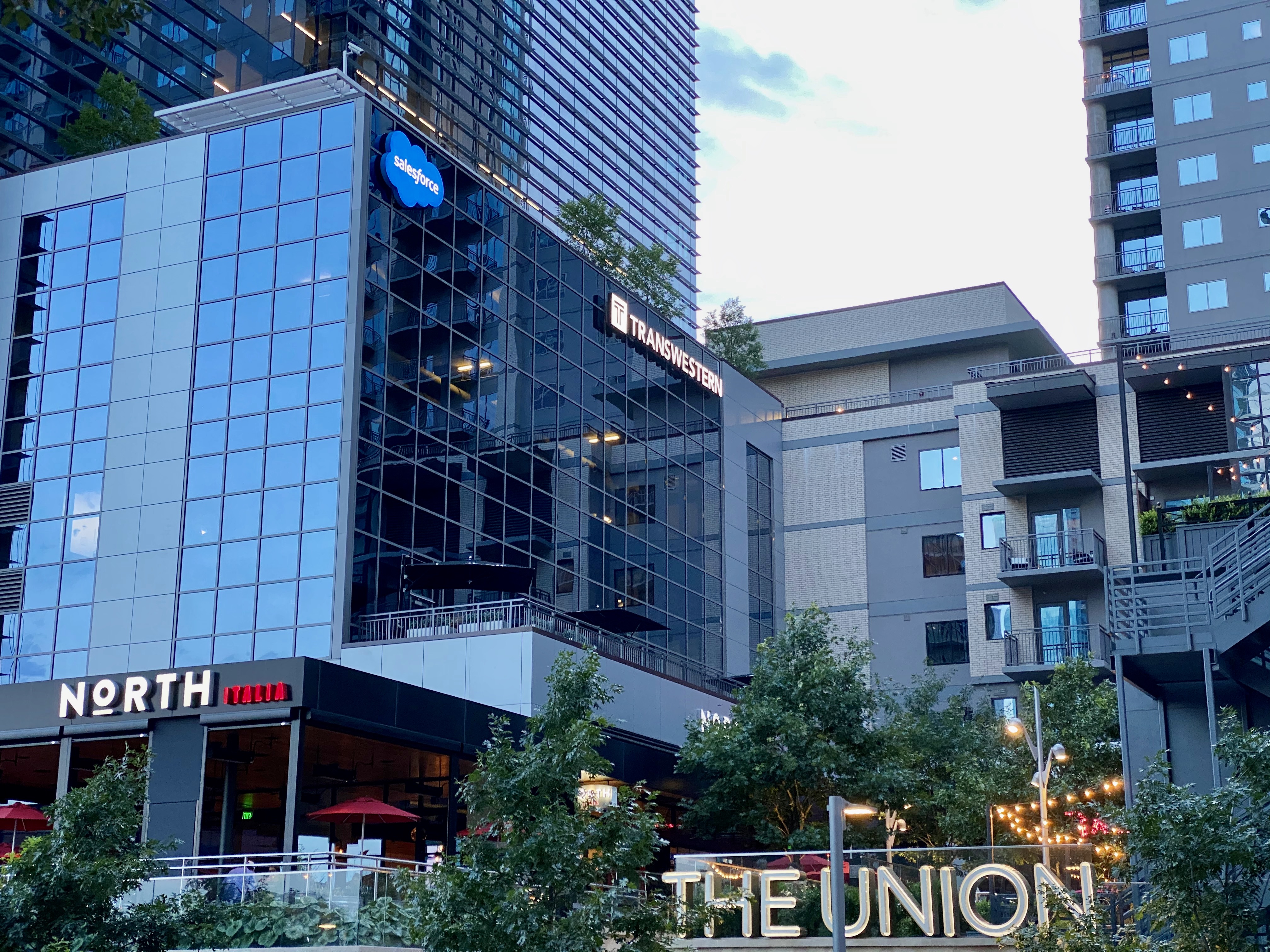 ---
| | Median Rent | Median Sqft |
| --- | --- | --- |
| Studio | - | - |
| 1 Bed | $4,200 | 1,212 sqft |
| 2 Beds | - | - |
| 3+ Beds | - | - |
A mere 75 acres (.12 square miles), Victory Park is one of the smallest — but most amenity-packed — ultra-modern neighborhoods in Dallas. Its rise in popularity has been fueled by a multi-billion development project in recent years. But the neighborhood's evolution has been nothing short of amazing for anyone living in Dallas long enough to remember what was on this land pre-1999: an old power plant, grain elevator, and rail yard.
Sandwiched between Downtown Dallas and Uptown, the district is separated by Spur 366 (Woodall Rodgers Freeway) and Interstate 35 (Stemmons Freeway), which made it feel a bit isolated in the beginning. As part of Victory Park's expansion, the American Airlines Center was sited here, and a burgeoning area was born. The original plan included expensive restaurants and equally luxury-minded retail boutiques, which, when paired with one-way streets and a lack of storefront visibility from the main thoroughfare, made the development a real challenge.
Office buildings were also designated for the area, but that changed practically overnight during the economic downturn between 2007-2009. Apartment communities rose in their place and transformed the planned entertainment district into more of a residential neighborhood that just happens to be anchored by a major concert venue and arena home to the Dallas Mavericks NBA basketball team and the Dallas Stars NHL hockey team. Though the area has its share of luxury high-rises, a fair amount of apartments can be found in an accessible price range, especially considering the numerous advantages of living in Victory Park. More recently, changes were made to the traffic patterns for both pedestrians and cars, which combined with more affordable options for dining, drinking, and access to entertainment completely transformed Victory Park into far more than a special-occasion hangout. Today, Victory Park is equally appealing as a place to live as it is a place to eat, drink and be entertained.
The extreme walkability of Victory Park adds to the appeal of living in such a relatively new neighborhood. Restaurants, bars, a grocery store, and other services are all easily accessible on foot, not to mention having two major concert venues, a top-rated museum, and a luxury movie theater practically at your doorstep. Because it's also the starting/ending point for the Katy Trail, the area is also cyclist-friendly.
The location of the Dallas Area Rapid Transit (DART) light rail system's Victory Park Station adds to commuter convenience. Located across the street from the American Airlines Center's Victory Avenue entrance, the station serves both the Green line (North Carrollton/Frankford Station to Buckner Station) and Orange line (DFW Airport Station to Parker Road Station). During special events such as concerts, basketball games, and hockey matches, the Red line (Parker Road Station to Westmoreland Station) and the Blue line (Downtown Rowlett to UNT Dallas) both operate for a brief period after an event's conclusion. The Trinity Railway Express (TRE) commuter train that runs between Union Station and Fort Worth T&P also can be boarded at Victory Station, making it extremely easy to ride to Fort Worth instead of driving more than 30 minutes.
Lot parking in Victory Park is plentiful, and much of it is free for two hours with validation from certain businesses. Garage parking is also available, as well as parking meters along most streets. Other driving perks include less-than-five-minute access to Interstate 35 (Stemmons Freeway) and Spur 366 (Woodall Rodgers Freeway) from anywhere in Victory Park.
When it comes to grocery stores in Victory Park, there are several options. One of the most significant recent additions to the neighborhood is a beautiful Tom Thumb grocery store with a full-service pharmacy, bakery, and a wine and beer bar inside the Union Dallas. This development is also home to the Henry, North Italia, Tacolingo, Royal 38, and Creamistry Dallas, meaning those living in the building or nearby need not travel far when hunger strikes.
Elsewhere in Victory Park, a variety of restaurants await for everyday dining or as festive pre- or post-event hangouts. Head to: Dibs on Victory for American food, Feed Me Pronto for quick grab-and-go, House of Blues Restaurant & Bar for comfort food faves, Imoto for sushi, Jinya Ramen Bar, Mad Pie for pizza, Medina Oven & Bar for Mediterranean, Mesero for Mexican, Mio Nonno for Italian, Mot Hai Ba for French Vietnamese, and Shooters for pub fare. Most of these spots offer fun bar scenes, but Billy Can Can Saloon, the Living Room Bar inside the W Dallas-Victory hotel, the Burgundy Swine wine bar, and the Foundation Room inside House of Blues Dallas take drinking with friends to new levels. Coffee and/or sweet treats can be found at Aqua S, Brewed + Press, Insomnia Cookies, Café Victoria, and Sift + Pour.
Meanwhile, HERO by HG Sply Co. occupies several categories with six different bars, a live music stage, tons of arcade games, and other competitive activities, plus lots of patio space. Not to mention a great view of the plaza outside American Airlines Center, which offers excellent people-watching on game days and concert nights.
You won't find many shops in the area, but Victory Park's handful of boutiques give the neighborhood an extra sense of community because you know you're supporting a small business where they'll get to know you fast. Read Between the Lines offers hand-poured candles, home décor, and a variety of gifts. Biagio Wine & Spirits can help you stock your bar. Simply Elegant blooms daily with floral arrangements. The Hangar features Dallas Stars and Dallas Mavericks team merchandise. And V.O.D. Boutique is an independent fashion boutique specializing in women's apparel and accessories.
Of course, the most popular attraction in Victory Park will always be American Airlines Center, which pulses with activity most nights of the week, livening up the entire neighborhood with the energy of thousands of new people. Down the street, House of Blues also welcomes live music acts, comedians, drag shows, gospel brunch, and other acts to its multiple performance venues. For the ever-curious, the main campus of the Perot Museum of Nature and Science is a great place for learning at any age, plus adults-only theme nights with cocktails are a popular pastime. And Cinépolis Luxury Cinemas Victory Park provides a first-class movie-watching experience.
Even though there's not a major greenspace in tiny Victory Park, it's at the starting point of the Katy Trail. One of the city's most popular outdoor destinations features miles of paved trails for cyclists and pedestrians, with a separate trail specifically for walkers and runners only. On the opposite side, the West End Historic District lies just steps beyond Victory Park. Its new West End Square gives visitors plenty of ways to relax and contemplate. Whether it's sitting in a porch swing, getting some work done remotely at the 50-foot table with free Wifi and electrical outlets, or appreciating the public art and performances at the high-tech Innovation Arcade installation, this ¾-acre park has transformed the area.
Due to Victory Park's proximity to Downtown Dallas, but also based purely on the neighborhood's appeal to young professionals and others seeking a bustling urban vibe, students can be found among the diverse array of apartment dwellers. The several Downtown Dallas colleges and universities are convenient enough for a walkable commute or bike ride, while Southern Methodist University can be driven to in only 12 minutes.
We rate and sort every listing based on fair market rent.