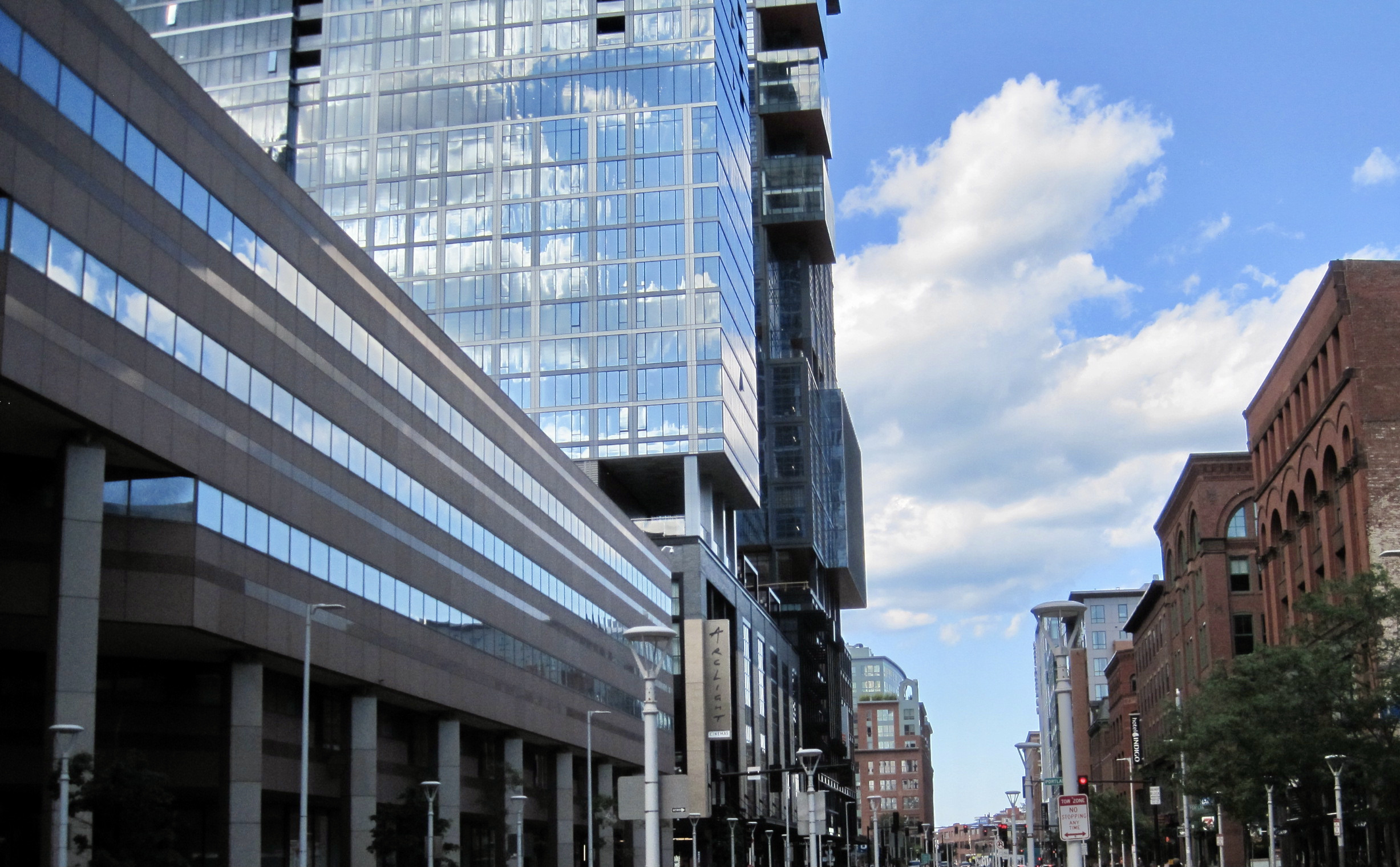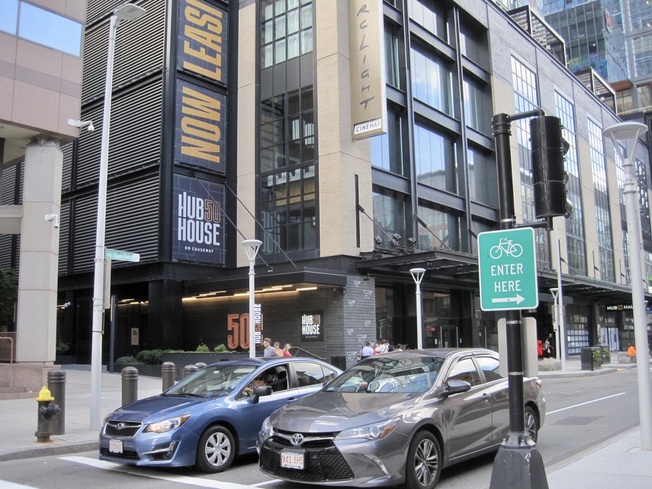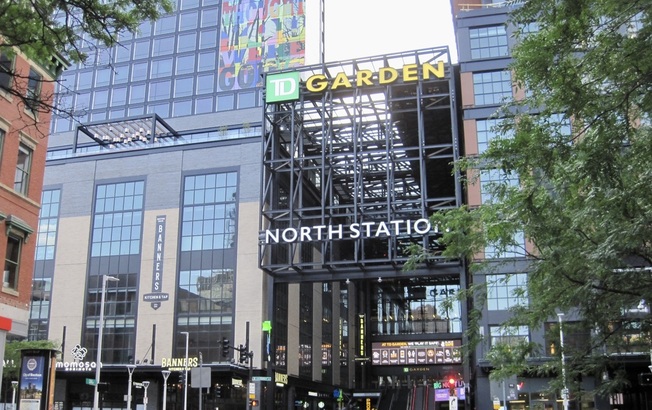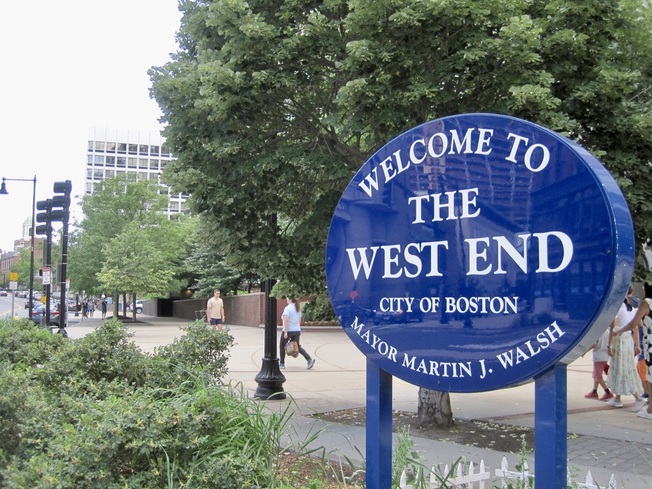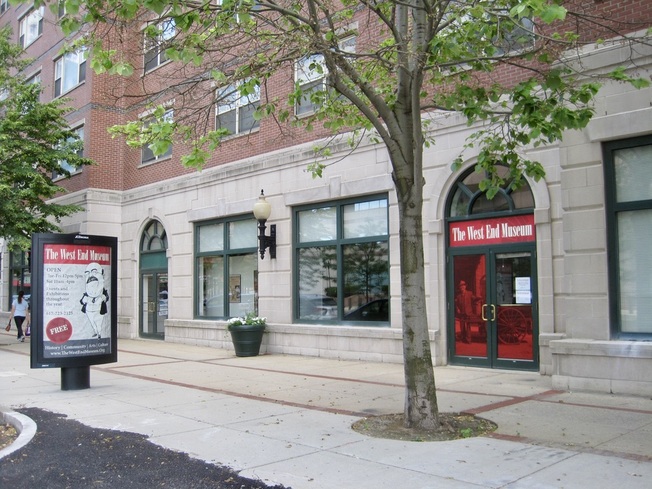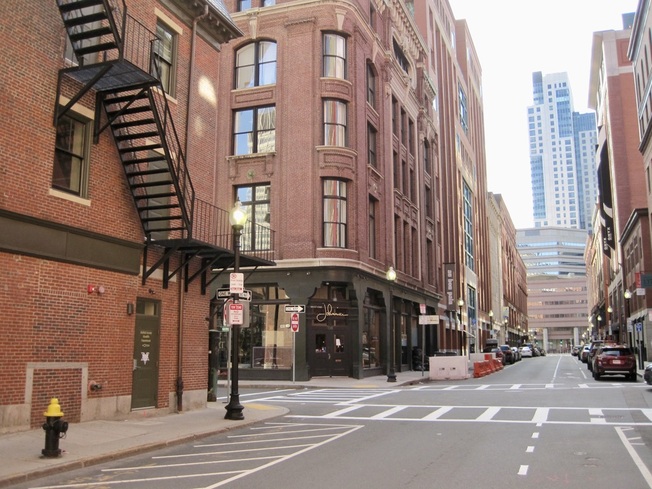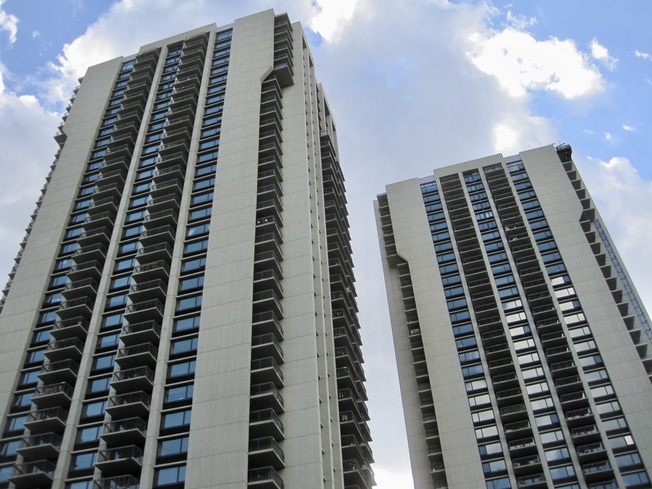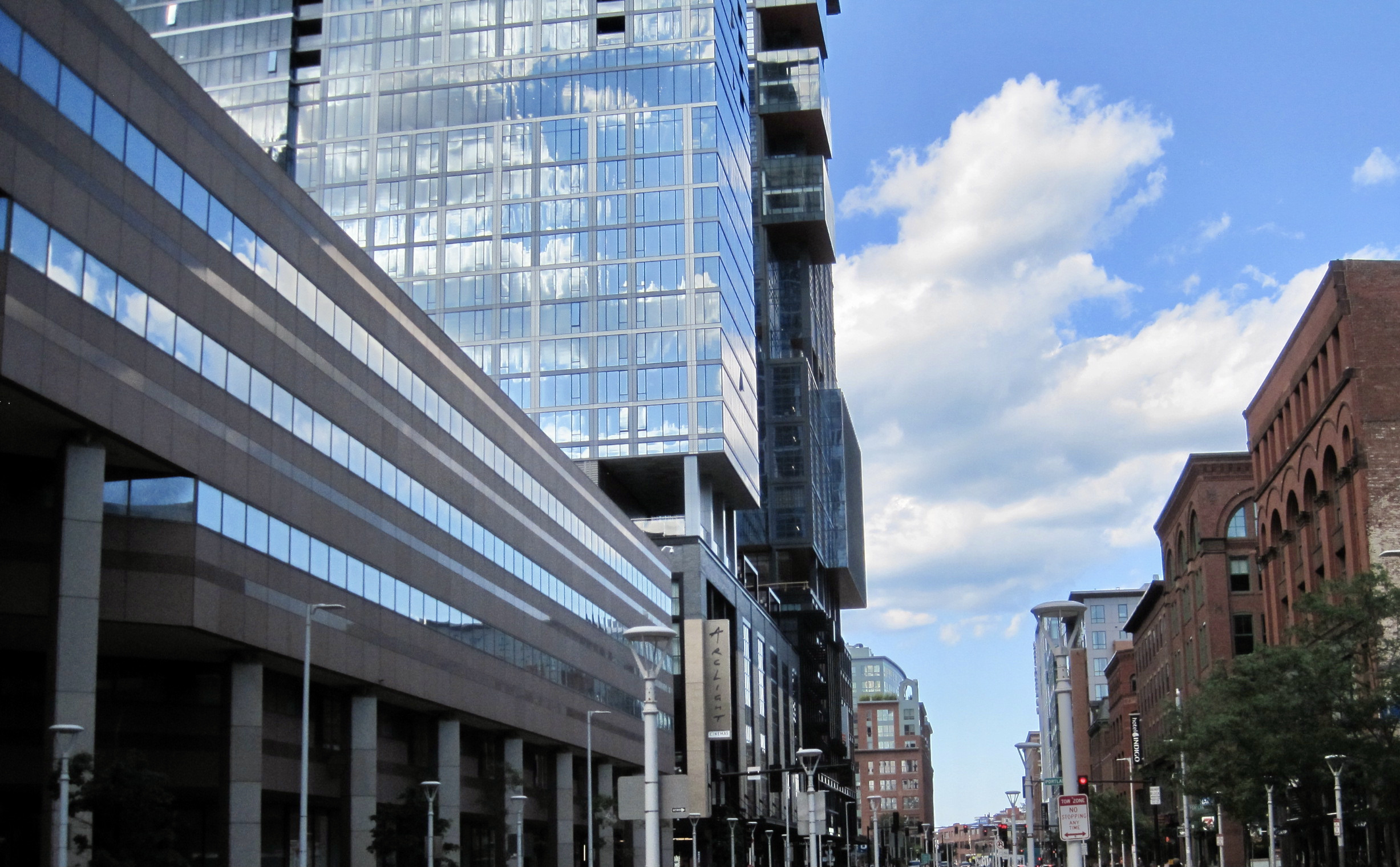 ---
| | Median Rent | Median Sqft |
| --- | --- | --- |
| Studio | $3,043 | 542 sqft |
| 1 Bed | $3,446 | 817 sqft |
| 2 Beds | $4,645 | 1,203 sqft |
| 3+ Beds | $5,320 | 1,744 sqft |
Most people have never heard of the West End as it's seldom talked about by name, yet it's one of Boston's most sought-after neighborhoods. The draw? If you're lucky enough to live in one of the new high-rise apartments in the West End of Boston, you'll find yourself just north of Beacon Hill, west of Downtown Boston, and steps to the North End. You may also find yourself enjoying sweeping views across the Charles River and towards Boston Harbor.
In the West End, the TD Garden, or "the Garden," as the locals call where the Boston Celtics and Boston Bruins play, is quite literally your backyard. Government Center and City Hall are at your doorstep. Also within easy reach, there's the Charles River Esplanade, a nearly 3-mile trail with river views great for jogging and strolling, as well as the Hatch Shell, an open-air venue for concerts and community events. The West End also enjoys convenient proximity to one of the many world-renowned Boston area hospitals, Mass General Hospital, a.k.a. MGH or Mass General.
The West End was once the most densely populated area of Boston. Then from the mid-1800s to the mid-20th century, the wealthy and merchant classes considered it a "slum" by their standards. It was their way of referencing the tightly knit community of Irish, Italian, and Jewish immigrants that lived here. In 1958, to boost the economy, the city embarked upon an urban "renewal" plan — which in reality was more of a removal of the 2,700 working low-income families. The development replaced their homes with high-rise and high-rent housing units no original residents could afford.
As much as the West End tells the story of some of Boston's greatest institutions, including Mass General Hospital (MGH) and St. Joseph's Catholic Church, its development was also one of Boston's most blatant failures.
Today, the central location, accessibility to cultural and civic amenities, and flurry of new restaurants keep residents who can afford to live here happily re-signing their apartment leases. Neither the ambulance sirens from nearby MGH nor the rowdy sports fans heading to the Garden and the bars along Causeway Street dissuade renters from choosing to live in the neighborhood. In fact, these hallmark sounds and sights of the West End may well be part of its appeal.
With all four MBTA subway lines nearby, most other neighborhoods of the city are within easy reach. Residents can hop on the Science Park/West End subway stops on the Green line and access North Station, one of Boston's biggest transportation hubs, to connect to both the Green line and Orange lines. The Bowdoin stop on the Blue line and the Charles/MGH stop on the Red line are also very close.
For those who commute Downtown, living in the West End can't be beat. It's a quick walk to the North End, Charles River Esplanade, Beacon Hill, and the Financial District.
If you like to get around by bike, Boston has a large network of conventional bike lanes. These lanes dedicate about five feet of space in the street for bicycling. Further, the Boston's "Connect Downtown" project is working toward ensuring the city's bike infrastructure network can better link the city's downtown area with major bike routes to outlying neighborhoods.
Drivers or car-sharing members will appreciate quick highway access to Interstate 93 or Route 1, not to mention North Station, which is one of Boston's biggest transportation hubs.
Restaurant in Boston's West End have come a long way in recent years thanks in part to the expansion of the TD Garden and the development of the Hub on Causeway shopping mall, with 1.5 million square feet of mixed-use retail, office, hotel, and residential space.
Banners Kitchen & Tap is one restaurant and sports bar addition inside The Hub on Causeway featuring the biggest LED screen on the East Coast. They offer an impressive 60 beers on tap — 55 of which are local brews. Brunch is also a highlight at Banners, with their house-made skillet cinnamon rolls the star of the menu.
Just on the edge of West End, Alcove is a modern neighborhood restaurant where every bite of your meal comes with Zakim Bridge views. Alcove proudly serves a menu showcasing the local bounty of New England farmers and fishermen merged with Mediterranean techniques and flavors. Locals joke that it's one of the only places to eat near the Garden that doesn't have famed Bruin's player Bobby Orr jerseys hanging on the wall.
Every neighborhood needs a go-to burger joint, and A&B Burgers is just that. It's also a favorite hangout for fans before, during, and after a game, so reserve ahead. Get burgers of all kinds from belly busters like the Hangover Burger topped with bacon, fried egg, and American cheese to inventive flavors like the Sweet and Salty served with Burrata cheese, fig jam, bacon, and arugula. Boozy milkshakes make for grown-up desserts. Try an Adult Oreo shake made with vanilla vodka.
Beer lovers will appreciate two breweries in the West End. Night Shift Brewing has a huge craft beer selection and first-rate bar food. Beerworks (the third location of this local chain) has ten original brews with tasting flights available in themes, like "seasonal" and "hoppy," or you can customize your own. They also offer a late-night menu after 9 p.m. with pizza, tacos, and sliders — each for under $10.
Irish pub, anyone? McGann's Irish Pub represents the ubiquitous genre in the West End. It also serves at the local "headquarters" for local Manchester United fans. Come to watch football of either side of the proverbial pond along with a pint and plate of fried pickles and Irish beef stew.
For an alternative to bar food, Bodega Canal is both a rustic and chic Mexican eatery. Try anything on homemade flour tortillas and win, from carnitas and barbacoa to blackened shrimp and Tecate-beer-braised chicken. Though it's s step up from the game night crowd, you can still order nachos and celebrate Taco Tuesdays.
Boston's West End neighborhood is fairly small in size with a lot of its space assigned to the commercial sector, so there's not a lot of traditional shopping. Still, fashion and specialty brand stores can be found in nearby Faneuil Hall Marketplace, roughly a mile away.
The one thing you can shop for exclusively in the West End is Bruins tees and jerseys. The ProShop is the official team store of the Boston Bruins. It's the die-hard fan's destination for authentic team merchandise, customized clothing and apparel, exclusive Garden items, and memorabilia signed by favorite team players.
When it comes to grocery shopping in the West End, you'll find a well-equipped Star Market inside the Hub on Causeway. This chain supermarket has all the staples plus the Butcher's Block with sushi, in-store coffee shops, and a variety of prepared meals and packaged hot foods for the on-the-go consumer. Slightly further away but within walking distance, the Whole Foods Market at Charles River Plaza is another grocery option where you can find organic everything, plus a hot bar with keto- and paleo-friendly options. They also have a sushi bar, deli with made-to-order sandwiches, and a station where you can grind your own nut butters.
Just in need of a few things and in a hurry? West End Market is a neighborhood convenience store that has various sundries and paper goods. Residents say it's a good stop for coffee as well.
Most known for the TD Garden, home to the NHL's Bruins and NBA's Celtics, West Enders can't escape the fanfare, so why not join in? Visit the Sports Museum housed on Levels 5 and 6 of the TD Garden, where you'll find more than a half-mile of exhibits celebrating everything from the Boston Celtics and Boston Bruins championships and iconic events like the world-class Boston Marathon.
There are also quieter places for recreation in the West End. Residents can easily access green space by taking the Blossom Street footbridge to Lederman Park, a large parcel of riverfront land within the historic Esplanade, a three-mile path stretching along the Charles River from the Museum of Science Boston University. Walk, bike, jog, rollerblade, or just have a picnic facing the water.
Want to learn more about the neighborhood's past? The West End Museum is dedicated to the collection, preservation, and interpretation of the history and culture of Boston's West End. Here, you'll learn about the city's last tenement at 42 Lomasney Way, one of the remnants of the West End before urban renewal reshaped the neighborhood. Rumor has it that there's a mob connection surrounding this historic building.
For modern excursions, get to know West End Johnnie's, a bi-level corner spot in the Bulfinch Triangle known for its nightlife on Friday and Saturday nights. The space is designed as a veritable love letter to Boston, complete with a replica of the Green Monster, seats taken from Fenway Park, and signed photos of local sports heroes. The food menu follows suit with items like the "1919 molasses-glazed wings". On Sundays, you can grab brunch and catch a live reggae band.
The Harp is another mainstay of the neighborhood. This two-floor institution has live entertainment, including a music stage and three bars.
The West End's Massachusetts General Hospital is the original and largest teaching hospital of Harvard Medical School. MGH offers fellowships, residencies, internships, and other educational opportunities among the country's highest competitive level.
We rate and sort every listing based on fair market rent.