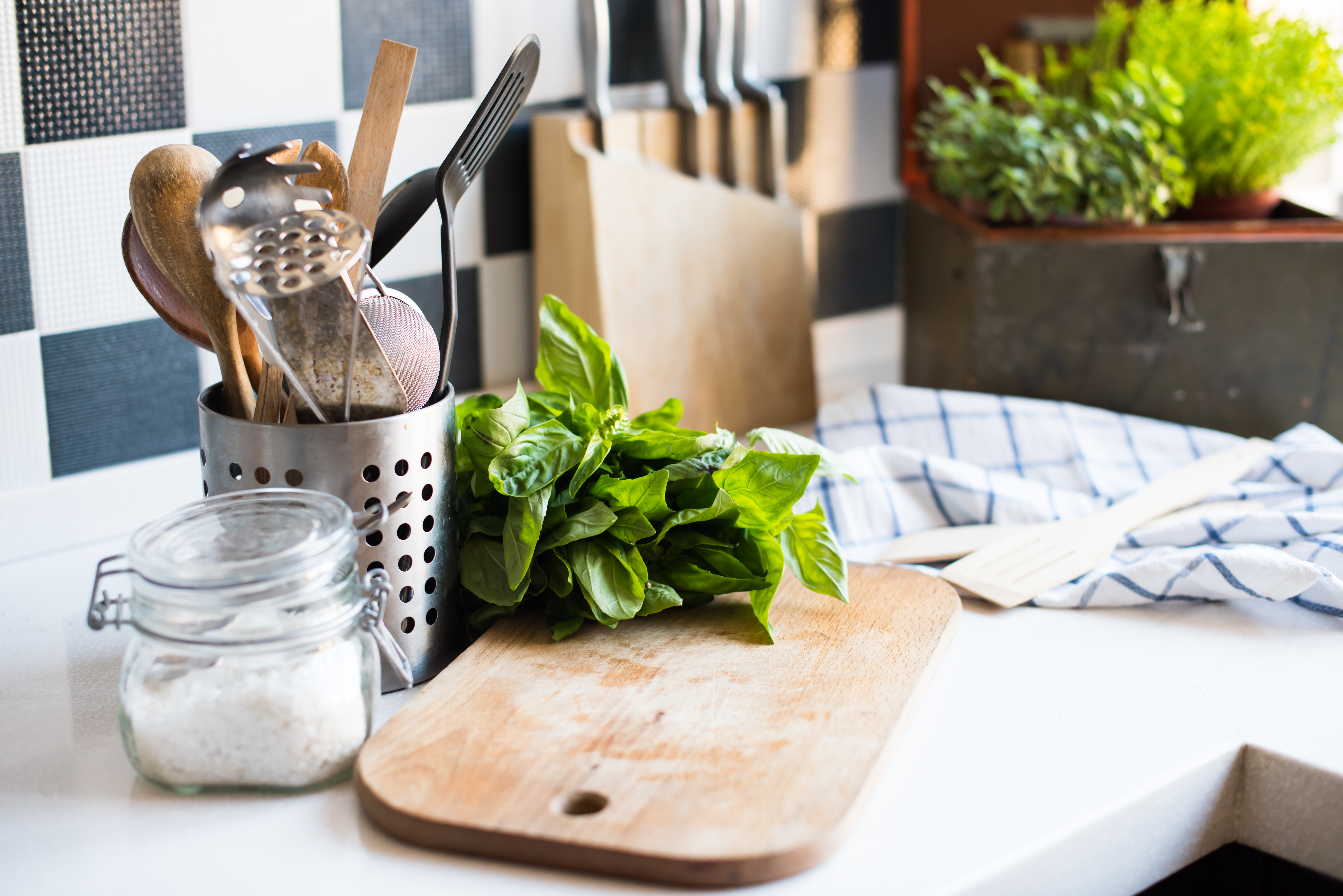 What is a Kitchenette? Kitchenette vs Kitchen Explained
---
If you're a renter looking at apartment listings, you may be wondering about the difference between kitchenettes and full-sized kitchens. What is a kitchenette? Is it big enough to prepare food in and store all your cooking essentials? Can you cook in a kitchenette? What appliances, if any, are in a kitchenette?
As you've probably guessed by the -ette at the end of the word, a kitchenette is a smaller version of a standard kitchen, and kitchenettes are usually set up primarily for functionality. That means you likely won't find chef-quality appliances or expansive countertops in most of these compact kitchens. But kitchenettes are ideal for fitting basic food-prep items into limited space.
Let's dive into the differences between kitchenettes and full-sized kitchens so you can adequately evaluate apartment listings and decide if a particular rental meets your needs.
What is a kitchenette?
A kitchenette is a miniature kitchen often found in a studio apartment or room for rent. It is not necessarily defined by size (meaning, it's not just a small kitchen) but by what it contains.
Kitchenettes usually have scaled-down versions of cooking areas, major appliances, sinks, and shelving. They're typically set up as bare-bones kitchens to hold the basics like a coffee maker, mini-fridge, hot plate, electric kettle, toaster, and microwave.
What is the difference between a kitchenette and a kitchen?
A kitchenette is an option a homeowner or landlord decides on for a property or rental, over a standard kitchen, due to limited living space in an apartment or room for rent. It may be pint-sized, but that doesn't mean it can't serve a good purpose.
Kitchenettes typically don't contain as many square feet or counter space as regular kitchens and aren't located in their own room (they'll probably sit in a section of the rental adjacent to a living room or bedroom). Still, these mini kitchens are designed and laid out with function in mind.
A kitchenette generally has less storage space; think just a few shelves or cabinets to hold dry goods, pots and pans, and dishes and glassware. Compact kitchens won't feature generous cooking space, and they might not have cabinets to tuck away trash and recycle cans.
Whereas standard kitchen designs reserve room for full-sized appliances like refrigerator and freezer combinations, you may not find these luxuries in a kitchenette. The typical compact kitchen doesn't even house a dishwasher (but will usually have a sink for hand washing).
What does a kitchenette include?
You'll often see limited appliances, or compact versions of the appliances you're used to, like small refrigerators, freezers, microwaves, and coffee makers in these small kitchen spaces. Renters typically won't find a full-sized range or stove top, but hot plates and toaster ovens take over cooking duties in many compact kitchens.
There are various appliances that may come with kitchenettes, but renters might have to supply their own. Always ask a landlord about exactly what you get with your monthly rent, including what appliances you have to use in a kitchenette.
Can you cook in a kitchenette?
If you see an apartment listing highlighting a "fully equipped kitchenette," you can likely assume it has some sort of small stove. But even if you have to prepare meals on an electric griddle or in a slow cooker, you have many options for breakfasts, lunches, and dinners.
Renters have found great success making pancakes, toast, oatmeal, hot sandwiches, rice dishes, pasta, and soups in countertop appliances. Some mini appliances also let you bake cakes, cookies, and breads.
What are the pros and cons of an apartment with a kitchenette?
Just because a kitchenette is smaller than a traditional kitchen, it doesn't mean that it's a worse option — depending on your lifestyle, of course. We outline some pros and cons below.
The Pros
If you aren't very interested in cooking anyway, then having a large kitchen in a small apartment may feel like a waste of valuable real estate. If you plan on having takeout most nights but are a lover of interior design, you may prefer an apartment with a smaller kitchen space and a larger living space — with more room to design and furnish to your heart's content.
If you are more limited in what you can do in your kitchen, it's likely that you'll make less of a mess in it, as well. It's true that you likely won't have the ability to cook a gourmet, five-course meal in a kitchenette — but that means you won't have to clean up after one, either. While you'll have to think of some smart storage solutions to keep the area looking clutter-free, if you're a minimalist, an apartment with a low-maintenance kitchenette may make the most sense for you.
Kitchenettes tend to go hand-in-hand with smaller spaces, which also usually come with lower rent prices. If you're looking to move out on your own in an expensive city like New York, a studio or small apartment with a kitchenette rather than a full-sized kitchen or one-bedroom apartment may be the cost-saving solution for you. Plus, you may spend less money stocking your small fridge than you would if it were full-sized.
The Cons
If you're looking to cook most of your meals at home or elevate your home chef skills, a kitchenette probably won't suffice. They have limited appliances and limited counter space, which means a limited number of recipes you'll be able to make. If you're creative and want to DIY some solutions (like using an air fryer rather than an oven), you'll be able to make some recipes work, but don't move into a space with a kitchenette if you'll need full-sized appliances.
Kitchenettes won't come with lots of storage space for your appliances, pots and pans, dishes, or cutlery. If you don't want to part with any of your stuff, you may have to invest in creating your own storage spaces (by adding floating shelves, for example). If you aren't handy and don't want to do a lot of work to make more storage space, then you may want to pass on the kitchenette.
The Bottom Line
Aside from "What is a kitchenette," "What are the pros and cons of a kitchenette" is a top question that renters have. The bottom line is that a kitchenette may benefit you over a standard kitchen if you're single, a college student, or always on the go. Kitchenettes also typically lower the cost of an apartment, which is important to know if you're on a budget.
On the flip side, renters who like to cook gourmet meals and entertain might not find a kitchenette adequate. The lack of full-sized appliances, tool storage, and food prep space can mean you'll be ordering takeout more than you would if you rented a place with a standard kitchen. Additionally, traditional kitchens may have much-needed seating areas like places for a dining table or bar chairs.
We rate and sort every listing based on fair market rent.