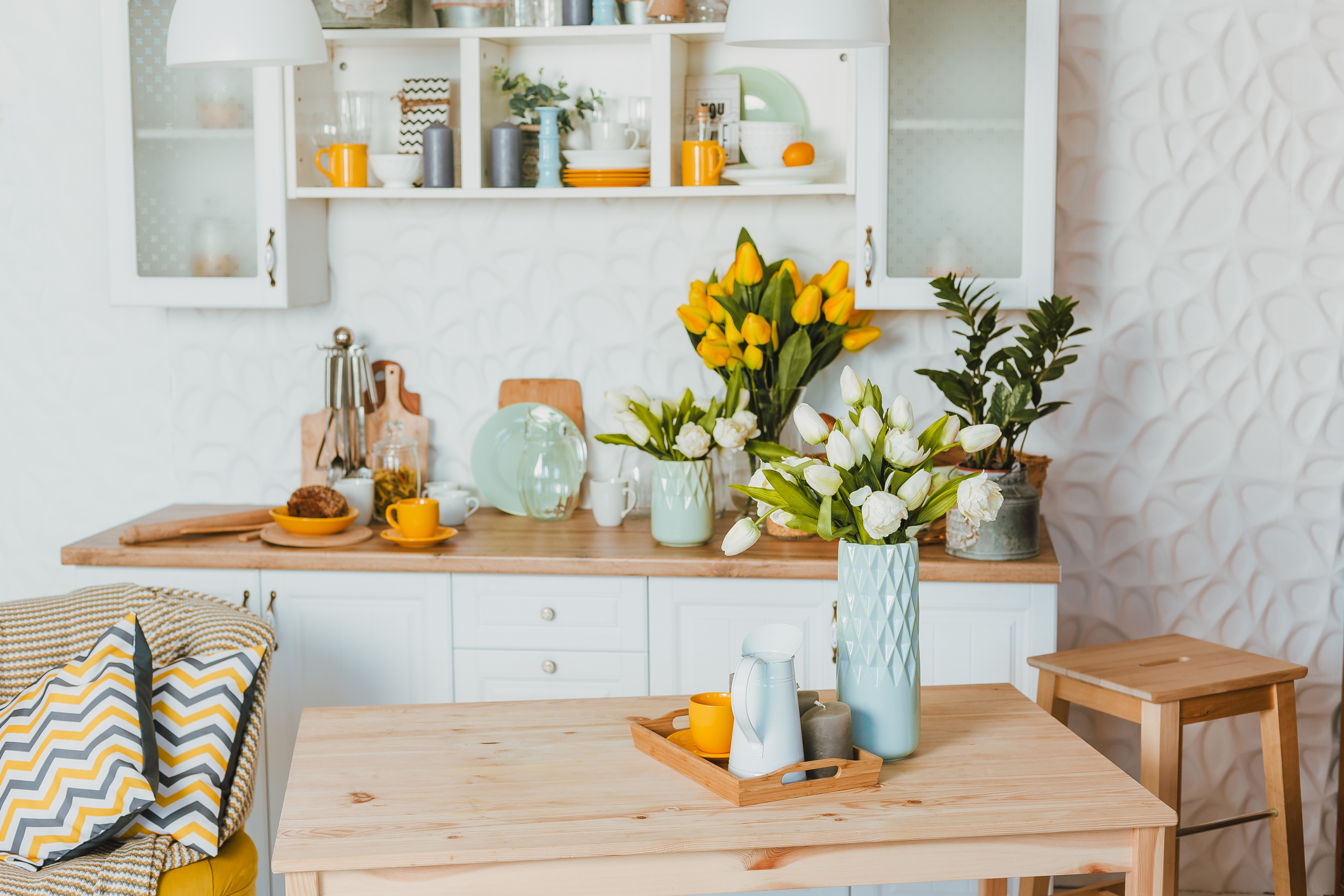 ---
On Sunday, our clocks sprang forward — marking the beginning of daylight savings time. Love it or hate it, it's time to make the most of it. We may have lost an hour of sleep, but we now have warmer weather and longer days to look forward to — and soon it'll be spring! So, how can you take advantage of the sun-filled seasons? We say: Redecorate!
Spring is a great time to get rid of the clutter that inevitably started to fill your home during the cozy winter months. Spring cleaning is a time-honored tradition, but what better way to usher in the season of new beginnings than to give your home design a quick refresh? You may not be able to do a remodel in a rental apartment, but what you can do is invest in wall art, a functional piece of furniture, or an exciting light fixture to make an old space feel new again.
We spoke with interior designers Artem Kropovinsky of Arsight and Mary Flo Ouellette and Steven Santosuosso of Squarehouse Studios to get some of their best home decor ideas and tips for quick, easy, and affordable ways to bring some excitement into your home and rid your space of winter blues.
Cut the Curtains
While dark or heavy curtains can be very cozy in the winter (and can also serve as a way of soundproofing your apartment), their primary function of shutting the light out is the last thing you want to make use of on a long spring or summer day. Take down any long, heavy curtains and replace them with lighter (both in color and in weight) options.
"Drapery can feel heavy and dark," says Ouellette. "We really like a solar shade or a light-filtering shade, so you still get some light but also privacy."
Another option, for renters looking to invest in a little tech, are smart curtains or blinds. Kropovinsky recommends this high-end solution for those looking to control their natural light a little more: "They adjust automatically to the sun's position, so they let in as much light as you need."
Layer Your Lighting
If your apartment doesn't get a lot of natural sun, don't give up on embracing light. Instead, focus on bringing in new light fixtures that will help you create an exciting and bright ambience to your space.
"Lighting is the first thing that you notice … [it] can really affect your mood if the only light you have is on the ceiling," Oullette says.
Her solution? Buying renter-friendly light sources that don't need to be hardwired into the apartment. Plug-in wall sconces and LED light strips are just a few options that have gained popularity in recent years
For someone who prefers a moodier, darker light set-up but still wants to add some flair, Santosuosso recommends LED tea lights and other electric candles. "If you have a lot of those, the effect is very similar to candlelight where it's a very soft, flickering glow," he says. "That's a great way just to set a mood, whether it's a 24/7 or just for a special occasion. That's very low-hanging fruit to get a larger effect."
One rule of thumb for renters: If you have different lightbulbs that are different temperatures, it's time to standardize, Santosuosso adds. It's common to accidentally have different temperature lightbulbs as a renter — say, if the first time a bulb burned out in your new apartment, you replaced it with what they had in stock at the nearest convenience store. But having different temperature lightbulbs (with some giving off a colder and more white light, and others having a warmer, more yellow-toned light) can be visually confusing and distracting. Plus, this gives you an opportunity to decide on what mood you want to have for your apartment. Santosusso prefers warmer bulbs, in the range between 2700k and 3000k.
Get Some Greenery
Spring marks the beginning of gardening season — meaning it's the perfect time to invest in some plants, even if you don't have the luxury of outdoor space. Adding greenery to your apartment can be a great way to bring life to it, regardless of your apartment's layout or size.
If you have a smaller apartment, Kropovinsky recommends taking advantage of the vertical space and hanging plants by your windows, or placing them on bookshelves and windowsills.
If you are looking for a budget-friendly upgrades to bring a little fresh air into your space, plants can be one area where quantity may trump quality. Large floor plants can be expensive, hard to move, and hard to care for, so opting for more small plants can be a better option for renters looking to bring greenery into their space quickly.
Add Accessories
While it's not always possible to paint or make meaningful changes to the walls and structure of your apartment, there are a few rental-friendly things you can do to make your space feel more personal while protecting your security deposit. If you live in an apartment with white walls that you can't paint, Oullette and Santosuosso recommend that you hang textiles and fabrics, art in thrifted frames, and mirrors to make more decorative — and in some cases, functional. For example, hanging a mirror or bringing in a large floor mirror can be very effective when it comes to making a small space feel bigger and brighter because the natural light in your apartment will bounce off the glass.
Accessories, like throw pillows in your living room or glass- and dinner-ware on display in your kitchen, can also be an easy way to embrace the seasons, Kropovinsky says. Spring is a great time to play around with adding pops of green and blue. He prefers a more minimal look — so he recommends started with a neutral base in your furnishings and adding in colored accessories that you can swap out with the seasons.
The best part about accessories? They're all removable and changeable, so when the next season comes, you can swap them again!
Squarehouse Studios is a Boston-based interior design firm. Find Mary Flo Ouellette and Steven Santosuosso's work find here and follow them on Instagram. Arsight is a New York-based interior design firm. Find Artem Kropovinsky's work here and follow him on Instagram.
We rate and sort every listing based on fair market rent.