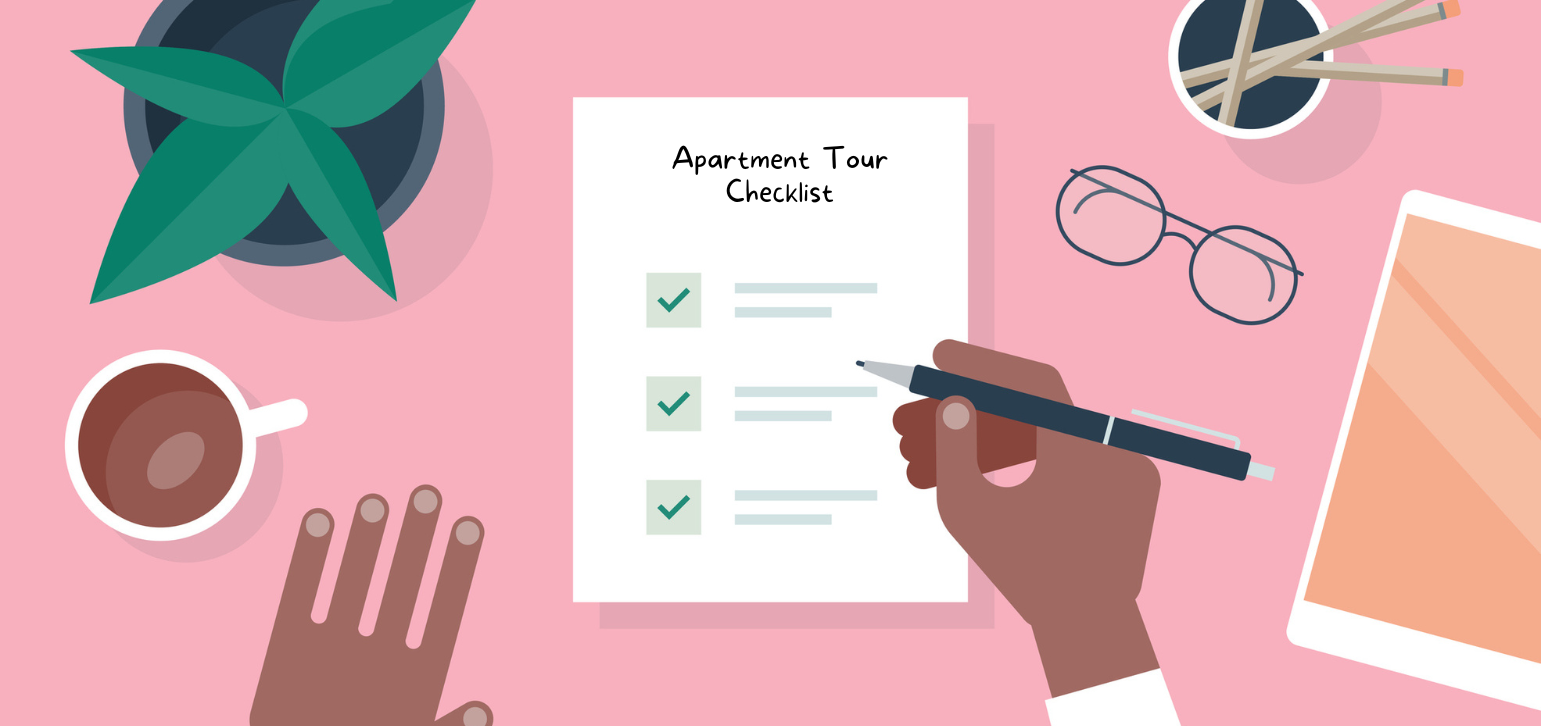 Apartment Tour Checklist: 17 Things to Look for in a Rental
JG
May 18, 2021
Updated on Jun 06, 2023
---
There is no shortage of articles to help landlords find great tenants. However, in this article, we talk about how to help renters evaluate and find a great apartment and landlord. Whether you're a first-time renter or a seasoned pro, it always pays to be diligent when finding your new home. Use this checklist to learn what you need to look for when apartment hunting, from the red flags to the signs of a good rental.
1. Start with the Apartment Listing
The first thing on our checklist for renting an apartment is the listing. While apartment listings don't need to be a work of literary genius, they should not be littered with spelling errors or other inaccuracies.
Typos and glaring grammar mistakes in an apartment listing description could spell trouble (pun intended). Why does it matter if the landlord or property owner doesn't take the time to spellcheck their listing? A landlord who lacks attention to detail regarding the listing may not take great care of their properties or their tenants, either. If a listing is well-written and professional, proceed to the next step.
2. Look for Reasonable Rental Rates
The last thing you want to do is overpay for your apartment. However, if the rent seems unreasonably low, that could signal that something is not quite right. If you can't believe how low the rent is, be extra careful to look for the hidden (and not-so-hidden) signs you're about to rent the wrong apartment.
The rent isn't the only rate to consider when figuring out what to look for in a new apartment. Other fees include application fees, pet rent (if applicable), security deposit, and your first and last month's rent. Do these fees seem too high or low? Look at competing apartment listings to determine how these rates compare.
3. Make Sure the Landlord Conducts a Credit Check
The landlord says they don't need a credit check. Great, right? Not so fast. If they're willing to rent a unit to you without a credit check, imagine who could live in the apartment next door. Waiving the credit check could cause some pretty bad neighbors.
That means, during this apartment check, the landlord must do their due diligence. Requiring a credit check is a sign that the person you are about to rent from has standards. Why? Because they're checking the following examples (and more):
Prior evictions
The renter's debt to income ratio
If the renter has significant credit issues
The renter's payment history (if it's good or bad)
If there's a bankruptcy
4. Reputation: What's the Word on the Street About the Landlord?
Before you fill out a rental application, you should know a bit about who you're renting it from. How can you tell if the landlord has a good or bad reputation? Start with the internet:
Search the landlord's name.
Watch out for bad reviews or complaints against them.
Check for affiliations with organizations that would lend credibility.
Look for public records, including court proceedings and other legal proceedings.
Next, put on your detective's hat and talk to the neighbors if you can catch them in the hallway or the entry. Ask what it's like renting from this individual – do they fix things promptly? What measures do they take to keep the property safe?
It's also a good idea to do a quick internet search of the apartment address to ensure it isn't about to go into foreclosure.
5. Identify the Landlord's Current Location
Out of all things to check when renting an apartment, don't forget the landlord's location. If the landlord lives overseas, you'll want to make sure there's a property manager nearby. For example, if a pipe burst in the morning and your landlord is sound asleep halfway around the world, the apartment could be a swimming pool before you get a callback.
On the flip side, if your landlord lives in the building, that's something else to consider as well. Proximity has its benefits, but living next door to your landlord could be too close for comfort. While having a local landlord means they know the area well and are available at a moment's notice, they might also be around more than you expect.
6. The Apartment Isn't Available, So They Show You a Similar One
On the day of your scheduled walkthrough, the landlord wants to show you a different unit because the apartment isn't available. They promise that it's almost identical to the one you want to rent. While that might sound reasonable, ask yourself why the apartment isn't available? Is it because the current tenant hasn't moved out yet? Or worse, are you falling victim to a scam?
The Federal Trade Commission prohibits bait and switch tactics whereby landlords advertise a beautiful apartment and mislead potential renters into believing that's where they'll live. Landlords must show you the actual unit they intend to rent to you. Other rental scams include landlords who want to proceed to rent without a lease agreement, or ask you to wire money upfront before signing a lease.
7. The Condition of the Apartment's Appliances
What's the condition of the apartment's appliances? Are they relatively up-to-date, and do they work? Don't be afraid to turn knobs, open the fridge, check out the washer and dryer, and so on during an apartment walkthrough. If there are broken appliances and other items in the apartment, you'll want the landlord to fix them before you move in. If the landlord assures you that they'll fix or replace them after you move in, beware. Broken appliances could mean broken promises.
Instead of just taking the landlord's word for it, ask to amend the lease. Ensure that the amendment stipulates that they fix or repair the appliances before you move in. That way, you have protection should that promise fall-through.
8. Check for Water Stains on the Ceilings
When walking around the apartment, don't forget to look up. What's the condition of the ceilings? Do you see stains or paint that looks like it's masking something? Those yellow-brown stains could spell disaster if there's an apartment above you or an old roof. Why? If there's an apartment above you, they could have leaky pipes or other flooding issues. If the roof is old, that could mean leaking issues.
If you see stains, ask the landlord to explain their cause and what they did to remedy the situation. If the stain looks old, ask them why they didn't repair the sheetrock, prime, and paint. The answer might surprise you; the issue may have happened recently, and the landlord didn't address it adequately.
9. Inspect for Peeling, Chipped Paint
During an apartment walkthrough, you shouldn't see peeling or chipped paint. Seeing this could indicate that there's moisture and poor ventilation, which could lead to mold. It could also mean that the landlord doesn't care for their rental units very well. Other causes include:
Water getting underneath the paint in the bathroom or kitchen (or from a leaking ceiling!)
Poor surface cleaning before applying paint
Covering oil-based paint with latex paint
An old paint job
Skipping primer or using the wrong kind
Be sure to ask the landlord to explain the cause of peeling, chipped paint and whether they'd be willing to remedy it before you move it. If the answer is yes, request that they amend the lease accordingly. If the answer is no and you still want to rent the apartment, you could use the condition of the paint as a bargaining tool to negotiate your rent.
10. Examine the Windows and Screens
If you're looking at a second-floor unit or higher, make sure you look at the windows and screens during the interior walkthrough. If it's a ground unit, you can check the windows and screens, not only from the inside, but from the outside, too. That way, you can see the screen's tears, gaps, and other issues. This inspection also reveals if any screens are missing.
When inspecting the windows, test that they operate correctly. Do they stick or slam shut? Check the glass for cracks. When standing by the windows, do you feel heat or cold drafts? If so, point out these issues and any others you find (like with the screens, for example).
11. Test the Faucets
You shouldn't be able to walk through an apartment and tell where the bathroom is because you hear a dripping faucet. During the walkthrough, make sure you turn on and off all bathroom and kitchen faucets. Do they have good water pressure and flow? Is there brown water coming out of the tap? Here are some other plumbing issues to keep on your radar:
Look for dampness or dripping under and around the sinks and the toilet.
Make sure the sink stops work and the faucets turn off all the way.
Check the bathtub and shower for missing tiles or grout.
Test the water pressure and temperature in the shower.
12. Make Sure the Fireplace Works
If the place comes with a "working fireplace," but you can't see ash, it may not work after all. Fireplace inspections during your apartment walkthrough can include:
Look at the firebox for signs of wear, cracks, or gaps in its lining (the firebox is the fireplace's interior lining)
Inspect the ceiling above the fireplace for smoke stains, which could signify that the fireplace isn't working correctly.
Check for smoke stains above the fireplace's opening, which could mean that there are issues with the flue damper.
Ask the landlord when the last chimney inspection occurred and, if it wasn't recently, ask them to schedule one.
You should also check for signs of life, including rodents or other pests that might have climbed down the chimney and escaped into the apartment. If you find the fireplace isn't working, that could be leverage to ask the landlord to lower your rent.
13. Explore the Common Areas
The common areas of apartment buildings or complexes also tell a story about the unit, landlord, and neighbors. For example, if you notice that the entry, lobby, and stairwells are messy, that could mean inadequate care by the landlord or their tenants. No matter which contributes to the problem, it's still a problem, nonetheless.
Common areas on rental properties include spaces available to all tenants. That could include lobbies, walkways, staircases, parking lots, restrooms, electrical rooms, and elevators. It's the landlord's responsibility to maintain the landscaping, trash removal, snow removal, and general upkeep. Make sure the building looks like it is in good condition overall. If it looks unkempt, it may be a sign that the landlord or management company is not taking good care of the building or its units. But keep in mind: It's the tenant's responsibility to pick up after themselves.
14. Does the Kitchen Sink Work?
You know the saying, "everything but the kitchen sink," that describes everything imaginable? When it comes to finding the best apartment rental, you should check everything, including the kitchen sink. Is there a garbage disposal? If yes, test it out. Look under the kitchen sink (and any bathroom sinks, too) for signs of water damage. While you're there, check for mouse droppings. Other things you should keep on your radar during this inspection include:
Make sure nothing blocks access to the pipes when you look under the sink.
Turn on the faucet to check the water's temperature and pressure.
Fill the sink up and see if it drains properly.
Listen for dripping noises underneath the sink when you fill it up.
Inspect for cracks in the sink, drain, and pipes.
15. Go on Critter Patrol
No one wants to live with pests and, while this isn't the most pleasant part of an apartment walkthrough, you shouldn't ignore it. Remember, the only pets and roommates you want are the ones on your lease. Look for active signs of an infestation of ants, cockroaches, silverfish, mice, bed bugs, and other pests. Check everywhere, including inside closets and cabinets.
During the apartment tour, ask the landlord about the pest control policy. If they look at you like you're crazy, then it might be a good idea to find a different apartment. Ideally, the landlord follows a preventative pest control schedule that addresses common pests inside and outside the apartment.
16. The Sniff Test: Use Your Nose
Sniff around, literally. If there's a musty smell or an odor resembling cat pee, that can be hard to remove. Alternatively, if there's a strong air freshener scent in the air, it could be covering something. The best apartment is one that doesn't smell at all. When inspecting, ask yourself the following questions (the answers should all be "no"):
Do you smell lingering cigarette smoke odor?
Does the living room (or other carpeted areas) smell like a wet dog?
Is there a musty, damp odor throughout the apartment (or in the kitchen or bathroom)?
Can you smell trash or "old food" in the cabinets or corners of the kitchen?
17. Check for the Necessities
It's better to be safe than sorry, and there are a few safety features that are non-negotiable for any apartment. Look around for working carbon monoxide and smoke detectors in your potential apartment. There should also be adequate fire extinguishers that are in working order in various areas of the apartment complex or building. If you don't see them, then hold off on calling the movers.
The Bottom Line
Whether you're renting your first apartment or your tenth, you need to do an apartment walkthrough. The purpose of an apartment walkthrough is to check out a rental unit with the landlord to see if they need to address any issues before your move-in date. Identifying problems beforehand helps protect you from fees for damages that you didn't cause. With this apartment checklist in hand, you're sure to find a great apartment to call your next home.
We rate and sort every listing based on fair market rent.