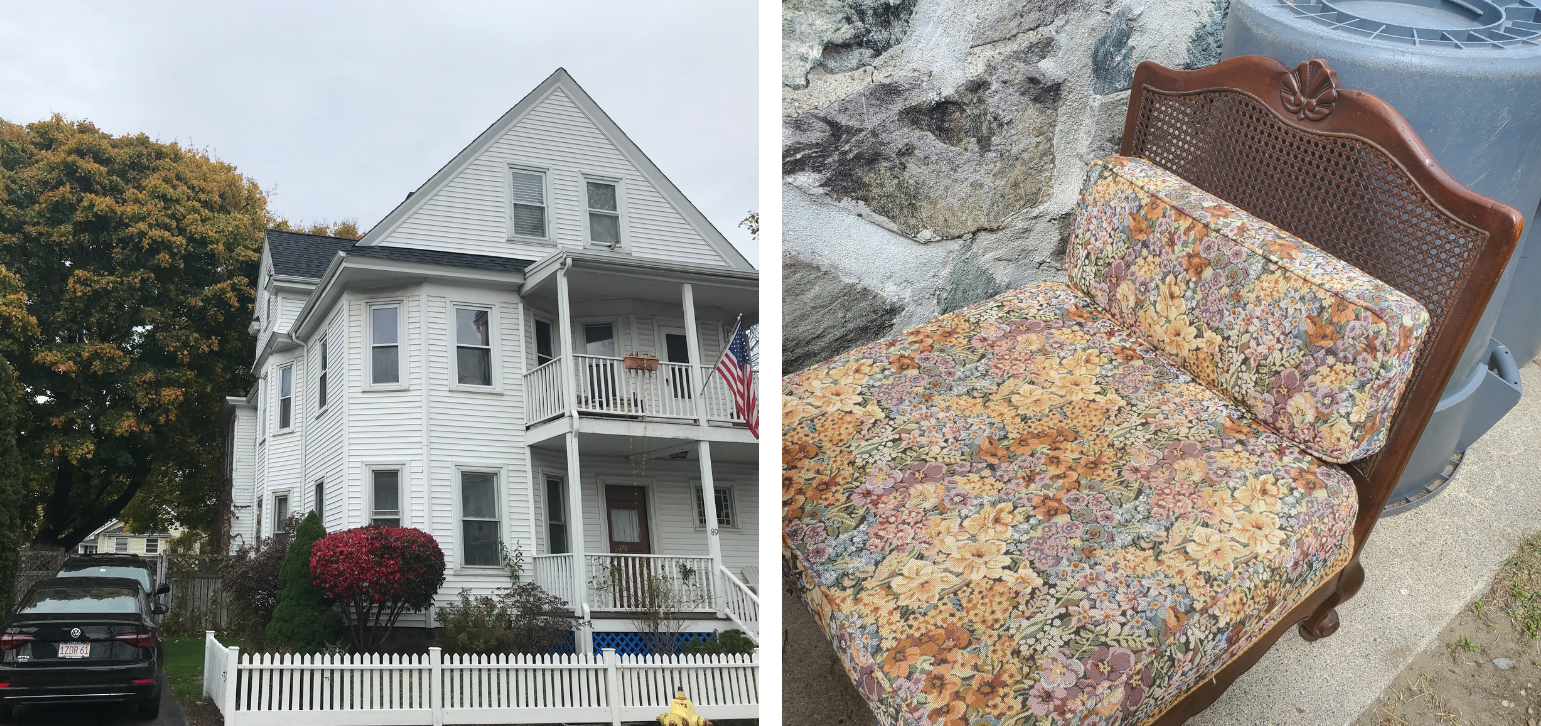 ---
In the city of Boston, the days leading up to September 1st have a festive air to them. The Allston-Brighton area is home to two large universities, Boston University and Boston College, with several thousand undergrads each. Plus, it's also popular area for students who commute into the city's many other colleges as well. Many leases turn over to coincide with the beginning of the academic calendar, which means in the days leading up to move-in day on 9/1, college students and post-grads alike start putting their hardly used, unwanted furniture, art, plants, and household appliances on the sidewalks. We call this holiday Allston Christmas.
Celebrating Allston Christmas can be a great way to furnish your room or apartment without breaking the bank. Here are a few tips for enjoying the most wonderful time of the year (for free furniture shopping).
Be Discerning
Antique dressers, funky chairs, and dressers are just some of the items that end up on the sidewalk. It's so tempting to want to grab everything immediately — especially if you're moving into a new apartment that you may need to fully furnish. Plus, if you don't take something, you can be pretty certain that someone else will. But it's worth asking a few questions first.
Number one: "How much damage does it have?" The damage may not be easy to spot, especially in upholstered chairs or couches. Look for dark or reddish-brown stains in the seams of cushions; they could be signs of bed bugs. It's also best to leave beds for garbage pickup, as the deep crevices are hard to clean and can be a haven for bed bugs, too. For wood furniture, look for cracks or discoloration. Some damage is easily managed: Dirty sofa cushion covers can go in the wash and shaky wood legs can be tightened with a screwdriver. But for items that need more work, it's worth asking if you have the time or space to bring it back to life.
And then: "Do I actually need it?" You can figure this out by creating a wish list of items you want to search for before heading out. That way, when you come face to face with a nightstand — an item that you know you need — you can feel more confident about scooping it up and bringing it home.
Take a Walk — and Bring a Tape Measure
The best way to learn what furniture is for grabs is by putting on some sneakers and taking a walk around the neighborhood. Because the streets are clogged with moving trucks, going by foot may also make your Allston Christmas a little less stressful. Plus, you may want to go around the block more than once as people will be putting out different furniture throughout the day.
"Do laps! The good items get scooped up quickly, but there are constantly new things getting put out on the curb," writes Allston-Brighton community member Haley Grey in Allston-Brighton's Everything Free Group (more on this group below). "If you're looking for something in particular or want nicer items, pass through neighborhoods at different parts of the day so you can catch items when they're just put out."
Brighton resident Michael Lin also suggests bringing gloves and a tape measure. This is especially good advice if you're scouting out items near apartment buildings, as move-out day can quickly lead to a flood of desks, mattresses, and furniture to search through.
Have a Plan for Moving Larger Furniture 
Once you're ready to scour the sidewalks, bring a friend with you! That way, if you stumble across the perfect-sized couch or chair (which you know it is, thanks to your tape measure), both of you can lift it on the spot and bring it back home. 
However, if you can't lift heavy furniture on a whim or don't have a car big enough to bring a larger piece of furniture back to your place, you still have a few options.
While one option is to rent a smaller U-Haul in advance of moving day, we don't recommend this as most moving vans in the Boston area are reserved months in advance by movers in need of transportation. (But if you do decide to rent one, make sure to avoid Storrow Drive at all costs.) Instead, there are a few apps you can use to coordinate pickup. Bungii connects you with a truck and its driver, who can also help you bring your new treasure inside. (Note: Bungii usually requires at least three hours' notice when booking.) You can also use Dolly, another app, to schedule a pickup for furniture. Both apps have a cost associated with them, depending on distance and amount of time it takes to bring a piece to your apartment. Expect to spend at least $75.
Check Everything Free Groups
If you've walked through your neighborhood and checked every side street, but you still haven't found what you're looking for, head to Facebook. Check out Everything Free groups or Facebook Marketplace. Many Boston neighborhoods have their own groups; they usually request that you also live in that neighborhood in order to join. In the Everything Free groups, community members will post photos and, usually, measurements of items they're looking to give away. These groups can be a great resource if you're allergic to pet dander or sensitive to smells, as members tend to disclose those details. They can also be a great resource if you are looking for larger pieces of furniture while trying to avoid the crowds of Sept. 1.
We hope you have a Merry Allston Christmas! If you find something great this year, make sure to tag us in a photo on social media (@aptadvisorBOS).
---
Banner image L-R: A home in Allston-Brighton; Free furniture found by Megan Hennessey on Allston Christmas.
We rate and sort every listing based on fair market rent.