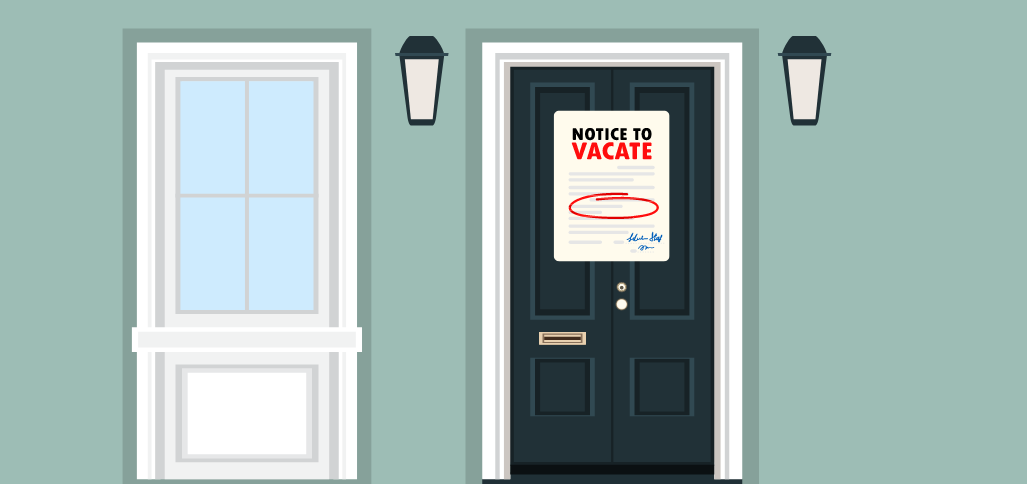 ---
No one rents an apartment imagining that they will receive an eviction notice down the line. Getting a letter with "eviction" at the top is a scary and stressful experience for any renter and one that raises a lot of questions: What are my rights? Can I stop the process? How will this affect my ability to rent in the future?
It's important to know that if you do receive an eviction notice, the situation isn't hopeless. In this article, we provide the essential information you need to navigate the eviction process.
Understanding an Eviction Notice
Being evicted forces you out of your home. There are different reasons landlords pursue eviction (outlined below), but they can't just show up one day and remove you. They first have to serve you with an eviction notice (also known as a notice to quit, quit notice, or a notice to vacate.) Local laws may differ, but in some states, landlords will need to give you a 30-day notice, while in others, they may be able to remove you much sooner. Check state laws if you are unsure about the amount of time required for the written notice you've received, or want to know more about the protections in place.
Common Reasons for Eviction
Your landlord must have justifiable grounds for eviction, no matter what state you live in. This means that they can't evict you just because they feel like it. The most common reasons for eviction are:
Nonpayment of rent
Criminal or illegal activity
Violations of lease agreement
Threatening behavior
Once you receive an eviction notice for nonpayment, communicating with your landlord is key, as you may be able to set up a payment plan to avoid further action. If your landlord is evicting you for a reason other than nonpayment (like not following the terms of the lease), seek legal advice. For students, check with your college or university to see if they offer free legal help or services.
Tenant Rights During Eviction
If you believe you're being wrongfully evicted, or your landlord does not follow the legal due process for evictions per your state, you may be able to sue your landlord. Depending on your state's civil codes, your landlord may even be liable for any eviction court costs, legal service fees, and damages if they wrongfully or forcefully evict you.
Some states allow tenants the right to withhold rent (also known as repair and deduct) if the landlord has failed to make necessary repairs, or your apartment is deemed inhabitable. Landlords cannot evict due to non-payment if you notify them in writing of your intentions to withhold rent. Keep in mind that the repair and habitability problems must qualify for repair and deduct, and you'll most likely have to pay the amount of rent due into an escrow account.
How to Stop the Eviction Process
The moment you know your rent is going to be late, it's best to contact your landlord to let them know and explore your options. They may be willing to set up a payment plan to avoid eviction. The eviction notice on your door isn't the end of the road. You can pay off owed balances or vacate your apartment at any time before a judgment is made to stop the eviction process and avoid it showing on your rental history.
Effect on Future Renting
Having an eviction on your record makes it significantly harder to rent in the future, but not impossible. Be honest about the eviction when filling out your application and keep proof of payment towards your past due balance. If you can prove that you have a zero-dollar balance with the old landlord, you may have an easier time getting approved for a new apartment. Ultimately, it comes down to the landlord's discretion. An eviction does not stay on your rental history forever but can appear on your public record for up to seven years.
The Eviction Process
An eviction notice for nonpayment of rent doesn't automatically result in you being removed from your home. Paying your overdue balance or vacating at any point before a judgment (step 3) stops the eviction process and an eviction will not be on your record. However, paying your overdue balance or vacating before an eviction order (step 4) will still stop the eviction process, but the judgment will still show on your record. The timeframe for evictions and how evictions are performed differs depending on the state you live in.
Step 1: Delivering the notice to quit
Once you fall behind on rent, your landlord will serve you with a notice to quit. This notice requires you to pay your overdue balance or vacate within a specified number of days.
Step 2: Setting a court date
Failure to comply within the notice period results in a scheduled court date. Some district courts hold a pretrial court hearing before scheduling the court date where judgment is made.
Step 3: Judgment is made
At your eviction hearing, the judge will either rule in your favor or in favor of your landlord. In cases of nonpayment, the judgment often requires you to pay or vacate within a specified time frame before your landlord can obtain a writ of eviction.
Step 4: Writ of eviction
Failure to pay or vacate within the time frame given by the court order results in your landlord obtaining a writ of eviction. This document, posted on your door by a court officer, states you must vacate (also known as returning possession to the landlord). In most cases, the court officer will give you one to three days before they take further action.
Step 5: Removal of belongings
Failure to abide by the writ will result in your landlord, along with the court officer, performing the eviction. They remove all personal items from the rental property, and, if necessary, the court officer has the right to remove you as well. The locks are changed at this time, and if your landlord has concerns about you regaining access, they may have grounds to issue you a "no trespass" notice for the property.
Step 6: Collections
It's important to note that an eviction does not mean you do not owe any past due balance. In fact, landlords will perform a move-out inspection, assess for damages, then send you a final account statement. This balance can be deducted from your security deposit. If you are unable to pay your balance, it is sent to a collection agency.
The Bottom Line
Having an eviction on your tenancy record can make it difficult to rent property in the future, so it's best to try and stop the process before it gets that far. However, an eviction case doesn't mean you will never be able to rent again. If you're concerned that your landlord may be evicting you in retaliation to a complaint, make sure you contact legal aid right away.
We rate and sort every listing based on fair market rent.